NCF Nation:

Willy Robinson
January, 5, 2012
1/05/12
5:22
PM ET
Jake Bequette knows Arkansas' defense underachieved in 2011.
It was a unit that was supposed to be coach Bobby Petrino's best during his Arkansas tenure, but following the preseason hype, it found itself near the bottom of the SEC in most defensive categories at the end of the regular season.
Arkansas' senior defensive end knows there was just too much bend.
[+] Enlarge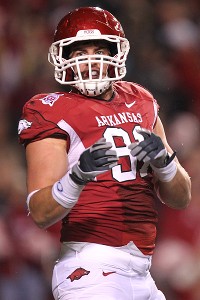 Nelson Chenault/US PresswireArkansas' Jake Bequette hopes the Razorbacks' defense can finish on a high note vs. Kansas State.
But Friday is a chance for the Razorbacks' defense to temporarily reinvent itself. It's a chance to end the season against a Kansas State offense that might be ranked 96th nationally, but is putting up 33 points a game.
With the way Arkansas' defense ended the season, this one could be a shootout fit for the old west, but Bequette hopes it's the Hogs that deliver most of the ammo.
"Hopefully it's not a shootout," Bequette said. "Hopefully, it's a one-sided shootout for us."
With the offensive weapons No. 6 Arkansas has, staying alive in a shootout shouldn't be a problem. But making sure one doesn't ensue will probably come down to what the Hogs do when Kansas State has the ball.
The eighth-ranked Wildcats don't put up a ton of yards each week (they average 343.7 yards per game), but they do have a dual-threat quarterback in
Collin Klein
, who is averaging 237 yards of total offense a game. He led the Big 12 with 26 rushing touchdowns during the regular season and also threw for another 12.
His leading receivers --
Chris Harper
and
Tramaine Thompson
-- have yet to cross the 550-yard mark and have six touchdowns between them, so the Wildcats mostly rely on a ground game made up of Klein (1,099 yards) and running back
John Hubert
(933).
That could be bad news for the Hogs, considering they ranked ninth in the SEC in rushing defense, giving up 174.3 yards per game, and were second to last for allowing 20 rushing touchdowns.
Bequette said the key to making sure Arkansas' defense doesn't revert to its old ways is winning the battle of first-and-10 and stopping the run early. Getting the Wildcats in third-and-long situations will be very beneficial for this defense, Bequette said.
That starts, Bequette said, with stopping Klein. Now, that doesn't necessarily mean Arkansas has to get him to throw more. Klein passed for more than 200 yards just twice -- once in a loss to Oklahoma State and once in a win against Texas A&M. It's stopping his ground movement that will be essential, as he has rushed for 90 or more yards in eight games this season.
Klein' ability to run opens things up for Hubert, and might catch Arkansas looking in the secondary.
The Hogs also need to play within themselves. This team isn't suffering from talent deficiencies on defense. Depth certainly is a problem, but the Hogs are equipped with defensive starters that could find plenty of playing time elsewhere around the league. The issue is playing consistently for 60 minutes at a time.
"You don't win 10 games with bad players or without playing well," Bequette said.
What should also help Arkansas' defense is the fact that there is some fresh blood on board. Bequette said parting with defensive coordinator Willy Robinson was tough, but the team has more than welcomed Ohio State's former co-defensive coordinator and safeties coach, Paul Haynes, to the bunch.
In the short time Bequette has worked with him, Bequette said he's been thoroughly impressed. He has not only injected some new life into the unit, but he has players feeling and playing more confidently. He's putting a lot of responsibility on Arkansas defenders, and they like it.
Friday also marks the end of the road for a handful of seniors who helped Arkansas get to where it is now. Most of them come from the defensive side of the ball, so it's been especially hard for them to look back and see some of the unit's shortcomings.
But this group is motivated to lead the charge for the future. A win will give Arkansas its first 11-win season since 1977, and Bequette thinks it will generate a ton of momentum heading into the offseason for next year's team.
"As seniors, we want to win our last game, but we also want to leave a legacy," he said.
December, 30, 2011
12/30/11
5:09
PM ET
Gene Chizik couldn't wait to leave Atlanta.
Shortly after speaking with the media at the Chick-fil-A Bowl news conference inside the fast food chain's headquarters, Chizik went straight into overdrive getting back to Auburn for meetings and practice.
[+] Enlarge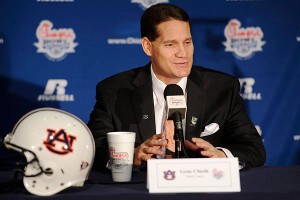 Paul Abell/US PresswireAuburn head coach Gene Chizik answers questions about his plan to also run the Tigers' defense.
He wasn't necessarily having a bad time being surrounded by the aroma of chicken sandwiches and milkshakes, but he was on a schedule that was shorter than usual with his new job as both head coach and defensive coordinator for the Tigers.
Days before, Ted Roof left to take a similar job at Central Florida, so Chizik, who has 11 years of defensive coordinating experience, took over the position through bowl season.
"I did that for so many years," Chizik said of coaching Auburn's defense. "You just kind of jump back on the horse and get back at it."
Still, with time management and time constraints being just two things changing for Chizik, you could imagine there's a little more stress in the Chizik household these days.
Bowl anxiety is truly setting in and his double duty act will really be put to the test Saturday night against Virginia.
While Chizik might be stressing more than usual, his players aren't. Sophomore defensive end Nosa Eguae said things are relatively the same for players. To him, the defense hasn't changed much when it comes to preparation, and Chizik's defensive knowledge has made the short transition easy.
"He has a great football mind," Eguae said. "Anytime we're in a meeting, everybody gets it and understands it.
"I love it. There are people who can balance the two of being head coach and defensive coordinator and he's great at what he does."
The only real difference, outside of not seeing Roof overlooking the defense, is Chizik's demeanor. Eguae said Chizik's defensive passion is glowing, and it can get a little intimidating.
"When he's focusing more on the defense you can see that intensity in his eyes and hear it in his voice," Eguae said. "I love it."
Auburn isn't the only team dealing with change. Arkansas has welcomed in a new offensive and defensive coordinator in Paul Petrino and Paul Haynes. Florida lost offensive coordinator Charlie Weis, who is now the head coach at Kansas, and temporarily promoted running backs coach Brian White.
No one was probably more caught off guard by change than Florida's players. Weis said weeks before taking the Kansas job that he expected to be in Gainesville for the long haul. But his abrupt exit left players shocked.
While Florida struggled tremendously on offense this season, White said he wants to keep some order by maintaining the same offensive philosophy. There will be some tweaks, but plays and formations should be relatively the same.
"It's pretty much status quo. This is what our players know," White said. "This is what we've coached all year. We can't all of the sudden go and do something out of the box in a couple weeks. That would be foolish."
Unlike Auburn and Florida, Arkansas' coordinators are locked into next season.
Petrino is very familiar with the Hogs. Not only is his big brother the head coach, but he was also on staff in 2008 and 2009. Even with Garrick McGee now UAB's head coach, Arkansas' offense shouldn't change much under Petrino, but he does have some big shoes to fill.
Haynes, who takes over for Willy Robinson, left Ohio State to work in a conference where defense truly is king. Arkansas' defense took an unexpected step back in 2011, ranking no higher than eighth in the SEC in major defensive categories.
In order to keep things easier for defenders, Robinson isn't changing much, either, and plans to show a multiple defense attack.
While it isn't always easy to say goodbye to a coach, these replacements appear to be making life better. Limiting the thought process seems to be the recipe for smooth transitions.
"There's not going to be a lot of thinking come Saturday," Eguae said.
December, 21, 2011
12/21/11
2:21
PM ET
No college football season ever turns out exactly the way you thought it would.
There are always surprises -- good and bad.
I'll tackle my biggest surprises in the SEC's Western Division this season, and Edward will unveil his biggest surprises in the Eastern Division later today.
We'll do it by teams:

ALABAMA
Struggles in the kicking game:
It wasn't all bad.
Marquis Maze
was one of the top kickoff and punt returners in the SEC, but Alabama was ninth in the SEC in net punting and 11
th
in kickoff coverage. What's more, the Crimson Tide missed 11 field goals this season. And while nobody in Tuscaloosa needs to be reminded, four of those misses came in the LSU game.
Anthony Steen:
The 6-foot-3, 303-pound sophomore was one of the Crimson Tide's most pleasant surprises in the preseason, and he wound up starting nine games at right guard. He was a big part of Alabama's bruising running game, which topped the SEC with an average of 219.8 yards per game.

ARKANSAS
Defensive turnover:
This was supposed to be Arkansas' best defense under Bobby Petrino. The Hogs had depth and experience, but wound up ninth in the SEC in total defense and gave up 28 or more points in six games. Petrino fired defensive coordinator Willy Robinson and brought in Paul Haynes from Ohio State as the Hogs' new defensive coordinator.
Greg Childs:
After tearing the patella tendon in his right knee during the 2010 season, Childs never returned to his All-SEC form. He just wasn't the same physically this season and finished with 16 catches in 10 games and no touchdowns.

AUBURN
Defensive decline:
Everybody on the Plains expected some drop-off on defense after losing so many veteran players from the national championship team. But the Tigers were torched for more than 1,600 total yards in their first three games in a sign of things to come. They wound up giving up 29.3 points per game and 405.8 yards per game, and defensive coordinator Ted Roof left for the UCF defensive coordinator's job when the regular season ended.
Gus Malzahn leaving for Arkansas State:
Most in and around the Auburn program had a feeling that Malzahn was poised to leave for a head job. After all, he turned down $3 million per year at Vanderbilt last year. But nobody would have guessed that he would leave for the Arkansas State head job.

LSU
No quarterback controversy:
With the way LSU's quarterback situation has played out, it's a minor miracle there hasn't been a quarterback controversy. But, then, it's been that kind of season for the Tigers. Still, you can't help but wonder what Jarrett Lee's true thoughts are right now.
The Honey Badger:
It was obvious from Tyrann Mathieu's freshman season that he was a very good football player. But who knew he would blossom into one of the best all-around players in the country this season? He scored four touchdowns and didn't play a snap on offense.

MISSISSIPPI STATE
No signature wins:
After the Bulldogs racked up nine wins in 2010, the expectations in Starkville were off the charts. In retrospect, maybe too much was expected. Either way, Mississippi State lost all five of its games to nationally ranked foes and only beat one Western Division opponent (Ole Miss).
Cameron Lawrence:
In his first season as a starter, Lawrence collected 114 total tackles to rank third in the SEC. Everybody was wondering coming into the season what the Bulldogs were going to do at linebacker after losing all three starters. Lawrence, who played quarterback in high school, stepped right in and anchored a unit that was solid all season.

OLE MISS
Houston Nutt's ouster:
Nutt had been the ultimate survivor in the SEC, and when his back was to the wall, he usually produced some of his best results. It wasn't to be this season, though, as the Rebels saw their SEC losing streak reach 14 straight games. Following the loss to Kentucky on Nov. 5, the university announced that Nutt wouldn't be back next season.
Quick trigger for Brunetti:
One of the more puzzling things about the season for Ole Miss was how
Barry Brunetti
could win the starting quarterback job during the preseason, then get benched in the opener and never really be heard from again until the very end of the season.
April, 11, 2011
4/11/11
11:00
AM ET
FAYETTEVILLE, Ark. -- One of the first speeches Arkansas coach Bobby Petrino shared with his team last season centered around holding the proverbial rope.
Everybody takes a shot at holding that rope -- the offense, defense and special teams.
When one unit is struggling, the other may have to hold it a little bit longer.
[+] Enlarge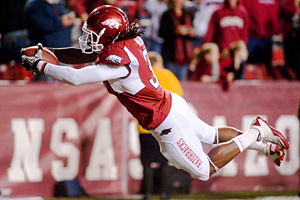 AP Photo/Beth HallArkansas safety Jerico Nelson said "everyone believes" in the Hogs' defense this season.
That's just part of being a team.
Don't be surprised in 2011 if Arkansas' defense ends up holding that rope as much or more than the offense, which is more a reflection of how much the Hogs have progressed on defense than it is a warning of any slippage on offense.
"Everybody believes on defense now, and we have guys who've been in this system for a long time," said senior Jerico Nelson, who doubles as a safety/linebacker for the Hogs.
"We got better on defense last year and stepped up in some games. But in the games we needed to step up in, we didn't. We lost all three of those games -- Alabama, Auburn and Ohio State. We have to learn to start fast and continue to play fast, and that's what we've done this spring."
When Petrino first arrived at Arkansas, spring practice was one big fireworks show for his offense.
There were big plays all over the field, quick-strike touchdowns and not a lot of defense.
This spring has been different. The defense has won a lot more battles than it's lost, which is the way it is at most championship-caliber programs in the spring -- particularly in the SEC.
"A lot of it is the maturity of the guys here and going through what we did together when we were younger," said senior middle linebacker Jerry Franklin, who had a career-high 100 tackles last season and is bidding to become the first player in Arkansas history to lead the team in tackles for four straight seasons.
"We're older now and have blended together into a good defense. But we don't just want to be a good defense. We're trying to become a top 10 or top 5 defense in the country. We have the guys to do it and the game plan to do it. We just have to go out and get it done."
Defensive coordinator Willy Robinson, who took his share of heat those first two seasons, deserves a lot of credit for staying the course. He put his entire system in and didn't deviate from that system even when the Hogs were giving up points in bunches.
That first season, they went one three-game stretch against Alabama, Texas and Florida and gave up a combined 139 points.
Even during the second season, the Hogs finished 89
th
nationally in total defense and went eight straight games where they allowed a touchdown play of 60 yards or longer.
But last season, a lot of those defenders grew up, and Arkansas improved to 36
th
nationally in total defense. Just about all of those guys are back, too.
"It's gratifying to see them so confident with each other and playing faster," Robinson said. "We stuck with our system. We didn't try and change our system. It wasn't like there was a discontinuance for them, so they were able to get better at what they were doing."
Robinson went into this venture with his eyes wide open, too.
Soon after arriving from the St. Louis Rams, even his wife, Susan, could tell that the defensive personnel wasn't anywhere close to what it needs to be to compete for championships in the SEC.
"Our first spring here, my wife, who had grown up in Pennsylvania and knew a lot about football, sat down there and said, 'You guys look like a high school football team. That doesn't look like a college team. I don't know how you're going to compete in the SEC because I've seen those people, too,' " Robinson recounted.
"We just had to work our rear ends off, and our strength staff has done a great job."
The Hogs now look like an SEC championship-caliber defense in their front seven in terms of their size and depth in the defensive line and their athleticism and speed at linebacker.
That's keeping in mind, too, that their two best defensive tackles, Byran Jones and DeQuinta Jones, were out this spring while recovering from injuries.
"You see in those championship teams that they all have good offenses, but what separates them is that every one of them has a great front seven," said senior defensive end Jake Bequette, who led the team with seven sacks last season.
The Hogs also possess experience and skill in their secondary, although Robinson thinks they might be a cornerback or two short in terms of depth.
"Without a doubt, we feel like we can be playing for our conference championship in Atlanta," Robinson said. "We feel that in all of our hearts. We've taken a step every year, and our kids are really driven to do that. We had so many freshmen playing for us our first year on defense. That was scary, but it helped us on down the line.
"Our offense has carried us for so long. We're at a point now, though, where our defense should be able to hold the rope for a lot longer."
October, 18, 2010
10/18/10
2:44
PM ET
When you're hot, you're hot. When you're not, you're not …
Nothing like a little Jerry Reed to take us into this week's Hot and Not in the SEC:
EN FUEGO
Jordan-Hare Stadium:
There are a lot of places that rock around the SEC, and there are a lot of places around this conference that hold noise and make you feel like your ear drums are about to explode. But it's that way from the opening kickoff at Auburn and only picks up steam from there. I've been to just about all the stadiums in the league the last few years, and I say with confidence that Jordan-Hare Stadium is as consistently loud and electric throughout the game as any stadium I've been to, and I think it's gotten even more intense this season. When that crowd sensed blood in the fourth quarter last Saturday against Arkansas, even Toomer's Corner was rocking several blocks away. They call it the Loveliest Little Village on the Plains, but there ain't nothing lovely about it if you're the other team.
HOT
[+] Enlarge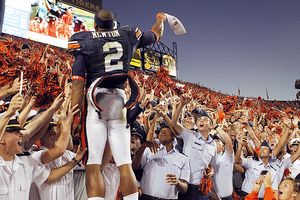 Mike Zarrilli/Getty ImagesCam Newton had 328 yards of total offense and rushed for three touchdowns against Arkanasas.
Auburn quarterback Cameron Newton:
He's less than 150 yards away from becoming only the second quarterback in SEC history to rush for 1,000 yards in a season. And with 13 passing touchdowns and 12 rushing touchdowns, he's got a real shot at joining Tim Tebow in the 20/20 club.
NOT
Instant replay:
Is it just me, or does it seem like in the SEC that the replay official's definition of indisputable video evidence is different than everybody else's? Arkansas got hosed on
Mario Fannin
's fumble at the goal line. That ball was out before he crossed the goal line.
HOT
Arkansas quarterback Tyler Wilson:
Yes, he threw those two late interceptions, but to come in and perform the way he did in that kind of environment tells you all you need to know about the Hogs' sophomore backup. After
Ryan Mallett
went down, Wilson passed for 332 yards and four touchdowns against Auburn and kept the Hogs in the game.
NOT
Florida coach Urban Meyer:
Let's preface this by saying that Meyer is one of the best coaches in America. He's won two of the past four national championships. That said, there's no way the Gators should be this bad on offense with the way they've recruited the past few years. They have backups on offense who would be starting for a lot of other teams in this league.
HOT
Mississippi State's running game:
The Bulldogs, third in the SEC in rushing offense, went old school on the Gators last Saturday night in the Swamp. They ran the ball over and over again and made the Gators like it.
NOT
Arkansas's defense/special teams:
There were positive signs, lots of them, for Willy Robinson's defense. Arkansas genuinely looked like a much improved defensive football team for the first five games. That all changed last Saturday in the 65-43 loss to Auburn. The Hogs gave up 470 yards in total offense, including 330 rushing yards. John L. Smith's special teams were equally bad. The Hogs gave up a 99-yard kickoff return, had a punt blocked and were repeatedly tackled short of the 20-yard line on kickoff returns.
HOT
Kentucky quarterback Mike Hartline:
Have you noticed who owns the best touchdown-to-interception ratio in the SEC? It's Hartline, who is having a terrific senior season with 13 touchdown passes and only three interceptions. He's shown tremendous resolve throughout his career at Kentucky.
NOT
Auburn's pass defense:
In a word, it stinks. Making matters worse, the Tigers are losing some players to injury in the secondary, too, and will have even less experience on the field against LSU. Auburn is 108
th
nationally against the pass and was shredded for 428 passing yards and five touchdown passes last week against Arkansas. That's going to get them sooner or later if they don't start covering somebody.
FREEZER BURN
South Carolina's secondary:
Stopping somebody's passing game is a two-way street. You have to get pressure on the quarterback, and you have to cover somebody. The Gamecocks got decent pressure on Kentucky's Hartline last week and knocked him around some. The problem was they didn't cover anybody. How many tackles can you miss back there? How many bad angles can you take? How many busted assignments can you make?
Randall Cobb
was so open on the game-winning touchdown that he had time to rip the fair-weather Kentucky fans on Twitter before he even caught the pass. But back to the South Carolina secondary, which isn't short on talent. Depth might be a concern, but talent isn't. The Gamecocks are ranked last in the SEC (and 110
th
nationally) in pass defense. They're making Auburn's pass defense look good right now, and that's saying something.
October, 11, 2010
10/11/10
2:36
PM ET
There's warm. There's downright toasty, and there's scalding.
We'll keep it to Hot and Not, our weekly rewind in the SEC:
EN FUEGO
Balance in the SEC:
Having five teams ranked in the top 12 nationally midway through the season speaks for itself. There's no question that Alabama and Florida have dominated this league for the past two years, but it's clear that Arkansas, Auburn, LSU and South Carolina are serious about having a say in who wins the SEC championship this season. The knock on this conference recently has been that it's a two-team league with several other mediocre teams filling out the upper tier. Those critics might want to think again. South Carolina's convincing win against Alabama last week reinforced just how strong this league really is.
HOT
[+] Enlarge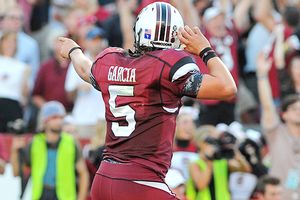 Al Messerschmidt/Getty ImagesStephen Garcia's performance was key in South Carolina's upset win over Alabama.
South Carolina quarterback Stephen Garcia:
He played nearly perfect football in the upset of Alabama, threw three touchdown passes, was extremely humble afterward and was praised profusely by his head coach. Yes, the same Head Ball Coach that was hammering away at him during the spring and summer.
NOT
Alabama running back Mark Ingram:
Maybe he is human after all. Last season's Heisman Trophy winner has been held to 88 rushing yards on 23 carries the past two games and was kept out of the end zone against the Gamecocks.
HOT
Arkansas's defense:
What's wrong with this picture? The Hogs' defense saved the day last week in the 24-17 win over Texas A&M with one critical stop after another. Willy Robinson's unit has improved tremendously.
NOT
Florida running back Emmanuel Moody:
The Gators keep waiting on him to break through and be that consistent threat in the running game, but it just hasn't happened. He didn't help matters by losing a costly fumble just before halftime in the 33-29 loss to LSU.
HOT
South Carolina in the red zone:
Let's refer to it as the "garnet zone." The Gamecocks lead the SEC in red zone offense, scoring touchdowns in 17 of their 20 trips inside the 20. They also lead the league in red zone defense, allowing opponents just five touchdowns in 20 trips.
NOT
Kentucky's run defense:
The Wildcats are getting gashed on the ground. They're last in the SEC in rushing defense, allowing 190.3 rushing yards per game, and have already given up 15 rushing touchdowns this season.
HOT
LSU quarterback Jarrett Lee:
He's a perfect example of why it pays to hang in there. Lee threw 16 interceptions two years ago as a redshirt freshman, and seven of those were returned for interceptions. But he's come off the bench to pull the Tigers out of the fire each of the last two weeks with game-winning drives.
NOT
Florida offensive coordinator Steve Addazio:
The boos were hard to miss last Saturday by the Florida fans as the Gators continued to limp along on offense. Nobody in Swamp Land is real thrilled with anything about this offense, including the play-calling.
FREEZER BURN
Tennessee's pass protection:
It will be a minor miracle at this rate if Tennessee quarterback
Matt Simms
finishes the season in one piece. He's taking a wicked beating, as the Vols' young offensive line continues to struggle when it comes to protecting the passer. They've now allowed 23 sacks, which is more than any other FBS team in the country. Simms has been sacked nine times in his past two games, and that's not even counting the other times when he was knocked around after just getting rid of the ball. Hope he's got a good whirlpool where he lives, because he's going to need it.
November, 5, 2009
11/05/09
8:07
AM ET
Posted by ESPN.com's Chris Low
It's a good thing Alabama and LSU tangle this weekend. They meet for only the second time since 1978 as top-10 opponents.
If not for that highly anticipated showdown, the schedule would be top-heavy with a bunch of duds, mostly teams hoping to stretch their legs and their scoreboards against outmanned nonconference foes.
The Arkansas-South Carolina matchup should also be interesting. The loser could be in deep trouble as far as finishing this season strong.
Here's a look at what to watch in the SEC in Week 10:
1. How the West was won:
For Alabama, it's as simple as winning Saturday against LSU. The Crimson Tide (8-0, 5-0) would clinch the Western Division title and their second straight trip to the SEC championship game with a win. They would own all tiebreakers based on their head-to-head victory over LSU regardless of what they do in their final two SEC games against Mississippi State and Auburn. The Tigers (7-1, 4-1) wouldn't clinch the West title with a win over the Crimson Tide, but would put themselves in a commanding position. LSU would still need to win over Ole Miss on the road and Arkansas at home to lock up a trip to Atlanta to play in the SEC championship game.
2. Beast of the East:
Florida is already taking ticket orders for the SEC championship game. The Gators (8-0, 6-0) clinched their second straight trip to Atlanta last week. Still, they will probably need to stay unbeaten if they want a shot at the BCS national championship. Being upset at this point by anyone left on their regular-season schedule (none of their remaining four opponents are ranked) would drop them low enough in the polls that they would have a difficult time climbing back high enough -- even with a win in the SEC championship game -- to finish in the top two of the final BCS standings. So, in other words, it's still pretty much sudden death for the Gators if they want to get to Pasadena and play for their second consecutive national title.
3. Miles vs. Saban III:
When both coaches go out of their way to talk about how this game isn't about them and how it's about the players, that's a pretty good indication that the two coaches are indeed a huge part of this game. How can they not be? Saban guided LSU to a national championship in 2003 before bolting for the NFL. Miles took over and won LSU's second national championship four years later in 2007 and did so with a lot of players who were recruited by Saban. It's one thing to replace a coach the stature of Saban, but it's quite another to have to face him every year after he shows back up in your same division at one of your chief rivals. Winning Saturday would go a long way toward getting Miles out of Saban's shadow at LSU once and for all.
4. Tide's troubles in the red zone:
Alabama has struggled mightily this season inside the red zone. The Crimson Tide have just 16 touchdowns in 38 trips inside their opponents' 20-yard line, and their 42.1 touchdown percentage ranks 111
th
nationally. Even more troubling for Saban is his team's inability to throw the ball when trying to score touchdowns. Alabama's 27.3 completion percentage inside the red zone ranks dead last (120
th
) among all FBS teams. So if LSU gears up to stop the run, which you know the Tigers will, Alabama quarterback
Greg McElroy
is going to need to throw the ball better in order to score touchdowns. Getting tight end
Colin Peek
back would be a huge boost. Peek remains day to day with a knee sprain suffered in warm-ups against Tennessee. He practiced some Wednesday.
5. Peterson's second chance:
LSU sophomore cornerback Patrick Peterson has been replaying the catch over and over in his mind. He was defending Alabama receiver
Julio Jones
last season when Jones hauled in the 24-yard catch in overtime to set up the Crimson Tide's game-winning touchdown. Peterson, who's emerged this season as one of the better cornerbacks in the SEC, hasn't made it any secret that he's been counting down the days to getting another shot at Jones. "The coaches know what I want," Peterson said. "They have confidence in me. ... Everything I've been doing since [last] season is to prepare for Julio Jones. I really haven't had a chance to get into the game plan on how coach has us guarding him, but I do know I'm going to lock on Jones."
6. Practice makes perfect:
Figuring out who's going to be starting for Arkansas on defense this weekend would require getting your hands on the practice tape. For the second week in a row, the Hogs plan on starting the players who grade out the highest in practice. It doesn't matter what you've done earlier in your career or earlier this season. It matters only what you've done this week on the practice field. Arkansas had six first-time starters on defense a week ago, and defensive coordinator Willy Robinson thinks the message has come through loud and clear. The Hogs, last in the SEC in total defense and the only team in the league giving up 400 or more yards per game (410.6), needed a jolt on that side of the ball.
7. Breakfast in Fayetteville:
Those morning kickoffs this season haven't been real tasty for the visiting team, which means South Carolina could be in trouble this Saturday. The Arkansas-South Carolina contest is set for an 11:21 a.m. CT start. Three of the last four morning kickoffs have all been won by the home team in convincing fashion. Auburn beat Ole Miss 33-20 last week. Ole Miss beat Arkansas 30-17 the week before, and Arkansas beat Auburn 44-23 back on Oct. 10. Going back to September, visiting LSU also struggled before keeping Mississippi State out of the end zone at the end and escaping 30-26 in Starkville. Whoever loses this latest morning affair is going to have a hard time regrouping for the rest of the season. It's a huge game for both teams.
8. Gators going Spikes-less:
Brandon Spikes' half-game suspension against Vanderbilt has turned into a full game after Spikes went to the Florida coaches and suggested that he should sit out the entire game. Spikes didn't want to be a distraction to his teammates, who say they've got his back regardless of his attempted eye gouge in the Georgia game last week. Ryan Stamper will step in for Spikes at middle linebacker, and the Gators should be fine against a Vanderbilt offense that hasn't scored more than 10 points all season against an SEC opponent. But the bigger picture is how this whole ordeal will affect Spikes down the road. The Gators will need him at his best, both physically and emotionally, if they're going to win another national title.
9. Stormin' Norman:
What kind of freshman season has it been for Vanderbilt running back
Warren Norman
? Well, he charges into Saturday's game at Florida with three kickoff returns for touchdowns. The only other player in SEC history to have pulled that off was Willie Gault in 1980. Norman also leads the SEC with 1,526 all-purpose yards and has a shot to break Herschel Walker's SEC freshman record for all-purpose yards in a season (1,805). Norman is averaging 169.6 yards per game, which would place him among the top 10 in the SEC all-time in terms of season average, just ahead of Deuce McAllister's 169.2 yards per game in 1999 and Bo Jackson's 169 yards per game in 1985. Talk about some exclusive company.
10. A November to remember:
It was about this time a year ago that the Phillip Fulmer era at Tennessee came to an end during an emotional news conference at Neyland Stadium. Sandwiched around that announcement were ugly November losses to South Carolina and Wyoming. The outlook this November is a little brighter for the Vols, who are playing their best football of the season under first-year coach Lane Kiffin and looking to sweep through the month of November unbeaten starting with Memphis on Saturday. Running the table -- which would also mean winning at Ole Miss, beating Vanderbilt at home and then closing the season with a win at Kentucky -- would put the Vols in great shape come bowl selection time. The Capital One, Outback and Cotton bowls would all be interested.
Posted by ESPN.com's Chris Low
In the end, the most anticipated Saturday of the season in the SEC didn't produce any thrillers in the marquee matchups.
Arkansas and Tennessee both pulled off surprises in how convincingly they won, while Alabama and Florida continued to separate themselves from the rest of the pack.

Lots of candidates for this week's helmet stickers, although a couple were no-brainers:
Florida linebacker Brandon Spikes: He's the igniter of the Florida defense and one of the best linebackers in the country. Spikes got the Gators going early on defense Saturday in their 13-3 win over LSU, and they never looked back. He finished with a team-high 11 tackles, including 2.5 sacks. He also forced a fumble and was LSU quarterback Jordan Jefferson's worst nightmare all night long.
Tennessee quarterback Jonathan Crompton: If the Vols would have had this version of Crompton all season, who knows what their record would be right now. The fifth-year senior quarterback was outstanding in the 45-19 win over Georgia. He was 20-of-27 for 310 yards, four touchdowns and one interception in what was easily the best game of his career. With all the abuse Crompton has taken at Tennessee, he deserves some good things to happen to him.
South Carolina receiver Alshon Jeffery: One of the Gamecocks' most prized signees this past February, Jeffery had his official coming-out party in the 28-26 win over Kentucky with three touchdown catches. He had five catches in his first five games before going off on the Wildcats, who were missing their two starting cornerbacks. Two of Jeffery's touchdown catches were as good as you're going to see. He pulled in a 28-yarder with one hand and made a sweet adjustment on a fade route to catch a 22-yarder. The 6-foot-3, 215-pound freshman finished with seven catches for 138 yards.
Alabama running back Mark Ingram: A week after he ran for 140 yards against Kentucky, Ingram rolled up a career-high 172 yards in the 22-3 over Ole Miss. His 36-yard run was the game's only touchdown. He's now scored a touchdown in 14 of his 20 games at Alabama and established himself as one of the more versatile running backs in college football.
Arkansas defensive coordinator Willy Robinson: It hasn't been a lot of fun heading up the Hogs' defense this season, but Robinson had his guys ready Saturday against previously unbeaten Auburn. The Tigers were held to under 400 yards of total offense for the first time all season, and Arkansas played its best all-around game defensively of the season in a 44-23 win over Auburn.
October, 4, 2009
10/04/09
1:42
AM ET

Posted by ESPN.com's Tim Griffin
ARLINGTON, Texas – As his slump-ridden team fell into another early hole Saturday night, Arkansas coach Bobby Petrino was a little worried.
Considering his team had three successive three and outs and produced zero yards on their first nine snaps, Petrino believed his first trip to the Dallas Cowboys Stadium could end up being a long, frustrating night.
| | |
| --- | --- |
| | |
| | Ronald Martinez/Getty Images |
| | Arkansas quarterback Ryan Mallett rebounded nicely after struggling in the past few games. |
"I was thinking this wasn't going very good," Petrino said. "There was a lot of time left on that clock and we weren't doing anything."
Fortunately for Petrino, quarterback
Ryan Mallett
was ready. The 6-foot-7 quarterback hooked up with
Joe Adams
on a 67-yard pass on the first play after those three stalled drives. Three plays later, the Razorbacks scored their first touchdown. And that score sparked an avalanche of 30 consecutive points that boosted the Razorbacks to a convincing
47-19 victory over Texas A&M
.
In the process, the Razorbacks were able to blot out bad memories from back-to-back losses to Georgia and Alabama in the last two weeks.
Arkansas likely won't be a contender for the SEC West Division title, but the rebound performance showed the Razorbacks are still a legitimate threat for a bowl trip if they can build on their Saturday night effort.
"I think this helps our confidence a lot," Petrino said. "We were talking about being a team and taking care of each other and playing together and not hurting ourselves. I think we grew up a little bit tonight."
Petrino said that Mallett showed him during the week that he was intent to bounce back after his struggles at Alabama, where he completed only 12 of 35 passes.
"A game like this will boost your confidence to come out and play 10 times better than we did against Alabama," said Mallett, who finished with 271 yards and four touchdown passes against a beleaguered A&M secondary. "When we were at Alabama, we didn't have the right juice. We had the right juice here and that's what got us the victory."
Mallett was understandably contrite last week. But he was able to put aside his own struggles to help his team steamroll to the victory.
His effectiveness at isolating running backs against slower A&M linebackers was particularly noteworthy, as it produced eight of his 17 completions to those backs.
But as big as the turnaround in Mallett's performance was, the Arkansas defense stepping up after being blistered for six touchdowns of at least 40 yards in the last two games was equally of note.
It led Arkansas defensive coordinator Willy Robinson to snatch an inspirational page from Howard Beale from the classic movie "Network."
"I'm as mad as hell and I'm not taking it anymore," Robinson said. "That's exactly how we felt. We were tired of it. It wasn't like us. We were going to play like we're capable of playing."
The Aggies were limited to nine points during the rest of the game after A&M jumped to an early 10-0 lead. The quick Razorback defensive front put repeated pressure on
Jerrod Johnson
, who came into the game third in total offense and 11th in passing efficiency.
Funny thing, however. Playing the Razorbacks was a little different than playing the tissue-soft group of UAB, Utah State and New Mexico that A&M faced to start the season.
The game turned on a critical 14-point swing late in the second quarter with A&M poised to reclaim the lead deep in Arkansas territory. As Johnson was scrambling, he was hit by Arkansas' Tenarius Wright who dislodged the ball. Arkansas outside linebacker Jerry Franklin picked up the fumble -- A&M's first turnover of the season -- and raced untouched for an 85-yard touchdown return.
Arkansas had a 21-10 lead and never looked back from there.
Franklin, a converted high school tight end, flashed a healthy dose of speed on the play.
"It was a huge play for us," Franklin said. "Our offensive guys were happy to know we had their back. It had been about two years since I scored a touchdown and it felt great."
But as excited as he was about the score, Franklin was more excited about his defense's performance when it most needed it. Together, the Razorbacks helped turn this old rivalry between Southwest Conference foes into a mundane game in the second half when many Aggie fans had already left for the exits.
"We were frustrated the last two weeks because we had given up way too many big plays," Franklin said. "That made us want to come out and play well tonight. And that's what we did. All of us came together when we really needed it."
April, 15, 2009
4/15/09
12:35
PM ET
Posted by ESPN.com's Chris Low
Some SEC links to munch on:
February, 17, 2009
2/17/09
12:03
PM ET
Posted by ESPN.com's Chris Low
Taking a stroll around the SEC to see what's making headlines:
TOP 25 SCOREBOARD
Thursday, 12/5
Friday, 12/6
Saturday, 12/7
TOP PERFORMERS