November, 17, 2010
11/17/10
11:49
AM ET
Does Jim Harbaugh need a hug? Sure sounds like it. His poor, old Stanford team: How can it possibly survive this weekend at California in the Big Game?
Sure, Stanford is ranked sixth in the nation, and many educated eyes deem the Cardinal the nation's best one-loss team. Sure, Stanford's offense is among the most potent in the country. Sure, it's led by the likely top overall pick in this spring's NFL draft, quarterback
Andrew Luck
. Sure, the Cardinal are still in the running for the Rose Bowl, which Cal last played in 457 years ago.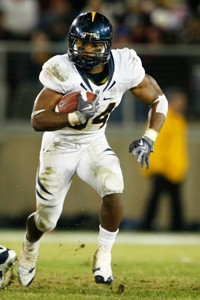 AP Photo/Marcio Jose SanchezCalifornia's Shane Vereen racked up 193 yards on 42 carries in the Bears' win over Stanford last season.
But Cal has won seven out of eight Big Games, including a surprising 34-28 upset last year at Stanford.
"You mentioned last year, but you could really go back the last eight years," Harbaugh said. "We're trying to make this rivalry game a rivalry. But you can't really call it a rivalry when you've lost seven out of the last eight games."
Poor, old Stanford.
California darn near beat top-ranked Oregon last weekend before succumbing 15-13. The Bears' defense only allowed one offensive touchdown against the high-powered Ducks. Oregon rolled over Stanford 52-31. So what is the poor old Cardinal to do?
"It's the best defense we've played by far," Harbaugh said. "They really look like the best team in the Pac-10, especially at home."
Cal, by the way, is 5-5. It lost by 21 at Nevada, 34 at USC and 28 at Oregon State, which just lost to Washington State.
Ah, but the Big Game, which ninth-year Bears coach Jeff Tedford seemingly owns, will be played inside Strawberry Canyon, where Cal's only loss this season is the nail-biter to the Ducks.
On the road, the Bears might play like
Elmer Fudd
but at home they transform into
Wolverine
. Why? No one knows. It's a mystery on par with Kim Kardashian's celebrity.
"I've been asked that enough times, so I should have analyzed it," Tedford said. "If I had the magical answer it would have been taken care of a long time ago."
What we can understand with metaphysical certainty is that Cal is going to need to score to beat Stanford, and it hasn't done much of that since quarterback
Kevin Riley
went down with a season-ending knee injury and was replaced by
Brock Mansion
. In the 11-plus quarters since Mansion has been running the offense -- including starts against Washington State and Oregon -- the Bears have scored just five touchdowns. Mansion has just one TD pass with two interceptions and is completing just 46.8 percent of his throws.
Seeing that Bears running back
Shane Vereen
gashed Stanford for 193 yards and three scores on 42 carries -- 42! -- in last year's Big Game, you can imagine the basics of the Cardinal's defensive plan: Gang up on Vereen, force Mansion to make plays in the passing game.
"It's going to be very important for him to keep his composure and for him just to play within himself and not try to do too much," Tedford said. "He's still learning, there's no doubt about it."
So Cal's challenge is to figure out creative ways to move the ball and keep the dramatically improved Stanford defense honest.
But that's nothing compared to poor, old Stanford.
"We're really trying to figure out how we can move the ball against them," Harbaugh said. "This week preparing for Cal's defense is pretty much like preparing for an NFL team."
The matchup of Stanford's physical offensive line and the Cal front seven will be interesting. The Bears lead the Pac-10 in total defense and sacks (30). Stanford is 14th in the nation in total offense and has yielded just four sacks, which is tied for fewest in the nation.
When asked about last year's game, Harbaugh said the Cardinal "got the fuzzy end of the popsicle." After purchasing hundreds of different brands of popsicles, the Pac-10 blog was unable to find one with a fuzzy end, but Harbaugh provided clarity by noting that the problem for Stanford in the 2009 Big Game was "we didn't score as many points as the Bears did."
Nothing like cutting to the chase. And in Saturday's game, while there will be an intriguing strength-on-strength battle between the Cal defense and the Stanford offense, this one really comes down to whether Mansion and the Cal offense can rise to the occasion and score more points than poor, old Stanford.
October, 10, 2008
10/10/08
11:05
AM ET
Posted by ESPN.com's Ted Miller
Ten things to consider, underline or anticipate heading into the weekend.
1. USC's backfield rotation is getting simpler: With Allen Bradford suffering a hip injury that has imperiled his season, and Joe McKnight battling a sore knee -- not to mention inconsistency -- the Trojans backfield rotation likely will feature Stafon Johnson and C.J. Gable as options Nos. 1 and 2, with McKnight used as a change of pace guy who doubles as a receiver.
2. Can a freshman tackle handle an All-Pac-10 defensive end?: If UCLA's offense is going to have any success at Oregon, it's going to have to account for end Nick Reed, who was first-team All-Pac-10 in 2007 and is presently leading the conference with six sacks. That falls to freshman tackle Jeff Baca, a former teammate of Reed's at Mission Viejo High School -- and by teammate we mean Baca used to admire Reed from afar. Baca figures to need some help (sliding protection or even a tight end with a max-protection scheme), but the less he needs the better for the Bruins.
3. Welcome to opportunity, Danny Sullivan: Folks didn't give Arizona State much chance at USC even with marquee quarterback Rudy Carpenter, so it is reasonable to assume that if Carpenter can't go the Sun Devils are pretty much doomed. Well, plenty of inexperienced or unknown athletes have stepped up and turned in clutch performances, so why not Danny Sullivan? Let's remember: Stanford, a 41-point underdog a year ago at USC, was led by Tavita Pritchard, an emergency, first-time starter because T.C. Ostrander had suffered a seizure the previous week. What happened in that game?
4. Will Justin Roper retake his spot as Oregon's starting quarterback?: The latest word is that Oregon coach Mike Bellotti and offensive coordinator Chip Kelly are still cogitating over who will start at quarterback for the Ducks against UCLA -- either Jeremiah Masoli, who has started the past three games, or former starter Justin Roper, who hurt his knee at Purdue on Sept. 13. Masoli has been solid in Roper's stead, and there's a possibility he holds onto the job, but Roper should have a lot more knowledge of the offense compared to the first-year juco transfer.
5. Arizona's defense needs to show it can stop a physical running back: It's been mostly roses and rainbows for Arizona during a 4-1 start, but the face plant at New Mexico is still why some doubt the Wildcats and attribute their early success to an easy schedule. For example, Arizona ranks No. 2 in the nation in total defense, but Lobos running back Rodney Ferguson, a 6-foot, 234-pound bowling ball, bullied the Wildcats for 158 yards and two touchdowns. So there is reason to be concerned about Stanford's power running game led by 230-pound Toby Gerhart and a physical offensive line.
6. Is a true freshman the best running back in the Pac-10?: It might be premature to hail Oregon State's Jacquizz Rodgers as such but he presently leads the Pac-10 with 110 yards rushing per game, which also ranks 14th in the nation. On Saturday, he faces a Washington State run defense that yields 241 yards rushing per game. If Rodgers hangs up huge numbers to pair with his red-letter performance against USC, he'll become a front-runner to earn First-Team All-Pac-10 honors.
7. USC quarterback Mark Sanchez will announce that he's joining the X-Men this weekend: Know how the X-Man Wolverine heals really quickly? Well, so does USC quarterback Mark Sanchez, who appears ready to add a bone bruise to the dislocated knee cap as injuries that failed to keep him from starting a game. Come to think of it, has anyone ever seen Sanchez and Wolverine in the same room? Hmm.
8. Gronkowski and Thomas should run wild against Stanford's secondary: Stanford ranks 112th in the nation in pass defense after giving up 347 yards and three touchdowns to Notre Dame and quarterback Jimmy Clausen. Arizona has a better offense and a lot more weapons than Notre Dame, namely receiver Mike Thomas and tight end Rob Gronkowski. Both of those guys should post huge numbers Saturday.
9. If it comes down to a kicker, Washington State wins: Washington State has notoriously struggled with special teams over the past few years, but kicker Nico Grasu is one of the few bright spots for the Cougars. Meanwhile, Oregon State, which featured former Groza Award winner Alexis Serna for four years, is now floundering with Justin Kahut. Grasu is 5-of-7 with a long field goal of 47 yards and is perfect on his PATs. Kahut is 3-of-7 with a long of 37 and missed a critical PAT at Utah last week.
10. Is there anything else to say about Rick Neuheisel's and Mike Bellotti's relationship?: The first stories of the week were about how Oregon fans and Mike Bellotti hate Rick Neuheisel. But then it turned out that Bellotti and Neuheisel get along well, even play golf together ("Drat!" said reporters). Oregon fans, of course, do dislike Neuheisel for what he did at Colorado and Washington -- you know, compile a 4-1 record against the Ducks. UCLA should be outmanned at Oregon, but don't be surprised if a few coaching tricks keep the Bruins close.