NCF Nation:

workout warrior June 2010
July, 23, 2010
7/23/10
9:00
AM ET
You asked (nicely) for it, and this time, you get what you want.
Remember colleague Bruce Feldman's annual "Freaks" list, which examined the
top workout warriors in college football

for 2010? Ohio State sophomore defender John "Sandman" Simon
made the rundown
, along with other weight-room stars from around the country.
Several of you loved Feldman's list so much that you wanted me to create a similar one just for the Big Ten. Thanks to help from sports information staffers and strength coaches from around the conference, I've compiled the following list.
I based my selections primarily on weight-room numbers and comments from Big Ten strength coaches.
Not every player submitted made the rundown, and
both Wisconsin and Iowa chose not to make any individual player nominations
. While I know guys like Iowa's Adrian Clayborn and Wisconsin's J.J. Watt do some serious damage in the weight room, I'd rather only list players who have their schools' support and whose schools provided weight-room data and/or comments from strength coaches.
Penn State
didn't provide weight-room statistics but singled out linebacker Michael Mauti, wide receiver
Derek Moye
and defensive tackle Devon Still for their weight-room performance.
Here are my selections, listed alphabetically by school:
[+] Enlarge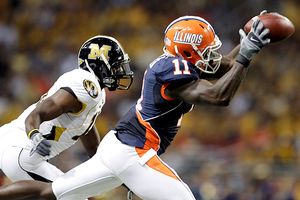 AP Photo/Jeff RobersonIllinois receiver Jarred Fayson has only four percent body fat.
Illinois WR Jarred Fayson
6-0, 215, Sr., Tampa, Fla.
Bench-presses 405 pounds, squats 500 pounds, power cleans 352 pounds

Runs the 40-yard dash in 4.4 seconds

Has just four percent body fat
Indiana LB Tyler Replogle
6-2, 238, Sr., Centerville, Ohio
Bench-presses 455 pounds, leg-presses 760 pounds

Has 33-inch vertical jump

Clocked at 4.2 seconds in the shuttle run
Michigan DT Mike Martin
6-2, 294, Jr., Redford, Mich.
Bench-presses 505 pounds, squats 700 pounds

Power cleans 430 pounds, hang cleans 475 pounds

Runs the 40-yard dash in 4.9 seconds

Strength coach Mike Barwis says: "Mike is an absolute warrior. He has a never quit attitude and is a natural born leader. He is one of the most impressive physical specimens I have ever seen."
Michigan C David Molk
6-2, 270, Jr., Lemont, Ill.
Bench-presses 490 pounds, squats 660 pounds

Power cleans 420 pounds, hang cleans 440 pounds

Runs the 40-yard dash in 4.9 seconds

Strength coach Mike Barwis says: "Dave is an outstanding worker and a natural athlete. He is one of the most naturally explosive linemen I have ever trained."
Michigan State LB Eric Gordon
6-0, 228, Jr., Traverse City, Mich.
Bench-presses 415 pounds

Squats 600 pounds

Best 40-yard dash time among Spartans linebackers at 4.52 seconds (Greg Jones clocks in at 4.55)
[+] Enlarge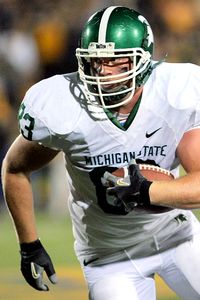 Dave Stephenson/Icon SMIMinnesota's Charlie Gantt has the fastest 40-yard dash time among Spartan tight ends.
Michigan State TE Charlie Gantt
6-5, 248, Jr., Farmington Hills, Mich.
Bench-presses 470 pounds

Squats 535 pounds

Has the top 40-yard dash time among Spartans tight ends at 4.72 seconds
Minnesota LB Mike Rallis
6-2, 210, So., Edina, Minn.
Has increased his bench press from 325 to 365 pounds during the last year

Power cleans 345 pounds and squats significantly more than 550 pounds

Strength coach Mark Hill says: "Mike's work ethic exemplifies a guy who wants to succeed. He comes into the weight room every day and shows that he wants to contribute to this team winning. He does everything he needs to do. Mike absolutely attacks his workouts every day."
Minnesota RB DeLeon Eskridge
5-11, 198, Jr., San Francisco
Has improved his squat from 250 pounds when he arrived at Minnesota to 375 pounds now

Increased his bench press from 300 pounds to 340 pounds during the last year

Has increased his power clean from 250 to more than 300 pounds as a Gopher

Strength coach Mark Hill says: "I've been very impressed by DeLeon's improvements. He was a 185-pound freshman who had to play, due to depth issues. He could have used a red-shirt year to get bigger and stronger. But to see where he's gone to achieve the strength, weight, speed, explosiveness and power needed to be a successful Big Ten back says a lot about his hard work."
Northwestern QB Dan Persa
6-1, 210, Jr., Bethlehem, Pa.
Bench-presses 385 pounds, squats 550 pounds and power cleans 330 pounds, all top marks for Wildcats quarterbacks

Soon will earn second consecutive "Top Cat" award as Northwestern's top weight-room performer

Strength coach Larry Lilja says: "Dan is off the charts. No one works harder in the weight room. For his size, I doubt there is any quarterback who can match his numbers."
[+] Enlarge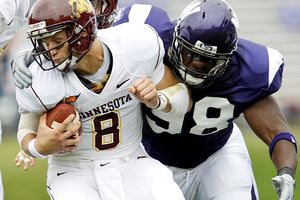 AP Photo/Nam Y. HuhCorbin Bryant, a 285-pound defensive tackle, has a 34-inch vertical jump.
Northwestern DT Corbin Bryant
6-4, 285, Sr., Chicago
Bench-presses 475 pounds, squats 600 pounds and power cleans 385 pounds

Has a 34-inch vertical jump

Strength coach Larry Lilja says: "He's one of our best workers and a true champion in the weight room."
Ohio State DL John Simon
6-2, 270, So., Youngstown, Ohio
Bench-pressed 450 and squatted 700 pounds as a high school senior

Can do 40 bench-press reps at 225 pounds

Runs the 40-yard dash in 4.8 seconds

Strength coach Jeff Uhlenhake says: "John Simon is the best total package workout guy I've ever been around, in college, in the pros, as a coach, anybody. He is amazing."
Purdue T Nick Mondek
6-5, 299, Jr., Naperville, Ill.
Former defensive lineman bench-presses 435 pounds, squats 605 pounds, power cleans 352 pounds

Has a 31-inch vertical jump

Runs the 40-yard dash in 4.82 seconds

Strength coach Jim Lathrop says: "Great worker who really has challenged himself. He has taken the position change and run with it. He is a leader in the weight room."
Purdue S Albert Evans
6-0, 206, Jr., Gary, Ind.
Bench-presses 355 pounds, squats 500 pounds

Power cleans 319 pounds

Strength coach Jim Lathrop says: "Albert has really improved and is establishing himself as a leader."
June, 25, 2010
6/25/10
11:05
AM ET
Ryan Whalen
is one of those
Stanford guys
. You know the type. Sure, he plays football, but he also has a 3.78 GPA while majoring in science, technology and society and does things like intern at Golden Gate Capital in San Francisco -- "a leading private equity firm with $9 billion in capital under management."
[+] Enlarge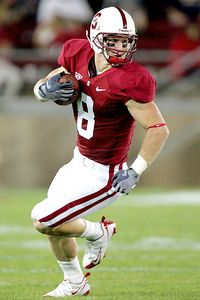 Ezra Shaw/Getty ImagesStanford wide receiver Ryan Whalen is a workout warrior.
Nana, nana, na.
But what being a
Stanford guy
means has changed over the past couple of seasons. Under coach Jim Harbaugh, the Cardinal have become a gritty, physical contender, one that spanked USC and beat eventual Pac-10 champion Oregon last fall.
So while Whalen is clean-cut and smart and probably will one day be a Master of the Universe with a postcard view of San Francisco Bay from the windows of his 800 square-foot office, he also can whip some butt.
Bruce Feldman named North Carolina linebacker Bruce Carter his
No. 1 strength and conditioning "freak
." And Carter is a freak, no doubt. The 238 pounder told Feldman he was most proud of his 374 pound power clean, which is tied for tops on the Tar Heels.
Whalen can only power clean 350 pounds. Of course, he weighs 205 pounds. And plays receiver.
"It's one of my best exercises," Whalen explained.
Whalen also runs a 4.5 40-yard dash, bench presses 340 pounds and squats 455.
Not bad for a former walk-on.
Whalen does have one big advantage in the weight room. He started training hard in high school, and it just so happens at Monte Vista High School in Danville, Calif., that means you get to cross paths with a coach named Alex Krychev, who in 1972 was known as Aleksandr Kraichev,
Bulgarian Olympic silver medalist in weight lifting
.
Still, despite catching 80 passes for over 1,200 yards and scoring 14 touchdowns as a senior and earning All-State honors in football and basketball, Whalen didn't get any Pac-10 scholarship offers. He opted to walk on at Stanford and made such an immediate positive impression he was put on scholarship before his freshman season started.
Just FYI: That scholarship saved his parents about $50,000 a year in tuition and room and board. Merry Christmas, mom and dad.
Whalen played in all 12 games his freshman year, started seven as a sophomore and then led the Cardinal with 57 receptions for 926 yards last year. He's become one of the best receivers in the Pac-10 as Stanford also has risen in the pecking order.
"When I came in, people weren't really sure what to expect," he said. "Now, as the years have gone on, when we talk about things in the offseason -- winning the Pac-10 championship and the national championship -- those are goals that we feel are realistic. You can feel it within the team."
Whalen could put up big numbers this year. For one, the Cardinal, after losing running back Toby Gerhart, the Heisman Trophy runnerup, figures to be more of a passing team. And the guy throwing those balls, sophomore quarterback
Andrew Luck
, could be the No. 1 overall pick in the NFL draft whenever he opts to make himself available.
"He's got great touch and every day in practice he makes a couple of throws where it's like, 'Wow. Not many people can make that throw.' You start to appreciate it as you work out with him more and more," Whalen said.
Luck and Whalen -- among others -- are new sorts of Stanford guys. Sure, they are smart and gifted and are willing to work hard to accomplish their goals. But, first and foremost, they want to beat your brains out on the football field.
"Talent and natural ability are not enough," Whalen said. "What sets players apart is how hard they work and how hard they train themselves to maximize their ability."
June, 25, 2010
6/25/10
11:04
AM ET
When Nate Solder came to Colorado, he could hang clean about 250 pounds.
"My goal for freshman year was to get somewhere around 300," said the Buffaloes left tackle.
Heading into his senior year, Solder can hang clean a ripe 470 pounds, 45 more than any of his teammates. His power clean -- lifting a bar from the floor versus snapping it from a dead lift in the hang clean -- also leads at 415 pounds. Both are sure to grow with another season between him and the NFL.
He's tall -- 6-foot-8. He's lean -- 6.5 percent body fat and 305 pounds. He's quick -- with a 4.88 40-time and he can jump 32 inches.
There's little argument that Solder is the resident "workout warrior" in the Colorado program.
"Someone else gave me the title, but all my goal has ever been is to do what the coaches tell me to do," he said.
Solder credits -- who else --
his strength and conditioning coach Jeff Pitman
for his staggering progress throughout his career. During the heaviest lifting periods, Pitman had his players doing hang and power clean twice a weak, constantly adding weight instead of repetitions.
"Every other one of my lifts is about the same as everyone else, my cleans just became noticeably higher in the last two years," Solder said. "I think it has a lot to do with just natural ability. Some guys will be better on bench and some guys on clean."
It should come naturally to Colorado's soon-to-be three-year starter protecting the quarterback's blind side at left tackle. He'll be the best lineman -- and player -- for the Buffs and help pave the way for running back Rodney Stewart, too.
"You've got to be explosive [on the field], and a big part of being able to clean is being explosive -- using your hips and exploding," Solder said. "It comes in on run blocking when you're moving a guy off the ball, and it comes in on pass blocking when you're trying to stop a guy from bull rushing you."
June, 25, 2010
6/25/10
9:01
AM ET
When North Carolina linebacker Bruce Carter is running up the Keenan Stadium steps while carrying 60-pound cement bags, or sprinting his 300s with 30 seconds rest in between, it's not a potential NFL contract or a Coastal Division title he's thinking about to push him one step further, one rep harder.
[+] Enlarge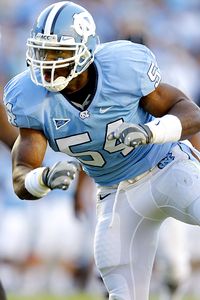 Bob Donnan-US PresswireNorth Carolina linebacker Bruce Carter takes his offseason workouts very seriously.
"I'm just thinking about everybody who has helped me get to the point I am now, and to represent what I stand for and where I came from," he said. "I came from somewhere where not a lot of people make it. I'm the first person in my family to go to college. I'm about to graduate. I'm doing a lot of things that a lot of people wish they could have, and wish they could do. It's very important. It means the world to me to see everyone happy for me, saying keep doing what I'm doing. My mom, dad and sister are very supportive of what I'm doing."
What's he's doing is impressive.
Carter, who has started 31 straight games for the Tar Heels, will graduate in December, and he is taking his off-season conditioning a little more seriously now because of his decision to return to North Carolina for a final year instead of entering the NFL draft. His dedication in the weight room has paid off, as he was recently ranked the No. 1 workout warrior by ESPN.com's Bruce Feldman.
"It's a grind," Carter said. "It's my last go-around. I've got to go as hard as I can, because you never know what can happen. I don't want to look back and say I could have did more."
It's hard to believe there's still more for Carter to do. He has already set UNC linebacker records in the power clean at 376 (he just broke his own record) and the vertical jump (40.5 inches). He has also been clocked at 4.39 in the 40 and bench-presses 440.
He finished the season ranked third on the team with 67 tackles, and had 7.5 tackles for losses, two sacks, one interception return for a touchdown, two pass breakups and four quarterback pressures.
Carter said he's gained about 10 pounds (which isn't a surprise, considering he's eating McDonald's double cheeseburgers and fries every day), but he said it's not a problem as long as he's able to make his runs. He is in the weight room by 8 a.m. Monday through Friday.
"It helps you be more explosive in everything you do, going fast, and playing at high speed every play," he said. "You take what you do in the weight room and transform it onto the field just by being explosive."
And just by remembering where he came from, Carter has become one of the most explosive athletes in the country.
June, 25, 2010
6/25/10
9:00
AM ET
Ryan Bartholomew isn't Syracuse's top performer in the weight room just because of natural ability. He works at it.
As an example, Orange head strength coach William Hicks said Bartholomew practiced running the team's typical 100-yard sprints at home during the players' post-semester break so he could win the drills. Hicks knew Bartholomew would do that, so he changed the distances when the players returned to start summer conditioning.
[+] Enlarge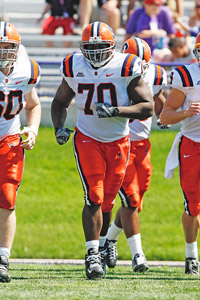 Scott Boehm/Getty ImagesSyracuse's strength coach said "everything looks easy" for Ryan Bartholomew in the weight room.
He had to do something to keep Bartholomew from winning everything.
Syracuse's 6-foot-2, 298-pound senior center topped the team during testing with a 402-pound hand clean and a 525-pound bench press. He also did 30 repetitions on the 225-pound bench press, one of the best on the team, while jumping 31 inches and running a 4.93 40-yard dash on pro day. His body fat is under 17 percent, which Hicks said is far more typical of a defensive lineman than the big guys on the O-line.
"He's a little bit of a freak," Hicks said. "We joke around and call him a big ball of muscle. Everything looks easy to him in the weight room. The only reason he ever misses something is if I put the wrong weights on, because he lifts everything."
Bartholomew, who grew up in Maryland and whose family is from Grenada, said he was an avid and accomplished weightlifter in high school. It's something he takes very seriously, especially since second-year coach Doug Marrone reinstated periodic testing and listing the top achievements on display for all to see.
"Playing on the offensive line, you have to be a little stronger than most other positions," Bartholomew said. "It takes a lot for the finished product on the field to be great. If people knew what we did in the weight room, they'd be shocked.
"Part of my motivation is to try and stay on top. I like the competition in the weight room."
Hicks said Bartholomew is always asking questions and wants to know why they're doing each drill a certain way. Bartholomew, who's majoring in health and exercise science, has expressed an interest in becoming a strength coach some day.
"That's the reason he's a very good student, too," Hicks sad. "He has the same kind of work ethic and competitive nature, whether that's to get a 90 on a test or lift 400 pounds on a clean. It's the same drive to be successful."
Bartholomew was a second-team All-Big East selection last year at guard, while also filling at center for three games. This year, he'll move to center full time.
"It's a little bit of an adjustment," he said. "I have to be more vocal than I was at guard. But I've always liked to focus on learning everything on the offensive line and what everybody's goal is on each play. So it's very fun. I have all the power."
No one who's seen Bartholomew in the weight room would doubt his power.
June, 25, 2010
6/25/10
9:00
AM ET
A training session at Ohio State's weight room is like a day at the beach for John Simon.
Well, sort of.
When Simon, a budding star on Ohio State's defensive line, enters the 8,000-square foot weight room at the Woody Hayes Athletic Center, his first stop is typically the sand pit. Simon will sprint through the sand, sometimes with a heavy tire harnessed to his waist. He'll work on drills tailored to defensive linemen, trying to get that all important burst when the ball is snapped.
The sand pit in Columbus will never be confused for Manhattan Beach, but Simon doesn't mind.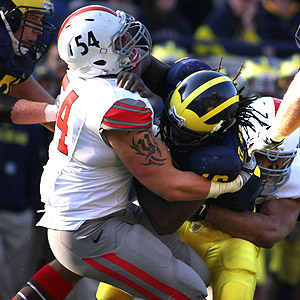 D. Jay Talbott/Icon SMIOSU strength coordinator Jeff Uhlenhake has called John Simon the "best total package workout guy" he's coached.
"That's about the closest I could get," he said, "coming from Youngstown [Ohio]."
Simon got a lot closer this winter as he and his Ohio State teammates made their way to California for the Rose Bowl. If Simon keeps it up in the weight room and on the field, he and the Buckeyes likely will be making a few more trips to the coast.
The 6-foot-2, 270-pound Simon appeared in 12 games as a true freshman in 2009, showing flashes with four tackles for loss, 1.5 sacks, a forced fumble and a pass knockdown. He's competing for a starting spot at left end or left tackle in 2010, and he's already earning respect from veteran defenders like linebacker Brian Rolle.
"If somebody's going to try to outwork him, they'll going to have to work really hard," Rolle said in April. "And he's going to outwork that effort. He's going to be a guy who will be a star here the next couple of years."
Simon's reputation stems largely from his work in the weight room. He came to Ohio State with solid credentials, including a max bench-press of 450 and a max squat of 700 as a high schooler, and has impressed coaches and teammates with his approach to workouts and training. Ohio State strength coordinator Jeff Uhlenhake calls Simon the "best total package workout guy" he's coached.
Although Simon is only a true sophomore, few in Columbus will be surprised to see him appear on colleague Bruce Feldman's list of Workout Warriors.
"I enjoy being in the weight room," Simon said. "I'm in there every day. Our whole team's like that."
Simon typically works out in the morning with his teammates and then returns in the afternoon to lift or run in the sand pit.
Despite his lofty high school bench and squat totals, Simon hasn't tried to max out yet in college, citing the need to stay healthy for the Big Ten grind. Instead, he works on his explosion by doing chain bench or band squats and improves his stamina by pulling sleds.
"I like a lot of endurance things because the games in college are very long," Simon said. "The sand pit, I really enjoy, just to get that extra quickness where the sand slows you down a little bit and builds up your legs."
Simon heads to the sand pit at least three times per week during the offseason. He hopes it pays off this fall as Ohio State aims for a national title.
"Just running in the sand, it slows you down so much," he said. "And then when you get on regular grass or turf and you're in your spikes, you feel that much faster. I see a big difference."
Is it too early to give Simon a nickname? He might need to start a full season for the Buckeyes to one, but here's an early suggestion.
The Sandman.
June, 25, 2010
6/25/10
9:00
AM ET
Ole Miss junior running back
Brandon Bolden
knows an opportunity when he sees one.
More importantly, he knows what it takes to capitalize on that opportunity.
Hard work. Confidence. Sacrifice.
And an undying commitment to the weight room.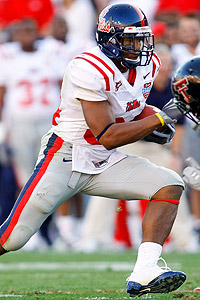 James D. Smith/Icon SMIBrandon Bolden has his sights set on filling the void vacated by Dexter McCluster.
Really, ever since last season ended, Bolden has been on a mission. The departure of Dexter McCluster left a huge void in the Rebels' offensive backfield, and it's a void Bolden plans on filling.
"Brandon's one of those guys who's always saying, 'I can do more. What else do you have for me?'" said Don Decker, Ole Miss' head strength and conditioning coach. "He just has that attitude, work ethic and spirit about him that says, 'There's nothing you can do that's going to break me.'
"Some guys might be limping through the workout or just trying to get through, but Brandon is going to be the first to finish it and he's going to do it at a high level."
Bolden, who played in McCluster's shadow last season, has been the Rebels' resident Workout Warrior.
He's attacked the weight room the way he would an oncoming linebacker at the goal line.
"When you play in this league, you better come in with the mindset that you can take on somebody twice your size," Bolden said. "The way you do that is get in that weight room and stay in that weight room."
In Bolden's case, he's actually dropped weight.
The Rebels had him playing a little different role last season once McCluster got rolling, and Bolden bulked up to 225 pounds and even flirted with 230 just prior to the Cotton Bowl.
"I was too big and felt like I wasn't as fast as I was when I got here," Bolden said. "I knew that had to change, and I knew what it was going to take to change it."
By the time the Rebels started offseason workouts, Bolden had gotten down to 216 pounds. He played in the Rebels' spring game at 212 and hopes to play next season right around 210.
And the best part?
He's gotten a lot stronger and is running as fast as he was when he came to Ole Miss as a freshman.
Ironically, Bolden is from Baton Rouge, La., but said the only interest LSU showed in him out of high school was as a safety. Bolden is quick to note that he's never lost to the Tigers and wears his Ole Miss colors proudly whenever he goes home.
When he goes against LSU for a third time in the fall, it will be the most physically equipped version of Bolden that the Tigers have seen.
"He's so lean now and really rocked up and looks like a tailback should look," Decker said. "When I see a guy and maybe he's a little soft and doesn't have that real hard look to him, I always ask him what it would feel like if he had to do a vertical jump while carrying a five-pound weight. If you don't think it makes a difference, the next time you line up to run a 40-yard dash, put on a five-pound vest and run.
"What Brandon did was strip away that extra 12 or 13 pounds, while improving his strength and remaining as powerful as ever."
Just recently, Bolden recorded a 39-inch vertical jump. He's squatting 500 pounds, maxing out at 350 pounds on the bench-press and was second on the team to
Enrique Davis
with a 335-pound power clean. Davis did 340 on the power clean.
Bolden also did 19 repetitions of 225 pounds on the bench-press. He was lucky to get to 12 reps when he first arrived.
"I can feel that extra step now in everything I do," said Bolden, who rushed for 614 yards and four touchdowns last season while also catching 20 passes for 209 yards and a touchdown.
"I've always been focused, but this is the most focused I've ever been. I know what I have to do and know I have some very big shoes to fill. I know this team needs me. We're going to have a young team on offense, and I embrace that role as a leader and want that role. It's something you've got to do every day, and I'm going to do my part to lead us to the top."