NCF Nation:

WVU joins Big 12
February, 15, 2012
2/15/12
10:00
AM ET
We're back, and the kindly introduction is over. It's time to get to know the real West Virginia.
How will the Mountaineers handle the transition? Big 12 blogger David Ubben and Big East blogger Andrea Adelson debated the issue.
David Ubben:
TCU's jump would seem to be a lot bigger, but the Big East has had its well-chronicled struggles the past few years. The Mountaineers left the league with a convincing Orange Bowl win against Clemson, scoring 70 points in the process. Talk about endearing yourself to your new offensive-minded friends, huh? You've seen this team up close lately, though. What, if anything, do you think WVU will have to change to get back to the BCS as a Big-12 member?
[+] Enlarge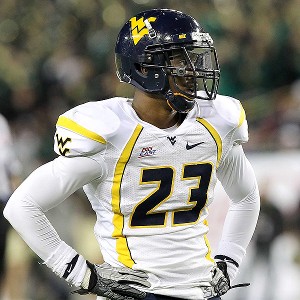 Kim Klement/US PresswireBrodrick Jenkins, an up-and-coming cornerback, will lead the Mountaineers into Big 12 play next season.
Andrea Adelson:
Well, one thing that definitely is going to change is the way West Virginia plays defense. Long-time defensive coordinator Jeff Casteel is out, and so is the odd 3-3-5 stack defense. The Mountaineers are going to go with a 3-4 base set under former Oklahoma State assistant Joe DeForest. This should help ease the transition from the stack, as West Virginia does not have the type of players on the roster to go with four down linemen.
In addition to the new scheme, West Virginia is losing its two best pass-rushers in
Bruce Irvin
and
Julian Miller
, perhaps its best defensive player in linebacker
Najee Goode
, and its best cover corner in
Keith Tandy
. There were times last season when the Mountaineers got beat deep in pass coverage, which will not bode well in Big 12 play.
However, cornerback
Brodrick Jenkins
has the potential to be truly terrific in 2012. He showed flashes late last season. As for the offense, coach Dana Holgorsen is looking for perfection. That means more consistent play out of an offensive line that was mediocre at times last season, and more explosion out of the run game. Starting running back
Dustin Garrison
is coming off ACL surgery, so it will be interesting to see whether he will be the same back come August.
Say what you will about the Holgorsen passing offense, but he definitely wants a running back to complement
Geno Smith
the way Kendall Hunter did with
Brandon Weeden
at Oklahoma State in 2010. How do you think West Virginia will fit in to its new conference home?
DU:
WVU is a good fit on the field. Geographically, not so much, but the Big 12 teams have to like that. There's a lot of uneasiness with TCU entering the league. That could shake up recruiting a lot and cut into the share of teams like Oklahoma State and Texas Tech.
But West Virginia's clearly a strong brand. This is a team that could just as easily have been in the SEC. Instead, it's in the Big 12. The three BCS wins are a big deal, as was the Orange Bowl win. That's endeared the Mountaineers to their new opponents in the Big 12. To win like that on that kind of stage says a lot about where the program is and where it's headed. Having a coach like Holgorsen, who has lots of ties to Texas, will help them grab a few players in Texas, too. The difference between WVU and Mizzou isn't much when you think about recruiting in Texas. I could see WVU being the biggest threat to Missouri recruiting in Texas.
But like TCU, winning games gets people excited. Big 12 fans are psyched about the Mountaineers, who seem like a fun group.
How do you think WVU's transition will compare to TCU's?
AA:
Watching a team put up 70 points is always fun! Hearing a guy like Holgorsen talk is always fun because you never know what he is going to say.
But on to your question: I think West Virginia will have a much smoother transition than TCU because it has played in an AQ conference already. Yeah, OK enter your Big Least jokes in here. But West Virginia has been a solid program throughout the course of its history. Note that the Mountaineers are one of just 14 schools to have 700 program victories -- joining Texas and Oklahoma from the Big 12.
West Virginia is one of just three schools to have at least nine wins in seven straight seasons. That doesn't happen by accident. And it's also important to note West Virginia is not exactly in a recruiting hotbed. Talent does not come pouring out of the state the way it does in Texas. The Mountaineers have built pipelines into Florida -- Geno Smith and
Stedman Bailey
being two notable examples on the squad -- and try to mine talent in Baltimore, Virginia and Washington, D.C. So I do think there will be inroads made into Texas with the Big 12 affiliation.
Already on the roster from the state are starting running back Dustin Garrison and quarterback Ford Childress, an ESPNU 150 player in the class of 2012. I respect the job Gary Patterson has done in building TCU, but I simply think there is going to be much more of a growing curve for a team transitioning to an automatic qualifying conference. What do you think?
DU:
I'd agree. The Big East has been weak, but there aren't any teams like New Mexico and UNLV in that league, who are little more than a week off for teams as talented as TCU has been the past few years. Show up and you win.
Last year, even Kansas beat the MAC champions, Northern Illinois, before losing its final 10 games of 2011. Big 12 champion Oklahoma State lost to 6-7 Iowa State, too. This league is so, so deep. You have to show up and play well every week, and even then, you might not win. In 2010, 11 of the league's 12 teams had five wins and at least played a game with a chance to win six and qualify for a bowl game.
This year, nine of the 10 teams did that. It's got elite teams, too. Texas and OU played for titles in 2008 and 2009 and OSU was barely shut out of the title game this year.
The depth of the Big 12 is what TCU will have to get used to. In that sense, WVU will have to adjust much less. Of course, you never know for sure. We'll find out next year. WVU had some head-scratching losses, too. Losing to Syracuse by 26 points? Really? Sheesh.
Both of these teams are built to win in 2012, and I think they'll do it. But winning a Big 12 title requires you to show up every week and play well. In the Big East, which sent an eight-win team to the BCS in 2010, that hasn't necessarily been true.
In the Big 12, Texas or OU has basically run through the year with 0-2 losses every single season. If WVU wants to win this league, they'll have to do that.
When do you think WVU will win its first title? Will it win one?
[+] Enlarge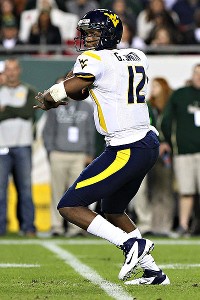 Kim Klement/US PresswireGeno Smith will enter the Big 12 in his third season as West Virginia's starting quarterback.
AA:
It is tough to put a time frame on when West Virginia will win a league title. As crazy as it might sound, I think this team is built to contend in 2012. The Mountaineers dropped FSU from the nonconference schedule, so you could consider Kansas as filling that void. I am sure West Virginia takes that.
Oklahoma is going to be a preseason national favorite, but after that, every single team returning has major question marks. Is Texas going to be Texas? What does Baylor do without RG3? What does Oklahoma State do without Weeden and
Justin Blackmon
?
You bring up a good point about the head-scratching losses. There have been a bunch of those over the last several seasons -- including TWO in a row to Syracuse. This is a team that has simply been inconsistent. It didn't put together a full game against Clemson. But I think Geno Smith,
Tavon Austin
and Stedman Bailey are going to be a handful for teams to stop, so I wouldn't be surprised if the Mountaineers were a surprise contender in 2012. Are you buying or selling?
DU:
I'd generally agree. Year 1 seems to be their best chance. It's a wide-open year in the Big 12, and I think Oklahoma's a bit overrated heading into next year, though the potential for a national title run is there. Texas looks like it's on its way back up, but next year won't be the year.
If it doesn't happen next year, though, I don't think WVU will win a Big 12 title in the next decade. It's a solid program that I think could get into the BCS, but win the Big 12?
With the stability, metroplex location and winning tradition, I like TCU's upside a whole lot more, and its ability to win a Big 12 title in the future. I'm buying a Horned Frogs Big 12 title in the next decade. Not so much on WVU.
Time to put you on the spot: What's WVU's record next year and Big 12 finish?
AA:
I can see the hate mail trickling into the Big 12 mailbag over that one, Mr. Ubben!
I am going to say West Virginia goes 10-2 and finishes second in the Big 12. What say you?
DU:
Maybe so. But hey, that's how we do things on the Big 12 Blog. I call it like I see it. And I see more potential for the Froggies, though I think the Mountaineers will be a solid, solid program. I wouldn't be that surprised if they won the league, but I'm not betting on it.
This is a league built around the state of Texas, and the location's going to make it tough for them to consistently field teams that can win 11-12 games consistently.
Next year, I'll take 9-3 for the Mountaineers, but a tie for third place.
October, 28, 2011
10/28/11
7:32
PM ET
Officials from the Big 12 and West Virginia met with reporters via teleconference late Friday afternoon. Here's a bit of what we learned.
Big East/West Virginia disagree on exit terms
As noted today, the Big East (27 months, or January 2014) and West Virginia (July 2012) have a clear disagreement on when the Mountaineers will become members of the Big 12.


"As of July 1, we will be members of the Big 12. Our team and their team are in discussions about how we can make that happen," West Virginia president James Clements said.
As required in the bylaws, West Virginia wired a $2.5 million payment to the Big East upon notification of withdrawal, and the other $2.5 million exit fee is paid upon exit date.
The school also plans to grant its Tier I and Tier II media rights to the Big 12 as the league's other members, excluding Missouri and Texas A&M, have done. The paperwork to do so is being circulated to the school, and Clements said the school should have it officially OK'd around Tuesday.
TCU and West Virginia on same revenue-sharing plan
There will be no difference in how Big 12 Conference revenue is shared between the league's founding members and its new members, who both plan on entering the league in 2012.
"It's similar; it's the same," said Big 12 interim commissioner Chuck Neinas.
The Fort Worth Star-Telegram reported earlier this month that TCU would earn 50 percent of the expected $17 million payout in the 2012-13 academic year, 67 percent in 2013-14, 84 percent in 2014-15, and 100 percent in 2015-16.
Future schedules in flux
Don't expect TCU to replace Texas A&M in the Big 12 schedule, and don't expect West Virginia to slide in and replace Missouri if the Tigers' exit to the Big 12 is finalized.
Neinas says the conference won't be starting from scratch, but it's likely that changes to the 10-team, round-robin conference schedule will be made.
No official word on Missouri
Neinas offered no real updates on the status of Missouri, which was excluded from the Big 12 release on Friday that stated "Beginning with the 2012-13 season it is expected that the Big 12 Conference will be comprised of 10 Universities – Baylor, Iowa State, Kansas, Kansas State, Oklahoma, Oklahoma State, TCU, Texas, Texas Tech and West Virginia."
"Until it withdraws, Missouri is a member of the Big 12," Neinas said.
He deferred any questions about timing or details to Missouri officials.
Quick hits
Neinas didn't rule out expansion in the future, but says there's no sentiment across the league to be anything but a 10-team league, citing excitement about the round-robin schedule in basketball and football.
West Virginia officials admitted they felt some nervousness when plans to join the league this week were put on hold, but remained confident that it would become official. The Big 12 said the plans were put on hold by the league's members because they wanted to make sure the Big 12 didn't become an 11-team league if Missouri decided to stay. For now, there seems to be a lot of legal wrangling, but from my perspective, it seems like West Virginia's invitation was a tacit resignation that the Tigers are gone.
Neinas went out of his way to say the lack of an invitation to Louisville wasn't an indictment on the school. The Cardinals would be a good fit in the league, and in my opinion, if the Big 12 looks to expand again, they'll be near or at the top of the list.
Beer in the stadium? The Big 12 has no rules encouraging or prohibiting it at campus stadiums, but West Virginia decided to allow beer sales at its stadium this year. The details of whether or not it will continue haven't been ironed out yet.
October, 28, 2011
10/28/11
5:38
PM ET
When the Big 12 announced it was adding West Virginia, the league said the Mountaineers would join on July 1, 2012.

But the Big East said in its statement that West Virginia would be held to conference bylaws, which stipulate a 27-month waiting period.
On a conference call Friday afternoon, school president James Clements said he was confident the Mountaineers would be full members of their new league in 2012. He said negotiations were underway with the Big East to get that done, but declined further comment.
"Our intent is clearly July 1 we will be a member of the Big 12," Clements said. "Our team and their team are in discussions about how to make that happen."
The Big East also has said it would hold departing members Pitt and Syracuse to the 27-month waiting period.
October, 28, 2011
10/28/11
1:28
PM ET
The Big East plans to survive this recent raid, the way it did back in 2003. New teams will be added. The league will proclaim itself better and stronger than ever.
But no matter who replaces Pitt, Syracuse, West Virginia and TCU, there is no getting around what the Big East will be: a conference of convenience.
There was a time, of course, when that was not the case. The Big East was nationally relevant, with a strong football brand. When the league formed in 1991, its membership included Miami, Virginia Tech, West Virginia, Syracuse, Pittsburgh, Rutgers, Boston College and Temple.
Four of those schools won league championships during the time they played together under the Big East umbrella. Miami -- which won seven league titles -- represented the Big East in national championship games. Virginia Tech did as well.
But things have not quite been the same since the ACC raid of '03, when Miami, Virginia Tech and Boston College departed. The Big East has not been in a national championship game since those schools left.
The league has struggled to stay nationally relevant since those schools left, and had to fight off anger and criticism last year when many wondered why it should be allowed an automatic bid when 8-4 UConn got a spot in the Fiesta Bowl.
The breaks of 2011 cut even further into the core of what this league could have represented had everyone stayed together. Rutgers, which has never won a Big East title, is the only school remaining of the original eight.
Changing conference landscapes have forced everybody into action. Whether it was inaction that ultimately damaged the Big East is up for debate.
Now, though, the Big East has to do everything in its power to survive. That means there may be only a few things "East" about this conference. Commissioner John Marinatto holding meetings with two schools some 2,000 miles away from league headquarters in Providence, R.I., proves that.
And schools outside one of the "big six" conferences have to do everything they can to survive as well. Regardless of whether the Big East gets to keep that coveted AQ spot, the league should be able to offer TV riches that none of the non-AQ conferences can right now. Remember, the Big East's media rights deal is up for renewal next September.
Whenever the Big East does hand out its invitations, there will be those who wonder about the strength of the league relative to its cohorts. But it is not as if the national perception is oh-so-great today. Look at the
Conference Power Rankings
from ESPN Stats & Information, and you will find the Big East below the Mountain West and barely ahead of Conference USA.
Simply put, the Big East has to pick up the pieces the best way it can. Adding divisions, maybe a conference championship game, maybe the best non-AQ in the land. Those are all solutions. Are they sustainable solutions? Are they going to guarantee the future of this conference as an AQ?
Nobody has an answer to those questions. What should be emphasized right now -- for the Big East and future members -- could be borrowed from the old sports cliché handbook: "Survive and move on."
October, 28, 2011
10/28/11
12:09
PM ET
The Big 12 has made its next move in expansion official.
West Virginia is joining the Big 12.
The Big 12 Conference Board of Directors have voted unanimously to accept West Virginia University as a full conference member effective July 1, 2012. The Mountaineers will begin competing in the Big 12 beginning with the 2012-13 athletic season.
The entry date for the Mountaineers should be interesting. Big East bylaws require a 27-month notice before members can leave the league, but it's clear that West Virginia and the Big 12 have no intention of adhering to that portion of the bylaws.
Big East commissioner John Marinatto released a statement on Friday acknowledging the Mountaineers' withdrawal from the conference, and made his own intentions clear.
"West Virginia is fully aware that the Big East Conference is committed to enforcing the 27-month notification period for members who choose to leave the conference," the release stated.
Should be an interesting couple of weeks to follow.
"We are excited to add West Virginia to our exceptional lineup of conference members," Big 12 interim commissioner Chuck Neinas said. "They bring an excellent overall athletic program to the Big 12 and allow the league to expand into an area that boasts a passionate group of fans and alumni throughout its region."
Here's
the full release from the Big 12
, complete with more information about West Virginia.
October, 28, 2011
10/28/11
10:43
AM ET
West Virginia's on again, off again move to the Big 12
is back on again
.
West Virginia, a member of the Big East Conference since 1995, was formally invited on Friday to join the Big 12.

Big East spokesman John Paquette confirmed that the Mountaineers have notified the conference of its intentions.

The Big 12 plans to remain at 10 schools.
On Wednesday, West Virginia was told that the Big 12's expansion plans were put on hold as Missouri's likely exit to the SEC had yet to become official. Additionally, reports indicated that some Big 12 members preferred to add Louisville over the Mountaineers.
On Tuesday, though, West Virginia officials were told it would be accepted into the league pending formal approval.
After getting the brakes applied, it looks as if the Big 12's expansion plans are back to full speed.