NCF Nation:

WVU move official
February, 15, 2012
2/15/12
1:00
PM ET
The Big East and West Virginia announced a settlement Tuesday that ends ongoing litigation between the parties in both Rhode Island and West Virginia. Citing an anonymous source, the Charleston Daily Mail has reported that West Virginia will pay the Big East a $20 million buyout as part of the settlement, with $10 million covered by the university and another $10 million coming from the Big 12, half of which WVU will have to repay.

How did the parties finally reach an agreement?

An attorney for WVU, Thomas Holt, a partner at K&L Gates, says the Big East out-argued itself.

"WVU was entitled to sovereign immunity in its own courts. What happened in the Rhode Island case was the Big East argued to the judge that they didn't think they could get fair shake in the courts in West Virginia. Basically, they didn't think they could get injunction there."

Holt believes the Big East realized the Rhode Island court wasn't going to issue an injunction the West Virginia courts might not enforce. "It was fundamentally illogical. Once the reality of that became apparent things moved forward."

Big East attorney Ben Block, a partner at Covington & Burling, declined to comment specifically on the details of the negotiations, but clearly didn't agree with Holt's version of events. "I don't think I share Tom Holt's views on the merits of the case."

"We had a very strong case, but at the end of the day parties reach resolution when each one decides that the negotiated resolution on the table is more attractive than the uncertainty, cost and continuing distraction of ongoing litigation," said Block.

So, what exactly does the settlement mean to the ongoing business of the Big East?

"The bylaws are the foundation of how the conference governs itself," Big East commissioner John Marinatto said Tuesday. "To have the court in West Virginia acknowledge their validity of enforceability obviously reinforces the premise that the conference is viable moving forward, and in a position to do so."

Marinatto's comment is a bit misleading, however. The West Virginia court only recognized the validity of the bylaws as part of the consent decree it issued as a result of the parties' settlement. This is not a binding legal decision declaring every provision of the Big East bylaws as valid and enforceable against remaining members.

"In theory it looks good, and I'm sure they would use it for precedential value to show, 'Look, one other court has already said this,' but a court in New York or Pennsylvania might see it differently," said Christian Dennie, a sports law attorney at Barlow Garsek & Simon.

Pittsburgh and Syracuse are subject to the same 27-month waiting period West Virginia just fought and settled over before they can join the ACC. However, Marinatto said in a telephone conference today, "[G]iven the strength and speed of our expansion efforts, I think our board might be open to a discussion about 2013."

Kristi Dosh covers sports business for ESPN.com and can be reached at kristi@kristidosh.com. Follow Dosh on Twitter: @SportsBizMiss.
February, 15, 2012
2/15/12
10:00
AM ET
We're back, and the kindly introduction is over. It's time to get to know the real West Virginia.
How will the Mountaineers handle the transition? Big 12 blogger David Ubben and Big East blogger Andrea Adelson debated the issue.
David Ubben:
TCU's jump would seem to be a lot bigger, but the Big East has had its well-chronicled struggles the past few years. The Mountaineers left the league with a convincing Orange Bowl win against Clemson, scoring 70 points in the process. Talk about endearing yourself to your new offensive-minded friends, huh? You've seen this team up close lately, though. What, if anything, do you think WVU will have to change to get back to the BCS as a Big-12 member?
[+] Enlarge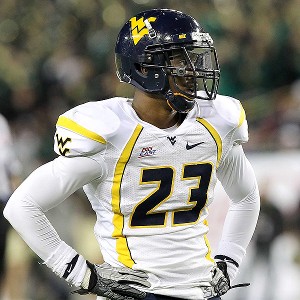 Kim Klement/US PresswireBrodrick Jenkins, an up-and-coming cornerback, will lead the Mountaineers into Big 12 play next season.
Andrea Adelson:
Well, one thing that definitely is going to change is the way West Virginia plays defense. Long-time defensive coordinator Jeff Casteel is out, and so is the odd 3-3-5 stack defense. The Mountaineers are going to go with a 3-4 base set under former Oklahoma State assistant Joe DeForest. This should help ease the transition from the stack, as West Virginia does not have the type of players on the roster to go with four down linemen.
In addition to the new scheme, West Virginia is losing its two best pass-rushers in
Bruce Irvin
and
Julian Miller
, perhaps its best defensive player in linebacker
Najee Goode
, and its best cover corner in
Keith Tandy
. There were times last season when the Mountaineers got beat deep in pass coverage, which will not bode well in Big 12 play.
However, cornerback
Brodrick Jenkins
has the potential to be truly terrific in 2012. He showed flashes late last season. As for the offense, coach Dana Holgorsen is looking for perfection. That means more consistent play out of an offensive line that was mediocre at times last season, and more explosion out of the run game. Starting running back
Dustin Garrison
is coming off ACL surgery, so it will be interesting to see whether he will be the same back come August.
Say what you will about the Holgorsen passing offense, but he definitely wants a running back to complement
Geno Smith
the way Kendall Hunter did with
Brandon Weeden
at Oklahoma State in 2010. How do you think West Virginia will fit in to its new conference home?
DU:
WVU is a good fit on the field. Geographically, not so much, but the Big 12 teams have to like that. There's a lot of uneasiness with TCU entering the league. That could shake up recruiting a lot and cut into the share of teams like Oklahoma State and Texas Tech.
But West Virginia's clearly a strong brand. This is a team that could just as easily have been in the SEC. Instead, it's in the Big 12. The three BCS wins are a big deal, as was the Orange Bowl win. That's endeared the Mountaineers to their new opponents in the Big 12. To win like that on that kind of stage says a lot about where the program is and where it's headed. Having a coach like Holgorsen, who has lots of ties to Texas, will help them grab a few players in Texas, too. The difference between WVU and Mizzou isn't much when you think about recruiting in Texas. I could see WVU being the biggest threat to Missouri recruiting in Texas.
But like TCU, winning games gets people excited. Big 12 fans are psyched about the Mountaineers, who seem like a fun group.
How do you think WVU's transition will compare to TCU's?
AA:
Watching a team put up 70 points is always fun! Hearing a guy like Holgorsen talk is always fun because you never know what he is going to say.
But on to your question: I think West Virginia will have a much smoother transition than TCU because it has played in an AQ conference already. Yeah, OK enter your Big Least jokes in here. But West Virginia has been a solid program throughout the course of its history. Note that the Mountaineers are one of just 14 schools to have 700 program victories -- joining Texas and Oklahoma from the Big 12.
West Virginia is one of just three schools to have at least nine wins in seven straight seasons. That doesn't happen by accident. And it's also important to note West Virginia is not exactly in a recruiting hotbed. Talent does not come pouring out of the state the way it does in Texas. The Mountaineers have built pipelines into Florida -- Geno Smith and
Stedman Bailey
being two notable examples on the squad -- and try to mine talent in Baltimore, Virginia and Washington, D.C. So I do think there will be inroads made into Texas with the Big 12 affiliation.
Already on the roster from the state are starting running back Dustin Garrison and quarterback Ford Childress, an ESPNU 150 player in the class of 2012. I respect the job Gary Patterson has done in building TCU, but I simply think there is going to be much more of a growing curve for a team transitioning to an automatic qualifying conference. What do you think?
DU:
I'd agree. The Big East has been weak, but there aren't any teams like New Mexico and UNLV in that league, who are little more than a week off for teams as talented as TCU has been the past few years. Show up and you win.
Last year, even Kansas beat the MAC champions, Northern Illinois, before losing its final 10 games of 2011. Big 12 champion Oklahoma State lost to 6-7 Iowa State, too. This league is so, so deep. You have to show up and play well every week, and even then, you might not win. In 2010, 11 of the league's 12 teams had five wins and at least played a game with a chance to win six and qualify for a bowl game.
This year, nine of the 10 teams did that. It's got elite teams, too. Texas and OU played for titles in 2008 and 2009 and OSU was barely shut out of the title game this year.
The depth of the Big 12 is what TCU will have to get used to. In that sense, WVU will have to adjust much less. Of course, you never know for sure. We'll find out next year. WVU had some head-scratching losses, too. Losing to Syracuse by 26 points? Really? Sheesh.
Both of these teams are built to win in 2012, and I think they'll do it. But winning a Big 12 title requires you to show up every week and play well. In the Big East, which sent an eight-win team to the BCS in 2010, that hasn't necessarily been true.
In the Big 12, Texas or OU has basically run through the year with 0-2 losses every single season. If WVU wants to win this league, they'll have to do that.
When do you think WVU will win its first title? Will it win one?
[+] Enlarge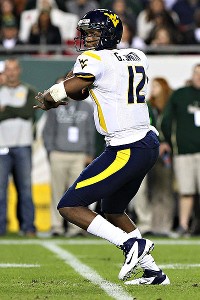 Kim Klement/US PresswireGeno Smith will enter the Big 12 in his third season as West Virginia's starting quarterback.
AA:
It is tough to put a time frame on when West Virginia will win a league title. As crazy as it might sound, I think this team is built to contend in 2012. The Mountaineers dropped FSU from the nonconference schedule, so you could consider Kansas as filling that void. I am sure West Virginia takes that.
Oklahoma is going to be a preseason national favorite, but after that, every single team returning has major question marks. Is Texas going to be Texas? What does Baylor do without RG3? What does Oklahoma State do without Weeden and
Justin Blackmon
?
You bring up a good point about the head-scratching losses. There have been a bunch of those over the last several seasons -- including TWO in a row to Syracuse. This is a team that has simply been inconsistent. It didn't put together a full game against Clemson. But I think Geno Smith,
Tavon Austin
and Stedman Bailey are going to be a handful for teams to stop, so I wouldn't be surprised if the Mountaineers were a surprise contender in 2012. Are you buying or selling?
DU:
I'd generally agree. Year 1 seems to be their best chance. It's a wide-open year in the Big 12, and I think Oklahoma's a bit overrated heading into next year, though the potential for a national title run is there. Texas looks like it's on its way back up, but next year won't be the year.
If it doesn't happen next year, though, I don't think WVU will win a Big 12 title in the next decade. It's a solid program that I think could get into the BCS, but win the Big 12?
With the stability, metroplex location and winning tradition, I like TCU's upside a whole lot more, and its ability to win a Big 12 title in the future. I'm buying a Horned Frogs Big 12 title in the next decade. Not so much on WVU.
Time to put you on the spot: What's WVU's record next year and Big 12 finish?
AA:
I can see the hate mail trickling into the Big 12 mailbag over that one, Mr. Ubben!
I am going to say West Virginia goes 10-2 and finishes second in the Big 12. What say you?
DU:
Maybe so. But hey, that's how we do things on the Big 12 Blog. I call it like I see it. And I see more potential for the Froggies, though I think the Mountaineers will be a solid, solid program. I wouldn't be that surprised if they won the league, but I'm not betting on it.
This is a league built around the state of Texas, and the location's going to make it tough for them to consistently field teams that can win 11-12 games consistently.
Next year, I'll take 9-3 for the Mountaineers, but a tie for third place.
February, 15, 2012
2/15/12
9:00
AM ET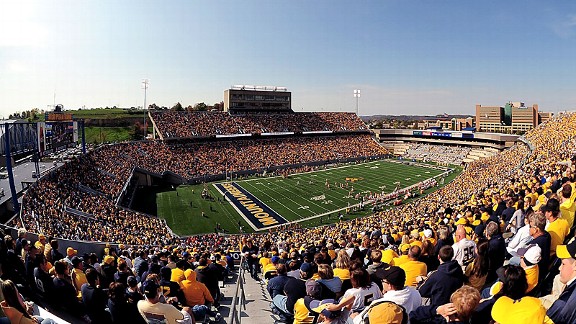 Andrew Weber/US PresswireWest Virginia's Milan Puskar Stadium offers new experiences for Big 12 fans.
After a bit of a delay, thanks to some legal wrangling,
West Virginia is finally free
.
The Big East and the Mountaineers have settled their lawsuit, and West Virginia is officially on its way to the Big 12 for 2012.
That means it's off the Big East blog and onto the Big 12 blog, too.
To help the Big 12 get to know its newest member, Big 12 blogger David Ubben asked Big East blogger Andrea Adelson for her thoughts.
David Ubben:
AA, Les Miles had my favorite quote of the 2011 season in relation to West Virginia. "They were having a football party and invited us. I knew our guys would show up."
You were there, Andrea. What can Big 12 fans expect when they go to Morgantown? Is it a football party every weekend?
Andrea Adelson:
Define "every weekend." West Virginia fans show up for the super gigantic games against teams like LSU and Pitt, but there has been concern that the fan base is "fair weather." Note -- 46,000 fans came out to watch Bowling Green. Now, the truth is, no fan in America gets up for the cupcake patsy schedule. But this rubbed Dana Holgorsen the wrong way,
and he ripped on the fans after that game:
"All I heard about was how much this meant to everybody across the state of West Virginia. This was the NFL team in town and we're going to be here to support you. Well, having 40,000 people at a game isn't doing that. ... We do our best every week to fix what the problems are offensively, defensively and special teams wise. Well, what's everybody across the state of West Virginia, including the student body, doing to fix the fact that our players had to play in front of 40,000 people?"
Now, you remember Holgy from his days at Oklahoma State. OK maybe not, since there were not many of them. But he likes stirring the pot, and I firmly believe he did that to motivate a fan base that had become dispassionate with good ol' Bill Stewart "I never met a punt I didn't like" in charge. The fact is that West Virginia has the most spirited fan base in the Big East and averaged 8,000 more fans than Louisville, which ranked No. 2 in the league in attendance in 2011. The atmosphere is fun, and was absolutely electric against LSU.
I anticipate many more crowds like that with teams like Texas and Oklahoma appearing on the schedule. West Virginia fans have gotten a bad rap nationally because of the couch burning and rowdiness. But in the two games I attended last season, I thought everybody behaved themselves accordingly.
And hey, they now serve alcohol in the stadium. I'm sure Big 12 fans can drink to that.
DU:
No doubt about the couch burning. Apparently West Virginia passed some legislation to make it stop, but I always found it sort of endearing and mostly harmless, albeit destructive. Maybe that's just me.
Holgorsen definitely speaks his mind, and I know fans will be fired up about alcohol sales in the stadium. What about once fans get to the stadium? Any in-game traditions they should be prepared for? Remember, this is the same league that had Texas A&M for its entirety. Visiting fans are prepared for a little weirdness.
AA:
You mean weirder than couch burning?
Well, the Mountaineers mascot runs onto the field with the team toting a real rifle. Each year his costume is tailored to fit just him. But my favorite tradition has to be the playing of "Country Roads" at the end of each home victory. Fans stay in the stands and join the team in signing the song, which became a tradition in 1980 after John Denver dedicated Mountaineer Field with the song.
February, 14, 2012
2/14/12
3:00
PM ET
West Virginia athletic director Oliver Luck spoke with media earlier today after the university and Big East announced the Mountaineers would be leaving for the Big 12 on July 1, its intended departure date since announcing it had accepted an invitation to the Big 12 in late October.

He was not permitted to discuss terms of the agreement between WVU and the Big East as part of the settlement.

Here's a bit of what he had to say.

Big 12 revenue sharing formula is set

We discussed this back when TCU and West Virginia first announced their intentions to leave the Big East for the Big 12, but Luck confirmed it again on Tuesday.

In Year 1, both schools will receive 50 percent of an expected $18-19 million payout. Those payouts will grow along with the league's backloaded television contracts, but TCU and WVU will receive 67 percent of their payout in 2013.

"Where they move in the next 3-4 years, I'm not sure I can share," Luck said of the growing television payouts. "I don't know."

In 2014, they will receive 80 percent of their television money before jumping to a full share in 2015, the duo's fourth year in the league.

Texas A&M and Missouri will receive full shares of SEC revenue in their first year in the league.

Beer will be sold at games in Morgantown

Visiting Big 12 fans and concerned Mountaineers don't have to wonder anymore. Beer will be served in the stadium.

"The Big 12 does not have any rules or regulation regarding beer sales, and our intent is to continue to do what we have done," Luck said. "It's certainly subject to any decision the board of governors may make."

WVU hosts Baylor, Kansas State, TCU and Oklahoma next season.

Backyard Brawl will likely go on hiatus

West Virginia's chief rival is Pitt, but like the Lone Star Showdown and Border War in the Big 12, it'll be ending after this recent round of realignment.

Unlike the Big 12 rivalries, though, it may soon be resumed. It's "pretty obvious" it won't be played 2012, but Luck was hopeful it could be continued in the future.

"It'll be difficult to schedule," he said, citing the nine-game conference schedules in the Big 12 and Pitt's impending new home, the ACC. "I certainly would welcome a conversation with [Pitt AD] Steve Pederson."

The Big East, an eight-team league, played just seven conference games.

No culture shock for the Mountaineers

Luck reiterated how well he thought West Virginia fits in the Big 12 culturally.

"As our fans begin to get to know the schools that are in the Big 12, they'll find schools that have a lot of commonality with us," he said. "They're large public institutions, many of them with enrollments the size of West Virginia's. There are great land-grant universities, in some cases serving largely rural constituencies. You think about Iowa State or Kansas or Kansas State. Great research institutions, similar things that our academic and research folks will find with the Big 12. I think as we go into the conference and start to have shared experiences in all the different sports, our fan base will really warm up to what's really a tremendous conference."
February, 14, 2012
2/14/12
12:30
PM ET
Finally
.
Right?
West Virginia accepted an invitation to the Big 12 back in October, and at a later news conference assured everyone it would be joining the Big 12 for the 2012 season, despite a clear requirement in the Big East bylaws to give the league 27 months' notice before leaving.
Everybody has their price.

The Big East's is apparently $20 million, more than double what it cost Nebraska ($9-plus million) and triple what it cost Colorado ($6-plus million) to leave the Big 12 in the summer of 2010. Texas A&M and Missouri's exit fees are still being negotiated.
West Virginia offered months of assurances that it would be free from dueling lawsuits with its now-former league. The Big 12 agreed and felt confident enough to give television networks a schedule with the Mountaineers on it,
which was released publicly
today.
It might feel a little breezy around Big 12 country today. Take a deep breath. Enjoy a sigh of relief.
Disaster avoided. Great football program welcomed.
Officially.
The past two years have been, uh, turbulent for the Big 12. Four of the league's 12 members bolted to other conferences -- Texas A&M and Missouri to the SEC, Nebraska to the Big Ten and Colorado to the Pac-12 -- over a period of 17 months, trimming a proud league and making expansion a necessity.
For their replacements, the Big 12 turned to the Big East.
TCU hadn't officially joined the conference, and its untangling was much simpler.
West Virginia, though, joined the league as a football member in 1991 and had enjoyed full membership since 1995. The divorce was messy, but for the Big 12, it was the ultimate Valentine's Day gift.
Finally, the conference can move forward. For once, the Big 12 played the part of poacher and not the poached.
The league's members are all committed and granted their media rights to the league for six years. Here's
more on what that means
, but essentially it ensures that teams in the Big 12 are valuable to the Big 12 and only the Big 12.
Anyone else feel that? And by that, I mean nothing? The ground underneath the Big 12 has finally stopped shifting. Fans can stop wondering who's in and who's out.
Expansion seems highly, highly unlikely. Louisville, Cincinnati and BYU loom outside the Big 12's gates, but the league must be assured that any member that joins won't cause the 10 current members' slices of the financial pie to grow any thinner. TCU's and West Virginia's admittance was about bringing in Top 25 programs with BCS success more than admitting a team with a huge fan base, though the Mountaineers possess both.
If any of the Big 12's three most obvious options had those things, they'd likely already have joined the Big 12.
Contraction, at least for the next near-decade, is a shade away from impossibility.
The Big 12 can finally take its mind off its on-field drama and get back to focusing its attention toward on-field results. That wouldn't be a bad idea for a league that's been shut out of the BCS National Championship Game for two consecutive seasons, something that's happened just once (2006-07) since 1999.
Coaches recruiting, especially at West Virginia, can stop answering parents' awkward questions about which league their sons will be playing in by the end of their careers.
For the foreseeable future, the conference is done changing.
For the Big 12, that's a welcome change.
February, 14, 2012
2/14/12
11:48
AM ET
When West Virginia defiantly announced in October that it would leave for the Big 12 as soon as possible, did anybody really think the Big East would be able to stop it?
We are talking about the Big East, after all, a league that never seems to win. A league that seems to get taken advantage of at almost every turn. There is a reason the Big East has the reputation of being a league that gets kicked around. West Virginia just did it again.
The Big East should have had the advantage in this fight, what with the conference bylaws that specifically state any departing school must wait 27 months before leaving. Allowing TCU out of the league without a wait had something to do with West Virginia pushing forward. But there are clear rules that every member of the Big East agreed to follow, rules that did not apply to TCU as an incoming member.
[+] Enlarge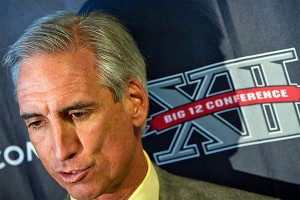 AP Photo/David SmithWest Virginia athletic director Oliver Luck is looking forward to the school's move to the Big 12.
Pitt and Syracuse had no problem agreeing to abide by the rules when they announced they were leaving for the ACC back in September. West Virginia had problems, because it was inconvenient. And the way the school went on the offensive from the outset essentially sealed the eventual settlement
that was announced Tuesday
.
West Virginia filed its lawsuit first, claiming the Big East had failed in its responsibilities to remain a viable conference. It wasn't too long before the Mountaineers accepted Big 12 membership when athletic director Oliver Luck made this comment during a television interview Oct. 1:
"Let's be honest, the reason TCU wants to be in this league so badly is that they think it's an easier path to the national championship than it is going through Norman, Okla., or Austin, Texas, or Stillwater, Okla., and playing some of their regional schools out there. So we've got some quality schools that are very interested in getting involved, including both Air Force and Navy. It's no secret there. I think both of those institutions are academically excellent, very important nationally and also, I think we all can agree, they play some pretty good football.

"In fact, I would trade Air Force or Navy for Syracuse every day of the week in terms of the quality of the football program. No disrespect, but that's just an observation I think most would agree with who understand football."
TCU officially left the Big East on Oct. 10 for the Big 12. West Virginia bolted Oct. 28. You cannot mean to tell me the departure of TCU was the tipping point for West Virginia. TCU had never played a down of football in the Big East.
The argument was a convenient one to make in court. But it also was the first one to be filed, clearly giving West Virginia the upper hand. Its arguments, whether they were thin or not, hit first. The Big East filed its own suit in Rhode Island shortly thereafter, arguing about its specific bylaws that should be followed.
Bylaws, shmy-laws, right? The Big 12 then
went on the offensive
in the form of interim commissioner Chuck Neinas, who said, "The Big East gets on planes and flies all over the country inviting other schools. But they raise hell when West Virginia wants to come to the Big 12?"
Luck made it clear in several more interviews that he didn't care what the Big East did and his school was outta here. Then West Virginia went ahead and canceled its nonconference game against Florida State to make way for nine Big 12 games.
The Big East's response -- nada. The league remained mum on the subject, as West Virginia and the Big 12 talked freely. Commissioner John Marinatto declined to answer questions because of the litigation. Athletic directors refused to comment publicly, for fear of speaking out of turn. Privately, some are upset about the way the entire situation has been handled, firmly believing West Virginia had taken advantage of the Big East once again.
It is obvious that West Virginia did not want to be in the Big East a second longer. But this was not about the Big East holding onto West Virginia because of some vendetta against the school. It was about holding a team to bylaws it drafted and agreed to, in large part to fill out its schedule and not have gaping holes everywhere.
Yes, there was a domino effect when Missouri did to the Big 12 what West Virginia just did to the Big East. But in the conference pecking order, you kinda figured the Big 12 would win this fight.
February, 14, 2012
2/14/12
10:45
AM ET
The Big East and West Virginia
have reached a settlement
that allows the Mountaineers to begin play in the Big 12 for the 2012 season.
According to the Big East, its board of directors voted to terminate the school's membership, conditioned on the resolution of its court case in West Virginia.
"West Virginia University has acknowledged and agreed that the Court in Monongalia County, West Virginia, will enter a judgment that the Big East conference Bylaws are valid and enforceable, and will dismiss with prejudice all of West Virginia's claims against the Conference," Big East commissioner John Marinatto said in a statement.
"Our membership in the Big 12 offers WVU significant advantages," West Virginia athletic director Oliver Luck said in a statement. "The Big 12 is a strong and vibrant conference academically and athletically. We look forward to the potential academic and athletic partnerships and financial opportunities that membership in the Big 12 offers."
February, 14, 2012
2/14/12
10:45
AM ET
The Big 12 is officially back to 10 members.
West Virginia and the Big East announced this morning that the Mountaineers would leave the Big East on June 30, 2012 and join the Big 12, as planned, on July 1, 2012.
Lots more coming on this today,
but here's a look at our news story
.
West Virginia University says it has settled a lawsuit with the Big East conference for an unspecified amount, clearing the way for the Mountaineers to join the Big 12 in July.

Athletic director Oliver Luck says terms of the deal are confidential and WVU won't release details. But he says no state or taxpayer funds, tuition money or other academic revenues will be used. He says WVU will pay the Big East from private sources and money that athletics raised on its own.

Luck planned a news conference later Tuesday in Morgantown.

WVU sued the Big East in November, challenging its bylaws in a bid to join the Big 12. The Big East countersued four days later

"Our membership in the Big 12 offers WVU significant advantages," Luck said in a news release. "The Big 12 is a strong and vibrant conference academically and athletically. We look forward to the potential academic and athletic partnerships and financial opportunities that membership in the Big 12 offers."
Luck is scheduled to address the media later this morning via teleconference. We'll have more on that when it happens. Keep it on the blog today and in the near future as we welcome in the Mountaineers.