October, 7, 2010
10/07/10
10:15
AM ET
Here are 10 things to keep an eye on this week in the ACC, in no particular order:
1. Miami freshman offensive tackle Seantrel Henderson.
He made his first career start last week in the win at Clemson, and impressed coach Randy Shannon. He's likely to continue to see more playing time, sharing snaps at right tackle with Jermaine Johnson.
2. Defenses in Miami.
Florida State and Miami are among the nation's best at getting pressure on their opponents. FSU leads the nation in sacks and is second in tackles for loss, while Miami is first in tackles for loss and second in sacks. Quarterbacks
Christian Ponder
and
Jacory Harris
will be playing under pressure. Harris has thrown eight interceptions in the past three games while Ponder and
E.J. Manuel
have been interception free over the past 89 pass attempts.
3. Ailing quarterbacks.
Wake Forest is hoping
Tanner Price
(concussion) is healed in time for Saturday's game against Navy and the status of Boston College quarterback
Chase Rettig
(ankle) is expected to be learned today. The injury-laden position has been a disaster for the Deacs, as three have been sidelined. Just when the Eagles seemed to find someone who could manage the offense without turning it over, Rettig hurt his ankle and they're "back at square one."
[+] Enlarge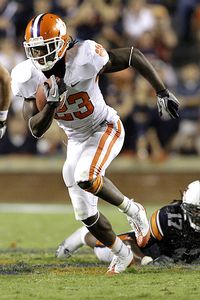 John Reed/US PresswireClemson's Andre Ellington has rushed for 380 yards and seven touchdowns this season.
4. Clemson sophomore running back Andre Ellington.
He needs 129 more yards in his next 19 rushing attempts to break C.J. Spiller's school record for fewest rushing attempts to reach 1,000 yards. Ellington leads the ACC in rushing (95.0) and touchdowns (7) so far this season. For his career he has 871 yards in 122 carries. It took Spiller 142 carries to reach that milestone in 2007.
5. NC State's third-down defense.
NC State leads the ACC and ranks seventh nationally in third-down conversion defense. The Wolfpack is allowing opponents to convert on just 26.6 percent of third-down attempts (17-of-64). The Wolfpack has also forced opponents into 23 three-and-outs this season, an average of 4.6 per game. That mark ranks sixth in the nation.
6. North Carolina's secondary
. The Tar Heels will have both starting safeties in the lineup against Clemson with the return of strong safety Da'Norris Searcy and free safety Deunta Williams. Searcy, who missed the first three games of the season, came back last week with a 46-yard interception return for a touchdown. Williams ranks third at UNC with 12 career interceptions.
7. Virginia's offense vs. the 3-4 defense.
The Cavaliers should be well-prepared as they face their former coach in Georgia Tech defensive coordinator Al Groh. Groh said this week that Virginia has the advantage because of coach Mike London's familiarity with Groh's philosophies.
8. Clemson's receivers
. Coach Dabo Swinney made a change this week. Out:
Xavier Dye
,
Terrance Ashe
and
Brandon Clear
. In:
DeAndre Hopkins
,
Bryce McNeal
and
Jaron Brown
. Why? It took nine minutes into the third quarter until a Clemson receiver caught a pass against Miami. The Tigers will face a similar challenge against the Tar Heels.
9. BC's running game.
Or lack thereof. Despite a veteran offensive line and one of the most productive running backs in the ACC in
Montel Harris
, the Eagles rank 108th in the country in rushing offense at just 87.5 yards per game. NC State's rushing defense took a hit against Virginia Tech and is now allowing 164 yards per game. The Hokies ran for 317 and 8.6 yards per carry.
10. Virginia Tech's secondary
. Nine different players have broken up passes this season, and Jayron Hosley is coming off an impressive performance in which he tied a single-game school record with three interceptions against NC State. Central Michigan has the No. 19 passing offense in the country with 290.8 yards per game.
November, 8, 2009
11/08/09
1:25
AM ET
Posted by ESPN.com's Heather Dinich
CLEMSON, S.C. -- It was a fleeting thought that lasted approximately "a few hours." That's how long Clemson receiver
Xavier Dye
quit the team earlier this season.
It lasted until coach Dabo Swinney sat Dye down in his office and told him he needed to work harder, not walk away. The result was a hungrier Dye who has since added something to Clemson's offense -- including a 43-yard touchdown reception in the Tigers' 40-24 win over the Seminoles on Saturday -- instead of taking a piece way.
"I put a lot of hard work into this program, and they've been good to me," Dye said. "I couldn't just walk out and leave all the guys I've been working with, bleeding with and all that stuff. I was able to stick around, man-up, keep working hard and help the team out as much as I can."
He's not the only one.
Dye is a small example of the big picture here at Clemson. Unlike recent teams of the Tommy Bowden era, this team does not quit under Swinney. It didn't fold after a 1-2 start in conference play that included an embarrassing loss to now last-place Maryland, and it didn't concede anything to Florida State despite trailing 17-6 in the first quarter. Clemson fans have been conditioned to expect impending doom, but with each win over the past three weeks, the Tigers have taken steps to convince doubters they're capable of more this year. The reward -- a trip to the ACC championship game in Tampa -- is now just two wins away. Clemson needs only to beat NC State and Virginia -- two teams that have combined for three conference wins -- in order to win the division.
| | |
| --- | --- |
| | |
| | Sam Sharpe/US Presswire |
| | Clemson's C.J. Spiller rolled up a school-record 312 all-purpose yards. |
"It's a new group of coaches, it's a new message," said offensive coordinator Billy Napier, whose group has now scored at least 38 points in four straight games for the first time in the history of the program. "We recognize the fact that our preparation is going to impact how we play on Saturdays. It's a new Clemson. It's an overhaul. The message is different, and our players more than anything see the opportunity that's been there in the past. They believe in the message that's being given to them every week."
It was the program's biggest step towards winning the Atlantic Division, and it's been a long time coming for a program in search of its first ACC title since 1991.
"Our fans deserve this win, our players deserve this win, and the administration deserves this win," said Swinney. "Championship teams find a way to win games, and that's what we've been teaching these guys. And they found a win to win, despite many obstacles. That team rose up in the fourth quarter and refused to lose."
Not that they didn't try a few times.
The Tigers missed three extra points and two field goals. They scored four times in seven trips to the red zone. And they had two turnovers and seven penalties.
At halftime, with his team trailing, 17-14, Swinney asked his players, "Why the long faces?" He reminded them they had an entire half yet to play, and they responded to him.
C.J. Spiller
looked Heisman worthy as he finished with a school-record 312 all-purpose yards, and the defense came up with four interceptions for 82 yards. The Tigers finished with a season-high 483 yards of total offense, and quarterback
Kyle Parker
tied a single-game freshman record with four touchdown passes.
"We did take a big step today," said wide receiver
Jacoby Ford
said. "It just feels good to get over that hump. It's something we haven't been able to do the past few years. This is a team that really wanted it. We knew what was at hand. We just wanted to go out there and play to the best of our abilities and get the job done.
"It's definitely not over until it's over," he said. "Our goal is to get to Tampa. We haven't punched our ticket yet."
This year, though, there seems to be less concern about the Tigers losing that ticket.
Posted by ESPN.com's Heather Dinich
Each team is going to need a little bit of help this fall (some more than others). Here's a look at where everyone in the ACC needs the most help heading into summer camp:
BOSTON COLLEGE -- Quarterback. It's easily the biggest question mark in Chestnut Hill, and it will also be one of Frank Spaziani's first major decisions as head coach. Regardless of whom he picks -- Dominique Davis, Codi Boek or Justin Tuggle -- experience will be at a minimum.
CLEMSON -- Wide receivers. Somebody needs to help Jacoby Ford, and Aaron Kelly and Tyler Grisham are no longer around to do it. Xavier Dye didn't quite have the consistency he'd hoped for this spring. Marquan Jones and Terrence Ashe could also be factors.
DUKE -- Offensive line. The Blue Devils lost three starters there and moved a fourth (Kyle Hill from left guard to left tackle), so it will have an entirely new look. The one player back in his original position is center Bryan Morgan.
FLORIDA STATE -- Receivers. FSU is waiting until the legal process unfolds to determine the length of Rod Owens' suspension, and it's uncertain how quickly Taiwan Easterling will be cleared to play after an injury to his Achilles. Bert Reed, Louis Givens and Jarmon Fortson will be heavily depended upon.
GEORGIA TECH -- Linemen. The Yellow Jackets have to replace three of four starters on the defensive line, and injuries to Cord Howard, Dan Voss and Nick Claytor slowed the progress on the offensive line this spring.
MARYLAND -- Offensive line. The Terps lost three starters and will have four players in new positions. Phil Costa should be the leader of an otherwise inexperienced group.
MIAMI -- Linebacker depth. There were a few position changes, and Colin McCarthy missed the spring. Sean Spence is proven, but depth remains a concern.
NORTH CAROLINA -- Receivers. This group had to be completely rebuilt, as UNC lost players who accounted for 17 of 21 receiving touchdowns last year. Greg Little had a good spring and should be the leader now, and freshman Joshua Adams benefitted from enrolling early.
NC STATE -- Safety. This is coach Tom O'Brien's biggest concern, and the Pack need Javon Walker, who tore his ACL and missed the spring, back and healthy. Clem Johnson played well last year despite being hindered by several injuries. O'Brien is looking for more from Jimmaul Simmons and Justin Byers.

VIRGINIA -- Linebackers. The backups to Antonio Appleby, Jon Copper and Clint Sintim rarely played, as Al Groh wanted to keep his best players on the field. Darren Childs, Steve Greer, Aaron Taliaferro, Cam Johnson, and Darnell Carter will have to grow up quickly.
VIRGINIA TECH -- Kicker. For the third straight year, Frank Beamer is in search of a new kicker, this time to replace Dustin Keys. Matt Waldron was the leading candidate out of the spring, but the competition is wide open.
WAKE FOREST -- Linebackers. Gone are Aaron Curry, Stanley Arnoux and Chantz McClinic. Introducing Gelo Orange. Yes, that's his name. Orange, along with Hunter Haynes, Jonathan Jones and a host of others have some big shoes to fill.
Posted by ESPN.com's Heather Dinich
Duke coach David Cutcliffe has been shaped by his past, which includes growing up in one of the country's most segregated cities.
Ouch. Florida State defensive coordinator Mickey Andrews said he couldn't wait to get off the field on Wednesday for the Noles' final spring practice:
Asked what positives he could take away from spring drills, Andrew said, according to the Tallahassee Democrat:

"That it's over with," Andrews said. "I'm tired of seeing some of that trash out there. And today we just couldn't get off the field enough. Last year we were the No. 1 team in the country in third-down defense. Today we were No. 119."
Clemson receiver Marquan Jones has had an inconsistent spring, so it looks like Xavier Dye will finish the spring as No. 2 behind Jacoby Ford.
There was a purpose to moving Virginia Tech defensive tackle John Graves to defensive end.
Georgia Tech safety Morgan Burnett is living up to the expectations the coaching staff has for him being a leader. That's the good news. The bad news? Two players will miss the rest of the spring with injuries.