NCF Nation:

Xavier Grimble
January, 24, 2014
Jan 24
9:00
AM ET
The Pac-12 has 26 of the 98 early entrants in the NFL draft. That's impressive. Some players are locks to get drafted. Others might have jumped the gun a bit and find themselves on practice squads or brushing up on their Canadian. We'll see.
What we're more concerned about here is who is going to replace them. Some answers are clearer than others. Some teams might have to alter their schemes just to account for a departed player.
Here's a look at the possible replacement players in the Pac-12 South. We'll look at the North later this morning.
Leaving:
Ka'Deem Carey
, RB, Arizona.
The replacement:
Jared Baker
should be in the mix, though an injury will keep him out of spring ball. He's expected to return in time for fall camp.
Pierre Cormier
and
Zach Green
will also get looks. Speaking with folks at Arizona, the word right now is that it's wide open. One player could emerge, or it could end up being a by-committee approach. Nothing is off the table at this point.
Leaving:
Carl Bradford
, LB, Arizona State
The replacement:
There really isn't anyone who has Bradford's skill set in the program yet, so the position is wide open.
Viliami Latu
has potential. So does
Chans Cox
, who was hurt a lot last season. They are also excited about incoming freshman
Ismael Murphy-Richardson
. He might not be ready to jump in immediately, but he could be the Devil backer by 2015.
[+] Enlarge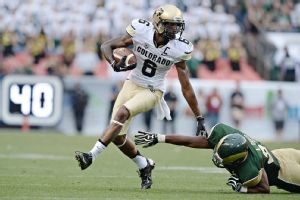 Ron Chenoy/USA TODAY SportsColorado will have a hard time replacing the explosive plays that Paul Richardson provided.
Leaving:
Paul Richardson
, WR, Colorado
The replacement:
It was probably going to be
Jeff Thomas
before he transferred. Now it's probably going to be a rotation of
D.D. Goodson
,
Devin Ross
, or redshirt freshmen
Bryce Bobo
or
Elijah Dunston
.
Nelson Spruce
has been solid, but he's not the breakaway threat Richardson was. This will be a key spring battle to watch.
Leaving:
Xavier Su'a-Filo
, OL, UCLA
The replacement:
Simon Goines
should be back after starting six games at left tackle before an injury forced him out.
Scott Quessenberry
stepped in and played five games at left guard, which is where he'll likely be next season with Goines back at tackle.
Leaving:
Dion Bailey
, LB, USC
The replacement:
Leon McQuay III
saw some playing time and is very highly regarded by the coaching staff. His contributions last season were mostly on special teams, but he'll take on a larger role with Bailey's departure.
Leaving:
Marqise Lee
, WR, USC
The replacement:
Remember
George Farmer
? He's still around and could be in for a big season if healthy.
Darreus Rogers
and
Steven Mitchell
both are promising, but both have missed time with injury. You never truly replace a Biletnikoff winner, but playing opposite a surging
Nelson Agholor
could help boost the production of whoever gets in the regular rotation.
Leaving:
George Uko
, DT, USC
The replacement:
Transfer
Delvon Simmons
is coming off a redshirt season, as is freshman
Kenny Bigelow
. Both should get some serious looks, as this will be one of the hot position battles this spring. Someone will ultimately win the job, but expect a rotation with both next season.
Leaving:
Marcus Martin
, C, USC
The replacement:
Lots of ifs here. It could be
Max Tuerk
moving over from guard, but he'll also be in the mix for right tackle to replace
Kevin Graf
.
Khaliel Rodgers
redshirted and is an option at guard or center.
Giovanni Di Poalo
could also get a look.
Leaving:
Xavier Grimble
, TE, USC
The replacement:
Grimble and
Randall Telfer
were basically co-starters, so all this probably means is Telfer's workload increases as he becomes the clear No. 1.
Jalen Cope-Fitzpatrick
is the only other scholarship tight end on the roster.
Leaving:
Jake Murphy
, TE, Utah
The replacement:
Westlee Tonga
seems like the logical fit. He has been around for a few years and has some experience, but was injured most of last year. He'll get another opportunity to be the lead tight end in the newest installment of Utah's offense.
October, 20, 2012
10/20/12
11:49
PM ET
LOS ANGELES -- The
USC Trojans
came into Saturday's game against Colorado hoping to find some momentum for an offense that had, in a nutshell, been struggling to meet their standard. The Buffaloes ranked among the bottom teams in the conference in every defensive category, so it figured to be the perfect opportunity for the Trojans to regain their offensive mojo.
It didn't take long for their ideal scenario to play out, as the Trojans scored a touchdown on the second play of the game, a 55-yard scoring pass from
Matt Barkley
to
Marqise Lee
. After an interception by
Drew McAllister
, Barkley connected with
Robert Woods
with a 39-yard touchdown completion. The Trojans forced a Colorado fumble on the first play of the next drive, and Barkley wasted no time before hitting
Xavier Grimble
with an 8-yard touchdown pass.
Less than six minutes into the game, USC had three touchdowns on the board on its way to an enjoyable
50-6 victory
at the Los Angeles Memorial Coliseum.
"This was a really good team win today," USC coach Lane Kiffin said. "I'm proud of the guys, because we prepared well this week as if we were playing the best team in the world, and it resulted in a historic day where so many good things happened."
Click
here
to read the full story at WeAreSC.
September, 14, 2012
9/14/12
12:00
PM ET
Pretty straight forward this week. The first Pac-12 Conference game features two ranked teams with a fun recent history. Make your case:
Ted Miller:
Stanford has two chief keys against USC on Saturday. It must run the ball well. And it must contain USC's passing attack. The reason the Trojans are going to win this football game -- and end a three-game losing streak in the series -- is Stanford won't be able to do either consistently.
Against San Jose State and Duke, the Cardinal averaged 3.7 yards per rush. I know this is a risky thing to type, but you guys know I'm not afraid to write bold things: USC's defense has more talent than San Jose State and Duke. No, really.
[+] Enlarge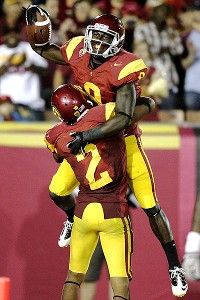 Shelly Castellano/Icon SMIMarqise Lee and Robert Woods (2) are as good a receiving tandem as Stanford coach David Shaw says he's seen.
If Stanford's offensive line can't get a push against San Jose State and Duke, it will not do so against the Trojans. Which means new starting quarterback
Josh Nunes
will be forced to throw into a very good secondary, one that already has four interceptions.
Nunes throwing a lot is what USC wants. Stanford is still lacking at receiver, so the Trojans' back half will have a significant athletic advantage. And it doesn't hurt that Nunes and not old what's-his-name will be delivering the ball.
Speaking of athleticism at receiver ... hey, USC!
Robert Woods
and
Marqise Lee
. And tight ends
Xavier Grimble
and
Randall Telfer
. Those are four superior athletes, all of whom made plays last year against the Cardinal.
Quarterback
Matt Barkley
threw for 284 yards and three touchdowns in last year's triple-overtime classic, and Stanford is replacing three starters from its secondary. Barkley's numbers will be big on Saturday.
Against San Jose State and Duke, Stanford grabbed four interceptions and surrendered just one touchdown pass. That's the good news. The bad news is a 67.3 percent completion rate and 290 yards passing per game. And just five sacks seems modest for a team with such a salty, talented front seven.
While Stanford's scheme is about stopping the run first and foremost, which it has done very well in the first two games, it might have to change its approach against the Trojans. More nickel and dime looks will mean the Cardinal will be forced from their comfort zone. And that could open up the Trojans' running game.
A balanced USC is a scary thought, with Barkley & Co. ready to pull the trigger on a deep fade route when they see one-on-one coverage.
Then there's this: What about a close game? USC is capable of winning this one going away, but that's not what I foresee. I expect the game to be won in the fourth quarter.
Stanford has won consecutive nail-biters against the Trojans. It's difficult to not attribute that ability to win the fourth quarter to having an advantage at quarterback. That advantage now belongs to USC by a wide margin. And that will be the difference.
Kevin Gemmell:
A good debater can come at a problem from all sides. But since ESPN wouldn't hire one just for a Take 2, and since Ted went first, I guess I'll take a swing at making the case for Stanford.
We both picked the Trojans to win
, but détente makes for poor debate.
Stanford coach David Shaw knows how to attack the Trojans. When Shaw was coaching quarterbacks and wide receivers with the Baltimore Ravens, you know who the defensive coordinators were? Mike Nolan and Rex Ryan. You don't think he picked up a couple of tips on how to call plays against a sophisticated, Rex Ryan defense? The past five meetings, when Shaw was either offensive coordinator or head coach, Stanford has increased its total offensive yards in every game against the Trojans. As a playcaller, Shaw is 4-1 and averages 413 total yards and 39 points per game against USC.
[+] Enlarge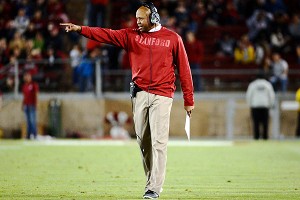 Kyle Terada/US PresswireStanford is 4-1 against the Trojans with David Shaw calling the offensive plays.
On paper, this game should be a double-digit win for the Trojans. Even Shaw said he has never seen a pair of wide receivers like Woods and Lee on the same team in the modern football era.
But there are intangible factors at play. The Cardinal have to be -- at least a little bit -- in the heads of Trojans players given the circumstances of the last few meetings. It's not a matter of USC "owing" one to Stanford from a tight game the previous year. The Trojans owe the Cardinal three, and there are only so many times you can go to the "we-owe-them-one" well. At some point, that becomes a mental hurdle.
The world expects USC to win this game. But here's a little worm that might be wiggling into a few Trojans' brains.
What if they don't?
What if Stanford takes a 14-0 lead? What if there's a pick-six or a special-teams touchdown that swings momentum and it all starts to fall apart? It probably will take something out of the ordinary -- a special teams touchdown, a crucial turnover or a trick play (anyone know if Nunes can catch?) to swing the tide. But the Cardinal lead the conference in turnover margin at plus-5. They've allowed fewer red-zone touchdowns than any team in the Pac-12 (except Oregon State, which has played one game). USC's defense is allowing teams to convert third downs at an alarming 45.5 percent. It's one thing to give up yards and allow completions. But the longer Stanford's offense stays on the field, the less time the Trojans' touted troika is playing.
Stanford's defense, which looked sluggish in the opener, was much livelier and motivated when
Shayne Skov
returned to the lineup last week. Expect the same emotional boost when
Ryan Hewitt
returns to the offense. Barring any setbacks on his ankle, he's expected to play. And his presence opens up a lot for Stanford: stronger run blocking, more receiver options, more diversity in offensive personnel groupings and formations.
Anyone who remembers last year's Stanford-Oregon game knows the Cardinal buckled under the weight of expectation. Every victory was another ton of bricks they carried leading up to that moment. This game has similar implications, sans the bricks. All of the pressure is on the Cardinal & Gold, not the Cardinal.
August, 17, 2012
8/17/12
10:30
AM ET
Welcome to the State of the Pac-12 Conference. We here at the Pac-12 blog are proud to report that the state of the conference is strong. But we also know that there are those of you just joining us who haven't read every single post we've done. Shame on you, but we'll catch you up anyway. Here are a few storylines as we look toward the 2012 season:
Oregon-USC
: The hype started with a failed Oregon comeback at Autzen Stadium last season. It grew when
Matt Barkley
declared he and his teammates had "unfinished business" -- not-so-subtly implying that snatching the Pac-12 crown away from the Ducks was a priority. It reached a high when both were projected (not surprisingly) to win their respective divisions in the Pac-12 media poll, which anointed USC as the 2012 champs. It will reach a fever pitch on Nov. 3 when Oregon travels to USC for the most anticipated regular-season matchup of the season. And that might only be Part I, as the two seemed destined to meet again in the conference championship game.

Quarterback carousel
: There were five teams with to-be-named quarterbacks heading into the fall camps: Arizona State, Colorado, Oregon, Stanford and UCLA. Washington State hasn't officially named
Jeff Tuel
the starter, but your Pac-12 bloggers would be shocked if at this point there is a switcharoo with
Connor Halliday
. Three of those jobs are still up for grabs as of 10:30 a.m ET Friday. UCLA named
Brett Hundley
its starting QB a few days earlier than expected, and Colorado tapped Kansas transfer Jordan Webb as its guy after only three weeks on campus. All eyes are on the other teams to see who will lead them.
Talent at tight end
: This might seem like a repeat, but your bloggers can't say enough how good the tight end talent is in the Pac-12 and how much of an impact these guys are going to make throughout the season. The conference has always been at the vanguard of offensive innovation and finding new ways for players like
Austin Seferian-Jenkins
,
Levine Toilolo
,
Zach Ertz
,
Randall Telfer
,
Xavier Grimble
,
Joseph Fauria
,
Andrei Lintz
and
Colt Lyerla
to get involved in the offense is going to add an even greater dimension to a conference already spilling over with talented playmakers.
Don't forget the defense
: Yeah, they play defense too in the Pac-12. And when you look at four potential first-round draft picks coming out of the conference on defense:
Star Lotulelei
,
Chase Thomas
,
T.J. McDonald
and
Shayne Skov
-- and you consider the offenses these guys are playing against -- it's worth tipping a cap to the defenses around the league. Teams like Cal, Stanford, Oregon, USC and Utah all project to have very good defensive units that could all be in the top 25.
Who wins the Biletnikoff?
There are six players from the Pac-12 on the watch list:
Keenan Allen
,
Dan Buckner
,
DeVonte Christopher
,
Markus Wheaton
,
Marquess Wilson
,
Robert Woods
. Oh wait, seven, somehow
Marqise Lee
was left off the original list
. So who emerges from this group? Will it be Wilson and the gaudy numbers he's expected to produce by way of Tuel in Mike Leach's air-raid offense? Will Woods and Lee cancel each other out, or will both emerge as the top candidate? Allen is a star and might be the best NFL prospect of them all. Will he get the numbers in Cal's offense? Or does one of the dark horses have a chance to break through?
Every game on!
The Pac-12 will enter the first year of its new broadcast deal with ESPN and Fox and the Pac-12 Networks launched Wednesday. The biggest news there, other than the huge per-school bump in revenue, is every football game will be on TV this fall.
August, 9, 2012
8/09/12
12:00
PM ET
This is a good time for
Joseph Fauria
to be a tight end ... er ... wide receiver.
"No, I'm still a tight end," said UCLA's dominant, albeit difficult to define Fauria. "My weight and height haven't changed. My assignment hasn't changed that much. I'm just doing a little more than the other. I'm still a tight end even though the roster says wide receiver."
Officially, the roster lists Fauria as the "Y Receiver," a position the 6-foot-7, 255-pounder is expected to excel at in the scheme that coordinator Noel Mazzone brought with him from Arizona State when he joined Jim Mora's staff. He'll certainly be more active in the passing game than he was in UCLA's previous, run-first pistol attack.
[+] Enlarge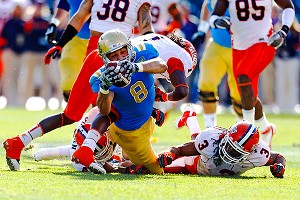 Jason O. Watson/US PresswireUCLA's Joseph Fauria said learning to fight for yards after the catch should help him with his role in 2012.
"It's something your body has to get used to," said Fauria, who like his teammates has been grinding away in the summer heat of San Bernardino about 80 miles east of campus. "There's a reason O-linemen don't run routes. They are blocking, going forward for run blocks and backwards for pass blocks. When you change it up and run full speed, you need to change your body. Now that I'm not run blocking or cut blocking the whole game, my body needs to get used to running routes 60-70 plays a game. It will take some getting used to and it's more catching."
When you look around the Pac-12 and some of the tight ends -- Fauria,
Austin Seferian-Jenkins
at Washington, the Stanford duo of
Zach Ertz
and
Levine Toilolo
, USC's duo of
Randall Telfer
and
Xavier Grimble
and Oregon upstart
Colt Lyerla
-- it's clear that the days of the tight end being a fourth- or-fifth receiving option are long gone. Fauria, and the aforementioned players are the next evolution of tight end.
"It trickles its way down," he said. "It starts in the NFL. You have guys breaking records and being game-changers. Tight ends, we're changing the whole offense. In turn, that changes how defenses play. You see bigger safeties getting pulled in the first round. Now it's trickling down to college. Colleges realize we have these big, fast tight ends. We had a guy as the first tight end drafted last year [Stanford's Coby Fleener] and we have even more guys this year.
"We are changing the dynamic the way the tight end is used. Back when my uncle [Christian Fauria] played, they were tough SOBs who were down blocking on defensive linemen. Now we're guys who can outrun linebackers and out-physical safeties and corners. It's a tough matchup for defenses."
And UCLA will look to exploit that mismatch -- which is music to Fauria's ears.
"It's good to see the change and that we're moving the ball down the field," he said. "Last year, I don't want to say it was boring, but it was monotonous. Get 2 or 3 yards and hope to break one once in a while. Now we're stretching the field and we're fast on the outsides."
Fauria, who is from Encino, declined to talk about what went wrong during his time at Notre Dame and why he opted to return to Southern California following the 2008 season. But now that he's here, he plans to make the most of the opportunity. Last year he caught 39 balls for 481 yards and six touchdowns. Look for those numbers to shoot up in the new offense.
"Last year, we weren't really a pass-happy offense. At all," he said with a sarcastic laugh attached to it. "I realized that going into the season whenever I did get the ball, I had to get those yards because I might not see another ball the rest of the game. That taught me to fight for those extra yards because chances are it won't happen again. The system actually helped me more than it hurt. It helped with my will to catch the ball and my will to get yards after the catch."
And now the system has changed. And so has the position -- well -- technically.
March, 30, 2012
3/30/12
11:00
AM ET
LOS ANGELES -- The guy who had the best touchdown-to-interception ratio in the Pac-12 last season is tossing a few more picks during spring ball than his coach would like to see. But USC coach Lane Kiffin isn't too worried about quarterback
Matt Barkley
, who has thrown seven interceptions in eight practices. No expletives are being hurled, no panic buttons being pushed.
[+] Enlarge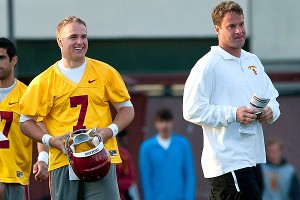 Joe Andras/WeAreSC.comQB Matt Barkley, left, has thrown more interceptions with his favorite receivers absent from spring practices, USC coach Lane Kiffin said.
"He can still declare for the supplemental draft so I can't yell at him quite yet," Kiffin joked after practice Thursday night.
Not to worry, Kiffin said, explaining that the rise in picks is a product of Barkley not being able to work with his usual guys.
Robert Woods
is out for spring.
Marqise Lee
is balancing football with track and
George Farmer
continues to be hampered by a hamstring injury.
"Part of it is him getting a little bored," Kiffin said. "He scrambles out and gets frustrated because he doesn't have his normal guys out there and he throws the ball downfield. We'll get him back out of it. We don't like it, but it's not the end of the world. As we get closer to game time, we'll get him back to normal."
Kiffin said to keep Barkley motivated, they have installed some different routes and concepts they've taken from the NFL.
"It's been good to expose him to those and really challenge him to continue to master what he already has, but also add to his game," Kiffin said.
Last season, Barkley threw 39 touchdowns to just seven interceptions. His 69.1 completion percentage was tied for second-best in the conference.
In other practice notes:
With so many injuries at wide receiver, Lee has been rotating in at every receiver spot. Kiffin recently said he thought Lee has the chance to be the best wide receiver ever at USC. "Marqise is doing great," Kiffin said. "We're so hurt so we move him around so much that he has to play every position with Robert and George not being there. But it's good for him, any time you have to play all the spots. We really try to wear him out when we get him because we lose him sometimes [to track] so we try to maximize the time we get with him."

The Trojans were scheduled to hold a scrimmage on Saturday – which will be open to the public at 11 a.m. at Los Angeles Memorial Coliseum – but might have to put that on hold due to the number of injuries. Tight end Junior Pomee re-injured his foot on Thursday, and with Xavier Grimble, Randall Telfer and Christian Thomas all dinged up, there aren't many options left at tight end. Kiffin said they might ditch the scrimmage and just hold a normal practice. "Unfortunately we can't seem to keep a tight end healthy," said Kiffin. "The problem right now is the offensive skill players [who are out with injury] aren't allowing us to practice the way we'd like, but we're making the best of it."

Tre Madden, who made the move last week from linebacker to running back, fumbled for the third time in three practices.
February, 23, 2012
2/23/12
10:00
AM ET
Pac-12 spring preview: South Division
Spring practice is almost here. Here's a snapshot at what to expect from the Pac-12 South in the coming weeks.

ARIZONA
Spring practice starts
: March 4
Spring game
: April 14
What to watch
:
Hello, my name is ... Like the other two teams in the South Division with new head coaches (Arizona State and UCLA) much of Arizona's first few weeks will be Rich Rodriguez evaluating his personnel and getting to know what he has to work with. Likewise, the players are going to have to figure out what this new coaching staff is about. Everything from how they do pre-practice stretches to how they call the cadence is going to change.
New scheme and a new scheme: A spread option on offense and a 3-3-5 on defense. That's a lot of new material to digest on both sides of the ball. Until Rodriguez can recruit the players he likes into his scheme, he's going to have to make it work with the players he has. Fortunately on the defensive side of the ball, Arizona has good depth in the secondary with Cortez Johnson, Marquis Flowers, Shaquille Richardson, Jourdon Grandon and Tra'Mayne Bondurant. The Wildcats should also get a boost with the return of injured players Jake Fischer (LB), Jonathan McKnight (CB) and Adam Hall (S).
Perfect fit? Former starter Matt Scott, who was beaten out by Nick Folesin 2009, is expected to reprise his starting role under Rodriguez. He redshirted the 2011 season and -- magically -- Foles never got hurt last year despite taking 23 sacks and countless hits. Scott is considered the more versatile quarterback and should fit nicely into the new run-based spread attack.

ARIZONA STATE
Spring practice starts
: March 13
Spring game
: April 21
What to watch
:
QB competition: We know what kind of offense new coach Todd Graham is going to run; now it's a matter of figuring out who is going to run it. Graham has his choice of three players -- Mike Bercovici, Taylor Kelly or Michael Eubank -- to replace NFL-bound Brock Osweiler. Graham said earlier this month that there are no favorites heading into the competition and each one brings his own skill set to the table. Eubank has the size (6-foot-5, 235 pounds), Bercovici (6-1, 205) is a mechanic and Kelly (6-1, 202) is a little bit of everything.
Get the locker room: By the end of the 2011 season, ASU's locker room wasn't just divided, it was completely splintered. Graham's task -- and that of his new coaching staff -- is to pick up the pieces, mend internal fences and find some chemistry on both sides of the ball. Linebacker Brandon Magee, long considered a great locker room leader, should help get the Sun Devils back on track as he returns from a season-ending Achilles injury.
Hands competition: The Sun Devils lose three of their top four wide receivers from last season -- Gerell Robinson, Aaron Pflugrad and Mike Willie. Jamal Miles returns after finishing second on the team last season with 60 catches and six touchdowns. Rashad Ross figures to be the No. 2 guy, but establishing depth in that corps -- especially if Graham wants to be up-tempo -- is key.

COLORADO
Spring practice starts
: March 10
Spring game
: April 14
What to watch:
Momentum, maybe? For as rough as 2011 was for the Buffs, they ended the year on a high note, winning two-of-three down the stretch -- including a 17-14 win over Utah in the season finale. But there is also the possibility that things might get worse before they get better. With just four returning starters on offense, spring in Boulder will likely be more about teaching and less about refining.
Where to start (offense)? Well, quarterback might be a good place. In the court of public opinion, Connor Wood, a transfer from Texas, seems to be the favorite. Nick Hirschman appeared in five games last season, mostly in mop-up time when the game was already out of hand. It's also possible a starter could be named by the end of spring ball. Finding offensive weapons to surround the new quarterback will also be a challenge. Wide receiver Paul Richardson caught 39 balls last season, and running back Tony Jones showed a flare for catching the ball out of the backfield. He'll likely step in as the new workhorse back for the departed Rodney Stewart.
Where to start (defense)? Last in this. Last in that. Last in almost every team statistic the Pac-12 has to offer. But there are some intriguing youngsters on the roster. Cornerback Greg Henderson was all-conference honorable mention as a freshman with a team-high nine passes broken up. Jered Bell also returns from injury after blowing out a knee last preseason. If healthy, he's expected to be a big contributor in the secondary. Linebacker Jon Majorreturns as the team's leading tackler, and if Doug Rippy is fully recovered from his knee injury, he'll look to build on what was a pretty good season last year before getting hurt.

UCLA
Spring practice starts
: April 3
Spring game
: May 5
What to watch
:
QB up for grabs: Like the majority of the conference, UCLA enters spring with a quarterback competition. New offensive coordinator Noel Mazzone said he doesn't care how much experience (or lack thereof) a player has -- if he can play, he wins the job. So don't be surprised if Brett Hundley passes Kevin Prince and Richard Brehautas the new man leading the Bruins. Fans have been clamoring for a change. Hundley might be it.
Attitude adjustment: One of the first things new head coach Jim Mora did was slam the team for its tradition of going "over the wall," a time-honored senior ditch day, saying if they want to jump the wall, they should just keep on going. How's that for sending a message? UCLA has earned a reputation for being soft and underachieving despite good talent. Attitude and toughness is needed -- and so far, Mora appears to be hammering that point home.
Speaking of toughness ... The defense has to get tougher. No two ways about it. It was weak against the run last season, allowing more than 190 yards per game on the ground; couldn't get to the quarterback; and couldn't get off the field almost 50 percent of the time on third down. It's time for potential all-conference players such as defensive end Datone Jones to start living up to the hype and the defense as a whole to stop getting pushed up and down the field. At 6-5, 275 pounds, Jones has the physical makeup to be a major force in the conference and catapult himself into the elite class of collegiate defensive players.

USC
Spring practice starts
: March 6
Spring game
: April 14
What to watch
:
Ignore the hype: Few teams ended last season hotter than USC and returning quarterback Matt Barkley. The Heisman talk has already started, the way-too-early rankings already have the Trojans as national championship contenders, and the public perception is that the offense is unstoppable. Nice to hear, but hype is a double-edged sword. Head coach Lane Kiffin has a knack for deflecting hype. This season will be his toughest test to date.
Insurance? The Trojans are loaded on both sides of the ball with returning players. But after the starting 22, things start to get dicey. Developing depth and keeping the starters healthy is a top priority -- particularly on the offensive and defensive lines and at running back, where experience is thin outside of the starters. The entire back seven returns on defense -- headlined by hard-hitting safety T.J. McDonald. Stopping the pass has been a major priority for Kiffin, and if this group stays healthy it should see the pass-efficiency numbers improve even more.
Other options: Along those same lines, wide receivers Robert Woods and Marqise Lee make up the most feared receiving duo in the conference -- maybe the country. But who are the Nos. 3 and 4 receivers behind them? George Farmer? Victor Blackwell? De'Von Flournoy? Don't overlook the tight end duo of Xavier Grimble and Randall Telfer, which should rival Stanford's Zach Ertz and Levine Toilolo as the best tight end tandem in the conference.

UTAH
Spring practice starts
: March 20
Spring game
: April 21
What to watch
:
Youthful approach: Head coach Kyle Whittingham turned some heads by naming former Utah quarterback Brian Johnson as his offensive coordinator. Johnson, who recently turned 25, said he's not looking to make wholesale changes to the offense, though he wants to put his stamp on it and continue to build around running back John White IV, who had a breakout season in his first year of major college football. Having quarterback Jordan Wynn back healthy should also help as the team transitions to Johnson running the offense.
Fixing the line: Who is going to protect Wynn (if he does indeed win back the starting job) and make holes for White? That's a major concern heading into spring as the Utes have to replace a pair of all-conference linemen in Tony Bergstrom and John Cullen. The Utes should be set at the interior but have to adjust to a new position coach, with Tim Davis leaving for Florida after just one season and Dan Finn -- a former Utah graduate assistant who was brought on to help Davis -- taking over the whole line following a one-year stint at San Diego State.
Work the experience: The defensive line should be one of the best in the conference, especially with the return of Star Lotulelei, who won the Morris Trophy last season as the conference's best defensive lineman. With the Kruger brothers returning to the line -- Joe at defensive end and Dave at tackle -- Derrick Shelby is the lone starter who has to be replaced. There's also some pretty good depth in the secondary that was tops in the conference last season in pass-efficiency defense.
February, 4, 2010
2/04/10
3:13
PM ET
USC's
class of 19
-- and one HUGE oral commitment -- ranks seventh in the nation and features 11 players (including said commitment) on the ESPNU 150 list.
That commitment is
Seantrel Henderson
, the nation's No. 1 offensive lineman, who
will wait to sign
until after USC meets with the NCAA later this month.
Lane Kiffin's first class after the departure of Pete Carroll was stronger than just about everybody thought it would be.
The Trojans had
three top needs
. They hit a grand slam at receiver and tight end. They did fairly well at defensive back. They fell short at linebacker.
Top prospects
:
Robert Woods
is the nation's No. 1 receiver.
Markeith Ambles
was No. 4.
Kyle Prater
was No. 9.
Xavier Grimble
leads a list of three top-10 tight ends. Help is coming for quarterback Matt Barkley. Speaking of quarterbacks, the Trojans signed the No. 2 guy,
Jesse Scroggins
.
Under the radar
: Not really a USC category. Fullback
Soma Vainuku
, recruited as a linebacker by a number of schools, signed as a fullback, perhaps positioning himself as the next Stanley Havili.
Issues?
It's hard to quibble with the nation's No. 7 recruiting class, particularly when the school was dealing with a coaching transition to Kiffin from Carroll, but there are two things. First, linebacker was a need area that wasn't sufficiently addressed. Second, the Trojans lost out on a number of prospects to rival UCLA, most notably safety
Dietrich Riley
and linebacker
Jordan Zumwalt
Notes
: Kiffin said he expects linebacker
Glen Stanley
, the lone JC transfer, to play immediately... USC signed players from five states... Kiffin took a shot at the players who picked UCLA over USC in his signing day press conference: "I think, I've been gone three years but much hasn't changed. As you meet the kids there is a sense and I was reminded of the kids that go to UCLA and the kids that come to USC, and to be back here, I watched it over the weekend just to see if it's the same, and it's really still the same. I guess we waste time continuing to recruit them, we know within the first 10 minutes whether they're the type of guys that want to play here or there."
February, 3, 2010
2/03/10
3:38
PM ET
Tight end
Christian Thomas
(6-3, 245) from from Palmdale, Calif.,
has signed
with USC.
He picked the Trojans over Miami, Oregon and Oregon State.
Combined with
Xavier Grimble
, that means USC signed the No. 1 and No. 8 tight ends in the nation.