NCF Nation:

Zac Etheridge
November, 26, 2010
11/26/10
10:36
PM ET
TUSCALOOSA, Ala. -- When it was all over, Auburn defensive coordinator Ted Roof could smile.
He was even in a mood to crack a joke.
"I think it's safe to say that we're a second-half defense," Roof said with a wry smile.
Not only that, the Tigers are an opportunistic defense. They're a resilient defense. They're a defense that can transform from really bad to really good in a half. They're a defense that makes adjustments and executes those adjustments with precision.
[+] Enlarge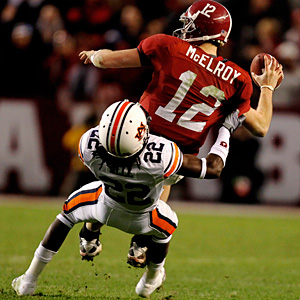 AP Photo/Butch DillT'Sharvan Bell sacks Alabama quarterback Greg McElroy in the fourth quarter. McElroy would not return. The Auburn defense held Alabama to just 67 yards of offense in the second half.
Most of all, they're a defense that wins games.
How else do you explain the Tigers' defensive turnaround Friday in their stunning comeback from 24 points down to ambush Alabama
28-27
at Bryant-Denny Stadium, snapping the Crimson Tide's 20-game home winning streak?
This was no run-of-the-mill turnaround, either.
This was a full-fledged transformation. We're talking Linda Blair in "The Exorcist."
Of its 379 yards of total offense in the first half, Alabama had 235 yards after the catch on 19 receptions. It looked like a 7-on-7 drill out there.
But in the second half, the Crimson Tide managed just 67 yards -- period.
"We don't really pay attention to numbers," Auburn safety Zac Etheridge said. "We just go out and keep fighting. A lot of people are saying, 'Is the defense good enough?' But we know we're going to get the job done in the second half.
"That's what we do. We finish games."
Forget that Auburn was ranked 60
th
nationally in scoring defense entering this game and 50
th
in total defense.
When it matters, the Tigers might as well be ranked first.
They haven't allowed a point in the fourth quarter in their past two games.
Alabama's only points in the second half Friday came after the Tigers fumbled a punt away at their own 27 in the third quarter. But the Crimson Tide had to settle for a field goal.
"We knew in the first half they gave us all they had," Auburn linebacker Josh Bynes said. "They threw all their punches, all the hooks, all the uppercuts and everything they could. We knew they weren't going to change anything in the offense and were going to run the offense they know how to run and we were going to play the defense we know how to play.
"We were going to go out there and play physical and hard and go out there and win this game, and that's what we did."
Roof said it's the best half of football his defense has played all season. The first half might have been one of the worst.
"Our guys are fighters," Roof said. "That's what they are. They have great competitive spirit and great heart, and when you have that, you don't quit. If you just keep playing hard, something good will happen.
"So far, so good."
Roof thinks it all started in the second quarter with Antoine Carter's hustle play. The senior defensive end chased down
Mark Ingram
on the tail end of a 41-yard pass and was able to poke the ball loose from behind, and it squirted all the way through the end zone for a touchback.
"That was the start of getting our feet back under us," Roof said.
Equally big was Nick Fairley's sack of Alabama quarterback
Greg McElroy
just before halftime. The Crimson Tide looked like they were about to make it 31-7 at the half, but Fairley shot through a gap and pounced on McElroy. The ball popped loose, and Fairley was there to recover.
Just with those two plays, the Tigers saved themselves six points … and probably more.
"Defenses are going to always bend and give up a big play here and there," said Fairley, who had two more tackles for loss to raise his SEC-leading total to 20. "As long as we don't keep breaking, we're good."
Roof said one of the unsung qualities about his defense this season has been its ability to adjust.
The same goes for Auburn's defensive staff when it comes to making the right adjustments, especially at the half.
In the second half Friday, the Tigers attacked a lot more and were much more aggressive when it came to pressuring Alabama quarterback
Greg McElroy
, who was knocked out of the game with a concussion in the final minutes.
"There's some tweaks in everything you do," Roof said. "Our kids did a great job adjusting, flying around and hanging in there. The resiliency they have is something. They believe if they keep playing hard, something is going to happen and it did.
"It's one thing to make adjustments. It's another thing to go take them onto the field, and they have all season."
Here's something else the Tigers have done all season: Live on the edge defensively.
But with December football on the docket and a trip to the BCS National Championship Game in sight, who cares about the way it looks?
Or for that matter, who cares about numbers?
Right now, the only numbers that count are 12 up and zero down.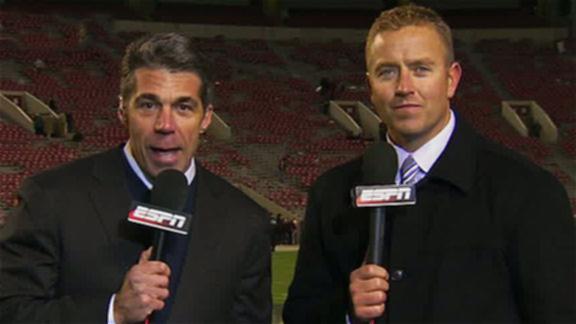 October, 16, 2010
10/16/10
11:35
PM ET
AUBURN, Ala. -- The way this Auburn football team insists on living dangerously may be entertaining to watch, but it's hard on the old ticker.
Josh Bynes ought to know. He's lived it now for seven straight weeks.
"Yeah, it's nerve-racking, because we know we can't keep putting ourselves in this position," said Bynes, the Tigers' senior linebacker. "But there's just something about this team. When we have to have it in the fourth quarter, somebody's always there to make it happen."
[+] Enlarge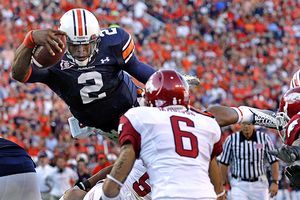 AP Photo/Dave MartinCameron Newton rushed 25 times for 188 yards and three touchdowns, including this score. He also passed for 140 yards and a touchdown.
That somebody Saturday on defense was Bynes, who had interceptions on back-to-back possessions to send Arkansas packing for good in
a 65-43 score-a-thon
that marked the most points ever scored in a non-overtime SEC game.
Here's something else it marked: The official
Cam Newton
for Heisman Trophy campaign.
If there's anybody playing better football right now than Newton, he's not on this planet.
"All I know is that I'm glad he's on our team. I don't know where we'd be without him," said Auburn safety Zac Etheridge, who contributed to the No. 7-ranked Tigers' 28-point blitzkrieg in the fourth quarter with a 47-yard fumble return for a touchdown.
Newton accounted for four touchdowns against the No. 12-ranked Hogs. He churned out 328 yards of total offense, including 188 rushing yards and three rushing touchdowns. He also threw a 15-yard touchdown pass to
Emory Blake
.
For the season, Newton has now rushed for 170 yards or more in four different games and has accounted for 25 touchdowns -- 13 passing and 12 rushing.
To put those numbers into perspective, former Auburn quarterback Pat Sullivan holds the school record with 26 touchdowns -- and he did that during his Heisman Trophy-winning 1971 season.
"I don't have the opportunity to watch everybody in America, but I can tell you this: Number 2 (Newton) is one spectacular football player … and I'm not one to go out on a limb," Auburn coach Gene Chizik said. "But everybody in the world sees it. It's not like I'm telling anybody anything new."
The 6-6, 250-pound Newton was magical in the open field, making Arkansas defenders miss, and showing the moves of a tailback. But when the Tigers needed him in the passing game, he also delivered and finished 10-of-14 for 140 yards.
"A guy that big isn't supposed to be that shifty, but he is," said Bynes, shaking his head in amazement.
For three quarters, Newton and the Auburn offense bailed out a defense that was shredded by Arkansas' passing game. Most of the damage was done by Arkansas backup quarterback
Tyler Wilson
, who played brilliantly in relief of
Ryan Mallett
, who was knocked out of the game in the second quarter with a concussion.
Wilson hit 15 of his first 16 passes and finished with 332 passing yards and four touchdowns.
His 23-yard touchdown pass to
Greg Childs
less than a minute into the fourth quarter and ensuing two-point conversion pass to Childs gave the Hogs a 43-37 lead.
The Tigers were on their heels defensively and looked like they were in trouble.
[+] Enlarge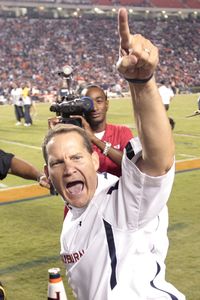 AP Photo/Dave MartinAuburn coach Gene Chizik's Tigers got three turnovers in the fourth quarter against Arkansas.
"That's the thing about this team that's different than a lot of the ones I've been around," said Trooper Taylor, Auburn's assistant head coach and receivers coach. "When things go wrong or we start giving up some plays, you don't get any of this, 'Oh man, here we go again.'
"Instead, you have the offensive guys coming up to the defensive guys and vice versa and they're telling each other, 'I've got your back, or I'm going to make this play, or we're going to get this stop.' That's the way it is with this team.
"We are truly one."
The Tigers (7-0, 4-0) have also been the truth in the fourth quarter.
They've outscored their opponents this season 69-21 after the third quarter, which includes the overtime period against South Carolina.
And in their last two games against nationally ranked foes -- the other one being South Carolina -- they've forced seven turnovers in the fourth quarter.
"Our football team is resilient. Our defense is resilient," Chizik said. "We know we didn't play well all night, and there are probably numerous reasons why. We will see that tomorrow on film. But when it was the fourth quarter and we had to make plays, and when we had to get turnovers, we got three."
That's not a bad trait to have, even when you do give up 566 yards of total offense.
And having Newton at quarterback is the quintessential equalizer.
"We play as a team, and we play all four quarters," Newton said. "There's nobody pointing fingers on this team, and there's no selfishness on this team. Whatever it takes to win, we're going to do."
Until somebody figures out a way to stop Newton, the Tigers are probably going to keep on winning.
Arkansas defensive end Jake Bequette summed it up best Saturday.
"You've got to give that guy a lot of credit," Bequette said. "He's a great player.
"He's going to do that to a lot of people."
October, 16, 2010
10/16/10
7:09
PM ET
AUBURN, Ala. -- Auburn is 2-for-2 on critical reviews Saturday, a big reason the Tigers are leading this game 58-43.
Both were extremely close, this last one a fumble by Arkansas'
Broderick Green
that Zac Etheridge returned 47 yards for a touchdown to give the Tigers a 51-43 lead.
Like Mario Fannin's fumble on the goal line in the first half, this one was ruled a touchdown on the field.
Green looked like he was lying on top of Auburn's Mike Blanc, who was pulling Green to the ground, when the ball came loose. On this one, it was simply too close for the replay official to overturn the call.
However, on Fannin's fumble earlier in the game, the ball definitely looked like it was loose before he crossed the goal line.
July, 28, 2010
7/28/10
10:40
AM ET
The SEC lost a bevy of great defensive backs from a year ago.
In fact, 12 were taken in the NFL draft, and seven went in the first three rounds. Gone are Eric Berry, Joe Haden, Kareem Jackson, Major Wright, Javier Arenas, Chad Jones, Myron Lewis, Walt McFadden, Marquis Johnson, Kendrick Lewis, Reshad Jones and Trevard Lindley.
What's that leave in the way of the top defensive backfields in the SEC for 2010?
Here's a look:
[+] Enlarge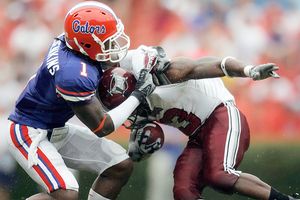 Cliff Welch/Icon SMI Janoris Jenkins is one of the mainstays in the Florida defensive backfield.
1. Florida:
It's a testament to how well the Gators have recruited that they own the top secondary in the SEC even after losing Haden and Wright early to the NFL. Janoris Jenkins is one of the top cornerbacks in the league, and good luck in finding a better safety tandem than Will Hill and Ahmad Black. Talented freshmen are waiting in the wings, too, like Matt Elam and Joshua Shaw.
2. South Carolina:
The Gamecocks were second in the league last season in pass defense and should be even harder to throw the ball on in 2010. Sophomore Stephon Gilmore is one of the best young cornerbacks in college football, and his former high school teammate, safety DeVonte Holloman, may be one of the breakout players in the league. Senior Chris Culliver, a second-team All-SEC selection last season, also returns and is switching from safety to cornerback.
3. LSU:
If you're looking for the fastest secondary in the SEC, look no further than the unit the Tigers will put on the field this season. Patrick Peterson is the best cornerback in the country -- period -- and his running mate on the other side, Morris Claiborne, has been turning heads since the spring. They may end up being the best cornerback tandem in the league. Jai Eugene has moved from cornerback to safety, while Brandon Taylor returns at the other safety. He, too, is a former cornerback.
4. Auburn:
There's nothing like adding three veteran leaders back to the mix, and that's what Auburn will do with senior safeties Zac Etheridge, Aairon Savage and Mike McNeil. All are returning from serious injuries. One of the priorities this season is to get junior cornerback Neiko Thorpe more help. He played too many snaps a year ago. Demond Washington is returning to his cornerback position after filling in at safety last season.
5. Vanderbilt:
Don't blink. Vanderbilt has consistently played some of the best pass defense in the SEC under Jamie Bryant, who oversees the Commodores' secondary. Safety Sean Richardson and cornerback Casey Hayward are returning starters, and both have what it takes to be All-SEC players. Junior Jamie Graham has settled in at the other cornerback after playing receiver earlier in his career. Nickelback Eddie Foster also returns, and the Commodores liked what they saw this spring from freshman safeties Jay Fullam and Kenny Ladler.
6. Alabama:
The only guy who won't be new for the Crimson Tide this season in the secondary is junior safety Mark Barron, who led the SEC with seven interceptions a year ago. Everybody else who was in the rotation is gone. Alabama still has plenty of young talent in its defensive backfield, but there could be some growing pains early. Sophomore cornerback Dre Kirkpatrick has unlimited potential. There's also a chance that junior college cornerback DeQuan Menzie could be back after tearing his Achilles tendon in the spring.
7. Georgia:
The Bulldogs gave up far too many big plays in the secondary last season and allowed a league-high 25 touchdown passes. They should be better in 2010, particularly with the addition of junior college safety Jakar Hamilton, who was one of the stars of the spring. Junior cornerback Brandon Boykin has the skills to be one of the league's top cover guys, but the Bulldogs are still thin at the cornerback position. They can't afford any injuries.
8. Tennessee:
The dismissal of starting safety Darren Myles Jr. following his arrest and involvement in a bar brawl drops the Vols down a spot or two. They don't have a lot of depth behind him. The leader of the unit is sophomore free safety Janzen Jackson, who can be one of the best defensive backs in the league if he stays out of trouble off the field. Junior cornerback Art Evans is underrated and will be the Vols' top cover guy.
9. Mississippi State:
The Bulldogs got big performances from freshmen last season in their secondary, which means their pass defense should improve considerably from their No. 11 showing in the SEC a year ago. Sophomore cornerback Corey Broomfield had six interceptions, and sophomore Johnthan Banks had four interceptions. Banks is moving to free safety this season. Also look for a big junior season from strong safety Charles Mitchell, who is Mississippi State's enforcer back there.
10. Kentucky:
With Lindley missing four full games last season with a high ankle sprain, the rest of the Wildcats' defensive backs were forced to step up their games. Three starters return, including budding star Winston Guy at free safety. Cornerbacks Paul Warford and Randall Burden are also back, as Kentucky started five defensive backs in most games. Finding another safety will be key this preseason.
11. Ole Miss:
The lone returning starter is senior safety Johnny Brown, who's coming off his best season. The Rebels' other safety a year ago, Kendrick Lewis, was one of their mainstays on defense, and replacing him won't be easy. Junior college newcomer Damien Jackson will draw that job, and he was extremely impressive in the spring. Ole Miss will be both inexperienced and thin at the cornerback positions.
12. Arkansas:
The Hogs gladly welcome back junior cornerback Isaac Madison, who missed all of last season with a knee injury. Their pass defense suffered with Madison out of the lineup, and they finished last in the league, allowing 401.2 yards per game. They also gave up 22 touchdown passes. To get more speed on the field, Arkansas moved Rudell Crim to safety during the spring. Ramon Broadway returns at the other cornerback and Elton Ford at the other safety.
May, 20, 2010
5/20/10
12:30
PM ET
If you're looking for the SEC team with the most seniors in key spots next season, look no further than the Plains.
The team Auburn puts on the field in 2010 will easily be one of the most experienced in the league. The Tigers return 14 projected senior starters, including four returning starters in the offensive line, four starters in the front seven on defense from a year ago and both kickers.
[+] Enlarge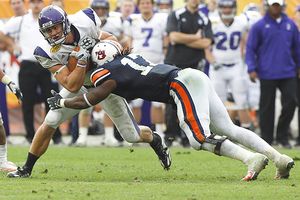 Kim Klement/US PresswireLinebacker Josh Bynes, who led the team in tackles last season, is one of seven seniors on defense.
All told, the Tigers list 24 seniors on their roster.
And while quarterback Cameron Newton will be a first-year starter, he's projected to have five senior starters around him.
Defensively, senior safeties Zac Etheridge, Aairon Savage and Mike McNeil aren't all necessarily projected as starters as they try to bounce back from serious injuries, but just having them on the practice field every day and in the locker room should be invaluable as the Tigers try to make their move in the Western Division next season.
Granted, a surplus of seniors doesn't guarantee you anything in this league. But senior linebacker Josh Bynes said it's the right kind of seniors that makes up this class, which is why he's so eager for the fall to get here.
"It gets back to experience and leadership, having guys who've been there and gone through the things we have," said Bynes, who led Auburn with 104 tackles last season. "We have a lot of seniors, a lot of guys who've played now on this defense. The chemistry is going to be tremendous. When we get the numbers right, and we will, I can't wait to see what this defense can do."
At linebacker, that means more numbers, which is where incoming freshmen LaDarius Owens and Jake Holland could come in handy in the fall. Freshman linebacker Jessel Curry is already on campus and went through spring ball, while the Tigers plan to move sophomore Daren Bates from safety to outside linebacker.
Bates missed the spring while recovering from shoulder surgery, but was a hitting machine during his freshman season as one of the best freshman safeties in the SEC.
"We're much better equipped [to make a run for the title] for a lot of reasons," Bynes said. "It's our second year under coach [Gene] Chizik, and we have veteran guys who've done it before and know what it takes in this league.
"Our expectation level is high. The second year, a lot of guys are coming back and we're very focused. Coach Chizik has been very demanding, but we've been very demanding.
"I think we're up to the challenge."
One thing to keep in mind is that the Tigers have to play 11 straight weeks again in 2010 before they get a bye. That grind wore on them last season, which no doubt contributed to their losing five of their last six SEC games.
But that's where the added depth -- and a senior-laden roster -- should help when they get in the throes of that gauntlet next season.
"I know we'll respond better, because we've all been through it," Bynes said. "We know what to look for. We know how to handle it. Plus, we're going to be fresher for that final stretch."
November, 15, 2009
11/15/09
11:42
AM ET
Florida had a little trouble. Alabama had very little trouble.
Meanwhile, they move on toward what's looking more and more like it will be an unbeaten matchup in the SEC championship game on Dec. 5.
At this point, style points are mere fluff for both teams. All they need to do is keep winning.
Florida did that with a 24-14 win over South Carolina after turning the game around in the fourth quarter thanks to Justin Trattou's interception and 53-yard return. Alabama pounced on Mississippi State in the second quarter and cruised to a 31-3 romp.
Here's a look at what all we learned in the SEC in Week 11:
1. High Tide offense:
Suddenly, Alabama is hitting big plays and spreading the ball around again, which is good news for what's coming down the road. For the second straight week, the Crimson Tide were more explosive on offense with several different players getting involved. Most encouraging to Alabama fans is that receiver
Julio Jones
has scored on long touchdown catches for two straight weeks now after scoring just one touchdown in a span of 16 games heading into the LSU game a week ago. When he's scoring from long distance and involved in this offense, Alabama becomes an entirely different animal offensively. Quarterback
Greg McElroy
also connected with
Darius Hanks
on a 45-yard touchdown in the first half. Jones' 48-yard touchdown came in the second half after Mississippi State had scored its only points of the game. And then on Alabama's next possession,
Mark Ingram
burst through a huge hole up the middle and showed that he does indeed have breakaway speed on a 70-yard touchdown run. The Alabama players all talked about the need to generate more explosive plays coming out of that Tennessee game several weeks ago. Well, they're coming in bunches now.
2. Ole Miss revival:
Heading into Saturday's game with Tennessee, Ole Miss owned one of the more deceiving 6-3 records in college football. The Rebels really hadn't beaten anybody, with four of their wins coming over "powerhouses" Memphis, Southeastern Louisiana, UAB and Northern Arizona. They needed a quality win in the worst way and got it with their most impressive performance of the season in a 42-17 smackdown of Tennessee at Vaught-Hemingway Stadium. Not being more of a factor in the Western Division race this season was disappointing, especially given all the preseason hype. But the Rebels (7-3, 3-3) still have a chance to put together a memorable season. They haven't won nine or more games in back-to-back seasons since 1961 and 1962 when John Vaught was running the show. Their convincing win over the Vols on Saturday and the fact that they've finally turned
Dexter McCluster
loose at running back puts them in a position to finish this season on a roll for the second straight year.
3. Selfish Vols:
The Tennessee players went out of their way Saturday following their 42-17 loss to Ole Miss not to use the arrests of their three teammates earlier in the week for alleged attempted armed robbery as an excuse. Tennessee coach Lane Kiffin also barely mentioned it. Kudos to all of them for being so stand-up. But whether the whole embarrassing ordeal was or wasn't a distraction (and you know it was to some degree), the actions of Janzen Jackson, Mike Edwards and Nu'Keese Richardson were the essence of selfishness. Obviously, they don't care one iota about their teammates, the football program or the university to even put themselves in that position two days before such an important game. Nobody's passing judgment here. The legal process will run its course. But over and above whether or not they're guilty of the crime in which they're charged, they deserve to be sent packing for their selfish actions and the sheer stupidity of the whole thing, if nothing else.
4. Fight still left in Gamecocks:
You couldn't help but go into that Florida-South Carolina game wondering if the Gamecocks were like a fighter that was dazed, hurt and just one punch away from hitting the canvas and not getting back up. But they showed that they have plenty of fight left, particularly on defense, and held in there time and time again despite being put in some terrible positions and getting down to the bare bones in terms of depth. The Head Ball coach sounds sincere about wanting to stick around for a few more years, and the way his team fought against the Gators was telling. The Gamecocks mailed it in this time a year ago. Anybody who really knows Steve Spurrier knows that he doesn't want to go out this way. He likes the young talent in the program and genuinely believes there are better days ahead. He's confident in this staff and is being careful this season not to let any frustration turn into negative vibes. After a bye next week, a win over Clemson on Nov. 28 at home could change the outlook on this season considerably heading to the bowl game.
5. Another round of scary injuries:
These last couple of weeks in the league have seen more scary injuries than any of us want to see. There were long delays in the Ole Miss-Tennessee game and Auburn-Georgia game while players were immobilized and carted off the field for tests. Thankfully, it looks like Tennessee linebacker LaMarcus Thompson is going to be OK after suffering a stinger, and Georgia safety Bacarri Rambo has movement in all of his extremities after suffering a concussion. Going all the way back to the
Tim Tebow
concussion, there have been more of these type of injuries in the SEC than I can remember in some time. Just last week, Auburn safety Zac Etheridge had his season ended and possibly his career after being briefly paralyzed. He tore ligaments in his neck and cracked the fifth vertebra. There was also the scary scene with South Carolina receiver
Moe Brown
in the Alabama game where he had to be stabilized and taken to the hospital for tests following a violent hit. I think I speak for everybody in the SEC when I say this is a trend we all want to see end.
October, 31, 2009
10/31/09
1:19
PM ET
Posted by ESPN.com's Chris Low

Auburn junior safety Zac Etheridge was immobilized and carted from the field Saturday after a head-on collision with teammate Antonio Coleman.

You hate seeing these things and hope and pray that Etheridge is OK. He was taken to the hospital by ambulance, but did give a thumbs up as he was being wheeled off the field by Auburn medical personnel. The latest report was that he did have feeling in all of his extremities

The Tigers' secondary has really been unlucky going all the way back to the spring. Junior safety Mike McNeil broke his leg in the spring and hasn't played this season, while senior defensive back Aairon Savage injured his Achilles tendon in the offseason and was lost for the season.