June, 12, 2014
Jun 12
10:30
AM ET
GAINESVILLE, Fla. -- One thing is clear in the wake of
Joker Phillips' sudden departure from Florida
on Wednesday: The Gators haven't had much luck with wide receivers coaches in recent years.
It's no coincidence that Florida hasn't had a wideout with more than 600 yards since
Riley Cooper
led the team with 961 yards in 2009. That was UF's last season of stability at a coaching position that has been turbulent ever since.
In 2009, Billy Gonzales ended a five-year run as Florida's wide receivers coach when he
reportedly resigned with a sticky note
that said, "I'm going to LSU."
Then-Florida head coach Urban Meyer replaced Gonzales with Central Michigan receivers coach Zach Azzanni, who only lasted one season. He was not retained when new head coach Will Muschamp took over for Meyer and assembled his staff in 2011.
Muschamp brought in former Gators standout Aubrey Hill, who coached one season before
resigning amid allegations
of involvement with improper benefits in his previous coaching job at the University of Miami.
Hill's departure came in August 2012, weeks before the season began.
"Aubrey informed me he was resigning for personal reasons that have nothing to do with the University of Florida," Muschamp said in a statement at the time.
Muschamp promoted graduate assistant Bush Hamdan to replace Hill and then hired Phillips after the 2012 season.
At the time, Phillips was
quoted on the school's official website
as saying, "I'm looking forward to contributing to the long-term vision that [Muschamp] has for this program."
Surely that vision wasn't one of nearly constant turnover, as Phillips left for "personal reasons" of his own.
With graduate assistant Chris Leak's promotion on Wednesday, Florida is on its sixth wide receivers coach in six seasons.
Perhaps that's why Muschamp made sure to mention Leak's standing, saying, "He is one of the all-time Gator greats and being at Florida is very important to him."
In promoting Leak, Muschamp is hoping the former star quarterback is ready to be a full-time assistant coach at the age of 29 and can bring the continuity that has been missing for so long.
Leak inherits a
receiving corps
largely comprised of talented youngsters who must be developed. Florida has six wide receivers entering their first or second season this fall.
When asked early in spring practice if this group is the most talented he's had in his three years at Florida, Muschamp said, "I don't think there's any question."
Now, after Phillips' departure, the unit and its inexperienced coach are surrounded by questions.
If the Gators are to rediscover their winning ways through the air, Leak and his receivers will have to factor in prominently. If they do that, perhaps Florida will have something as rare as a 1,000-yard receiver -- a wide receivers coach roaming the sidelines for a second season.
December, 28, 2012
12/28/12
7:17
PM ET
At his introductory news conference a week ago, new Wisconsin coach Gary Andersen described the team's offensive coordinator post as a great job, not merely a good one.
"They'll line up a thousand deep if you want them to," Andersen said.

Andersen likely didn't interview 1,000 candidates for the post. Instead, he will reportedly
turn to a familiar name in Andy Ludwig
, who served as San Diego State's offensive coordinator the past two seasons.
The
Milwaukee Journal Sentinel
first reported that Wisconsin is set to hire Ludwig as its new offensive coordinator. Because of hiring rules for state employees, Ludwig won't be officially on board until the job posting expires. He attended Wisconsin's pre-Rose Bowl practice Friday in Los Angeles.
Andersen and Ludwig served as Utah's coordinators -- Andersen defense, Ludwig offense -- from 2005-08, helping the Utes to a 13-0 season and a Sugar Bowl championship in 2008. While Andersen moved onto the top job at Utah State, Ludwig went to Cal, where he struggled as offensive coordinator for two seasons before taking the same post at San Diego State.
Ludwig has bounced around quite a bit, serving as offensive coordinator at San Diego State (2011-12), California (2009-10), Utah (2005-08), Oregon (2002-04) and Fresno State (1998-2001). He initially went to Kansas State after Utah but was hired away by Cal before coaching a game.
The guy is clearly in demand as an offensive mind and runs a pro-style system, but he hasn't led a top-25 offense since the 2005 season (Utah finished 12th nationally). His San Diego State offense ranks 38th nationally in scoring (32.9 points per game) and 64th in total offense (396.6 yards per game) this season. As someone who follows Cal football somewhat closely from a distance, I wasn't overly impressed by Ludwig, but he definitely brings experience to the position and inherits a talented group in Madison.
Andersen wisely is retaining running backs coach Thomas Hammock, and it would be a smart move if he kept offensive line coach Bart Miller as well. Wisconsin has lost three offensive assistants in recent weeks: coordinator Matt Canada (NC State), tight ends/fullbacks coach Eddie Faulker (NC State) and receivers coach Zach Azzanni (Tennessee).
December, 17, 2012
12/17/12
9:00
AM ET
Wisconsin athletic director/interim football coach
Barry Alvarez met with local reporters Sunday
after practice and discussed his search for a new head coach.
Alvarez said he has one more coaching candidate to meet with before deciding "on the best person." He reportedly has met with two candidates -- Jacksonville Jaguars defensive coordinator Mel Tucker and
recently named South Florida coach Willie Taggart
. Tucker said early last week that
he's not interested
in the position, although
his name keeps coming up
. It seems unlikely Taggart would make another move after accepting the USF job on Dec. 7.
[+] Enlarge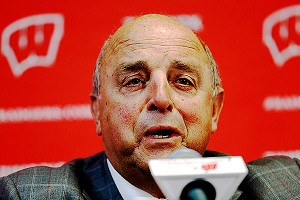 AP Photo/Morry Gash"For those that are panicking, don't panic. We'll take care of business here and this program will be in excellent hands," AD Barry Alvarez said.
Would Alvarez consider returning to the sideline on a permanent basis? He said Sunday that he considered the possibility for "like a day" last week, noting that he felt badly for some of the assistant coaches he wants retain but who received offers elsewhere and tight deadlines to decide their futures.
"I was thinking of doing it myself just to keep them," he said. "But if I did it for a year we'd be in the same situation next year."
(Alvarez could coach for a year and name a coach-in-waiting to stabilize recruiting. Say, former assistant and ace recruiter Joe Rudolph? Just sayin' ...)
Alvarez acknowledged that several potential candidates on his short list already had been hired by other programs, while other coaches he had interest in are remaining loyal to their respective programs. Although he didn't mention any names, potential targets like Pitt's Paul Chryst, Miami's Al Golden and Oregon State's Mike Riley all are staying put.
Although angst is building among Wisconsin fans the longer the program is without a head coach, Alvarez doesn't sound worried. He noted that university policies prevent him from hiring anyone until later this week (Thursday specifically). He also pointed out that it's a dead period in recruiting at the moment and that Wisconsin's verbal commits for 2013 appear to be on board.
"We're spoiled here because we were probably one of the most stable programs in the country with me being here 16 years and elevating an assistant [Bret Bielema] for seven years," he said. "This happens around the country. I'll hire a good coach. This program will continue being very good. For those that are panicking, don't panic. We'll take care of business here and this program will be in excellent hands."
Alvarez expressed some frustration at the quick deadlines given to assistant coaches for other jobs. Wisconsin has lost five assistants from Bielema's staff -- defensive coordinator Chris Ash, co-defensive coordinator/defensive line coach Charlie Partridge, offensive coordinator Matt Canada, wide receivers coach Zach Azzanni and linebackers coach Andy Buh. Both Ash and Partridge joined Bielema's new staff at Arkansas, and Wisconsin running backs coach Thomas Hammock reportedly also has an offer from Bielema.
All the assistants will remain with the team through the Rose Bowl, and there's some talk Ash could be in the mix for Wisconsin's top job.
"I'd like for them to stay, but they had to protect their families," Alvarez said. "A coach says you've got 24 hours to make this decision or the job isn't there, they have to do something. I couldn't promise them that the next coach would retain them. ... I couldn't have sped the process up. I have to get to the people that I want to talk to. I just have to do it right. I feel bad for losing some very, very good coaches."
Alvarez didn't rule out the possibility of Wisconsin trying to bring back some of the assistants it will lose after the head coach is named.
Several of the departing assistants also spoke Sunday, including Canada, who sounded particularly peeved at how things have played out.
"There is some frustration with the way all this went down," Canada told reporters. "... I came here with the intention of being here for a long, long time. "That's what we came here for. That was the plan. Sometimes plans change and you have to trust that and move forward."
December, 15, 2012
12/15/12
12:08
PM ET
Wisconsin's search for a head coach remains somewhat mysterious at the end of its second week, but there is some news about the school's assistant coaches.

Defensive coordinator Chris Ash recently accepted the same position on Bret Bielema's staff at Arkansas, but reports surfaced Friday that Ash is
considering applying for Wisconsin's head-coaching vacancy
. Although athletic director/interim coach Barry Alvarez said he planned to target sitting head coaches for the job, he didn't rule out qualified coordinators. Ash has done a nice job in his three seasons on Wisconsin's staff, the past two as defensive coordinator.
Wisconsin reportedly will
lose wide receivers coach Zach Azzanni to Tennessee
, where he'll rejoin former boss Butch Jones with the Vols.
Two other top Badgers aides,
offensive coordinator Matt Canada
and co-defensive coordinator/defensive line coach Charlie Partridge, are reportedly weighing offers from other programs. Both men appear to want to wait for Wisconsin's head coach search to play out before making their decisions.
The Milwaukee Journal Sentinel also reports that
Wisconsin linebackers coach Andy Buh has interviewed
for the defensive coordinator job at Cal.
It's not surprising that the assistants have other offers, and it's likely others will leave. But it's also notable that several assistants want to wait on the Wisconsin search, indicating their desire to stay.
Coaches like Miami's Al Golden and Oregon State's Mike Riley aren't candidates for Wisconsin's vacancy, and Jacksonville Jaguars defensive coordinator Mel Tucker said he spoke with Alvarez but isn't interested in the job. Is Toledo's Matt Campbell a candidate? We could find out after Toledo's bowl game today.
One possibility I wouldn't dismiss is Alvarez naming himself coach for a year and bringing in a coach-in-waiting, which could help stabilize recruiting. It's probably not the first option, but I've heard all week that this isn't out of the question.
March, 27, 2012
3/27/12
10:30
AM ET
Two springs ago, a walk-on wide receiver with a funny name began generating buzz at Wisconsin's practice.
Some who watched
Jared Abbrederis
quickly brought up the name Luke Swan, another Badgers walk-on receiver who eventually became a starter and a team captain. Two years later, the comparisons don't seem far off at all.
"That feels like it was a decade ago," Abbrederis recently told ESPN.com. "It's crazy how it works. I feel so much older, so much more confident on the field and with this team. Now I'm just trying to get better."
[+] Enlarge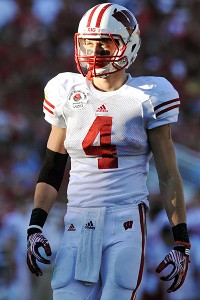 AP Photo/Cal Sport MediaJared Abbrederis is now the Badgers' top receiver after starting his Wisconsin career as a walk-on.
He'll start by getting healthy as a toe injury has sidelined him for the start of spring drills. Abbrederis played through the injury for part of last season but will sit for a chunk of spring ball to fully heal.
When he does, he'll move into a new role as Wisconsin's No. 1 wide receiver. The Badgers must replace top wideout
Nick Toon
(64 catches, 926 yards, 10 touchdowns), and with a new, yet-to-be-named starting quarterback stepping in, they need a big year from Abbrederis, who led Wisconsin with 933 receiving yards and finished second in both receptions (55) and touchdown receptions (8).
While Abbrederis (pronounced ab-bruh-DAIR-is) already has far exceeded expectations for a former walk-on -- he
received a scholarship in January
-- Wisconsin will lean on the junior even more in 2012.
"I miss not being out there, attacking the defense and having fun, playing football," he said. "I'm excited to get back and be that No. 1 guy."
For now, he's helping Wisconsin's younger receivers and the walk-ons who dream of following his path. He's also getting acquainted with Wisconsin's revamped offensive staff, which features four new assistants, including coordinator Matt Canada and receivers coach Zach Azzanni.
Although the Badgers' offensive structure will remain more or less in place, Azzanni is bringing a different voice to the receiver room.
"He's really big on fundamentals," Abbrederis said. "In order to run a dig, we'll have three different steps into it. It's good to have some new advice coming because I've been around the other coaches for three, four years. Now if I get a new set of ideas in here, I can take my game to another level."
Abbrederis elevated his play in 2011, more than doubling his totals for receptions, receiving yards and receiving touchdowns from the previous season. Arguably no player benefited more from quarterback
Russell Wilson
's arrival than Abbrederis, an outside speed threat who thrived in Wisconsin's dynamic downfield passing game. The lone downside: Wilson's arrival from NC State
prevented Abbrederis from getting a scholarship sooner
.
Wilson is gone now, and while Abbrederis likes what he sees from Wisconsin's quarterbacks early in spring ball, there is plenty of uncertainty under center.
"People are going to grow up, younger guys are going to step up," he said. "That's what college football is all about."
Wisconsin's success is largely about players like Abbrederis, who had no FBS offers coming out of high school despite leading Wautoma High to a state title in football and twice winning state titles and setting the state record in the 110-meter hurdles. Wisconsin invited him to walk on at receiver but also play some quarterback on the scout team.
Three years later, he's the Big Ten's leading returning receiver entering the 2012 season. He also excels as a punt returner, leading the Big Ten and ranking third nationally in average runback (15.8 ypr).
Abbrederis played quarterback and defensive back at Wautoma, and the coaches didn't want to risk him as a return man. Wisconsin had no such reservations, and Abbrederis returned seven punts in 2010 before becoming the primary returner last fall.
"It was kind of like being a quarterback in the shotgun," he said. "You've got all these guys coming to you, and you've got to try and make them miss. Once you make one or two of them miss, you should have the whole field to go score. So it kind of comes natural."
Abbrederis should return to the field before the end of spring practice. He'll then take an important step off the field May 26, when he gets married. Abbrederis has received some marital tips from Wilson, who tied the knot in January. Badgers coach Bret Bielema, whose wedding took place earlier this month, might be another resource.
"We haven't talked about it yet," Abbrederis said. "I figure I'll leave him alone for a little bit. Maybe once I get married, I can take some advice."
Indeed, the spring of 2010 feels long ago. But Abbrederis is focused on the future, and helping Wisconsin maintain the momentum it has generated with back-to-back Big Ten titles.
"Growing up as a Wisconsin kid, you want to see the Badgers do well," he said. "It's something that weighs heavily on me. I've got to make sure we keep this tradition going."
Abbrederis already has.
January, 20, 2012
1/20/12
11:00
AM ET
Bret Bielema made a rapid rise up the college coaching ladder.
Big Ten position coach at 26 ... Big 12 co-defensive coordinator at 32 ... Big Ten defensive coordinator at 34 ... Big Ten head coach at 36.
[+] Enlarge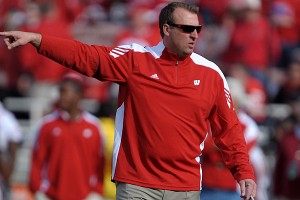 Kirby Lee/Image of Sport/US PresswireWisconsin coach Bret Bielema says he isn't upset after losing 11 assistants in the past three seasons.
Bielema's ambition helped put him on the fast track. And when he's hiring assistant coaches at Wisconsin, he wants to see the same qualities.
"When you talk to a coach, if he doesn't want to advance in this profession, we probably won't talk very long," Bielema told ESPN.com on Thursday. "I want guys that want to be coordinators, or guys that are coordinators who want to be head coaches. If they don't want to sit at the front of the room, we're probably dealing with the wrong type of coach. I want guys who want to advance."
Bielema has had plenty of assistants advance in recent years.
He lost two after the 2009 season, one of whom, Randall McCray, went from position coach to coordinator. He lost three after the 2010 season: defensive coordinator Dave Doeren became head coach at Northern Illinois, while running backs coach John Settle and nickel backs coach Greg Jackson both departed for posts in the NFL.
Wisconsin has lost six assistants in recent weeks, a number that has raised eyebrows in college football circles. The team is coming off of back-to-back Big Ten titles and back-to-back Rose Bowl appearances. Bielema's job is very secure. While one assistant (Paul Chryst) left for a head-coaching job and two others (Bob Bostad, Dave Huxtable) went from position coaches to coordinators, the exodus has left some wondering whether there's something wrong at Wisconsin.
Bielema views things differently.
"It's really not that unusual," he said. "It's unusual at a program that has as much success as we've had, where we're able to keep that continuity of winning in place. I take it as a compliment to what we've been able to do. All those coaches are moving on. Two of them didn't get coordinator jobs, but everybody else got coordinator jobs or titles that made it significantly better for them where they were going.
"To me, it's a tremendous challenge that I love, I embrace and I have a lot of fun with it."
Bielema has filled two vacancies with offensive coordinator Matt Canada and wide receivers coach Zach Azzanni. After an extensive interview process for the coordinator job, Bielema went with Canada, in large part because Canada has called plays in different systems (spread, pro style) and can adapt.
"I interviewed a lot of coaches of different levels: NFL, college, big college, small college," he said. "I'm not a résumé guy. I want a football coach. And as this thing gets moving forward, I kept coming back to him. I just think he's going to be a great fit for what we're going to blend together at Wisconsin. I'm going to hire four new offensive coaches that are going to come from different areas of the country and come together and play the style of football we like at Wisconsin."
Wisconsin's staff will be two-thirds new in 2012, but Bielema won't be surprised if he's doing more hiring a year from now.
"I have every year," he said. "Usually the NFL takes two, took two from me last year. It's just one of those things, the beauty of the beast here at Wisconsin."
January, 17, 2012
1/17/12
3:30
PM ET
Wisconsin has found its replacement for Paul Chryst, and he's a familiar name for those who follow football in the Midwest.
Matt Canada is joining Wisconsin as offensive coordinator/quarterbacks coach
after spending the 2011 season in the same capacity at Northern Illinois. Canada, who worked under former Wisconsin assistant Dave Doeren at NIU, returns to the Big Ten after serving as offensive coordinator at Indiana, his alma mater, from 2007-10.
The interesting thing about the hire is that while Canada has run spread offenses in recent years, he'll lead a pro-style offense with the Badgers. Wisconsin head coach Bret Bielema made it clear in the release announcing Canada's hiring, saying, "I know he is very excited about running a pro-style offense and handling a game the way we typically have at Wisconsin."
Canada has run a pro-style offense before, during a previous stint at Northern Illinois' offensive coordinator in 2003. That year, the Huskies ranked 26th nationally in scoring offense (32.2 ppg) but just 60th in total offense (378.9 ypg). NIU put up big numbers under Canada this past season, finishing 11th nationally in total offense and 12th in both scoring and rushing offense. NIU and Wisconsin were two of just five FBS teams to average at least 230 yards both rushing and passing in 2011.
Canada inherited an excellent quarterback in
Chandler Harnish
at NIU and helped take the unit to the next level, but he'll be facing some different challenges with Wisconsin.
"In the system we ran, I thought he was as good as they get," Doeren told ESPN.com on Tuesday. "We ran as many plays as we humanly could in a game out of as many personnel groups as we could. We were nothing like [Wisconsin], other than we ran zone and power like them. We had a mobile quarterback that we used in the run game, and he was our leading rusher, so we had a lot different system."
It's interesting that Bielema has hired two assistants -- Canada and receivers coach Zach Azzanni -- with backgrounds in the spread offense. But he says in the release that his offensive staff will "come from different directions to come together to play football the way Wisconsin has traditionally played."
Doeren is confident Canada can make the necessary adjustments.
"He's extremely intelligent," Doeren said. "Obviously, Bret wanted him to do whatever he thinks they're supposed to do, so that's what he's going to have to prove to everybody, obviously. I know he's extremely excited about that challenge. He's really competitive."
In 2007, Canada's first season as Indiana's offensive coordinator, the Hoosiers scored a team-record 412 points. But the offense backslid a bit during his final three seasons, and some Indiana fans voiced their displeasure about Canada.
He inherits a Wisconsin offense coming off of two record-setting seasons. The Badgers lose All-Big Ten quarterback
Russell Wilson
, All-America center Peter Konz and top wide receiver
Nick Toon
. Heisman Trophy finalist
Montee Ball
returns at running back along with other weapons like receiver
Jared Abbrederis
and tight end
Jacob Pedersen
, but the quarterback position will be Canada's biggest priority from now until Sept. 1.
Bielema still has two offensive staff vacancies (line, tight ends) to fill and one on the defensive side (linebackers).
January, 16, 2012
1/16/12
1:07
PM ET
Wisconsin coach Bret Bielema has filled the first of five staff vacancies with Zach Azzanni, who will work with the Badgers' wide receivers.

Azzanni comes to Madison from Western Kentucky, where he spent the 2011 season as offensive coordinator/wide receivers coach. He served as Florida's receivers coach/passing game coordinator in 2010 and also has coached receivers at both Central Michigan and Bowling Green. He has coached several standout MAC receivers such as Central Michigan's Bryan Anderson and Bowling Green's Charles Sharon.
Azzanni replaces DelVaughn Alexander, who left this month for a position with Arizona State.
"Zach is a great fit for Wisconsin," Bielema said in a statement. "He is a terrific coach who stresses fundamentals and is also a great recruiter. His coaching philosophy, personality and character fit perfectly with what we do here and how we do it. I've known Zach for a number of years and I'm very excited to be able to add him to our staff."
The Big Ten has filled up with members of the Urban Meyer coaching tree this offseason, and Azzanni is among them. Not only has Meyer brought some of his former assistants to Ohio State, but Illinois head coach Tim Beckman, a former Meyer assistant, named Billy Gonzales as his co-offensive coordinator/wide receivers coach. Gonzales and Azzanni have very similar profiles, and Azzanni replaced Gonzales at Florida after Gonzales left for LSU.
This looks like a solid hire, as Azzanni has risen quickly up the coaching ranks and should help Wisconsin's recruiting efforts.
Four more to go for Bielema ...
December, 11, 2009
12/11/09
2:30
PM ET