March, 23, 2011
3/23/11
10:40
AM ET
Scouts Inc. has come up with comprehensive draft boards for every position as we draw ever closer to the 2011 NFL draft (and, hopefully, a 2011 NFL season).
Let's start on the
offensive side of the ball
and take a look at where some Big East hopefuls are ranked. First, the skill positions:
Now, the offensive linemen/tight ends:
Now let's move to
the defensive side
and see where Scouts Inc. rates some Big East defenders:
Doug Hogue, LB, Syracuse: sixth round
These projections aren't gospel by any means, but they should give you a pretty good idea of how Big East hopefuls are being viewed right now.
January, 6, 2011
1/06/11
4:06
PM ET
Here is the list of players from the Big East who will be participating in the East-West Shrine Game, a showcase for seniors and NFL hopefuls:
Greg Lloyd, LB, Connecticut
Lawrence Wilson, LB, Connecticut
Ryan Bartholomew, OL, Syracuse
Scott Lutrus, LB, Connecticut
Terrell McClain, DT, South Florida
Zach Hurd, OL, Connecticut
The 86th annual game will be held Jan. 22 in Orlando.
December, 29, 2010
12/29/10
4:00
PM ET

Ted Miller talks with UConn guard Zach Hurd about the Huskies' line play.
December, 8, 2010
12/08/10
10:30
AM ET
Welcome to the ESPN.com 2010 All-Big East team. Unlike the official league team, we don't do ties here. One man, one spot.
I compiled the following list after watching each team the entire season and through consultation this week with some coaches throughout the league. Later on today, I'll offer up some thoughts on the selections, explaining my picks and the toughest omissions.
Here is the team:
Offense
QB:
Geno Smith
, West Virginia
RB:
Jordan Todman
, Connecticut
RB:
Bilal Powell
, Louisville
WR:
Armon Binns
, Cincinnati
WR:
Jon Baldwin
, Pittsburgh
TE:
Cameron Graham
, Louisville
OT: Jason Pinkston, Pittsburgh
OG: Zach Hurd, Connecticut
C: Sampson Genus, South Florida
OG: Mark Wetterer, Louisville
OT: Byron Stingily, Louisville
Defense
DE: Jabaal Sheard, Pittsburgh
DT: Chris Neild, West Virginia
DT: Terrell McClain, South Florida
DE: Julian Miller, West Virginia
LB: Lawrence Wilson, Connecticut
LB: Derrell Smith, Syracuse
LB: J.T. Thomas, West Virginia
CB: Brandon Hogan, West Virginia
CB: Johnny Patrick, Louisville
S: Robert Sands, West Virginia
S: Sidney Glover, West Virginia
Specialists
K: Dave Teggart, Connecticut
P: Dan Hutchins, Pittsburgh
KR:
Lindsey Lamar
, South Florida
PR:
Doug Beaumont
, Louisville
December, 2, 2010
12/02/10
10:30
AM ET
1. Championship week:
The Big East doesn't have a title game, but this week works the same. Connecticut will claim the league's BCS bid with a win at South Florida. If the Huskies lose, West Virginia takes the crown by beating Rutgers. If both teams fall, Pittsburgh can still sneak in the BCS back door with a victory at Cincinnati.
2. Battle in the trenches in Tampa:
The UConn-South Florida game will pit the Huskies' powerful offensive line versus one of the Bulls' main strengths: their defensive line. Nose guard Terrell McClain has quietly had a great season and will try to wreak havoc inside against Moe Petrus and Zach Hurd. Teams can run on the Bulls, though; their last three opponents have all rushed for at least 150 yards, which could mean big things for ...
[+] Enlarge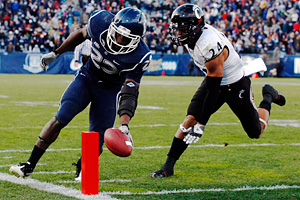 David Butler II/US PresswireJordan Todman has rushed for 100 yards in all but one game this season.
3. Todman time:
Jordan Todman
has been the league's MVP and has carried the Huskies during their recent four-game winning streak, averaging 161 rushing yards in that span. You would think the Bulls would stack the box and force one of the nation's least productive passing attacks to beat them, but other teams have had the same idea and still can't stop Todman. If UConn is going to the BCS, Todman shall lead them there.
4. USF's quarterback situation:
B.J. Daniels
is gimpy on an injured quadriceps muscle. True freshman walk-on
Bobby Eveld
led the team to victory in the second half and overtime last week at Miami and may start Saturday. Eveld was impressive at times, but he's still wildly inexperienced, and young quarterbacks can have major ups and downs. Daniels may be able to play at least some snaps. UConn's defense has been a ball hawking bunch of late, and this is a dangerous situation for South Florida.
5. Return delivery:
The USF-UConn game will feature two of the top kick returners in the country.
Nick Williams
is leading all returners with a 42-yard average and two touchdowns for the Huskies, while South Florida's
Lindsey Lamar
also has scored twice and is averaging 29 yards per attempt. If either of them gets loose, that could be a game-changer.
6. West Virginia's defense vs. the indefensible Rutgers O-line:
The Mountaineers' defense is just plain scary and is among the nation's leaders in all important categories. It ranks sixth in the FBS in sacks, and this is a match made in hell for the Scarlet Knights' offensive line. Rutgers has given up a nation's worst 55 sacks already, and with guys like Bruce Irvin and J.T. Thomas charging through that line, things could get ugly fast. I fear for quarterback
Chas Dodd
's well being.
7. A 180 at Nippert:
A year ago at this time, Pitt and Cincinnati staged a classic shootout for the Big East title. The Panthers still are mathematically alive for the BCS bid and can earn a share of the Big East title with a win Saturday, but no one will remember that tie after a 7-5 season. They have to beat Cincinnati just to avoid going 6-6, and a crummy bowl destination could await either way. Cincinnati has already been eliminated from the postseason and has nothing to play for but pride. All eyes were on this game last year; not many will be watching 12 months later.
8. Bowl bids:
Since the Big East plays its regular-season schedule during other league's title-game week, nothing has been decided yet on bowls. We're reasonably certain Syracuse is going to the New Era Pinstripe Bowl, but that's it. This weekend's results will determine not just the BCS bid but which teams get the other six Big East slots.
November, 24, 2010
11/24/10
11:47
AM ET
Apparently, Connecticut just likes to play with its back against the wall.
How else to explain the past two seasons for the Huskies? Last year, they were reeling from the murder of teammate Jasper Howard and the three painstakingly close losses that followed. Facing postseason elimination, they ripped off four straight wins.
This year, UConn started 0-2 in the Big East and just 3-4 overall. Since then, they have won three straight games, beating arguably the best three other teams in the conference: West Virginia, Pittsburgh and Syracuse.
[+] Enlarge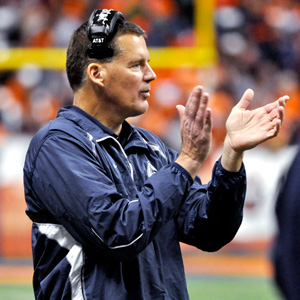 AP Photo/Kevin RivoliCoach Randy Edsall demanded more leadership and intensity from his players, and it's paid off for the Huskies.
The Huskies are playing now like many thought they would at the beginning of the season. But this program did not look ready to handle expectations.
"At the beginning of the season, everybody was giving us respect and patting us on the back, saying 'These guys are going to win it this year,'" offensive lineman Zach Hurd said. "But we're a team that faces adversity, and we win.
"After we started off 0-2 in the conference, we said we can lose respect and just lay down and die for the rest of the season. But my teammates and I are not like that, and neither are our coaches."
Coach Randy Edsall had a potential mess on his hands just a month ago. Coming off a bye week, he dismissed starting quarterback
Cody Endres
three days before a game at Louisville. The entire team looked disjointed and uninterested in a 26-0 shellacking at Papa John's Cardinal Stadium, and UConn's preseason hopes of winning the Big East appeared dead in the water.
Edsall demanded more leadership from his players after that Louisville loss and told them it was time to get back to the hard-nosed Connecticut style.
"We needed to be more physically tough and mentally tough," Edsall said. "I told them to let it fly and have fun. We wanted to play a little more nasty, and we had to practice a lot better.
"Our leadership stepped it up a notch, and guys started to do the things we wanted them to do from the beginning of the season."
Six days after the humbling at Louisville, the Huskies scored their first-ever win over West Virginia in overtime. They followed that by handing Pittsburgh its only conference loss so far as they battled back from a third-quarter deficit. Last week's 23-6 win at Syracuse has put them in position to possibly capture their first-ever BCS bid. If Pittsburgh loses to either West Virginia or Cincinnati and the Huskies beat Cincinnati and South Florida, they will be Big East champions.
They wouldn't be here now, Hurd says, if it weren't for the increased focus at practice. UConn has been going in full pads and doing lots of full contact work even this late in the season. That has carried over into games, where the Huskies are pounding on teams in the trenches.
"We're really hitting each other," Hurd said. "The scout team started going harder, and that made us go harder. It's all about going out there and having the passion to play and the desire. We got away from having fun out there."
It's a lesson that took a while to sink in, but Connecticut likes playing with its back against the wall.
"Our goal right now is to earn national respect," Hurd said. "To show everybody that we started off bad but we're going to finish off strong."
September, 1, 2010
9/01/10
10:32
AM ET
Officially, Connecticut played Notre Dame in its 10th game of the season last year. Unofficially, it felt different.
"Every game was about Notre Dame last year," senior linebacker Scott Lutrus said. "Whether it was the first week, the second week -- before we even got to that game, all the talk was about playing Notre Dame."
[+] Enlarge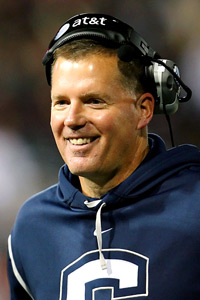 Jim Owens/Icon SMIA win for Randy Edsall's Huskies against Michigan would be one of the biggest in Connecticut history.
Squaring off against some of the titans of college football -- and having a chance to beat them -- still ranks as relatively new business for the Huskies, who have been playing at the FBS level for less than a decade. But it's starting to become the norm, and Saturday's opener at Michigan offers the program a chance to take another step.
Connecticut has shown it can beat teams with rich traditions. The Huskies took down Notre Dame in an emotional, double-overtime classic and defeated South Carolina in the Papajohns.com Bowl, arguably the two biggest wins in school history.
"Those games showed the nation we can put together a complete game," offensive lineman Zach Hurd said. "Notre Dame is Notre Dame, but it doesn't matter if we play our game. Against South Carolina, we ran all over them and passed all over them."
UConn will not be intimidated by Michigan's winged helmets or even the nearly 110,000 fans expected in the renovated Big House on Saturday. This is a team with 16 returning starters, with depth on both sides of the ball and a close-knit bond formed while dealing with the murder of teammate Jasper Howard last year.
"It all comes down to experience," Hurd said. "We're not going to be shell-shocked when we walk in there, even though it's a big-time environment."
The Huskies know exactly what to expect from the Wolverines. They just have to figure out how to stop it.
When Rich Rodriguez coached West Virginia, he owned UConn. In four meetings, his Mountaineers won by 12, 32, 26 and 45 points. Their speed always caused Randy Edsall's team fits, and Rodriguez will be looking to exploit the same advantage Saturday.
"They run a lot of the same plays and have similar athletes as West Virginia did," said Lutrus, who played in the 2007 game that Rodriguez's team won 66-21. "
Denard Robinson
is quick and fast just like
Pat White
. We've seen it before, but the thing is we've never beaten West Virginia and we've never beaten Rich Rodriguez. Hopefully, we'll make that happen."
For the first time ever, a lot of people -- including yours truly -- think the Huskies can and will beat a Rodriguez team. UConn is a trendy pick to win the Big East and make some national noise after it closed last season with four straight wins. A victory on Saturday, even against a Michigan program that is 8-16 the last two years, would still rate as one of the most important in Edsall's tenure and could likely vault the team into Top 25 status. A manageable schedule means the Huskies could start 5-0 heading into Big East play if they can get the first one.
Edsall acknowledged Tuesday that in every neighborhood and town he visits throughout his state, optimism for Huskies football is at an all-time high. Still, he's downplaying the opener as "just one of 12" and said UConn prepared the same way for this game as it has for the beginning of every season.
"The name might say Michigan, but you've still got to go out and play the game," he said.
The biggest change for Connecticut might be that playing a team like Michigan no longer registers as all that big of a deal.
Which players had the best bowl performances from the Big East? Here's our all-bowl team:
OFFENSE
QB Tom Savage, Rutgers
There weren't a lot of big numbers for Big East quarterbacks in the postseason. The Scarlet Knights' true freshman completed 14 of 27 for 294 yards and two touchdowns, with one interception, in a win over Central Florida in the St. Petersburg Bowl.
RB Mike Ford, South Florida
Ford exploded for 207 yards on 20 carries -- almost all of them in the second half -- to help the Bulls beat Northern Illinois in the International Bowl.
[+] Enlarge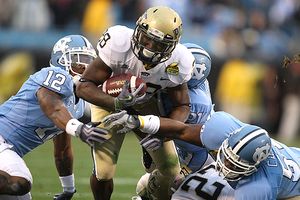 Streeter Lecka/Getty Images Dion Lewis had 159 yards and a touchdown on 29 carries in Pittsburgh's win over North Carolina.
RB Dion Lewis, Pitt
The sensational freshman had 159 yards on 28 carries and a score against North Carolina's tough run defense in the Meineke Car Care Bowl
RB Noel Devine, West Virginia
The Mountaineers' star ran for 168 yards on 16 carries in just three quarters against Florida State in the Konica Minolta Gator Bowl
WR Mohamed Sanu, Rutgers
Yet another freshman standout, Sanu had four catches for 97 yards and a score and also ran the ball 13 times for 41 yards and two more touchdowns.
WR Mike Shanahan, Pitt
Shanahan had five catches for 83 yards, many of them in traffic and in key spots, against North Carolina. And he's a freshman, too.
OT Anthony Davis, Rutgers
The future NFL first-rounder had his ups and downs this season. But he held off Central Florida's impressive pass rusher in a strong performance during his final college game.
OT Jason Pinkston, Pitt
North Carolina came into the Meineke game with the nation's No. 6 defense, but Pinkston helped the Pitt line move the chains and get the win.
C Moe Petrus, UConn
Petrus was part of a group that helped pave the way for 146 rushing yards against South Carolina in the Papajohns.com Bowl.
OG John Malecki, Pitt
OG Zach Hurd, UConn
DEFENSE
DE Lindsey Witten, UConn
The senior was part of a defensive line that overwhelmed the South Carolina offensive front.
DT Kendall Reyes, UConn
He had a one sack and put lots of pressure on Gamecocks quarterback
Stephen Garcia
.
DT Mick Williams, Pitt
The Big East co-defensive player of the year registered a pair of sacks against North Carolina.
DE Alex Daniels, Cincinnati
One of the few Bearcats who had a good night in the Allstate Sugar Bowl, Daniels had a pair of sacks and three tackles for loss against Florida.
LB Max Gruder, Pitt
Playing in his hometown, Gruder recorded 11 tackles and forced a fumble against North Carolina.
LB Scott Lutrus, UConn
The junior had nine tackles, a sack and a fumble recovery against South Carolina.
LB Steve Beauharnais, Rutgers
Another freshman, Beauharnais had seven tackles and a pair of sacks against Central Florida.
CB Billy Anderson, Rutgers
The little-known reserve returned an interception 19 yards for a touchdown near the end of the first half in a key play.
CB Jerome Murphy, South Florida
He had an interception, a fumble recovery and two pass breakups in the International Bowl.
S Robert Sands, West Virginia
Sands was just about everywhere in the Gator Bowl, recording 13 tackles, two of them for loss.
S Robert Vaughn, UConn
Vaughn had an interception and two pass breakups in the Papajohns.com Bowl.
SPECIALISTS
K Dan Hutchins, Pitt
Hutchins hit four field goals, including the game-winning 33-yarder, against North Carolina.
P Jake Rogers, Cincinnati
Rogers punted more than he has in a game all season, but he put half his six punts inside the Florida 20.
KR Mardy Gilyard, Cincinnati
He sure had plenty of opportunities, but he piled up a Sugar Bowl-record 207 return yards on eight attempts.
December, 8, 2009
12/08/09
3:15
PM ET
The official league selections will come out tomorrow. Here are my choices for the best of the Big East, from a season's worth of observations and some consultation from league coaches:
Offense
QB:
Tony Pike
, Cincinnati
RB:
Dion Lewis
, Pittsburgh
RB:
Noel Devine
, West Virginia
WR:
Mardy Gilyard
, Cincinnati
WR:
Jonathan Baldwin
, Pittsburgh
TE:
Dorin Dickerson
, Pittsburgh
OT:
Jason Pinkston, Pittsburgh
OT:
Jeff Linkenbach, Cincinnati
C:
Moe Petrus, Connecticut
OG:
John Malecki, Pittsburgh
OG:
Zach Hurd, Connecticut
Defense
DE:
Greg Romeus, Pittsburgh
DE:
Jason Pierre-Paul, South Florida
DT:
Mick Williams, Pittsburgh
DT:
Chris Neild, West Virginia
LB:
Lawrence Wilson, Connecticut
LB:
Kion Wilson, South Florida
LB:
Derrell Smith, Syracuse
CB:
Devin McCourty, Rutgers
CB:
Aaron Berry, Pittsburgh
S:
Aaron Webster, Cincinnati
S:
Nate Allen, South Florida
Specialists
K:
Tyler Bitancurt, West Virginia
P:
Scott Kozlowski, West Virginia
KR:
Mardy Gilyard, Cincinnati
PR:
Robert McClain, Connecticut