November, 21, 2013
11/21/13
11:00
AM ET
The only reason Hart Lee Dykes even knew who Mike Gundy was in 1986 was because Gundy's dad would come to watch practice wearing overalls.
Soon, Dykes would get to know the skinny true freshman quarterback from Midwest City, Okla., a whole lot better.
At halftime of Oklahoma State's third game, then-coach Pat Jones hollered in front of the team, "Gundy, you're in!"
The Cowboys had lost at Tulsa the week before, and found themselves struggling to move the ball against Houston. But nobody, especially the team's star players, expected this.
"Thurman Thomas and I looked at each other and were like, 'Gundy?'" Dykes recalled. "But after that, we never looked back.
"He got us rolling and the rest was history."
[+] Enlarge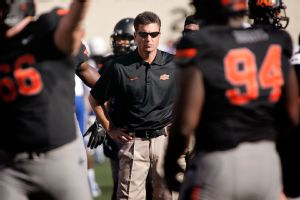 Brett Deering/Getty ImagesMike Gundy has Oklahoma State two wins from a Big 12 title.
Now in his ninth season as the head coach in Stillwater, Gundy has the Cowboys rolling once again.
After drilling Texas last weekend for a third straight win in Austin, Oklahoma State faces fourth-ranked Baylor in a Saturday night showdown with the Big 12 title on the line.
Before 2011, the Cowboys had exactly one conference championship -- a three-way split in 1976 -- dating back to the early 1950s.
With a victory over the Bears, Oklahoma State will be well on its way to a second in three years.
"It wasn't that long ago you could hang your hat here on just beating Oklahoma," Cowboys offensive lineman
Parker Graham
said. "That was a good season here back in the day.
"But Coach Gundy has brought the attitude here that we can compete with anybody."
Before Gundy took over in 2005, Oklahoma State had only one 9-1 start in its 102-year football history. Now, the Cowboys are 9-1 again for the third time in the past four years.
Mega-booster T. Boone Pickens has played a major part in Oklahoma State's rise, spearheading a facilities overhaul that has become the envy of the Big 12.
But Gundy's steady hand has played a major part, too.
"That's Mike," Dykes said. "He never seems to get phased. Never seems to get nervous or uptight. He's the same way now as a coach he was then as a quarterback.
"He still has the same poker face."
Gundy needed that poker face in 1986.
That halftime against Houston, Gundy unseated Ronnie Williams, who had led the Cowboys to an 8-4 record and a Gator Bowl appearance the previous year.
Oklahoma State had a future All-American running back in Thomas and a future first-round wide receiver in Dykes. But against the immense pressure of replacing an incumbent starter, Gundy quickly proved the Cowboys had their quarterback of the future, too.
Gundy completed 138 consecutive passes without an interception, which was an NCAA record until Baylor's Robert Griffin III broke it in 2008. After tough losses to Nebraska and Oklahoma, Gundy quarterbacked the Cowboys to wins in four of their final five games to close out the season.
Over the next two years, Oklahoma State went 20-4, and Gundy finished his career as the Big Eight's all-time leading passer.
"If he threw a pick, I'd be jumping him, the coaches would be jumping him, but he never seemed rattled," Dykes said. "He just kept playing."
That poise has served Gundy well as a coach. And served the Cowboys well, too.
Earlier this season, Oklahoma State suffered a baffling 30-21 loss in its conference opener at West Virginia, seemingly axing the Cowboys' Big 12 title hopes off the bat.
"But he never let us lose our confidence," nickelback
Lyndell Johnson
said.
Instead of panicking after such a distressing performance, Gundy's Pokes kept playing. They struggled to home wins over Kansas State and TCU. Then, after a backfield change with
Clint Chelf
taking over at quarterback and
Desmond Roland
at running back, Oklahoma State finally began to click.
"After West Virginia, the season could have gone one of two ways," Graham said. "We could have gone down and lost a couple more games and got down on ourselves."
The same could have happened in Oklahoma State's first Big 12 title season. In 2011, the Cowboys were unbeaten and two games away from playing for a national championship, but were stunned by Iowa State in a double-overtime upset.
The final game against Oklahoma two weeks later also could have gone one of two ways. The Cowboys, however, put the crushing loss behind them, and destroyed the Sooners 44-10 to capture the conference championship and advance to their first BCS bowl game.
[+] Enlarge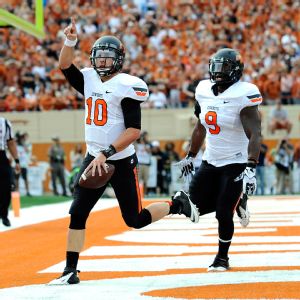 Brendan Maloney/USA TODAY SportsAfter early struggles, Gundy went with Clint Chelf (10) and Desmond Roland and OSU has won six straight games.
"Afterward, you could see how proud a coach he was to coach us," said safety
Zack Craig
, now a senior. "How proud he was that we bounced back after what happened at Iowa State. That's a moment I won't forget."
The Cowboys have bounced back again this season.
The past four games, Oklahoma State has outscored the opposition by an average of four touchdowns, including a convincing 38-13 drubbing of the Longhorns that lifted the Cowboys back into the top 10.
As he did after that Bedlam win two years ago, Gundy ditched the poker face and showed another side in Austin that Dykes also remembers well. A side his former teammates used to relish. A side his players relish now.
"We were so excited about the win," Craig said. "As soon as we heard the door open and him come in the locker room, we started rallying up in a big circle and immediately began clapping."
With the players surrounding him, Gundy unleashed his signature bending-back dance to the floor.
"That showed just how much he cares," Johnson said.
"That's the Gundy I know," Dykes said. "He was always one of us as a player. One of the guys. That's why he's become such a player's coach now."
Oklahoma State is on the cusp of another Big 12 championship, and if the Cowboys win Saturday, Dykes' poker-faced quarterback will surely be dancing again.
"If you were a betting man," Craig said, "that would be a pretty good bet."
November, 19, 2013
11/19/13
2:00
PM ET
Eight years ago to the day, Oklahoma State traveled to Waco for a clash of the Big 12's worst defense against its worst offense.
That season, Baylor couldn't move the chains. The Cowboys couldn't keep the chains from moving against them.
The Bears ultimately prevailed that day, but only because first-year coach Mike Gundy's offense coughed up the ball
eight
times.
My, how times have changed.
Saturday, instead of playing for last place, Baylor and Oklahoma State will be vying for the Big 12 title. And this time, the matchup will feature the Big 12's best offense (Baylor) against the league's best defense (Oklahoma State).
"Everyone talks about their quarterback, but they average 300 yards rushing a game -- I don't think people really realize that," Cowboys safety
Zack Craig
said. "Their passing is great, but their running backs are some of the best in this league.
"They are, by far, the ultimate offense."
Not only is Baylor's offense the ultimate, it has a chance to go down as the most prolific in college football history. The Bears lead the country with an average of 61 points and 684 yards per game, which, if they held up, would both shatter NCAA records.
Baylor has already totaled 53 touchdown drives of two minutes or less (Oregon led the country with 45 last season), 50 plays from scrimmage that have gone for 30 yards or more (Indiana is second with 38) and six games with at least 60 points (Ohio State is next with only three such games).
"They are the way they are because they have great talent," Oklahoma State defensive coordinator Glenn Spencer said. "A quarterback with a fast and accurate release, running backs who can make you miss and an offensive line that will maul you."
Bryce Petty
ranks third nationally in QBR, four different running backs have 100-yard rushing games and guard
Cyril Richardson
is on the short list to win the Outland Trophy. The receiving corps is as explosive as any around, too, headlined by All-American candidate
Antwan Goodley
.
"No doubt, this is going to be a huge test for us," Oklahoma State nickel back
Lyndell Johnson
said.
But this will be a huge test for the Bears as well.
Behind a veteran core, the Cowboys have featured one of the stoutest defenses in college football all season. Oklahoma State's defense ranks in the top 10 nationally in several "Next Level" stats from ESPN Stats & Info, including points per drive (seventh), percentage of drives that end in touchdowns (sixth) and red-zone efficiency (seventh).
Oklahoma State is also now tied for the national lead in interceptions after picking off
Case McCoy
three times in a dominating 38-13 win at Texas last weekend.
"They have great personnel and they do a great job," Baylor coach Art Briles said. "They've done a great job recruiting the last four to five years, and it's paying off for them."
Thanks to those talent upgrades, this Oklahoma State defense, which features seven senior starters, has been the best of the Gundy era. By far.
Tackle
Calvin Barnett
is a run-stuffer up front. Linebackers
Shaun Lewis
and
Caleb Lavey
don't miss tackles. And
Justin Gilbert
is a lockdown cornerback who tops the Big 12 with six interceptions.
Over seven Big 12 games, the defense has surrendered just 14 offensive touchdowns, the fewest in the league.
"We're more athletic and more aggressive on defense than what we've been the last three or four years," Gundy said. "Our players have bought into it, and they're consistent in their play each week."
But on Saturday, Oklahoma State's defense will find out just how stingy it is, while the Baylor offense will learn if it truly is unstoppable.
"We have a great defense and they're a great offense," Craig said. "When you go against somebody like this, you find out just how good you are."
November, 18, 2012
11/18/12
9:00
AM ET
Time to hand out a little hardware for a job well done. Your stickers are in the mail, gentlemen.
Landry Jones, QB, Oklahoma:
West Virginia has played the Big 12 Offensive Player of the Week in its past four games. That's not quite a coincidence. Jones is in line to become the fifth. He set a school record with 554 yards on 38-of-51 passing and threw six touchdowns in Oklahoma's
50-49 win
over West Virginia in Morgantown. His final score of the night was a 5-yarder to
Kenny Stills
, who caught four on the evening and won the game with just 24 seconds to play.
Sam Richardson, QB, Iowa State:
The freshman had been waiting all season long for his chance, and he took advantage when Paul Rhoads gave it to him. He broke out in a huge way in Iowa State's
51-23 win
over Kansas, completing 23-of-27 passes for 250 yards and four touchdowns without an interception. He also ran for 43 yards and a touchdown to get the Cyclones bowl eligible for the third time in four years. Four of his touchdowns were in a crazy second quarter that helped Iowa State race to a 38-17 halftime lead.
Zack Craig, S, Oklahoma State:
When you're hot, you're hot. Craig blocked two Texas Tech punts and returned the second one 30 yards for a touchdown during Oklahoma State's
59-21 win
over Texas Tech. For any special teamer, that's a fantastic season. Craig called it Saturday. He added a tackle for loss on defense. That's quite the performance.
Isaiah Anderson, WR, Oklahoma State:
Anderson didn't touch the ball in the second half, and only touched it five times in the first. Sometimes, that's all that's necessary. He scored touchdowns on three of his four catches and finished with 174 yards. He scored on plays of 60, 66 and 33 yards and added a 26-yard run on his only carry of the game, an end around.
Baylor's offensive line:
Can't really give it to one back or one player on Baylor's team in Saturday's
52-24 evisceration of Kansas State
. The big uglies up front took care of business and treated K-State's front seven like nobody had all season long. The Bears ran for 342 yards and five touchdowns and averaged 7 yards a carry on the Big 12's No. 2 rushing defense.
Nick Florence
wasn't sacked, and scoring 52 points on this K-State defense isn't easy. Every Baylor skill position player was in awe at their performance after the game.
Tavon Austin, RB/WR/KR, West Virginia:
Normally, helmet stickers are reserved solely for players on winning teams, but I couldn't resist here. Austin put on one of the greatest shows in Big 12 history in the
50-49 loss
to Oklahoma. In his first game at running back, he rushed 21 times for 344 yards and two touchdowns. He also caught four passes for 82 yards and returned eight kicks for 146 yards. That's 572 all-purpose yards in one game. Are you kidding me?
November, 17, 2012
11/17/12
7:13
PM ET
Texas Tech players talked all week about the indignities of last year's 60-point loss to eventual Big 12 champion Oklahoma State. It wouldn't happen again, they said.


Well, the Red Raiders didn't lose by 60. That's about the only thing Tech accomplished in Saturday's
59-21
loss to Oklahoma State in Stillwater, where the Cowboys have won every matchup between the two dating back to 2001.
Clint Chelf
has two career starts and both were lopsided wins over conference teams at home. That train's rolling these days, but could probably get running with a little more efficiency. The junior finished with 229 yards and three touchdowns on 11-of-21 passing against the Red Raiders, who entered the day leading the league in total defense.
The day's biggest star was
Isaiah Anderson
, who scored three first-half touchdowns and turned his four catches into 174 yards. He also broke a 26-yard run on an end around.
There was no doubt about the best defense on the field on Saturday; Oklahoma State held
Seth Doege
to just 5-of-12 passing for 30 yards and an interception in the second half before he was pulled for backup
Michael Brewer
.
J.W. Walsh
was reportedly available last week, but returned from an injury on Saturday that OSU previously said would end his season. Walsh's dad disputed those reports to multiple media outlets, and it appears he was right. Walsh ran for a touchdown and threw for Oklahoma State's first score in his return. Sketchy stuff there from OSU.
What happened to Texas Tech's special teams, though? The Red Raiders gave up a pair of blocked punts to safety
Zack Craig
, who returned the second one 30 yards for a touchdown that put the Pokes up, 59-14.
Last week's near-loss to Kansas, which is winless in Big 12 play, got a whole lot easier to believe when you saw Texas Tech's performance on Saturday. The Red Raiders ceded to Oklahoma State in the Big 12 standings and the bowl pecking order by way of the one-sided loss. For now, Oklahoma State's likely slotted for a trip to the Alamo Bowl, but a win at Oklahoma next week could change that and keep the Pokes' slim BCS bowl hopes alive.
April, 5, 2012
4/05/12
1:00
PM ET
STILLWATER, Okla. -- We've only scratched the surface of my notebook after my visit to Stillwater on Wednesday. Lots, lots, lots more to come. Here's a few spare thoughts, notes and quotes from my day with the reigning Big 12 champs.
You've heard enough about Oklahoma State's QBs for today (Part 1, Part 2), with more to come on that trio, but whoever wins the job won't be short for targets. Receiver Josh Stewart's made the biggest improvement this offseason, but Tracy Moore has come on strong on the outside, too. Inside, you really do have to watch out for Blake Jackson. I regret not putting him on my "Top Newcomers in the Big 12" list from earlier this week. He's playing inside, but he's basically a tight end, and was the best of the junior college ranks last year. He's also a man. He's a huge target with great, great hands. Look for him to get some run on the goal line, but in this offense, he may actually be my frontrunner for Big 12 Newcomer of the Year. I'd almost guarantee him getting a high volume of touches, and he's going to be tough to bring down at 6-foot-3, 238 pounds. He's every bit of that, too. "He's a big body guy and has really good hands. If it's in the general area of him, he's going to catch it," quarterback J.W. Walsh said. "He's got really good leaping ability and great ball skills."
Speaking of newcomers, you don't hear as much hype around him, but defensive coordinator Bill Young is hopeful that Calvin Barnett can have a big impact on the defensive line. Plenty of folks were after the one-time OSU commit, turned Arkansas signee, turned juco All-American, turned Cowboy signee. The 6-foot-2, 300-pounder has big-time potential, but he has to pick up the speed of the game and focus on technique. OSU's defense may ultimately depend on strength at the defensive tackle spot. "He's a very talented guy, he's really strong and powerful. Weight coaches have raved about what he's done in the weight room," said Young. "He's a big guy who can run and change direction. We're fortunate to have him." Big impact? "We're hoping he can," Young said.
Fired Ole Miss coach Houston Nutt, an Oklahoma State alum, was back on OSU's campus on Wednesday visiting with the coaching staff. Colorado coach Jon Embree also showed up unannounced earlier this spring to meet with Gundy, who granted the request.
Oklahoma State's corners and running backs are both having great springs, as expected. Those two spots might be the biggest strength on the team. OSU has a great case as the Big 12's best set of running backs, and is second to only Texas at cornerback.
Defensively, Mike Gundy feels like this year's team is the most talented and deepest of any team he's had dating all the way back to even when Gundy was an assistant under Les Miles.
Oklahoma State may be hurt the most of anyone with the new rule changes in special teams. Kickoffs have been moved up to the 35-yard line and touchbacks are now brought out to the 25-yard line. That negates two huge advantages OSU has had the past two season. Quinn Sharp boomed 61 touchbacks last season. No other kicker had more than 40. Meanwhile, Justin Gilbert is one of the most dynamic return men in the league, but he'll have fewer opportunities. He says he'll still plan on taking it out when he gets a chance, but he'll have to dial it back some and take the unselfish route a whole lot more. Sad to see that. He's electrifying.
Oklahoma State moved safety Daytawion Lowe to nickel back and Lavocheya Cooper is holding down the free safety spot. The void at strong safety will be filled by committee, Young said. Zack Craig will be part of it, as and Shamiel Gary and Deion Imade will get a shot, too. "The good thing about is we have all the backups back," Young said.
OSU is missing center Evan Epstein this week. He's out with pneumonia.
Former OSU lineman Levy Adcock showed up briefly to Oklahoma State' facilities on Wednesday. I can confirm he's shaved his mullet.