NCF Nation:

Zack Pianalto
October, 29, 2010
10/29/10
10:09
AM ET
Trick or treat, ACC fans? I've got a little of both for you today in this Halloween edition of the ACC blog. Here are this year's spookiest awards as we wrap up the final weekend of October:
Scary movie:
Virginia Tech's loss to James Madison. It was a nightmare for the Hokies, who fell to an FCS school for the first time since losing to Richmond in 1985. To make matters worse, it happened in Lane Stadium, which has earned the reputation as one of the toughest places to play in college football. Apparently, not for the Dukes.
[+] Enlarge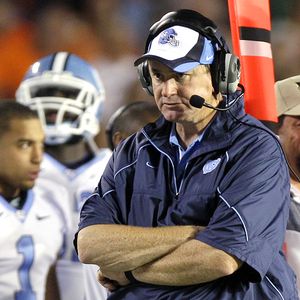 AP Photo/Alan DiazAn NCAA investigation has made this season one to forget for coach Butch Davis and the Tar Heels.
Nightmare on Franklin Street:
Things couldn't get much worse for North Carolina, which has had 16 players' seasons derailed because of the NCAA investigation and now has suffered through a rash of injuries to key players. It all finally added up in a 33-10 loss to Miami that stopped the Heels' four-game winnings streak and hurt their chances of contending for the Coastal Division title.
Boo (Boo):
Take your pick on the worst injury of the season. Two season-ending injuries occurred this month, when Boston College defensive end Alex Albright – the Eagles' top pass rusher – broke his fibula, UNC tight end Zack Pianalto's season ended with a fractured right fibula at the ankle, and Maryland offensive lineman Pete DeSouza was in intensive care after breaking both of his legs in a motor scooter accident.
The Great Pumpkin:
The toughest second half of the season belongs to Virginia Tech, which still has to face Georgia Tech on Thursday night, followed by back-to-back road trips to North Carolina and Miami before ending the season against rival Virginia.
Night of the living dead:
Clemson earns the award for the team that got off to a slow start but is coming back to life. The Tigers are making a habit out of it, as they started 2-3 last year before winning the Atlantic Division title. They can take another step in that direction on Saturday against a Boston College team that hasn't won since Sept. 11.
Cursed team:
Wake Forest. The Deacs lost to two option teams in back-to-back weeks in the final minute of the game. Georgia Tech quarterback
Joshua Nesbitt
threw the game-winning touchdown pass with 15 seconds remaining for a 24-20 comeback win, and Navy quarterback
Ricky Dobbs
threw another game-winner with 26 seconds remaining for a 28-27 win.
Graveyard:
Duke, Virginia and Boston College are all winless in conference play. As far as their division races are concerned? Bury 'em.
October, 25, 2010
10/25/10
2:24
PM ET
UNC senior tight end
Zack Pianalto
had surgery on Friday to repair his fractured right fibula. Pianalto, who will miss the remainder of the season, finished his Carolina career with 95 catches for 918 yards and three touchdowns. His 95 career catches are the most ever by a UNC tight end.
October, 19, 2010
10/19/10
6:36
AM ET
UNC senior tight end
Zack Pianalto
fractured his right fibula at the ankle joint in Saturday's 44-10 victory at Virginia and will miss the remainder of the regular season. He will undergo additional evaluation this week to determine if surgery is required. Pianalto currently leads the Tar Heels with 30 receptions for 311 yards and one touchdown. Last season, Pianalto set the school record for most receptions by a tight end with 33. He also holds the school record for most career receptions by a tight end with 94.
This is so unfortunate for Pianalto, who just could not stay healthy during his career at UNC. Last year he suffered a subtalar dislocation of his right foot at Connecticut and missed five straight games. Not before he had a career-high seven catches and 87 yards that day, though. And in 2008, he missed the Virginia and Boston College games with a right ankle injury.
You wonder why
T.J. Yates
suddenly looks so much better? It helps when the players around him are healthy. Pianalto is a complete tight end who helped the Tar Heels in both the running and passing games. He's a good blocker and should get a shot at the next level if his durability isn't an issue (which it obviously is).
The Tar Heels will now turn to senior
Ed Barham
and backup
Nelson Hurst
. Barham started six games last year and finished with six catches for 57 yards. Hurst transferred from Mississippi State, where he started 10 games as a freshman, prior to the start of the 2009 season and sat out under NCAA transfer rules. His younger brother, James, is an offensive lineman for the Heels.
The bottom line is that neither of them have the experience or production of Pianalto.
North Carolina lost its leading receiver, Greg Little, to the NCAA investigation before the season ever started. Now they lost their leading pass-catcher again. So far, UNC has been able to overcome almost every blow it's been dealt, but this one should leave a noticeable bruise on Carolina's offense.
May, 18, 2010
5/18/10
9:02
AM ET
North Carolina senior tight end
Zack Pianalto
knows where coach Butch Davis is coming from -- literally.
They share family roots in Springdale, Ark., where Davis' parents still live. In fact, Pianalto said his parents live within a 10-minute jog to the Davis house, and that connection was one of the factors that swayed Pianalto in his decision to decommit from Texas during his recruiting process.
[+] Enlarge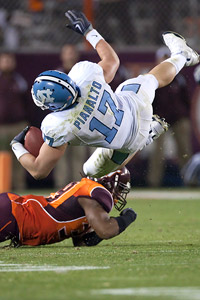 Lee Coleman/Icon SMIZack Pianalto caught 33 passes for 334 yards last season.
Of course, Davis' history of producing some of the nation's top tight ends at Miami didn't hurt either. This year, Pianalto has the chance to join that group. When he's healthy -- and he should finally be 100 percent this season for the first time since his freshman year -- Pianalto can add more than just blocking to the Tar Heels' scheme. In an offense that's dependent upon the quick growth of young receivers, Pianalto has an opportunity to become a key part of the passing game along with receiver
Greg Little
. If Pianalto can double his production this season, expect to see UNC's offense take a much needed leap.
"I think it's pretty important," Pianalto said of his pass-catching abilities. "I think me, Greg and T.J. [Yates] all have a great rapport together. T.J. can throw to me or Greg and feel very comfortable doing it. I had 33 catches last year through roughly seven full games. … If you look at that, it's pretty plausible to think I could go out and get possibly get 50 catches this year, and Greg had 60-some, so if that number stays consistent, I think the offense will improve and get better with the two of us in there.
"But we do have great talent around Greg and me. The young receivers need to come along and they did last year. You'd like to see significant growth in their second year. Experience is one of the key things in winning in college football."
Pianalto had a career-best 334 yards and a touchdown last year, but dislocated his foot against Connecticut, and in his first game back against Florida State, he suffered a mild concussion before returning the following week against Virginia Tech. He also broke his left leg during his sophomore season while scoring a touchdown against Georgia Tech.
When he plays, though, the Tar Heels tend to win. UNC is 13-5 over the past two seasons when Pianalto is on the field. He has become a favorite target for Yates on third down, and last year he set the school single-season record for receptions by a tight end (33) despite missing nearly four games with his foot injury.
In order for UNC to make a push for the Coastal Division crown, Pianalto will have to maintain his success, but it's not the only part of the equation.
"It's pretty simple," Pianalto said. "We're going to be as good as we take care of the ball. Turnovers is the biggest issue in winning any football game. If we go in there and have less turnovers than the other team, we're pretty confident our defense will create some turnovers and we'll win a lot of games and we'll be productive."
Posted by ESPN.com's Heather Dinich
The only thing left for Virginia Tech running back
Ryan Williams
to do was sit on the Hokies' bench and bury his face in his hands. Unlike a week ago, when North Carolina quarterback
T.J. Yates
threw a costly interception, this time it was Virginia Tech with the untimely turnover, as Williams' fourth-quarter fumble led to UNC's game-winning field goal for
the 20-17 upset
in Lane Stadium.
While it was a devastating loss for the Hokies, it was the kind of win that could help salvage the season for North Carolina. The Tar Heels (5-3) now need just two more wins to become bowl eligible and have four more chances to get them. It's not unreasonable to think this could turn into second straight eight-win season for coach Butch Davis, despite the fact the Tar Heels brought one of the worst offenses of the country to Blacksburg on Thursday night. It would be a remarkable turnaround for a team that just won its first conference game.
UNC didn't look like the 114th best offense in the nation, though, against Virginia Tech's defense. Once again the Hokies gave up too many big plays, but for them to do it on a Thursday night in Lane Stadium was shocking, considering Virginia Tech entered the game with a 9-2 record at home in Thursday night games. North Carolina benefited from the return of healthy offensive linemen and tight end
Zack Pianalto
, as the Tar Heels were finally able to run the ball with conviction and open some things up in the passing game.
And this time, UNC's defense showed up for four quarters, instead of just the first half like it did in last week's loss to Florida State.
While it was a great win for the Tar Heels -- and not to take anything away from UNC's accomplishment -- it wasn't a good outcome for the ACC as a whole. This loss could drop the Hokies out of the top 25 rankings entirely, and at the very least should knock them out of the top 15 of the BCS standings. With that disappears the ACC's chances at two BCS bowl teams, and it leaves Georgia Tech as the conference's lone representative among the top 15. For one of the conference's strongest teams to now have three losses -- and to have the latest be to a struggling, unranked team at home on national TV -- doesn't look good.
While the loss brought the official end of the national spotlight on Virginia Tech for this season, it opened the door for North Carolina to end the season in respectable fashion and with some pride.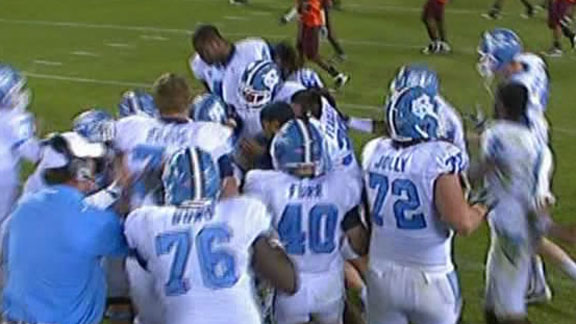 September, 17, 2009
9/17/09
8:03
AM ET

Posted by ESPN.com's Heather Dinich
Here are a few things worth keeping an eye on in the ACC this week (by the way, these are never ranked in order of interest, just generally 10 things to watch):
1.
Clemson running back C.J. Spiller.
He's on the verge of becoming the first player in ACC history with 2,500 rushing yards, 1,000 receiving yards and 1,500 kickoff return yards. And, he just might accomplish all three on Saturday against Boston College. Spiller enters the game with 2,434 rushing yards, 986 receiving yards and 1,471 kickoff return yards. Last year, he gained a career high 242 all-purpose running yards in Clemson's 27-21 win over BC.
2. BC's quarterback surprise
. Boston College coach Frank Spaziani has been quiet about which quarterback he's leaning toward for Saturday's game against Clemson, as both
Justin Tuggle
and
Dave Shinskie
have had success against lesser opponents. It's go-time now, though, and one will have to emerge against better competition.
3. Duke's non-quarterback controversy.
So
Thaddeus Lewis
is the starter, coach David Cutcliffe has made that clear. But
Sean Renfree
has also proven he's worth talking about, and can come off the bench to direct a come-from-behind win. Definitely worth watching.
4. Miami's run defense against Georgia Tech's spread-option offense
. It's the key to this game, and it was the cause of the Canes' demise last year. If Clemson could figure out a way to limit
Jonathan Dwyer
to 66 yards and seven three-and-outs, then Miami should figure out a way to slow it down, too, especially considering it had a bye week to prepare for it. This will be an interesting test for first-year coordinator John Lovett.
5. The trenches in Blacksburg.
Virginia Tech's offensive line will face a talented defensive front in Nebraska, and how it blocks will determine whether
Ryan Williams
and
David Wilson
can continue the fancy footwork they had against Marshall last week.
6. Florida State's improvement level.
It's not just the secondary that will be tested by BYU quarterback
Max Hall
. The Cougars will challenge the Noles in every phase of the game, and they'll have to get better blocking from their offensive line, get the running game going, tackle better and make fewer mistakes. Bottom line: They can't play like they did last Saturday and win.
7. North Carolina's replacements
. The Tar Heels have to hold it together after losing starting center Lowell Dyer and tight end
Zack Pianalto
for the next three to four weeks.
Ed Barham
or
Christian Wilson
will take over for Pianalto and Cam Holland will fill in again for Dyer. The Tar Heels will need to pave the way for
Shaun Draughn
and
Ryan Houston
, and give
T.J. Yates
some time to play like he did in the fourth quarter against Connecticut.
8. Upset watch in College Park -- again.
James Madison almost did it last week before losing in overtime. Middle Tennessee did it last year. The Terps' defense has struggled mightily in its first two games, and now will be without its top cornerback, Nolan Carroll, for the rest of the season. Can Maryland avoid an embarrassing home loss?
9. NC State cornerback Rashard Smith.
He's a true freshman who earned the starting job against Murray State and is slated to start again against Gardner-Webb. He is the first true freshman to start for NC State in the secondary since 2001, when Marcus Hudson (now with the San Francisco 49ers) started four games. Smith played just 24 snaps last week, but made three tackles and a tackle for loss. He now has two tackles for loss this season.
10. Number of sacks Virginia allows.
The Cavaliers returned four starters to their offensive line, and it was supposed to be the one dependable aspect of the offense early in the season. Last week against TCU, though, Virginia allowed eight sacks, the most since giving up nine to Florida State in 1997. Virginia allowed just 16 sacks all of last year. Southern Miss has five so far this season. The Golden Eagles are in the midst of a seven-game winning streak and have not allowed more than 100 yards rushing during that span.
September, 12, 2009
9/12/09
10:22
PM ET

Posted by ESPN.com's Heather Dinich

Wake Forest quarterback Riley Skinner:
Skinner engineered his seventh career fourth quarter game-winning drive with a 24-17 win over Stanford. He completed 18 of 26 passes for 187 yards and one touchdown. In the process, Skinner broke the school record for pass completions in a career. He now has 677 career completions.
Skinner scored on a 1-yard run with 2 seconds left to play. During the fourth quarter, Skinner completed 8 of 9 passes for 92 yards. On the final drive, he was 4 for 4 for 65 yards including a 44-yard completion to
Lovell Jackson
on third and nine from the Stanford 46. He completed his final eight passes of the game.
Georgia Tech kicker Scott Blair:
His surprise 34-yard touchdown pass to
Demaryius Thomas
put the Jackets up 21-0 in the first quarter, and his three field goals of 24, 27 and 30 yards accounted for the remainder of Georgia Tech's points in their 30-27 win over Clemson on Thursday night. It was Blair's first game-winning field goal, and his first touchdown pass. Go figure.
UNC tight end Zack Pianalto:
He had career highs in catches (7) and yards (87) in UNC's 12-10 win at Connecticut. His two-yard touchdown catch with 2:36 left to play tied the game at 10. Unfortunately for the Heels, Pianalto was carted off the field in the fourth quarter with a subtalar dislocation of his right foot. He'll have an MRI on Monday.
Duke corner Leon Wright:
The senior returned two interceptions for touchdowns -- on consecutive plays from scrimmage -- to seal Duke's 35-19 win at Army. Wright added four tackles, one fumble recovery and one pass breakup. The interception returns covered 51 and 33 yards as he became the first player in Duke history to return two interceptions for touchdowns in a single game.
NC State quarterback Russell Wilson:
He rebounded from a quiet night in a loss to South Carolina with a career-high four touchdown passes in a 65-7 rout of Murray State. Wilson also extended his interception-free streak to 293 passes, moving him into second place in NCAA history. He completed 15 of 21 passes for 228 yards.