October, 10, 2012
10/10/12
1:00
PM ET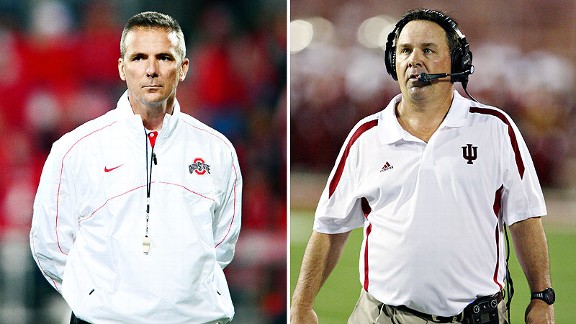 US PresswireUrban Meyer, left, and Kevin Wilson will square off Saturday when Ohio State travels to Indiana.
Texas A&M coach Kevin Sumlin, a good friend of Indiana coach Kevin Wilson's, came up with the term.
"[Sumlin] called everybody 'play burglars,'" Wilson said. "We're all watching what works and getting neat ideas. I don't know if I'm a fan of other teams, but you always watch other teams, just to get an idea of a new shift, a new motion, a new wrinkle."
Both Wilson and Urban Meyer were play burglars from 1999 to 2001.
Wilson, then the offensive coordinator at Northwestern, traveled with Wildcats head coach Randy Walker to Clemson to meet with the Tigers' offensive coordinator, Rich Rodriguez. They returned to Evanston and installed almost a carbon copy of Rodriguez's spread offense, keeping some of the terminology exactly the same. After Meyer landed his first head-coaching job at Bowling Green in December 2000, he also visited Rodriguez, as well as two Big Ten schools that ran the spread offense: Purdue and Northwestern.
Meyer's trip to Northwestern marked the first of several connections with Wilson. The two men meet Saturday in Bloomington, Ind., as Meyer brings No. 8 Ohio State to face Indiana.
"Tremendous coach, kind of on the front edge of everything," Meyer said of Wilson, whom he called an "innovator" this week. "... We studied them. When I first became a head coach, we visited Northwestern and Purdue, and then also Rich Rod's one of my close friends, so a lot of these concepts, we were researching anyway, and he was very helpful."
Wilson quipped that Northwestern wouldn't have let Meyer come visit before the 2001 season if the staff knew they'd be facing Meyer's Bowling Green team that fall. After a game against Navy was cancelled because of the Sept. 11 attacks, Northwestern had to scramble for a replacement and ended up getting Bowling Green on the slate.
The teams met in mid-November, and while only 23,545 fans were in attendance, they witnessed a spread-offense showcase that foreshadowed what would take place around the rest of college football. Each team had 32 first downs. Each team eclipsed the 600-yard mark. Northwestern ran 97 plays, while Bowling Green ran a modest 86. Bowling Green prevailed 43-42 after converting a 2-point try with 36 seconds left.
"We couldn't stop 'em," Meyer said. "I remember in the fourth quarter, they had Zak Kustok, and it was just a lot of yards, I can't remember the final score, it was nuts. We went for it on the last play of the game, a 2-point conversion and we won, but we couldn't stop 'em."
Added Wilson: "It was a heck of a game."
The Bowling Green-Northwestern game came up a lot before the BCS national title game following the 2008 season, as Meyer's Florida team went up against an Oklahoma squad that had Wilson as its offensive coordinator. The two men have tracked one another through the years, leading up to Saturday's game.
"I've always loved his coaching," Meyer said. "[Ohio State offensive coordinator] Tom Herman and I were talking about him today, Kevin Wilson, and we've stolen a lot of stuff. He's an innovator. Lot of respect for him as a guy."
Meyer has incorporated a faster tempo, a trademark of Wilson's and also Herman's, into Ohio State's spread. From afar, Wilson has watched Meyer's version of the system evolve from Bowling Green to Utah to Florida and now to Ohio State.
"It's spread, but it's a spread that includes a physical running attack and a physical style and a soundness, and it's well coached," Wilson said. "The scheme's one thing, but the fundamentals and the physicalness and the soundness is what wins. That's always been the backbone of every Urban Meyer offense. They've all changed, they've all tweaked due to different coordinators and influence, and really different players, but the common bond is ball security, physical style of play, taking advantage of what the playmakers do."
The scoreboard operator at Indiana's Memorial Stadium had better be ready Saturday night. Ohio State and Indiana both average more than 32 points and 430 yards per game.
While the matchup features two spread-offense gurus, Wilson notes that it still will come down to the core principles of the game.
"You can window-dress it all you want," he said. "Shift formation, I-formation, huddle up, not huddle, three-man, four-man, two-deep, quarters. It doesn't matter. It's a physical, combative game, played hard, and that's what I think he's got going on at Ohio State now. That's what we're getting to at our place."
August, 13, 2010
8/13/10
11:03
AM ET
As you might have noticed, we're all about quarterbacks today at ESPN.com, and it's time to rank the Big Ten signal callers.
This hasn't been a Big Ten strength in recent years, but things could change this fall. Quarterbacks like Ohio State's
Terrelle Pryor
, Iowa's
Ricky Stanzi
and Wisconsin's
Scott Tolzien
all have proven they can win at a high level, and
Ben Chappell
(Indiana) and
Kirk Cousins
(Michigan State) put up some strong numbers last fall.
The criteria are the same I used for the top 25 preseason rankings:
past performance and 2010 potential
. You can gripe all you want about the top four choices, but you shouldn't be surprised because all four quarterbacks were ranked in the
exact same order in June/July
. The Big Ten blogger is not a hypocrite. One final note: These are individual player rankings, but I consolidated the quarterback candidates at Michigan and Penn State to make it easier.
I fully expect this list to be different in early January, but here goes:
[+] Enlarge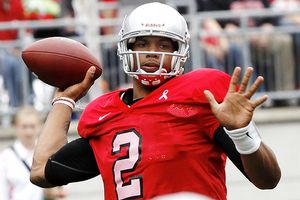 AP Photo/Terry GilliamTerrelle Pryor's performance in the Rose Bowl solidified his rank as the Big Ten's best quarterback.
1. Terrelle Pryor, Ohio State:
How can I rank Pryor at No. 1 based on one great performance? For starters, it took place in a huge game, the Rose Bowl, against a top 10 opponent in Oregon. Plus, I think Pryor will go forward rather than backward and become a more complete quarterback this fall. He has more natural ability than anyone else on this list, and while he'll never be a model passer, he only needs to improve a little to become a lot more dangerous.
2. Ricky Stanzi, Iowa:
It's very close between Stanzi and Tolzien, but Stanzi's 18-4 mark as Iowa's starting quarterback sets him apart. Yes, you can point to the mistakes, and there were a lot of them, but no quarterback in the country made more big plays in the fourth quarter than No. 12. I expect a smarter and more efficient Stanzi in 2010. Plus, he's a damn fine American.
3. Scott Tolzien, Wisconsin:
Simply stated, he's the perfect quarterback for Wisconsin. Tolzien is smart, extremely efficient and totally aware of his role in the offense. He executes the play-action well and can thread the needle when he needs to. Tolzien still needs to prove himself against the Big Ten's best defenses, but I expect a very strong senior season from him.
4. Kirk Cousins, Michigan State:
Take away a few late-game mistakes and a poor second half against Penn State, and Cousins turned in a very strong season as a first-year starter. His touchdown-to-interception ratio is strong (19-9), and he'll only get better with more experience. Plus, he has an excellent group of receivers and tight ends at his disposal this fall.
5. Ben Chappell, Indiana:
Chappell is the Big Ten's leading returning passer (2,941 yards in 2009), and he ranks second in completion percentage (62.6) among returning starters. He needs to cut down on his interceptions and make better throws in the red zone, but all that should come this fall. Chappell has some great receivers to work with, namely
Tandon Doss
, but would really benefit from a consistent run game.
6. Adam Weber, Minnesota:
Some Gophers fans have given up on Weber after a poor junior season, but I still have faith in No. 8, who happens to be a record holder at the U. It hasn't been easy with three offensive coordinators in as many seasons, and the system last year would have been tough for any quarterback to run. Weber still has a ton of talent, but he needs to regain the confidence we saw for most of 2008, when he earned second-team All-Big Ten honors. He also needs to prove himself without star receiver Eric Decker.
7. Robert Marve, Purdue:
Marve clearly doesn't grade high in past performance after struggling at Miami in 2008, but his potential this fall is very high. He'll benefit from working in Purdue's spread offense, and he'll have no shortage of targets in
Keith Smith
,
Justin Siller
,
Cortez Smith
and others. The ability always has been there with Marve, and we'll start to see results this fall.
8. Tate Forcier/Denard Robinson, Michigan:
No starter has been named, and while head coach Rich Rodriguez has a bit of evidence from 2009, he'll be selecting a No. 1 quarterback based on who he believes has greater potential in 2010. Both players can run, although Robinson is more explosive on the move. Forcier was far and away the better passer in 2009, but he struggled to make plays when he wasn't freelancing. Robinson should be a better passer this fall.
9. Dan Persa, Northwestern:
This isn't a knock against Persa, who has done everything right to prepare himself for this moment. I just need to see more from him in game situations, especially if Northwestern relies on him as much as it did Mike Kafka in 2009. Persa very well could be the most ideal fit for Northwestern's spread offense since Zak Kustok.
10. Kevin Newsome/Matt McGloin/Paul Jones/Robert Bolden, Penn State:
The
competition remains wide open
, and the group has virtually no game experience aside from Newsome. Talent shouldn't be a problem, as Newsome, Jones and Bolden all were highly-touted recruits, while McGloin, a former walk-on, has made significant strides in State College. Who can handle the pressure of quarterbacking in the Big Ten? We'll find out soon.
11. Nathan Scheelhaase, Illinois:
Again, not a knock against Scheelhaase, but his past performance is confined to practices and scrimmages. He's one of the
most mature redshirt freshmen
I've covered, but he's obviously got to prove himself in the game spotlight. Offensive coordinator Paul Petrino sees shades of Stefan LeFors in Scheelhaase. If that's the case, he'll soar up this list.
April, 5, 2010
4/05/10
10:30
AM ET
EVANSTON, Ill. --
Dan Persa
is still a novice when it comes to playing quarterback at the college level.
His career stat line shows only 34 pass attempts, 51 rushing attempts, two touchdowns, two interceptions and zero starts. It's a résumé not unlike those of other backup quarterbacks in the Big Ten.
Where Persa distinguishes himself is leadership. He's the resident expert at Northwestern.
[+] Enlarge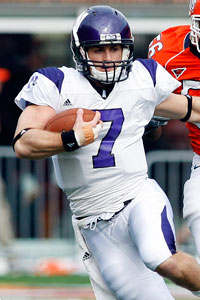 Jerry Lai/US PresswireAlready a threat running the ball, Dan Persa is working on fine-tuning his passing skills.
Since the moment Persa arrived in Evanston, he has prepared to lead. After the 2007 season, head coach Pat Fitzgerald formed a 10-man leadership council to give players greater ownership of the offseason program. Persa is the only player elected to the council in each of the three seasons.
Despite his place on the depth chart -- behind C.J. Bacher and Mike Kafka in 2008, and behind Kafka in 2009 -- Persa always tried to find ways to assert himself and gain confidence among others. He even saw time on special teams in 2008, returning one kickoff for 15 yards.
"I tried to get in here as much as I can to show people than I'm willing to work as hard as anyone," Persa said. "Everybody looks to you for energy, they look to you for attitude. If you're having a bad day and you're wearing your feelings on your sleeve, everybody's going to see that and then they're going to be down.
"But if they see you energized and ready to go, they're like, 'Alright, let's go.'"
Persa will get his chance to lead in the spotlight this fall as he moves into a starting role. The former Pennsylvania high school superstar takes over an offense that relied almost exclusively on Kafka's right arm last season.
Although Persa established himself as a locker-room presence years ago, he cranked things up during the winter months in preparation for his first spring practice at the helm.
"Mike Kafka was an extremely hard worker," left tackle Al Netter said, "and Dan works as hard, if not harder. This offseason, he's the first guy in the football offices, and he's the last guy to leave, every single day. His work ethic is spectacular. I look up to him, all the other guys look up to him, so he's taken this role very seriously."
Persa's rationale: "Knowing that you'll be the leader of this team, it's not just taking care of yourself any more. You've got to bring the whole team, the whole offense, along. If the offense fails, it's pretty much on you."
Since installing the spread offense before the 2000 season, Northwestern has had different types of trigger men. Brett Basanez and C.J. Bacher developed into record-setting passers, while Kafka transformed himself from a run-first quarterback into the Big Ten's passing leader last fall.
In Persa, the Wildcats might have the most natural fit for the spread since Zak Kustok, who led NU to its last Big Ten championship (2000). Persa is a true dual-threat quarterback who became the first Pennsylvania high school player to eclipse 2,000 passing yards and 1,000 rushing yards in a season.
It's noteworthy that if Persa didn't end up at NU, he likely would have signed with Rich Rodriguez at West Virginia. Rodriguez is arguably the biggest reason Northwestern runs the spread, as Wildcats coaches implemented the system
after visiting with Rodriguez at Clemson in 1999
.
"If I don't run, I think that's taking away from one of my strengths," Persa said. "But I don't see myself running 20, 25 times a game."
NU coaches know Persa can run, so they're spending more time fine-tuning his passing skills. As a smaller quarterback -- Persa is somewhat generously listed at 6-foot-1 -- he has to be precise with his footwork to help his field vision.
"I know he worked hard last summer about really getting some depth on his drop," offensive coordinator Mick McCall said. "He did a good job with that. We're going to try and move the pocket a little bit more to help him out, but we still are who we are. We're a spread team, we're going to be in empty, we're still going to run the ball with the quarterback at times."
Persa's size hurt him a bit in the recruiting process, as some schools wanted him to play defense. But the shotgun spread offense isn't married to 6-5 quarterbacks, and so far, Persa is standing tall at Northwestern.
"He has always led," McCall said. "He was always a voice here because he still worked his fanny off in the weight room, he still worked his fanny off in workouts. But he had to be [Kafka's] right-hand man.
"Now he's the guy."
February, 26, 2010
2/26/10
11:00
AM ET
Let's take a look at three issues facing each Big Ten team heading into spring practice:

ILLINOIS
Spring practice starts:
March 30
Spring game:
April 24
What to watch:
The quarterback competition. Four-year starter Juice Williams departs, and a host of young players (and one older one) are in the mix to replace him. New offensive coordinator Paul Petrino wants to shape his system around the starting signal-caller, so he'll be looking for some separation this spring. Jacob Charest got valuable playing time behind Williams in 2009, and Eddie McGee, a part-time wide receiver, has extensive playing experience at quarterback. They'll compete with redshirt freshman Nathan Scheelhaase and true freshman Chandler Whitmer, an early enrollee.
Fixing the defense. New defensive coordinator Vic Koenning brings an impressive résumé to Champaign, but he'll be challenged to fix a unit that hasn't been right since J Leman and Co. left following the Rose Bowl run in 2007. Koenning wants to identify leaders on defense this spring and will look to players like end Clay Nurse and linebackers Ian Thomas and Martez Wilson. Illinois' most pressing needs likely come in the secondary after the team finished 100th nationally against the pass in 2009.
Line dance. Illinois needs to get tougher and better on both lines to turn things around in 2010. The Illini tied for eighth in the Big Ten in sacks allowed last fall, and while the run game got going late, top lineman Jon Asamoah departs. Perhaps a bigger priority is finding a pass rush on defense after finishing last in the league in both sacks and tackles for loss in 2009.

INDIANA
Spring practice starts:
March 23
Spring game:
April 17
What to watch:
Rebuilding the back seven on D. Indiana loses three starters in the secondary and two linebackers, including blog favorite Matt Mayberry. The Hoosiers brought in three junior college defenders, two of whom, linebacker Jeff Thomas and cornerback Lenyatta Kiles, will participate in spring practice. Needless to say, jobs are open everywhere, and coordinators Brian George and Joe Palcic will be looking for playmakers to step up. Several players are moving from offense to defense, including wideout Mitchell Evans to safety.
End game. Indiana loses a lot of pass-rushing production as multiyear starters Jammie Kirlew and Greg Middleton depart. Both starting jobs at defensive end are open this spring, and IU will look to Darius Johnson, Terrance Thomas and others to step up and make plays.
Willis watch. Indiana hopes 2010 is the year when running back Darius Willis becomes a superstar. Getting him through spring practice healthy will be a key first step. Willis has been impressive on the field, but he has struggled with injuries for much of his career. IU's passing attack should be very strong in 2010, and if Willis can elevate the run game, the Hoosiers should put up a ton of points.

IOWA
Spring practice starts:
March 24
Spring game:
April 17
What to watch:
The offensive line. Rebuilding the offensive line is far and away Iowa's top priority heading into the 2010 season. The Hawkeyes are stacked at running back and boast a strong passing attack, but they'll struggle if things aren't solidified up front. Tackle/guard Riley Reiff blossomed last season and guard Julian Vandervelde also returns, but Iowa will look to fill three starting spots this spring.
Refilling at linebacker and cornerback. Iowa's defense has been one of the nation's most opportunistic units the last two seasons, and players like Pat Angerer, A.J. Edds and Amari Spievey were three big reasons why. All three depart, so Iowa needs to reload at linebacker and find a shut-down corner (Shaun Prater?). The spotlight will be on guys like Prater, Tyler Nielsen and Jeff Tarpinian this spring.
Sorting out the running back spot. Iowa is absolutely loaded at running back, but there's only one ball to be carried on a given play. The Hawkeyes likely will use a rotation in 2010, but who will be the featured back? Jewel Hampton will try to reclaim the top spot, which he lost because of a knee injury last summer. Adam Robinson filled in extremely well for Hampton in the lead role, and Brandon Wegher was one of the heroes of the Orange Bowl win.

MICHIGAN
Spring practice starts:
March 14
Spring game:
April 17
What to watch:
Defense, defense, defense. Head coach Rich Rodriguez always will be known for his spread offense, but he won't be around much longer at Michigan if the defense doesn't significantly improve. A unit that ranked 82nd nationally last season loses its two best players (Brandon Graham and Donovan Warren) and must find contributors at linebacker, safety and cornerback. Help is on the way from the 2010 recruiting class, but Michigan can't afford a bad spring on defense.
Devin Gardner. The heralded quarterback recruit enrolled early and will enter the mix this spring. Tate Forcier and Denard Robinson are the front-runners at quarterback, but Gardner might be the ultimate answer for the Wolverines. His ability to pick up the system and push Forcier and Robinson this spring will determine whether he sees the field in the fall or takes a redshirt.
Running back. Carlos Brown and Brandon Minor depart, but Michigan once again should be good at the running back spot. Vincent Smith will miss spring ball as he recovers from knee surgery, but several others, including Michael Shaw and Fitzgerald Toussaint, will be competing throughout the 15 workouts. Shaw, who scored two touchdowns on 42 carries in 2009, could create a bit of separation with a good spring.

MICHIGAN STATE
Spring practice starts:
March 23
Spring game:
April 24
What to watch:
Team morale. The residence hall incident and the subsequent fallout really rocked the Michigan State program. Head coach Mark Dantonio has yet to address the status of several suspended players, and the final outcome could impact the depth chart, particularly at wide receiver. It's important for Michigan State's team leaders -- Greg Jones, Kirk Cousins and others -- to unite the locker room in the spring and do all they can to prevent further problems.
Line dance. Michigan State needs to improve on both the offensive and defensive lines in 2010, and it all starts this spring. The Spartans must replace left tackle Rocco Cironi and center Joel Nitchman, and they also lose top pass-rusher Trevor Anderson at defensive end. As strong as the Spartans should be at the skill positions, they need to start building around linemen like Joel Foreman and Jerel Worthy.
Keith Nichol. The versatile junior could be moved to wide receiver, but he'll get a chance to push Cousins at quarterback this spring. Nichol's skills are too valuable to waste on the sideline, particularly if Michigan State has a pressing need at receiver, but he still could be a factor at quarterback if his improves his accuracy. The speedy Nichol could run the Wildcat in addition to serving as a wide receiver, if MSU chooses to go that route.

MINNESOTA
Spring practice starts:
March 23
Spring game:
April 24
What to watch:
The coordinator and the quarterbacks. Minnesota will welcome its third offensive coordinator in as many seasons, though Jeff Horton doesn't plan to overhaul the system like Jedd Fisch did a year ago. Horton's primary task will be developing quarterbacks Adam Weber and MarQueis Gray, who both struggled last fall in the pro-style system. Weber has the edge in experience, but he needs to regain the form his showed in his first two seasons as the starter. Gray brings tremendous athleticism to the table but must prove he can succeed in a pro-style offense.
The offensive line. Head coach Tim Brewster has insisted that when Minnesota gets the offensive line on track, things really will get rolling. The Gophers need better players and arguably tougher players up front, and the line should benefit in Year 2 under assistant Tim Davis. The group should be motivated by finishing last in the Big Ten in rushing in each of the past two seasons.
Young defenders. Minnesota loses most of its starting defense from 2009, but fans are more excited about the young talent returning on that side of the ball. Spring ball could be huge for players like Michael Carter, D.L. Wilhite and Keanon Cooper as they transition into leading roles. The Gophers' biggest losses come at linebacker, as all three starters depart.

NORTHWESTERN
Spring practice starts:
March 29
Spring game:
April 24
What to watch:
Identify a running back. The Wildcats produced an impressive string of standout running backs under former coach Randy Walker and at the beginning of Pat Fitzgerald's tenure, but they struggled in the backfield in 2009. Northwestern returns the Big Ten's most experienced offensive line, so identifying a primary ball carrier or two this spring is vital. Arby Fields and Scott Concannon showed a few flashes last year but must get more consistent, while Mike Trumpy will be an interesting addition to the mix.
Polishing Persa. Dan Persa steps in at quarterback for second-team All-Big Ten selection Mike Kafka, and he'll try to walk a similar career path. Kafka transformed himself in the offseason a year ago to become an extremely consistent passer, and Persa will need to do the same. Persa could be the best running quarterback Northwestern has had since Zak Kustok, but his size and the nature of the offense suggests he'll need to make strides with his arm. NU also needs to see progress from backup Evan Watkins, as it lacks overall depth at quarterback.
Reload in the secondary. Northwestern loses three starters in the secondary, including all-conference selections Sherrick McManis and Brad Phillips. Fitzgerald will lean heavily on cornerback Jordan Mabin and safety Brian Peters to lead the group, but he needs a few more players to emerge this spring. Defensive backs like Justan Vaughn have experience and must transition into featured roles.

OHIO STATE
Spring practice starts:
April 1
Spring game:
April 24
What to watch:
Running back competition resumes. Brandon Saine and Dan Herron finished strong in 2009, but they can't get too comfortable. Several young running backs, including Jordan Hall, Jaamal Berry, Jermil Martin and Carlos Hyde, will be competing for carries this spring. Saine likely has the best chance to lock down a featured role at running back, but if the hype about Berry pans out, it'll be a dogfight.
Pryor's evolution. After Ohio State's victory in the Rose Bowl, both Terrelle Pryor and Jim Tressel talked about the game being a key juncture in Pryor's development. The junior quarterback must build on his performance this spring, especially from a passing standpoint. Ohio State can be a more balanced and more effective offense in 2010, but Pryor needs to keep making strides.
Safety squeeze. The Buckeyes didn't lose much from the 2009 team, but the safety spot took a hit as first-team All-Big Ten selection Kurt Coleman as well as key contributor Anderson Russell depart. Jermale Hines looks like the answer at one spot, and he'll enter the spring with high expectations. Ohio State needs to build around Hines and identify playmakers for an increasingly opportunistic unit.

PENN STATE
Spring practice starts:
March 26
Spring game:
April 24
What to watch:
Quarterback, quarterback, quarterback. No surprise here, as Penn State's quarterback competition will be one of the Big Ten's top storylines until September. Two-year starter Daryll Clark departs, leaving a major void under center. Sophomore Kevin Newsome played a bit last fall and has been in the system for a full season. He'll enter the spring with a slight edge, but Matt McGloin and early enrollee Paul Jones also will be in the mix before Robert Bolden arrives this summer.
Getting better up front. All-America candidate Stefen Wisniewski leads an offensive line that will have more experience and needs to make strides this spring. The line struggled against elite defensive fronts last year (Iowa, Ohio State) but should have more cohesion after another offseason together. The tackle spots will be interesting to watch, as Dennis Landolt departs. Penn State's defensive line needs to shore up the middle after losing Big Ten co-Defensive Player of the Year Jared Odrick.
Linebacker U. put to the test. Penn State has a proven track record of reloading in the defensive front seven, but it loses a lot of production, especially at linebacker. All three starting spots are open this spring, and the spotlight will turn to players like Nate Stupar, Bani Gbadyu, Chris Colasanti and others to fill the production and leadership gaps left by Sean Lee, Navorro Bowman and Josh Hull.

PURDUE
Spring practice starts:
March 24
Spring game:
April 17
What to watch:
Marve watch begins. The starting quarterback job is open, and all eyes will be on Miami transfer Robert Marve. One of the nation's most decorated recruits in 2007, Marve started for the Hurricanes in 2008 but ran into problems and transferred. Slowed by an ACL injury last summer and fall, Marve will have every chance to establish himself this spring as he competes with Caleb TerBush.
Wide-open secondary. All four starters depart in the secondary, creating plenty of competition back there this spring. Players like safety Albert Evans and cornerback Charlton Williams will be in the spotlight as they try to nail down jobs. Purdue should be better in the front seven in 2010, but you can bet opposing quarterbacks will attack an unproven secondary.
The run defense. It's a huge priority for Purdue to improve against the run after finishing last in the Big Ten in rush defense in each of the past two seasons. Linebacker Jason Werner's return for a sixth year is huge, and Purdue boasts one of the Big Ten's top D-linemen in Ryan Kerrigan. Those two must provide leadership and foster more cohesion from the younger players around them. New D-line coach Gary Emanuel will be instrumental in the process this spring.

WISCONSIN
Spring practice starts:
March 13 (break from March 29-April 2)
Spring game:
April 17
What to watch:
The secondary. Wisconsin looks pretty solid on the defensive line and at linebacker, so getting the secondary up to par will be key this spring. Safety Jay Valai is a vicious hitter, but can he become an All-Big Ten-caliber safety? Aaron Henry joins Valai at safety after struggling at cornerback in 2009. Wisconsin also will look for continued progress from corners Devin Smith and Niles Brinkley.
Replacing Schofield. Bret Bielema told me earlier this week that the competition at defensive line is once again heating up this offseason. Wisconsin must replace first-team All-Big Ten end O'Brien Schofield, who ranked second nationally in tackles for loss (24.5) in 2009. J.J. Watt has superstar written all over him, but Wisconsin will look for more pass-rush ability from David Gilbert and Louis Nzegwu.
The wide receivers/tight ends. Wisconsin showed at times last fall that its passing attack could be dynamic, and it will look for big things from several players this spring. Wideout Nick Toon certainly has what it takes to be a star in the Big Ten, and Lance Kendricks showed in the Champs Sports Bowl that he's a capable successor for Garrett Graham at tight end. The Badgers will look to David Gilreath, Isaac Anderson and Kyle Jefferson to fill the No. 2 wideout spot.
August, 12, 2009
8/12/09
3:17
PM ET
Posted by ESPN.com's Adam Rittenberg
EVANSTON, Ill. -- It's no secret around these parts that Northwestern's offensive production largely depends on quarterback Mike Kafka's ability to evolve as a passer.
Kafka might not be a household name in the Big Ten, but he holds the league's single-game record for quarterback rushing with 217 yards against Minnesota last year. The senior is less accomplished as a passer, but he spent the summer focusing on the passing game.
| | |
| --- | --- |
| | |
| | Jonathan Ferrey/Getty Images |
| | Mike Kafka, above, spent time this summer working with former Northwestern QB Brett Basanez. |
Part of Kafka's summer regimen involved working with former Northwestern quarterback Brett Basanez, the 2005 Big Ten co-Offensive Player of the Year. Basanez, who ranks third on the Big Ten's career passing yards list (10,580), returned to the area after signing with the Chicago Bears as a reserve quarterback.
Kafka gathered several of Northwestern's receivers and worked with Basanez twice a week for six weeks. Wildcats backup quarterback Dan Persa and Kafka's brother, Jason, who will play football at San Jose State this fall, also participated.
"We were working out with an NFL quarterback," Kafka said. "You can't beat that."
Basanez critiqued Kafka's passing mechanics and footwork, but his most valuable advice had to do with the mental aspect of playing the position.
"We talked a lot about being able to manage the game and control and lead," Kafka said. "That was one of the biggest things -- leadership. A lot of times, the quarterback doesn't have to be the best player on the field, as long as you lead your team down the field."
Since installing the spread offense in 2000, Northwestern has struggled to overcome the loss of a starting quarterback. The Wildcats stumbled to 3-9 in 2002, after losing Zak Kustok, and went 4-8 in 2006, after losing Basanez.
C.J. Bacher held the top job the past two-and-a-half seasons, though Kafka isn't a stranger to the spotlight. He started four games as a freshman and two last fall after Bacher hurt his hamstring.
Head coach Pat Fitzgerald said Kafka is "throwing the ball as well as he ever has" and gained confidence by being the clear-cut starter in camp.
"You can just tell that he's taken the time to improve, even on the little things," said wide receiver Andrew Brewer, a former quarterback who competed with Kafka in 2006. "It's definitely helped his mechanics and helped his arm speed and strength."
March, 20, 2009
3/20/09
10:12
AM ET
Posted by ESPN.com's Adam Rittenberg
The departure of a three-year starter at quarterback is never cause for celebration, but Northwestern offensive coordinator Mick McCall could get exactly what he wants in the backfield this fall.
| | |
| --- | --- |
| | |
| | Jonathan Ferrey/Getty Images |
| | Mike Kafka is one option for the Wildcats at quarterback in 2009. |
Northwestern's spread offense works best with a mobile quarterback who poses a legitimate rushing threat. After all, the roots of the Wildcats' system can be traced directly to Rich Rodriguez, who has directed dynamic offenses with mobile quarterbacks (Shaun King, Woody Dantzler, Pat White) and struggled mightily when his quarterbacks lack foot speed (Michigan's 2008 season).
McCall also enjoyed his best coaching success when he mentored mobile quarterbacks Josh Harris and Omar Jacobs at Bowling Green.
Outgoing Northwestern starter C.J. Bacher and his predecessor Brett Basanez showed decent mobility at times, but the team has lacked a true rushing threat since Zak Kustok finished his career in 2001.
McCall will have two when spring practice opens March 30.
"It puts a lot of pressure on the defense when the quarterback can run and be able to break some things open that way," McCall said. "The defense definitely has to be a lot different."
Projected starter Mike Kafka already has established himself as a rushing threat in the Big Ten. Making his first start in three years Nov. 1 against Minnesota, Kafka set a Big Ten quarterback record with 217 rushing yards. He followed with 83 rushing yards the next week against Ohio State.
Backup Dan Persa can move a bit, too.
As a high school senior in Bethlehem, Pa., he became the first player in state history to eclipse 2,000 passing yards and 1,000 rush yards in the same season. Despite serving as Northwestern's third-string quarterback last fall, Persa was used regularly on special teams, even returning a kickoff against Michigan.
Kafka and Persa should enhance a rushing attack that loses Tyrell Sutton, a four-year starter at running back, but McCall chooses to focus more on their arms than their legs.
"We've still got to find ways to move the football through the air because you cannot sit there and pound the quarterback and pound him and pound him, and expect him to throw for 65 percent completion or 70 percent completion," McCall said. "[Tim] Tebow can't even do it, and you're talking about a guy who's won a Heisman.
"We've got to be realistic about what our guys can do and how many hits they can take."
March, 6, 2009
3/06/09
10:57
AM ET
Posted by ESPN.com's Adam Rittenberg
If the first step toward growing for the future is not dwelling on the past, Northwestern quarterback Mike Kafka could do big things this fall.
| | |
| --- | --- |
| | |
| | Harry How/Getty Images |
| | Mike Kafka posted a 217-yard rushing performance last season against Minnesota. |
Big Ten fans might remember Kafka from a Nov. 1 game at Minnesota, when he delivered one of the league's top individual performances of the season. Making his first start in more than two years, Kafka led Northwestern to a 24-17 upset of the 17th-ranked Gophers and made Big Ten history in the process.
He set a Big Ten quarterback record with 217 rushing yards on 27 carries (8 ypc). Kafka had runs of 53, 38, 30 and 28 as a Wildcats team playing without its starting backfield survived in the Metrodome and finished the season 9-4.
And yet, when prodded about his season-saving performance, Kafka struggles to deliver the details.
"If the offensive line wasn't out there and the receivers weren't out there, I definitely wouldn't have rushed for however many yards I rushed for," he said.
You don't remember the exact number? It's not your new cell phone area code? It's not painted all over your bedroom?
"No, I don't know," he said. "I don't really care. We won. That's all that matters to me."
Kafka still gets plenty of attention for his season-saving performance at the Hump Dome, but he's fixated on the future as Northwestern prepares to open spring drills March 30.
July, 14, 2008
7/14/08
7:02
PM ET
Posted by ESPN.com's Adam Rittenberg
You've waited for it and on Tuesday, you'll get it. Our series of Blue Ribbon previews will spotlight the Big Ten, and the blog will have plenty for you to digest, including team rankings, interviews, games to watch and the debut of Big Ten Hot Seat. So check in early and often. For now, here are a few tidbits I found this afternoon.