March, 28, 2013
3/28/13
4:20
PM ET
Some bad news for Penn State incoming recruit
Zayd Issah
, who
faces felony forgery and misdemeanor theft charges
for his alleged role in a counterfeit scheme.
Susquehanna (Pa.) Township police have charged Issah with allegedly passing counterfeit money at a local McDonald's restaurant. Issah, a linebacker from Harrisburg, Pa., who signed with Penn State in February, was arrested March 9 after an alleged attempt to pass the money.
From The (Harrisburg) Patriot-News:
According to arrest papers filed with District Judge James Lenker, Issah and two other suspects fled when police were called to the scene. The other two suspects were later identified and apprehended and both of them implicated Issah in the alleged scheme, police said.

They said the other suspects, long-time friends of Issah, said Issah had passed counterfeit bills at two locations.

Police said Facebook messages between Issah and one suspect were intercepted and proved that Issah knew the money was fake and that he solicited a plan to "clean" it. The bogus cash was used to buy the three food at local fast-food restaurants, police said.

Issah was charged on March 10 with two felony counts each of forgery and conspiracy to forgery and four misdemeanor charges of theft by deception.
Issah faces a preliminary hearing May 9. Dauphin County District Attorney Ed Marsico told The Patriot-News that Issah, 18, is cooperating with investigators and likely would avoid jail time if convicted because he's a first-time offender.
There's no word yet on how the arrest might impact Issah's status with the Penn State program. Issah
tweeted March 10
, "oh lord dont panic!" and
followed up five days later with
, "When true adversity hits only the real ones stay in your corner."
RecruitingNation rates Issah as a three-star linebacker and the 123rd best linebacker in the 2013 class.
February, 6, 2013
2/06/13
6:49
PM ET
Penn State has signed larger and more decorated recruiting classes than the 2013 version, and brought in more big names. But the program has never faced NCAA sanctions, including scholarship reductions and postseason probation. Under the circumstances, the
17-member recruiting class PSU signed
Wednesday might be one of the most impressive in team history. Penn State brought in star power like quarterback
Christian Hackenberg
and tight end
Adam Breneman
, retained most of its top recruits and addressed several needs. Head coach Bill O'Brien and his assistants have received a lot of praise for their first recruiting class of the sanction era, and deservedly so.
ESPN.com caught up with O'Brien on Wednesday to discuss the class.
[+] Enlarge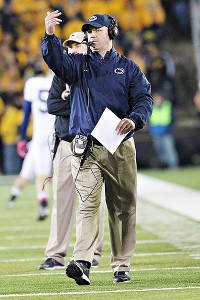 Reese Strickland/US PresswireCoach Bill O'Brien says Penn State filled immediate needs with its recruiting class.
How did you guys keep this class together with all the challenges you had?
Bill O'Brien:
I think it has a lot to do with two groups of people. Really the assistant coaches here, and then the prospects and their families that we signed. We started early on these guys, and we began to develop relationships with these guys right when I was hired here. And then we just began to keep grinding out those relationships. We never missed a phone call, we never missed an opportunity to talk to somebody that was influential in this young man's life. You have to give a lot of credit to our assistant coaches, and then give a lot of credit to these guys and their families who stuck with us.
Was there ever a point where you started to worry, or did you have faith all along that you'd keep the group together?
BO'B:
I was certainly concerned when the sanctions came out. That day in July, I was definitely concerned. What happened was a group of guys who were committed to us, about eight guys, they drove up here to State College and they met with us that weekend, maybe two days after the sanctions came out, and that was a very productive meeting. They reaffirmed their commitment to me and to our football program. So that was when I began to say, 'As long as we work at it and we stay with these guys and we stay committed and they stay committed, we'll be OK.' Right after that, it got a little bit better.
How did the season itself affect keeping guys on board or bringing in interest from other recruits?
BO'B:
Winning always helps. Any time you can go out and win eight out of your last 10 games -- we were on TV all the time, or these guys were actually at the game and they saw that atmosphere, that winning locker room and the atmosphere at Beaver Stadium -- that's a very positive thing for any football program.
What's the significance of Christian signing with you guys at the quarterback spot?
BO'B:
It's really important. At the end of the day, Christian comes from a great family and he's just a really good person who has got a lot of talent and is going to come in here and make us a better football program. It's important that all these other guys, not just Christian, stayed committed to us. That was such a big, big thing for us. We owe a lot to those guys and their families. We're proud that they stayed with us.
How does he fit what you want to do on offense?
BO'B:
He definitely fits what we're looking for. He's a tall guy who's athletic. He's an accurate passer, he's smart, he's competitive, he's made plays in big games, he's run 2-minute drills in high school to win games. So we feel really good about him. We felt good about him right from the start. He was the No. 1 guy we went after, and we were able to get him. It says a lot about him, and it says a lot about us. He fits our system to a T.
June, 29, 2012
6/29/12
2:30
PM ET
Michigan's 2013 recruiting class is rated No. 1 nationally by several scouting services, including ESPN Recruiting. Urban Meyer is piecing together another high-quality class at Ohio State.
But the most surprising recruiting story in the Big Ten right now? Penn State, hands down.

Given all the transition and turmoil in State College, Bill O'Brien and his staff really have it going on the recruiting trail. Penn State landed its big prize in February when quarterback
Christian Hackenberg
gave his pledge to O'Brien. ESPN Recruiting rates Hackenberg as the nation's No. 1 quarterback and No. 10 overall player. He's the highest-rated recruit in the Big Ten right now.
But Hackenberg is just one of several high-profile commits in Penn State's class, which places
No. 13
nationally in the
latest national rankings
, a jump of two spots from No. 15. These rankings came out before Penn State landed its latest recruit, linebacker
Zayd Issah
, who gave his pledge on Friday. Issah is a three-star prospect from Harrisburg, Pa.
Penn State is up to 14 commits for 2013, including four ESPN 150 prospects, the third-highest total in the Big Ten behind Michigan (11) and Ohio State (6). The Lions have landed six commits in June, a month that saw the Jerry Sandusky trial come and go, and cast the university in a negative light.
Dorian Johnson
, the nation's No. 2 offensive lineman, committed on Sunday.
O'Brien and his staff have focused their recruiting on Pennsylvania and the surrounding states -- Ohio, New Jersey, Maryland, and Virginia. All but one commit hails from those states, although Penn State also plucked safety
Neiko Robinson
from Florida.
Although Penn State landed some heralded classes during the latter part of Joe Paterno's tenure -- 2010 and 2005 come to mind -- there was a sense the team could take a step back during the transition. O'Brien's early efforts will fuel the belief that Penn State had been underachieving on the recruiting trail under the previous staff.
While part of O'Brien's recruiting success can be attributed to him being the new face of the program -- a face coming straight from the NFL -- the fact that he continues to pile up recruits at a time when Penn State remains in the news for negative reasons has to encourage Nittany Nation.