September, 7, 2012
9/07/12
7:57
PM ET
I'm coming at you live from College Station, Texas, where the Aggies make their SEC debut on Saturday against No. 24 Florida.
While I eagerly await that historic matchup, let's empty out the SEC mailbag:
TD Carey in Ruston, La., writes:
LSU and
Chris Faulk
: Let us not forget that LSU could have had Mo Claiborne, Tyrann Mathieu and Mike Brockers. The loss of these four, especially now that Faulk is out, will make a difference, as there is no way to replace Faulk.
Chris Low:
I wouldn't go as far as to say that there's "no way." Faulk was a key part of that LSU offensive line and an excellent player, but the Tigers have some depth and experience up front. Getting
Josh Dworaczyk
back for a sixth season was huge. He's versatile and will step in Saturday at left tackle for the Tigers. He's not the only option there, either. It's a blow to lose Faulk, no question. But I'm not ready to say it was a knockout blow. This LSU team has been too resilient in the past and is still oozing with talent.
---
Brian in Richmond, Va., writes:
Hey Chris, War Eagle people seem to be really down on Auburn this year. They "almost/should have" beaten a very good ranked Clemson team that has a great chance of winning the ACC. It pains me to admit this, but Auburn has had some personnel issues since winning the 2010 national championship. How much better would Auburn be this year with Mike Dyer, Antonio Goodwin, Shaun Kitchens, Dakota Mosley and Jovon Robinson? I would include
Zeke Pike
, but he wasn't going to start this year and he's a train wreck anyway. Would they have really made that big of a difference? Obviously, Mike Dyer is a known quantity.
Chris Low:
Fans are always going to be down when you lose the opener, but this is about what I expected from this Auburn team. It's not so much that I'm down on the Tigers. I just think it's going to be tough sledding for them this season with a first-time starter at quarterback who's learning on the job and a defense that still clearly has some issues. I expect Auburn to improve on defense as the season goes on, but inexperience at quarterback and a leaky defense are a bad combination. And as far as some of the players you mentioned that are no longer there, maybe part of the problem is that there have been too many misses on the recruiting end with kids who simply had no desire to behave. Weeding out those kids might be the best thing that could have happened to this team.
---
Brian in Gadsden, Ala.:
Chris, I was just reading your prediction regarding Mississippi State and Auburn. I think you have some revisionist history. Mississippi State was not one foot short of winning at Auburn last year. They were one foot short of being behind by two points with no timeouts and a chance to tie the game with a successful two-point conversion. Last time I checked, a two-point conversion was not a 99 percent certainty like an extra point. I have no problem with a pick against Auburn, but please don't change the facts from last year.
Chris Low:
Actually, we were both wrong. What I should have written was that Mississippi State came within a foot of tying the game and sending it into overtime with an extra point or having a chance to win it with a successful two-point conversion. The final score was 41-34, so all the Bulldogs would have needed to tie the game was an extra point. A successful two-point conversion would have won it in regulation. Anyway, my apologies, and I promise there's no War Eagle conspiracy at work here.
---
Tommyboy in Atlanta writes:
1. Can you please quantify SEC speed? 2. What is the international unit of measurement of SEC speed? 3. Do SEC scoreboards have to be specially calibrated or purpose built for SEC speed? 4. Do all SEC teams have SEC speed? 5. If a team were in another conference and joined the SEC, does that team automatically get SEC speed, or is there a waiting period? If there is a waiting period, does time travel faster due to SEC speed? 6. Could ESPN please mention SEC speed more? 8. Please complete the following: George Washington, Abraham Lincoln and Gandhi are to ______ as SEC speed is to ______. The questions skip from No. 6 to No. 8 because my computer cannot keep up with my typing because my fingers have ... SEC speed.
Chris Low:
Very simply, SEC speed = six consecutive national championships. George Washington, Abraham Lincoln and Gandhi are to great men and men of vision as SEC speed is to bringing in the bling and collecting crystal footballs. I like your style, though. Good stuff. We may have to let you sit in one day for me on the SEC blog. On second thought, maybe not. You might take my job.
---
Bryan in Roswell, Ga., writes:
With South Carolina struggling against Vanderbilt, the East seems wide open this year. The Georgia-Missouri game is huge, and a Missouri win would seemingly set the stage for the Tigers to win the East on their first try. What would that scenario do for Mizzou going forward in their new home?
Chris Low:
I still say that Vanderbilt is better than a lot of people are giving the Commodores credit for. It's true that South Carolina didn't throw the ball well, but the Gamecocks didn't play that poorly. My guess is that the rest of the East would love to see Georgia go down this weekend in its first SEC game. If that happens, this East race might look a little bit like the one in 2010. Everybody's going to beat up on everybody else. Arkansas went to the SEC championship game in its fourth year in the league, so it's not outrageous to think that Missouri could make some noise this first year if the Tigers can get out of the blocks with a victory over the Bulldogs.
---
Dale in Winchester, Tenn., writes:
Chris, not trying to look ahead. But so far after seeing the N.C. State game, do you think this year's Tennessee team, if it stays healthy and some of its players like
Tyler Bray
and
Herman Lathers
continue to step up and lead, could be the one to get the Big Orange back to the powerhouse we used to be? Go Vols!
Chris Low:
The most impressive thing about the Vols in the opener was the way they finished the game and didn't flinch when Bray lost the fumble at the goal line right before halftime. I would still like to see them be better in short yardage situations on offense, and the defensive secondary still has some growing up to do. But there's no doubt that this is Derek Dooley's best team, and I expect to see the Vols in the East race come November. I'll stop there … for now.
---
Kevin in Lexington, S.C., writes:
I know it's several weeks away, but how do you think South Carolina's secondary will hold up against Missouri's spread attack after looking overwhelmed at times against Vandy?
Chris Low:
I'll have a better answer for you after watching Missouri go up against Georgia's defense Saturday night. Losing senior cornerback
Akeem Auguste
was a killer for the Gamecocks. They were already thin back there. To me, the real burden is on South Carolina's front seven now and generating even more pressure.
Jadeveon Clowney
is a freakish talent, but he can't take plays off.
---
Herrin in Boiling Springs, S.C., writes:
1. Are you contractually obligated to write "SEC speed" in each article? 2. LSU and Alabama have not had a close SEC game in some time. Does the rest of the SEC still have SEC speed? 3. Have you ever seen a team crow more about its conference -- while accomplishing less on its own -- than South Carolina? 4. Does Clemson have SEC speed? I mean, we have beaten SEC teams nine out of the last 11 years.
Chris Low:
All fair points. Now let me ask you a question: How many straight years has South Carolina beaten Clemson? I noticed you didn't bring up that topic.
---
July, 9, 2012
7/09/12
10:56
AM ET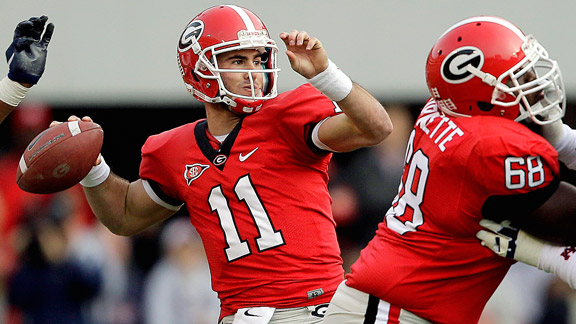 AP Photo/David GoldmanAaron Murray and the Georgia quarterbacks rank as the top position group in the SEC.
As we get closer and closer to the 2012 college football season, it's time for one of the blog's most popular items -- position rankings.
This is never easy. We go back and forth dozens of times before finding any sort of confidence in our lists. After checking with colleagues and people around the league, we come up with lists ranking each position and in the end someone gets upset. Someone has to be last and someone is always underrated or overrated.
Such is life.
The important factors for every position were great players, true game-changers, depth and experience. We also considered past performances, but we also had to think about possible projections for the upcoming season.
We'll start with the quarterback position:
1. Georgia:
Aaron Murray
has thrown 59 touchdowns in his first two seasons and is on his way to breaking several school records. He has great toughness and mechanics, but needs to cut down on his 14 interceptions from a year ago. The staff is looking to redshirt
Hutson Mason
, but he might be the league's best quarterback insurance policy. He could be used if Murray suffers a serious injury. Freshmen Faton Bauta and
Christian LeMay
are both talented, but inexperienced.
2. Arkansas:
Tyler Wilson
is arguably the SEC's best quarterback and probably would have been a first-rounder had he come out this past season. Junior
Brandon Mitchell
complements Wilson well with his running ability, but he'll be in an intense battle with redshirt freshman
Brandon Allen
, who is a stronger drop-back quarterback.
3. Tennessee:
If
Tyler Bray
can stay healthy, he's potentially a 3,000-yard, 30-touchdown guy.
Justin Worley
was thrown into the fire last season and gained some valuable experience, and the Vols also have high hopes for true freshman Nathan Peterman, who showed promise in the spring before dislocating his finger.
4. Alabama:
If
AJ McCarron
picks up from 2011, he could contend to be the league's top quarterback. He has all the tools, but needs to keep making strides with his decision-making. Behind McCarron, Alabama doesn't have much experience with
Phillip Sims
transferring to Virginia. Next in line would probably be redshirt freshman
Phillip Ely
, but true freshman Alec Morris has turned heads in summer workouts.
5. Vanderbilt:
Jordan Rodgers
put a charge into the Commodores' offense when he took over midway through last season. He's a big-play quarterback, but needs to cut down on his turnovers. The other thing Vanderbilt has going for it is Austyn Carta-Samuels, who started for two seasons at Wyoming and rolled up nearly 2,100 yards in total offense in 2010. Plus, the staff is excited about early enrollee Patton Robinette, who is one of the top quarterback prospects to sign with Vandy in a while.
[+] Enlarge
Spruce Derden/US PresswireNow that Missouri is in the SEC, James Franklin enters as one of the most versatile quarterbacks.
6. Missouri:
James Franklin
enjoyed a breakout season in 2011 and enters his first year in the SEC as the league's best dual-threat quarterback. However, will he be all the way back after undergoing shoulder surgery in the spring? With Franklin out, redshirt freshman
Corbin Berkstresser
worked with the Tigers' first team this spring and performed well. Junior
Ashton Glaser
is in his fourth season, but has barely played.
7. South Carolina:
Connor Shaw
is hardly the biggest quarterback in the SEC and runs a lot, so that's never an ideal situation. However, he improved greatly toward the end of last season and made strides this spring to use his arm more than his legs. The Gamecocks have barely any experience behind Shaw, as
Dylan Thompson
and
Andrew Clifford
battle for the No. 2 spot.
8. LSU:
It's
Zach Mettenberger
time in Baton Rouge, as he takes over a unit that has struggled with consistency. He was a very talented high school player a few years ago and helped make LSU's offense much more pass-friendly this spring. While he's an obvious upgrade for the Tigers, he's still pretty unproven at this level. Behind him, there's no experience, as
Jerrard Randall
and
Stephen Rivers
both redshirted in 2011.
9. Auburn:
The Tigers should have quite the quarterback battle on their hands.
Clint Moseley
returns with more experience under center, but he lost ground to
Kiehl Frazier
this spring because of shoulder soreness. Frazier was a run-first QB last year, but looked much more confident with his arm this spring with help from new offensive coordinator Scot Loeffler. Zeke Pike was a top QB prospect coming out of high school, but off-field issues sent him home for the summer.
10. Florida:
Will Muschamp said following spring practice that he felt like he had two quarterbacks he could win with. Nonetheless, he wasn't ready to name either
Jacoby Brissett
or
Jeff Driskel
the starter. Both struggled for the most part last year, but both were very talented high school prospects and each could excel with more experience. The reality is that both will end up playing this season.
11. Mississippi State:
Dan Mullen said this spring that he was very pleased with how
Tyler Russell
performed this spring, but Russell has had consistency issues in the past. The hope is that now that Russell knows he's the starter, he'll be more comfortable on the field. However, Mississippi State only has one other scholarship quarterback on its roster: redshirt freshman
Dak Prescott
. Quarterbacks
Dylan Favre
and Nick Schuessler both transferred.
12. Kentucky:
Maxwell Smith
was far from perfect last year, but he took advantage of his time on the field. After replacing the injured
Morgan Newton
late in 2011, Smith was named to the SEC's All-Freshmen team. He also seemed to improve this spring with Newton watching and rehabbing. Newton's time as a starter could be over, but both will be pushed by incoming freshman Patrick Towles, who might be more physically gifted than the two ahead of him.
13. Texas A&M:
Kevin Sumlin is working with a ton of inexperience at quarterback. Sophomore
Jameill Showers
has the edge, but he's thrown all of five career passes. Things got even foggier for the Aggies when backup
Johnny Manziel
was arrested in late June and charged with disorderly conduct by fighting, failure to identify and having a fake driver's license. That leaves sophomore
Matt Joeckel
and true freshman Matt Davis with the chance to catch Showers.
14. Ole Miss:
It looked like Bo Wallace would come in and snatch the starting job, but as spring went on
Barry Brunetti
played himself into a tie with Wallace. But Brunetti was the starter coming out of last spring and played in just five games last fall.
Randall Mackey
moved from quarterback to wide receiver, while
Zack Stoudt
left the team in June, so there is very little experience at the quarterback position in Oxford.
June, 26, 2012
6/26/12
12:17
PM ET
The latest development in the Zeke Pike saga is that the Auburn freshman quarterback has
gone home for the summer
following his arrest last weekend on a charge of public intoxication.
Charles Goldberg of The Birmingham News reported the news of Pike's leaving for the summer on Monday, although Auburn officials aren't commenting. Goldberg also reported that Pike's arrest wasn't his first off-the-field issue.
With everything Auburn has been through over the past year, the last thing the Tigers need is the distraction of a player acting foolishly off the field when the start of preseason practice is a little more than a month away.
Maybe the best thing for Pike right now is to get away and process everything. He had the benefit of going through spring practice, so it won't be completely new to him in the fall.
The other thing to consider here is that the Tigers aren't exactly swimming in quarterback depth. If either
Kiehl Frazier
or
Clint Moseley
were to get hurt, Pike would likely move into the backup role. The Tigers signed a fourth quarterback, Jonathan Wallace of Phenix City, Ala., in the 2012 class, but Wallace didn't graduate early and go through spring practice the way Pike did. So asking him to play early this fall would be a real stretch.