April, 22, 2010
4/22/10
4:00
PM ET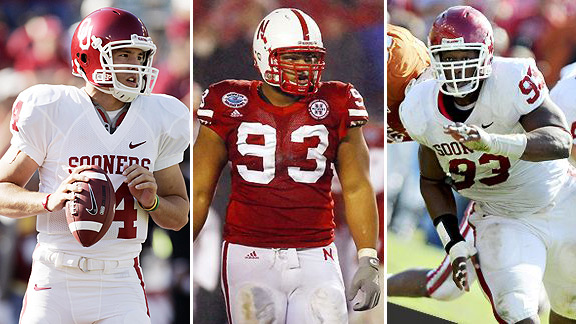 US PresswireSam Bradford, Ndamukong Suh and Gerald McCoy are expected to be the first three players selected in tonight's first round of the NFL draft.
We're only a few hours away from tonight's first round of the NFL draft, one that could be unprecedented for the conference.
As many as five of the first six picks could come from the Big 12.
Oklahoma's
Sam Bradford
is the assumed first pick. Defensive tackles
Ndamukong Suh
and
Gerald McCoy
should follow. As will offensive tackles
Trent Williams
(Oklahoma) and
Russell Okung
(Oklahoma State).
Considering where the conference has been in recent years, that's not a surprise to the coaches sending those players to the next level.
"I don't think there's any question it's been excellent, evidenced by what, us and Texas in the last couple national championship games," said Oklahoma coach Bob Stoops, who was forced to play most of 2009 without Bradford, the 2008 Heisman winner. "And year in and year out we've been there. I've known that for a long time and it's obvious the talent in this league is second to none and its throughout the league and it's exciting."
Texas coach Mack Brown could also have a pair of Longhorns go in the first round: defensive back
Earl Thomas
and defensive end/linebacker
Sergio Kindle
. Both are Texas natives, with Thomas hailing from Orange and Kindle from Dallas.
"More of the kids are staying at home and wanting to play in the Big 12 area, where one of our schools is traditionally playing for the national championship, so we're in the mix each year," Brown said. "And I also feel like since we've won in this league and we've been in the final game more often, that more national kids are starting to look at our schools more readily than before."
Missouri's program has reached new heights in the last few years, winning 12 games in 2007 and another 10 in 2008. Missouri's two first-round draft picks last season, receiver Jeremy Maclin and defensive tackle Ziggy Hood, helped make those seasons possible. The Tigers also had safety William Moore drafted in the second round of last year's draft.
"I remember Don James, my mentor who I worked for at Washington, he told me about three or four years ago, he says, 'When you start getting more players drafted, a lot more high draft choices, you're going to win a lot more games.' And at this level, as it was at Washington, that's the way it is," Pinkel said. "You're not going to get six drafted every year, but certainly, if you're going to win at this level, you're going to get more players that go on and play in the NFL."
He could add another first-round pick, his third in two seasons, tonight in linebacker
Sean Weatherspoon
, giving the Big 12 as many as 10 selections among the first 32 picks.
"It shows schools are recruiting quality young men and good football players," said Oklahoma State coach Mike Gundy.
August, 10, 2009
8/10/09
11:00
AM ET
Posted by ESPN.com's Tim Griffin
It's time to unveil my preseason power rankings, which is a pretty good indicator that the season is fast approaching.
Unlike some of my coaching friends, I'm all about releasing these every week. Maybe Grant Teaff and my friends at the American Football Coaches Association could learn something about transparency in polling.
As far as the rankings, there's been little movement since May. I've boosted Baylor up a notch because Robert Griffin appears ready to direct the Bears back to a bowl game. Colorado is down because deep threats are becoming sparse in the Buffaloes' offense. And in the Big 12, you can never have enough deep threats.
Other than that, I still like Texas over Oklahoma by a smidge -- although the lack of a tight end or quick improvement from the Sooners' offensive line could cause those to change.
And in the North, I'm picking Nebraska over Kansas because of Ndamukong Suh, a better running game and the Cornhuskers' easier cross-division schedule. But it's not a great margin.
So read and remember these picks and check back in December when I'll take stock of how I did.
1. Texas: The Longhorns have long memories about what happened last season when the BCS standings kept them out of the Big 12 title game. If a running game can be cobbled together and Will Muschamp can work his magic on the defensive front, the Longhorns might not have to worry about polls this season.
2. Oklahoma: Bob Stoops has built the nation's quietest dynasty with an unprecedented three straight Big 12 championships. He's got a good shot at four straight if his young offensive line jells and that pesky recent problem at the Cotton Bowl with Texas can be taken care of.
3. Oklahoma State: No team in the conference is as balanced and explosive as the Cowboys, but the defense is another story. If veteran coordinator Bill Young can coax enough improvement from the defense, the Cowboys might shock their way to their first Big 12 title and BCS bowl game.
4. Nebraska: Last year's late finish has Cornhusker fans believing the magic is back with Bo Pelini. But breaking in a new quarterback and trying to find some deep receiving threats will keep the Cornhuskers from dreaming about a Big 12 title -- at least for this season.
5. Kansas: The Jayhawks are loaded offensively and have enough defense to arguably make this Mark Mangino's best team. The only problem, however, is that a tough cross-division schedule will make Kansas play Oklahoma, Texas and Texas Tech. It might be enough to keep the best North team from playing in the championship game.
6. Texas Tech: Why is Mike Leach smiling so much these days? It's not just his new contract. The Red Raiders have an underrated defense and Leach doesn't think the loss of Graham Harrell and Michael Crabtree will be as grievous as most outside the program believe. The Red Raiders are rebuilding, but Leach likes his new players.

7. Missouri: The Tigers are breaking in new coordinators and looking for replacements for Chase Daniel, Chase Coffman, Jeremy Maclin and Ziggy Hood. Gary Pinkel's recruiting has improved -- typified by new quarterback Blaine Gabbert -- but there are likely too many holes to think about a third straight trip to the Big 12 title game.
8. Baylor: Could this finally be the team to break the bowl drought? Art Briles is starting to get the pieces in place -- starting with Griffin at quarterback. But the schedule is unforgiving in the South Division and the Bears could be a little thin in the trenches to think about bowling just yet.
9. Colorado: Whether Dan Hawkins said his team would win 10 games or not isn't the point. The fact is that a deep collection of running backs, an improving offensive line, an underrated defense and the North Division's most favorable schedule could make the Buffaloes a surprise challenger. But there are still many questions -- starting with the quarterbacks on hand and the lack of a proven deep threat.
10. Texas A&M: Expectations are lower for the Aggies than any time in recent memory. These Aggies bear little resemblance to the consistent winners of the early Big 12 era, particularly on defense. Jerrod Johnson gives Mike Sherman a playmaker to start building his offense around, but winning in the South with this group might be an impossible task.
11. Kansas State: Speaking of reclamation projects, Bill Snyder might have stepped into a big one as he tries to return the Wildcats to their earlier dominance of his previous coaching tenure. It will be a long trek back as Snyder settles on a quarterback and tries to improve a porous defense.
12. Iowa State: Paul Rhoads knows the culture at Iowa State after growing up near Ames and previously working as an ISU assistant. He has quarterback Austen Arnaud back to run a retooled high-tempo offense. But Rhoads will face a monumental rebuilding job as he tries to stem a nation-worst 17-game road losing streak.
February, 9, 2009
2/09/09
1:09
PM ET
Posted by ESPN.com's Tim Griffin
It's an inexact science trying to provide power rankings more than six months before the Big 12 season starts, but here's my best guess heading into spring practice. I've considered coaching changes, NFL draft defections, returning players, schedules and expected boost from arriving recruiting classes in determining how I think teams should be placed heading into the spring.

1. Texas -- A sense of unfinished business is present after the Longhorns came within seconds of challenging for the national championship last season. That feeling helped lure Colt McCoy and Jordan Shipley back for another year. If recruit Chris Whaley can emerge at running back and the defensive line can be rebuilt, the Longhorns should be in the hunt for a shot at the national title game at the Rose Bowl. The last time the crystal ball was awarded there, Texas upset USC for the championship. Could history repeat itself?

2. Oklahoma -- The Sooners had a strong signing day, but an even better one a couple of weeks earlier when Heisman Trophy winner Sam Bradford, Jermaine Gresham and Gerald McCoy, among others, decided to return for the 2009 season. But the Sooners still need to find some playmakers at wide receiver and rebuild their offensive line. And of a more immediate concern for Bob Stoops than his recent BCS bowl struggles is that nagging 1-3 mark against Texas over the past four seasons.
3. Oklahoma State -- Next season's Texas Tech could be Oklahoma State, which has all of its major weapons returning after Russell Okung decided to put off the NFL draft for another season. But the Cowboys' hopes of challenging for their first Big 12 South title will depend on wily veteran coordinator Bill Young's work with the defense. If it can improve like the Red Raiders did most of the 2008 season, it won't be far-fetched to think that the Cowboys can make a similar jump.
4. Nebraska -- The Cornhuskers got a big shot of momentum after their impressive comeback victory in the Gator Bowl. Ndamukong Suh will be back, but the Cornhuskers have to find a replacement for Joe Ganz at quarterback. Offensive coordinator Shawn Watson's work in turning out serviceable players at the position at Colorado and Nebraska lessens some of those concerns. But it still wouldn't surprise me to be seeing heralded incoming freshman Cody Green to be starting at the position by early November -- maybe even with the North Division title on the line.
5. Kansas -- The Jayhawks made history last season by making back-to-back bowl trips. With most of their major offensive weapons back, can they make similar history with their first undisputed Big 12 North title? Todd Reesing and Dezmon Briscoe will pile up passing yardage, along with increased talent from their past two recruiting classes. But the Jayhawks still face the same challenging Texas-Oklahoma-Texas Tech rotation among South opponents, making for the toughest challenge of any North team in their out-of-division contests.
6. Texas Tech -- Michael Crabtree and Graham Harrell are gone. Mike Leach is angry after a prolonged contract dispute with school officials. It will mean that Taylor Potts will face a huge challenge stepping in at quarterback. And defensive coordinator Ruffin McNeill hopes that some of the strong talent in the trenches can step forward immediately after his team's late collapse against Oklahoma and Mississippi last season.
7. Missouri -- The Tigers' offense will take a big step back with Chase Daniel, Chase Coffman and Jeremy Maclin all gone from last season's Alamo Bowl team. Sean Weatherspoon will anchor a defense that will have to rebuild after losing Ziggy Hood, Stryker Sulak and William Moore. Too many key Tiger players are leaving to think they can make a three-peat of North Division titles, although Missouri should again be in the hunt for a bowl game.
8. Colorado -- Dan Hawkins is already sold on this team, proclaiming it capable of a 10-2 record shortly after his team's disappointing finish last season. I'm not thinking Colorado will be that good, but I do expect a bowl trip if the Buffs can stay away from injuries, Cody Hawkins or Tyler Hansen emerges at quarterback and Darrell Scott fulfills the promise he arrived at college with.
9. Baylor -- Art Briles' unexpectedly solid recruiting class should provide Robert Griffin with a lot of weapons. Most notable might be Terrance Ganaway, a bullish 220-pound transfer from Houston who will give Jay Finley a nice balance at running back. The Bears' hopes of making their first bowl appearance since the Big 12 was formed will depend on playing better in close games -- they were 0-3 in games settled by a touchdown or less in 2008.
10. Kansas State -- Bill Snyder's return to college coaching didn't wow recruits, but it's a start. The Wildcats do have 15 returning starters, but have to hope that new coordinator Andy Ludwig can make some offensive magic with either Carson Coffman or junior college transfer Daniel Thomas. And they have to hope that some offensive linemen emerge to protect whoever is starting.
11. Texas A&M -- Mike Sherman added speed and playmaking ability to his defense, but the Aggies really needed it. And all of the heralded recruits still will be facing a steep learning curve against all of the other heralded offenses in the South Division. But Christine Michael will be arriving as the most heralded playmaker for the Aggies in more than decade, ensuring there will be some excitement when he's surrounded by players like Jerrod Johnson and Jeff Fuller.
12. Iowa State -- Paul Rhoads is back at Iowa State, and he'll think it's kind of li
ke 1995, when he started coaching there on Dan McCarney's staff. The challenges in the Big 12 might be even more imposing than they were then, meaning Rhoads will be facing a steep climb to respectability. Austen Arnaud, Alexander Robinson and Darius Darks provide an offensive foundation, but Rhoads' biggest talents have always been developing a defense. He'll definitely have his work cut out at his new job.
July, 28, 2008
7/28/08
12:31
PM ET
Posted by ESPN.com's Tim Griffin
Big 12 recruiting coordinators joke they can throw a rock in Houston and Dallas and find more potential football players within a 20-mile radius than any place in the country. It's why those areas have become the recruiting center for almost every team in the conference.
An ESPN.com survey (see chart below) indicates that 45.4 percent of all players in the conference played at Texas high schools. Every team in the South Division has more Texas players on its roster than those from any other state.
Both Missouri and Kansas have parlayed contributions from lightly-regarded Texas recruits to become North Division powers in recent seasons.
Missouri quarterback Chase Daniel was ranked as a solid prospect at Southlake Carroll in suburban Dallas-Fort Worth, but never turned the heads of national powers when he was recruited as might have been expected after watching his college career play out.
But the Tigers have also hit the jackpot on Texans like wide receiver Danario Alexander (Marlin), defensive tackle Ziggy Hood (Amarillo Palo Duro) and defensive end Stryker Sulak (Rockdale) to become huge producers.
Kansas coach Mark Mangino has employed the same strategy, clicking on players like quarterback Todd Reesing (Austin Lake Travis), wide receivers Dezmon Briscoe (Dallas Cedar Hill), Dexton Fields (Dallas South Oak Cliff) and Marcus Herford (De Soto Cedar Hill) and safety Patrick Resby (Houston Forest Brook) to help fuel last season's trip to the Orange Bowl.
The survey indicates that seven schools have more Texas players on their roster than any other state. Baylor, Kansas, Oklahoma, Oklahoma State, Texas, Texas A&M and Texas Tech all have rosters tilted to the Lone Star State.
Texas coach Mack Brown realizes that he can't keep every top recruit in the state.
"There are a lot of kids that get out of Texas because there's 350 of them and we can only take 22," Brown said. "So there's about 330 that are mad at me every year."
Such recruiting slights have fueled Daniel, who will make his first trip to Austin in a pivotal Oct. 18 game when he faces the Longhorns. Brown and the Longhorns face those challenges from former Texas high-school players every week in the Big 12.
"That's an exciting thing," Brown said. "They always want to prove we were wrong. We knew [about Daniel], the guy didn't lose one high school game. This doesn't surprise us at all. He's done a great job changing the face of Missouri and turning them into a national power. He's great."
Daniel actually never lost a high school game, but who's counting? He was a great Texas high school player who decided that playing at a Big 12 school away from the state was the best way that his friends and family could watch him.
Just like a bunch of others across the conference have done.
Recruits from Texas playing in the Big 12
School
Roster
Size
Texans
% from
Texas
Texas
Rank
Other high-producing states
Baylor
111
95
85.6
1st
Louisiana 4
Colorado
119
7
5.9
3rd
Colorado 40, California 40
Iowa State
109
21
19.3
2nd
Iowa 38
Kansas
96
28
29.2
1st
Kansas 27
Kansas State
126
13
10.3
T-2nd
Kansas 4
9, Missouri 13
Missouri
106
28
26.4
2nd
Missouri 60
Nebraska
152
19
12.5
2nd
Nebraska 71
Oklahoma
108
41
38.0
1st
Oklahoma 33
Oklahoma State
102
58
56.9
1st
Oklahoma 25
Texas
111
104
93.7
1st
Colorado 2
Texas A&M
119
108
90.8
1st
California 4
Texas Tech
130
109
83.8
1st
Oklahoma 9
TOTAL
1,389
631
45.4
Source: 2008 Big 12 Media Guide