NCF Nation:

hot team 100810
August, 10, 2010
8/10/10
11:00
AM ET
At this time last summer, all the Big Ten talk centered on two teams: Penn State and Ohio State.
The Nittany Lions and Buckeyes shared the league title in 2008, and both advanced to BCS bowls. Iowa also entered the 2009 season ranked in the top 20, but most folks agreed that the Big Ten championship would be decided when Ohio State visited Happy Valley.
Things were going according to plan until Iowa won its first nine games. Despite numerous injuries and close calls, the Hawkeyes became the Big Ten's hot team. They never earned many style points, but they kept winning.
[+] Enlarge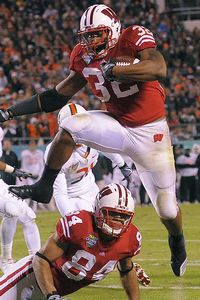 Scott A. Miller/US PresswireBig Ten Offensive Player of the Year John Clay is one reason the Badgers could be the hot team in the Big Ten.
As the 2010 season dawns, Iowa has replaced Penn State in the preseason chatter. Right now, all signs point to Iowa and Ohio State meeting on Nov. 20 at Kinnick Stadium to decide the Big Ten championship and a trip to the Rose Bowl (or maybe the national title game).
Bret Bielema and his Badgers should be happy about this.
Wisconsin is hardly an afterthought in the Big Ten title talk, but the Badgers find themselves well positioned to be this year's Iowa. And if things fall right, Wisconsin could surpass the Hawkeyes' success of 2009 and return to Pasadena for the first time since Jan. 1, 2000.
Why is Wisconsin this year's hot team in the Big Ten?
The Badgers return 16 starters -- more than both Ohio State and Iowa -- from a team that went 10-3 and outclassed Miami in the Champs Sports Bowl. Wisconsin brings back more individual standouts than any other Big Ten team, including the league's reigning Offensive Player of the Year (running back
John Clay
) and Freshman of the Year (Chris Borland). For the first time since 2007, Wisconsin enters camp knowing its starting quarterback, and heady senior
Scott Tolzien
is exactly the type of signal caller Paul Chryst wants for his offense.
The Badgers boast one of the nation's best offensive lines, led by left tackle Gabe Carimi, who likely will be the Big Ten's first offensive lineman drafted in April. Borland leads a playmaking defense that also features J.J. Watt, Devin Smith and Jay Valai.
After suffering their only three losses to three of the league's better teams in 2009 -- Ohio State, Iowa and Northwestern -- Wisconsin is hungry to make the jump from good to elite.
It's no wonder more people are starting to notice Bielema's squad as the season approaches.
"Because of the way that we finished the season a year ago, there's a lot of high expectations and a lot of people saying nice things about us," Bielema said at Big Ten media days. "But the thing we really tried to instill since January to where we are today [is] the only way you can guarantee tomorrow's success is to put your work in today."
Another potential hot team that seems to be a bit overlooked is Purdue.
Robert Marve
is more than capable of sparking a dynamic offense, and Purdue returns enough experience in the defensive front seven to improve against the run and assist a new-look secondary.
Who knows? Maybe Wisconsin's visit to Purdue on Nov. 6 will mean a lot more than people think.
August, 10, 2010
8/10/10
11:00
AM ET
Alabama and Florida have been so hot that they've run off and left the rest of the league the past two seasons.
So when you're identifying the so-called hot team in the SEC going into this season, a better way to couch it might be … the team other than Alabama and Florida most likely to win the league championship.
A handful of teams could make cases, but Arkansas seems most willing to carry that banner.

The expectations surrounding that program are enormous and growing all the time.
Quarterback
Ryan Mallett
is a Heisman Trophy contender. He has the best group of pass-catchers in the conference to throw to, and Arkansas coach Bobby Petrino insists that the defense is finally SEC-ready.
"It's taken us a while to get to the point where we have high expectations as a university and as a fan base and players," Petrino said. "I think it's a good thing. I think the one thing we can't do is shy away from it. Let's embrace it, let it motivate us, then let's go out and do everything we can to make 'em come true."
We should know by the end of September if the Hogs are for real. They travel to Georgia on Sept. 18 and then return home to face Alabama on Sept. 25.
"All that did was make the summer that much more intense," Arkansas senior tight end
D.J. Williams
said. "We know we have to be on top of our game right from the start."
It goes without saying that the Arkansas fans will be disappointed if the Hogs aren't in Atlanta playing for the SEC championship in December. That's how much is expected of this team, which can be a dangerous thing.
Just ask Ole Miss.
The Rebels won nine games for the second straight season a year ago, marking the first time since the John Vaught era that they'd done that. But because they started the season ranked in the top 10 and climbed as high as No. 4 in the polls, it was a huge letdown when they were out of the West race by the middle of October.
Likewise, if Arkansas wins 10 games and doesn't get to Atlanta, you get the feeling that's not going to be good enough. Never mind that the Hogs have won more than nine games only once since joining the SEC in 1992.
Ultimately, their chances of unseating Alabama in the West are going to rest with their defense, which played well in spots a year ago, but was wildly inconsistent and gave up far too many big plays and easy scores.
Keep in mind that only two of the past 10 SEC champions have finished lower than 18
th
nationally in total defense. And of the SEC championship game losers the past decade, only three of those teams finished outside the top 20 nationally in total defense.
So, yes, this is a defensive league.
Can the Hogs win the title by racking up big numbers on offense and improving just enough on defense to get by?
One thing's for sure: They're not being defensive about their chances.
August, 10, 2010
8/10/10
11:00
AM ET
Today, colleague Mark Schlabach takes a look at the pressures of being the "hot" team. You know, the ones the wise guys say will be the breakout club, the sleeper that everyone seems to be awake on. Who qualifies for that title in the Big East for 2010?
Pittsburgh is the preseason favorite, but the Panthers won 10 games a year ago and were the preseason pick last year as well. They're not a "hot" team so much as a known commodity. Can't be Cincinnati, which is the two-time defending champ, or West Virginia, which has had too much success to be considered a flavor of the month.

So that brings us to: the
Connecticut Huskies
. Buzz has been steadily building all offseason about UConn. I've been pumping the Huskies as a Top 25 team and a potential Big East title contender. They even got their first-ever first-place vote in the league's preseason media poll, finishing in their highest spot in those rankings (fourth).
Here are some reasons why UConn should be considered the "hot" team, and some reasons why not:
Why:
Connecticut won its final four games last season, culminating with a double-digit victory against South Carolina in the Papajohns.com Bowl. The Huskies lost their five games last season by a total of 15 points. They bring back 16 starters, are deep at every spot and get Cincinnati, West Virginia and Pittsburgh in East Hartford this season. The offensive line is fantastic,
Jordan Todman
is a proven 1,000-yard rusher and
Zach Frazer
has improved at quarterback.
Why not:
UConn's finishing kick last season began with a win against a mediocre Notre Dame and then included wins against Syracuse and South Florida at home, the latter of which came in the snow. South Carolina might be in the SEC, but would never be confused with a world-beater. The Huskies had the worst passing defense in the league last season and still had problems with the secondary this spring. They've never beaten West Virginia. They lost a 1,000-yard rusher (
Andre Dixon
) and their best receiver (Marcus Easley) and Frazer has been erratic in his career.
I've made it known that I believe in UConn. Do you believe the Huskies deserve to be the "hot" team, or is that talk just a lot of hot air?
August, 10, 2010
8/10/10
11:00
AM ET
Boise State is more than the hottest team among non-AQ conferences. The Broncos are the hottest team in America.

Think about it for a second. They are coming off an undefeated season and are now one of the hottest topics of discussion going into 2010. With a No. 5 preseason ranking in the coaches' poll, one of the biggest storylines to watch is whether the Broncos can be the first non-AQ team to make it into the BCS championship game -- right up there with the question about Alabama repeating.
Everybody has an opinion on this, everybody wants to debate this. What if they win their opener against Virginia Tech and go undefeated again? Are the Broncos worthy despite their weak WAC schedule? Would a one-loss team from a power conference trump them into the title game? Is it about time to end the conjecture and allow one of these non-AQ teams the opportunity to prove itself in a title game?
Boise State appears to have the best shot of any non-AQ team in the BCS era. The top-5 ranking helps. So does the return of 20 starters, including quarterback
Kellen Moore
, who already is receiving Heisman buzz. The offense has been stellar, and the defense showed in the Fiesta Bowl against TCU it can hold its own, too. There are high-profile wins in their past: Oregon last year, Oklahoma in 2007. Virginia Tech would be another.
The Broncos have gone undefeated in the regular season three times in the past four seasons. They are 26-1 in their last 27 games. They have the best winning percentage of any team in the country since 2000, going 112-17 (.868). That includes 49-4 since 2006.
Yes, Boise State is more than hot. Try scorching.
August, 10, 2010
8/10/10
11:00
AM ET
Every conference has at least one. Each year, fans and media crown a team outside the current powers with a chance to upset the order.
Last season, Oklahoma State earned the tag, entering the season with a remarkably talented trio in running back
Kendall Hunter
, quarterback Zac Robinson and receiver Dez Bryant.
Injuries and eligibility afflicted all three, but the Cowboys still managed a second-place finish in the South.

This year, a similarly talented set of triplets will be on display for the Big 12's 2010 "hot team" in College Station: Texas A&M.
By now, non-Aggies fans are
at least a little tired of hearing all the reasons
a team that's won 10 games in two seasons and never finished higher than fifth in its six-team division is going to challenge for a South title in 2010. Call Texas A&M a dark horse, but the shade of the Aggies' coat has lightened with an avalanche of coverage and expectations from the media over the offseason.
Seventeen starters return, including linebacker Von Miller and quarterback
Jerrod Johnson
,
two of the Big 12's best talents
. Joining them are a highlight-making corps of receivers and
two of the conference's best running backs
in
Cyrus Gray
and
Christine Michael
. They'll get a chance to build some early steam with a back-loaded schedule that saves the Aggies' toughest tests for November. Before then, they'll face very winnable games against Arkansas in Arlington, Texas, and against Oklahoma State in Stillwater before hosting Missouri and Texas Tech.
But Texas A&M has clear weaknesses that must be overcome if it wants to play in its first Big 12 title game since 1998. Chief among those is a defense that gave up a Big 12-worst 33.5 points per game in 2009, twice giving up 60 points and 40 points on three more occasions.
Additionally, the Aggies must plug three holes in the offensive line if they want to maintain their status as the Big 12's second-best offensive team at over 465 yards per game.
In the offseason, they made moves to fix both problems. We won't know how well either fix works until the Aggies are tested. New defensive coordinator Tim DeRuyter comes to College Station via Air Force, where he coordinated the nation's 10th-best defense. Luke Joeckel and Jake Matthews were among the best tackle prospects in the 2010 class. Both signed with coach Mike Sherman and could start when the opener against Stephen F. Austin arrives on Sept. 4.
The Big 12 championship game is exactly five months later. If Texas A&M keeps the heat on, it might be there, ending Texas' and Oklahoma's 11-year streak of representing the South on Championship Saturday.
August, 10, 2010
8/10/10
11:00
AM ET
It seems like everybody's got their favorite "hot" team in the Pac-10.
By that we mean a team outside the Oregon-USC-Oregon State triumvirate that most folks pencil in atop the conference, an interloper that might break into the top-third.

Sports Illustrated's Andy Staples thinks it's Arizona. The L.A. Times Chris Dufresne ranked Washington No. 25 in his preseason national poll, the same program that went winless in 2008.
But the Pac-10 blog is tapping Stanford.
Why? Couple of reasons.
Traditionally in Pac-10 play, experience at quarterback is vital. Stanford has that. It doesn't hurt that its experienced quarterback,
Andrew Luck
, might be the top overall pick in the 2011 NFL draft.
Further, "offensive-line experience is one of the telltale predictors of success in college football," says no less than the
Wall Street Journal
. Stanford has four starters back on its offensive line. And it doesn't hurt that the crew might be the best unit in the Pac-10.
Luck and his line have plenty of help: There's solid talent at receiver and tight end. The loss of Toby Gerhart? That's big, but the backfield-by-committee we're likely to see appears at least passable.
The big question, of course, is the defense. It was pretty bad in 2009. But a switch to a 3-4 look, seven returning starters, some intriguing young talent and a decent performance last spring suggest the D can at least improve to mediocre. That might be enough for 10 wins.
Finally, coach Jim Harbaugh has changed the culture at Stanford. There's a bit of a swagger now. There's certainly confidence. And there's a notable edginess. It wouldn't be surprising if a few of the guys brawled at biker bars after a tough afternoon in Philosophy 160A: "First Order Logic" and Computer Science 154: "Automata and Complexity Theory."
As it is: If you're looking for a Pac-10 team that could mount a darkhorse charge: Among several candidates, Stanford might be your best bet.
At least this week.
August, 10, 2010
8/10/10
11:00
AM ET
Last month, Florida State launched its first Heisman campaign. Last week, practices began without former coach Bobby Bowden for the first time since 1976. It's this whirlwind of change in Tallahassee that makes Florida State the ACC's hot team for 2010, despite the overwhelming votes of confidence in the Virginia Tech Hokies, who were picked by the media to win their fourth league title since joining the ACC.

There seems to be more of a buzz about the start of the Jimbo Fisher era than anything else in the conference this summer, and expectations are soaring. The Seminoles, who were picked to win the Atlantic Division, will only live up to the hype, though, if the defense shows significant improvement under first-year coordinator Mark Stoops.
Just because the Seminoles are stealing the spotlight doesn't mean that they'll end up there. Miami should be getting more credit in the polls this summer, as preseason rankings should be about potential, not about past performances.
Canes coach Randy Shannon enters this fall with all of the pieces in place to contend for his first Coastal Division title and has fewer questions to answer this summer -- namely on defense -- than both Virginia Tech and Florida State. The Canes finally have staff stability at the coordinator positions, an experienced quarterback and talent up front on both sides of the ball. If they can cut down on their turnovers and play consistently, it will be Miami creating the most buzz in November.