NCF Nation:

Joey Harrington
November, 4, 2013
11/04/13
12:00
PM ET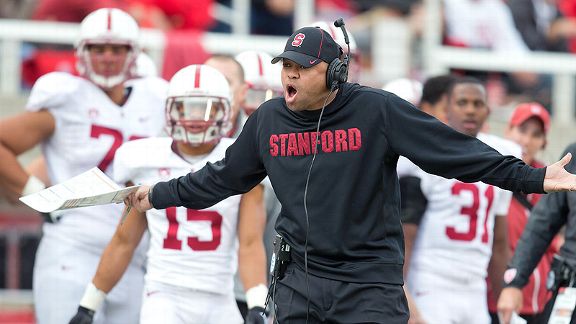 Russ Isabella/USA TODAY SportsStanford coach David Shaw is 1-1 against Oregon and 30-5 overall.
Stanford had just torn the hearts out of Oregon and its fans inside Autzen Stadium. The Ducks' unbeaten season had ended in shocking fashion. National championship hopes had been kicked to the curb.
"It's such an honor to come into this stadium and beat a phenomenal team," the Stanford quarterback said after the victory.


A gracious, classy and perhaps rare take from a college player. But no, that was not
Kevin Hogan
talking about the Cardinal's 17-14 overtime upset of the Ducks in Autzen Stadium last Nov. 17 that ruined the Ducks' drive for a berth in the 2012 national title game. It was Stanford's backup quarterback, Chris Lewis, talking about the Cardinal's 49-42 win in Autzen Stadium on Oct. 20, 2001, that ruined the Ducks' drive for a berth in that season's national championship game.
Lewis' postgame quote, however, generally sums up the Oregon-Stanford series, which Thursday night again will be the Pac-12 game of the year. There appears to be little animosity and a good dose of respect between the Ducks and Cardinal, who both own road wins as underdogs against each other in the past three years.
Though they are very different institutions, playing football in very different ways and, well, dressing very differently while doing so, the rivalry between the Pac-12's top two teams in the past four seasons doesn't include much ill will compared to the rivalries between Oregon and Washington and USC and UCLA.
Perhaps it should, at least in terms of what Stanford and Oregon have taken away from each other through the years, and not just during their recent and simultaneous rise to join the nation's elite.
Nine times since 1964, Stanford has handed Oregon its first defeat of the season. Twice it was the Ducks' only defeat. Without a loss to Stanford in 1995, the Ducks would have played in a second consecutive Rose Bowl in Mike Bellotti's first season.
Oregon has returned the favor of late as Stanford became nationally relevant. The Cardinal lost just one regular-season game in both 2010 and 2011. To Oregon.
Stanford's win in Autzen Stadium last year was shocking in many ways. The Ducks had owned the Cardinal and Andrew Luck the previous two years, so much so that in advance of the 2012 season, Stanford coach David Shaw openly admitted his team had an "Oregon problem," though he reasonably noted that the entire Pac-12 shared the Ducks conundrum.
Yet, as stunning as it was to witness the Cardinal shut down the Ducks' offense last November, the 2001 game eclipsed it 20-fold in terms of sheer nuttiness.
While some of Oregon's younger fans might not remember 2001, the older ones surely slapped their foreheads upon seeing the name "Chris Lewis" again. In that contest, the unbeaten and fifth-ranked Ducks were seemingly cruising, leading 42-28 in the fourth quarter at home, with Stanford quarterback Randy Fasani knocked out of the game in the second quarter.
But things went haywire in the fourth quarter, particularly on special teams, when Stanford blocked two punts and recovered an onside kick. Still, it appeared the Ducks would prevail 42-41 when they blocked the potentially game-tying PAT.
Unfortunately for Oregon, quarterback Joey Harrington was turning in his only poor performance of the season. On third-and-1 from Oregon's 30, Harrington was hit by safety Tank Williams, and his throw was picked off by diving defensive end Marcus Hoover at the 33 (it was Harrington's second interception of the game). After Stanford scored the go-ahead TD, Harrington, who had led nine fourth-quarter comebacks in his career and was popularly known as "Captain Comeback," threw four consecutive incompletions from the Cardinal 37.
The normally straightforward Associated Press report noted that the game "had everything but aliens landing on the Autzen Stadium turf."
Oregon, one of the earliest victims of a BCS controversy, went on to finish No. 2. Bellotti showed up at the Rose Bowl, host of the BCS title game, to watch Miami stomp overmatched Nebraska, a team that was blown out in the regular-season finale by Colorado, a team the Ducks had crushed in the Fiesta Bowl.
Yes, there were a fair share of what-ifs from the Ducks, not unlike last year, though it's worth remembering that Miami team was one college football's all-time great squads.
Of course, things were much different for both Oregon and Stanford in 2001. Neither team had established itself as a consistent national power. In fact, both would go through significant downturns thereafter, particularly Stanford.
In 2007, both programs made inspired decisions that inspired initial befuddlement among media and fans: Bellotti hired Chip Kelly away from New Hampshire, an FCS team, to coordinate his offense, and Jim Harbaugh was plucked away from San Diego, another FCS team, by Stanford. Harbaugh brought along Shaw to coordinate his offense.
As isolated events, the Stanford-Oregon game on Oct. 20, 2001, and some buzz-less coaching hires in 2007 didn't resonate nationally. But from a long-term view, they are notable dots to connect for what has become one of the nation's best and most meaningful rivalries.
Even if the teams don't provide much cartoonish trash talk to foment the hype.
October, 23, 2013
10/23/13
1:00
PM ET
Oregon is terrible on fourth down. The Ducks have converted on just seven of 18 fourth-down plays this year. Their 38.9 conversion rate ranks 10th in the Pac-12, behind struggling teams like Colorado and California.
We point that out because that's about the only thing Oregon isn't doing well right now.
[+] Enlarge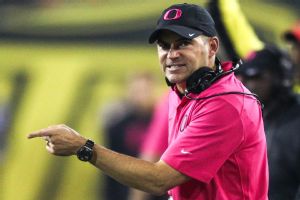 Steve Conner/Icon SMIOregon appears to have no glaring weaknesses, yet first-year coach Mark Helfrich says the Ducks can get better in every phase.
The Pac-12 keeps track of 33 statistical categories, covering offense, defense, special teams, penalties, turnovers, etc. The Ducks rank first in the conference in 11 categories, including the two most important: scoring offense and scoring defense. They rank in the top three in 18 categories. Most of the categories they are not doing well in -- time of possession, onside kicks, opponent penalties -- evoke a "neh."
Others are deceptive. Oregon ranks sixth in total defense but is No. 1 in the far more revealing stat of average yards surrendered per play, where they rank eighth in the nation at 4.46 yards. The Ducks are 10th in red-zone offense, but their touchdown percentage in the red zone -- 72.1 percent -- ranks second.
This seems like a team with few, if any, holes. So what are the Ducks' weaknesses?
"I haven't seen any," said California coach Sonny Dyke, whose Bears lost 55-16 at Oregon on Sept. 28. "They are incredibly fast. I think the difference this year is they are throwing the ball so much better. Their receivers are faster, bigger, stronger, more physical, making more plays than in the past."
In the preseason, there were three questions about Oregon: 1. How would Mark Helfrich do stepping in for Chip Kelly? 2. What would be the pecking order at running back and how would
De'Anthony Thomas
be used? 3. How would the Ducks replace the dynamic linebacking troika of Dion Jordan, Kiko Alonso and Michael Clay?
Check, check and check.
The 7-0 record, No. 2 ranking in the national polls -- No. 3 in the BCS standings -- and 40-point average margin of victory suggest that Helfrich is doing fairly well. He might be a softer touch than Kelly -- though he's not afraid to tweak a reporter or two -- but he's not taking any mercy on the field.
Running back? The bottom line is the Ducks are No. 2 in the nation in rushing with 332.4 yards per game, 17 yards better than last year's average, and they've done that with DAT missing the last four games with an injury. Backups
Byron Marshall
and true freshman
Thomas Tyner
are both averaging 6.7 yards per carry and have combined for 16 touchdowns. Marshall, a sophomore, ranks 19th in the nation with 106.6 yards rushing per game.
Linebacker?
Tony Washington
, who replaced Jordan, has nine tackles for loss and 6.5 sacks. Jordan had 10.5 tackles for loss and five sacks in 2012.
Derrick Malone
leads the Ducks in tackles with 59. And, really, the bottom line is the defensive numbers, including a run defense that ranks 22nd in the nation.
"I think [the Ducks defense is] certainly the best they've been," Dykes said. "The secondary is really, really good. They are good at linebacker and they are pretty active up front."
Of course, Dykes is a first-year Pac-12 coach who hasn't been dealing with Oregon during its rise to consistent top-five team, though he was Arizona's offensive coordinator from 2007 to 2009. If we're going to ask whether this version of Oregon might be the best yet, we need to ask someone who's seen them all.
Washington coach Steve Sarkisian, whose Huskies have lost 10 in a row to Oregon, including five defeats during his tenure, let out a big breath when asked if this was the Ducks' best team.
"Hooof," he said. "We've played some pretty good ones. I think the balance they have on offense is probably the best that they've been."
The general consensus is
Marcus Mariota
is the Ducks' best quarterback during its recent run. He might, in fact, as former Ducks All-American QB Joey Harrington
recently volunteered
, be the best in program history. Mariota brings a dangerous downfield passing game to a longstanding dominance running the ball. As for the defense, it's very good, though it remains to be seen whether it's as good as the 2010 unit or even the talented crew of 2012 that battled numerous injuries.
Still, every coach who has played the Ducks probably feels there's something he wishes he might have attacked more or tried to exploit.
"I think there is a lot of places," Washington State coach Mike Leach said. "There's always a lot of places."
Washington State lost 62-38 at Oregon last weekend, with Leach's Cougars adding two late touchdowns to make the gap less dramatic. Quarterback
Connor Halliday
set a number of Pac-12 and NCAA passing records in the game -- he completed 58 of 89 passes for 557 yards -- but also threw four interceptions, one of which Terrance Mitchell returned 51 yards for a touchdown.
"Oregon is really fast," Leach said, echoing a common theme. "As you play Oregon, everything they do -- they can reel plays in quicker. They react to everything quicker. Very explosive... Oregon hits you in the mouth when you throw one up."
Of course, speculating on Oregon's seeming lack of weaknesses and its standing among other accomplished Ducks teams is a mostly a meaningless academic exercise when five regular season games remain ahead, including a visit Saturday from No. 12 UCLA. In fact, the next five Pac-12 games (combined opponent record of 26-7) are far tougher than the first four (combined record of 12-16).
Helfrich isn't really biting, either. When asked about areas of concern, he pointed back to the preseason questions and implied the jury is still out at linebacker.
Yet his overriding conclusion sounded very Chip Kelly-ish, while also offering plenty of room to read between the lines.
"I think everything," he said. "In every phase we can get better, starting with me, everything we do."
That's either coachspeak -- we need to get better every day -- or carries a more ominous implication: No weaknesses? Best Oregon team? You haven't seen anything yet.
December, 29, 2011
12/29/11
11:30
AM ET
Let's play a quick game of fill in the blank: Oregon fans are ... What comes to mind? Keep it clean, folks. Behave!
Yes, it is fair to say that Oregon fans have eagerly, zealously and vociferously embraced the recent success of their team. The seed that was planted when Kenny Wheaton went the other way against Washington in 1994 is now a full-grown oak, and Oregon fans enjoy pointing out that their oak is more stately and beautiful than yours.
[+] Enlarge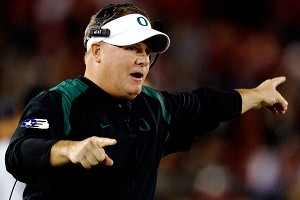 Jason O. Watson/US PRESSWIRENCAA sanctions appear to be the only thing that could derail Chip Kelly's Oregon juggernaut in the near future.
Eleven other Pac-12 teams want Oregon to go away. We have bad news for those 11. Not happening.
With the Rose Bowl on Jan. 2 against Wisconsin, the Ducks are playing in their third consecutive BCS bowl game. No other team in the country has played in three consecutive BCS bowl games. But this rise to the nation's elite started before this run of conference success. Oregon's first taste of national title contention was in 2000 and 2001. After a middling, post-Joey Harrington, pre-Chip Kelly interim, it was ranked No. 2 and a national title contender in 2007 before quarterback Dennis Dixon blew out his knee. Oregon finished the 2008 season ranked 10th. It finished 11th in 2009 after losing the Rose Bowl to Ohio State. It finished third in 2010 after losing to Auburn in the national title game.
While opposing fans can still pull out the "They haven't won a BCS bowl game under Kelly" card, that tweak comes from beneath the Ducks in the Pac-12 pecking order, so as ripostes go, it's rather pyrrhic.
And the Ducks, even if they lose to Wisconsin, will be a preseason top-10 team in 2012, probably top-five if they win the Granddaddy. There certainly is a lot to like about the depth chart.
Not including junior running back
LaMichael James
, who is likely off to the NFL, the Ducks should welcome back six starters on offense, six on defense and both specialists in 2012. But that doesn't tell the entire story.
For one, the Ducks will have a two-year starter returning at quarterback in
Darron Thomas
. While Thomas has had runs of inconsistent accuracy, there are two bottom lines: He's 22-3 as a starter and has thrown 63 touchdown passes with just 16 interceptions.
But what's notable about the Ducks' depth chart is not just returning starters.
Oregon only lists a two-deep. That means 44 players on offense and defense. Of the 22 names on offense, just four are departing seniors, not including James. Of the 22 names on defense, just six are seniors.
And most of the players who are leaving -- or are expected to leave, as in James' case -- are presently backed up by intriguing young talents who already have significant game experience. James leaving? Well, you all know who
Kenjon Barner
is. Tight end
David Paulson
? Freshman
Colt Lyerla
caught five touchdown passes this season. Lose two offensive linemen? Junior Ryan Clanton and freshman Jake Fisher have seen plenty of action. Lose two linebackers? Kiko Alonso has started five games and Boseko Lokombo has played a lot. Cornerback Anthony Gildon out the door? Redshirt freshman Troy Hill has started five games while Gildon has been hurt (and is doubtful for the Rose Bowl).
Further, the Ducks have some redshirt freshmen on both sides of the ball -- particularly at linebacker and receiver -- who figure to make an impact next year. Receivers
Devon Blackmon
,
Tacoi Sumler
and
B.J. Kelley
were highly touted 2011 signees, who could bolster the Ducks passing game.
If you were connecting the dots, you'd actually project the Ducks to be better in 2012 than their 2011, 11-2, Pac-12 champion selves.
And, even with the loss of Thomas after next season, the Ducks appear to set up nicely for 2013. And beyond.
I know. I know. Fans of those 11 other Pac-12 teams are jumping up and down and waving their arms, bellowing, "What about Willie Lyles and the NCAA?"
True, major NCAA sanctions would seem the mostly likely way the Ducks get knocked from their ascent to the nation's elite. And it could happen. You never know with the NCAA.
But the more I talk to people who make educated guesses on NCAA investigations, not to mention a few who have specific knowledge of the NCAA's inquiry into the Ducks, the more I'm leaning toward the position that the NCAA will not pound Oregon. I suspect sanctions will fall short of what Ohio State
recently received
.
Of course, I thought USC would receive less severe penalties than Alabama
received in 2002
, so I've also learned to not expect the NCAA to be logical and fair.
The point is this: If you are wondering what Oregon is likely to be doing in, say, 2014, my projection is they still will be annoying 11 other teams.
The Ducks aren't going to go away.
June, 30, 2011
6/30/11
12:00
PM ET
On Friday, the Pac-10 becomes the Pac-12, and life as we all have known it ends.
But before we move on as a 12-team league, let's look back at the best of a 10-team league.
On Wednesday, we looked at the
best players
. Thursday, it's the best teams.
We've listed 12 teams because that's the new magic number (Arizona fans, see if you can guess who came in 13th).
Again, no team before 1978 -- when Arizona and Arizona State joined the Pac-8 -- was considered.

1. 1991 Washington
: The Huskies finished 12-0 and split the national title with Miami.
Best player
: Defensive tackle Steve Emtman won the Outland Trophy and Lombardi Award.
Point differential
: Washington outscored its foes 495-115.
Best win
: Whipped Michigan 34-14 in Rose Bowl. Wolverines finished ranked sixth.
Comment
: Four wins over teams that finished ranked in the final top 25, including road victories at No. 15 Nebraska and at No. 8 California. Featured one of the great defenses in college football history, yielding just 9.2 points and 67.1 rushing yards per game. Eight Huskies earned first-team All-Pac-10 honors.

2. 2004 USC
: While the NCAA and BCS have nixed it in their own ways, the Trojans finished 13-0 and won the national title on the field.
Best player
: Quarterback Matt Leinart won the Heisman Trophy.
Point differential
: USC outscored its foes 496-169.
Best win
: Crushed Oklahoma 55-19 in the national title game.
Comment
: Basically a push for dominance with 1991 Washington. Beat four teams that finished ranked in the top 25, including the bludgeoning of Oklahoma. Eight Trojans earned first-team All-Pac-10 honors.

3. 2003 USC
: The Trojans finished 12-1 and split the national title with LSU. Their only loss came in triple overtime at California.
Best player
: Receiver Mike Williams was a consensus All-American.
Point differential
: 534-239.
Best win
: The completely dominant 23-0 victory at then-No. 6 Auburn in the opener set the tone for the season -- and caused many Pac-10 fans to question how good these highly rated SEC teams really are.
Comment
: The Trojans finished the regular season ranked No. 1 in both polls but lost out playing in the BCS title game because of the computer polls. LSU fans have been thanking the computers for that glitch ever since.

4. 2005 USC
: A 34-game winning streak came to an end with a nail-biting loss to Texas in the national title game. The Trojans finished 12-1.
Best player
: Reggie Bush won the Heisman Trophy.
Point differential
: 638-297.
Best win
: The 34-31 win at Notre Dame -- the "Bush Push" game -- was one of the all-time greats.
Comment
: Perhaps the best collection of offensive players in the history of college football: Matt Leinart, Reggie Bush, Dwayne Jarrett, Ryan Kalil, Sam Baker and Taitusi Lutui earned first-team All-Pac-10 honors. And don't forget LenDale White, Winston Justice, Steve Smith and Dominique Byrd.

5. 1978 USC
: Finished 12-1 and split national title with Alabama. Lost to Arizona State, 20-7.
Best player
: Charles White was a unanimous All-American.
Point differential
: 318-153
Best win
: A 24-14 win over the team that "claimed" the other half of the national title.
Comment
: Split national title -- coaches liked the Trojans; AP the Crimson Tide -- despite a decisive 24-14 USC at Alabama. So much for head to head.

6. 1979 USC:
Finished 11-0-1 and No. 2 behind Alabama. Tied Stanford 21-21.
Best player
: Charles White won the Heisman Trophy.
Point differential
: 389-171
Best win
: The 17-16 win over Ohio State in the Rose Bowl, in which White ran for a record 247 yards, including the game-winning touchdown with just more than a minute remaining.
Comment
: Team featured four future College Football Hall of Famers in White, Marcus Allen, Ronnie Lot and Brad Budde. By the way, THAT undefeated, untied Alabama team was really, really good: Outscored foes 383-67. So no sour grapes on that one.

7. 2001 Oregon
: The Ducks finished 11-1 and ranked No. 2 in both polls. The only loss was 49-42 versus Stanford (a really, really weird game, if you recall).
Best player
: Quarterback Joey Harrington finished fourth in the Heisman Trophy voting.
Point differential
: 412-256.
Best win
: A 38-16 win over Colorado in the Fiesta Bowl.
Comment
: The Fiesta Bowl victory caused plenty of folks to bemoan the Nebraska-Miami matchup in the BCS title game, considering Colorado had blown out Nebraska the final weekend of the regular season. As for the Stanford loss, the typically straightforward AP noted the game had "
everything but aliens landing on the Autzen Stadium turf
."

8. 1984 Washington:
Finished 11-1 and ranked No. 2 behind BYU. Lost to USC ,16-7.
Best player
: Defensive tackle Ron Holmes was a consensus All-American.
Point differential
: 352-145
Best win
: Shocked Oklahoma 28-17 in the Orange Bowl. Sooners finished ranked sixth.
Comment
: A controversial season. Before the Orange Bowl, Sooners coach Barry Switzer lobbied hard for the winner to be declared the national champion. As it was, BYU won the national title after beating a bad Michigan team in the Holiday Bowl. Does anyone believe BYU was better than the Huskies? No.

9. 2010 Oregon
: The Ducks finished 12-1 and No. 3 in both polls, losing the national title game to Auburn.
Best player
: Running back
LaMichael James
finished third in the Heisman Trophy voting.
Point differential
: 611-243
Best win
: The Ducks handed Stanford its only loss, 52-31, after trailing 21-3 early. Cardinal finished ranked No. 4.
Comment
: An innovative, exciting team to watch, one that played faster than perhaps any big-time college team in history.

10. 1996 Arizona State:
Finished 11-1 and ranked No. 4 in both polls. Lost Rose Bowl -- and potential national championship -- to Ohio State, 20-17.
Best player
: Quarterback Jake Plummer finished third in the Heisman Trophy voting.
Point differential
: 488-216
Best win:
The Sun Devils trounced top-ranked, two-time defending national champion Nebraska, 19-0.
Comment:
The Sun Devils lost one of the most dramatic Rose Bowls, when the swashbuckling Plummer was out-swashbuckled by Joe Germaine, who was raised in Arizona as an ASU fan.

11. 2000 Washington:
The Huskies finished 11-1 and ranked No. 3, their only loss coming at No. 7 Oregon. They beat Purdue 34-24 in the Rose Bowl.
Best player:
Marques Tuiasosopo finished eighth in the Heisman Trophy voting.
Point differential:
387-270
Best win
: Beat Miami, 34-29. Hurricanes finished ranked No. 2.
Comment:
This is not the most talented team on the list. In fact, some have
rated the 2000 Oregon State team
-- see below -- ahead of the Huskies. And based on NFL results, the Beavers were more talented than the Huskies. But head to head matters, and the win over Miami is better than anything Oregon State did.

12. 2000 Oregon State:
The Beavers finished 11-1 and ranked No. 4, their only loss a 33-30 decision at Washington, which finished ranked No. 3.
Best player:
Running back Ken Simonton was first-team All-Pac-10.
Best win:
Beat Oregon 23-13 in Civil War. Oregon finished ranked seventh in the coaches poll.
Comment
: One or two more plays at Washington, and the Beavers would have played for the national title. And they, by the way, were more talented than the Oklahoma team that did win the title. Notable Beavers: Ken Simonton, Chad Ochocinco (the Chad Johnson), T.J. Houshmandzadeh, Chris Gibson, DeLawrence Grant, LaDairis Jackson, Dennis Weathersby and Eric Manning. They spanked Notre Dame 41-9 in the Fiesta Bowl.
April, 13, 2011
4/13/11
3:23
PM ET
BERKELEY, Calif. -- Quarterbacks are always a big story. Quarterback competitions are typically bigger stories. But quarterback is an almost singular story this spring at California.
For one, no one has any idea who the 2011 starter will be, an uncertainty that has been rare since coach Jeff Tedford took over in 2002. Tedford announced last week that he'd reduced the candidates list from five to three -- senior
Brock Mansion
, junior Buffalo transfer Zach Maynard and sophomore
Allan Bridgford
-- but it's unlikely that troika will be winnowed to one until late in preseason camp.
[+] Enlarge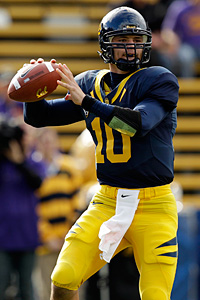 AP Photo/Marcio Jose SanchezBrock Mansion threw for 646 yards and a pair of TDs last season.
Finally, more than a few critics are questioning Tedford's once impeccable bona fides for developing quarterbacks. Sure, Tedford has mentored six who became first-round NFL draft picks: Kyle Boller, David Carr, Trent Dilfer, Joey Harrington, Aaron Rodgers and Akili Smith. But in our "what-has-he-done-lately?" world, folks are asking, well, what has Tedford done lately with quarterbacks, with an incriminating finger-pointing at the less-than-stellar production from Joe Ayoob, Nate Longshore and
Kevin Riley
.
Tedford will call plays this fall and he has been heavily involved with the quarterbacks this spring. He attends all position meetings and spends plenty of practice time with the QBs and new assistant Marcus Arroyo.
Tedford is as aware as anyone that bouncing back from a down campaign -- his first losing season in nine years in Berkeley -- will require at least solid play at quarterback.
"For us to get back to 10- or 11-win seasons, we have to have better play at the quarterback position," he said.
So far, no quarterback has asserted himself.
Mansion, due to experience, would in most situations be considered the front-runner. But he didn't do well in four starts after replacing Riley. His efficiency rating ranked last in the Pac-10 by a wide margin, and he threw five interceptions with just two TDs.
Said Tedford: "You can tell that Brock is better because of the experience he had last year. He's more comfortable. And he's even learned some things physically. You can see the maturity there a little bit. Still not where we need to be."
More than a few folks believe Maynard, the best athlete of the three and half-brother to standout receiver
Keenan Allen
, to be the front-runner. As a sophomore starter at Buffalo in 2009, he completed 57.5 percent of his passes for 2,694 yards and 18 touchdowns with 15 interceptions and added 455 yards rushing and one TD.
Said Tedford: "He does have some athleticism. He can make plays with his legs. He throws the ball accurately. He can throw all the balls on the field. He's a lefty. He can throw the deep ball. He's got zip on the ball. His main thing is just going to be the mental part of understanding our offense and understanding what we're looking for."
Tedford also said that the Bears' offense has some spread-option elements it could adapt for Maynard.
Bridgford is reputed to be a strong pure passer, but he's coming back from shoulder surgery and his mobility also is an issue. The scuttlebutt is he's presently in third place and could be challenged by redshirt freshman
Austin Hinder
, who Tedford said was a strong No. 4.
Said Tedford of Bridgford: "Smart guy. Can throw the ball. He can throw all the balls on the field. Escape dimension? Haven't seen that yet. That's a concern, but he's not a lead foot by any means."
Trying to figure out where things stand isn't easy. Even Allen clings to neutrality, at least publicly. And players appear to be as in the dark as fans about who will prevail.
"I know you guys all want to know that -- we all want to know as well," offensive tackle Mitchell Schwartz said. "I have a lot of confidence in the coaching staff. They are going to put the right guy on the field."
It's been a while since Tedford and Cal found the "right" guy to put behind center. The Bears' success in 2011 probably hangs on Tedford rediscovering his inner QB Yoda.
June, 29, 2010
6/29/10
12:41
PM ET
Bob Condotta of the Seattle Times calls it "
Jake-a-palooza
." ESPN.com's Bruce Feldman calls it "
Jake Locker's big year
."
Hey, look! Jake Locker
is smiling at you
. He's probably just thinking, "Hey, I'm Jake Locker. How cool is that?"
This is supposed to be a quiet time in college football, but, heck, with conference expansion and USC's NCAA sanctions giving us breathless headlines, why not start the Heisman hype for Washington's talented quarterback?
[+] Enlarge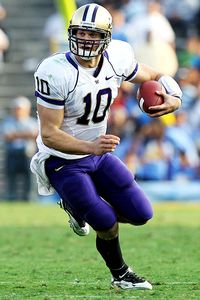 Charles Baus/Icon SMIJake Locker could be a Heisman candidate, but he'll need to grab the nation's attention first.
Back before the 2001 season, Oregon put up a billboard in Manhattan of quarterback Joey Harrington and called him "
Joey Heisman
." Seeing that the Huskies and Ducks don't get along well at all -- thankfully, it appears the rivalry is about to become relevant again -- Washington officials tried to do one better by
bringing Locker east in person
.
He
toured Manhattan
. He hung out at ESPN and went through the infamous "
car wash
" -- interviews for all ESPN platforms, TV, radio, Internet, etc. -- which included
an interview
on "First Take" and a live chat, the
transcript of which is here
.
The intent of the tour is obvious: Introduce the East Coast media -- i.e., the country -- to a player whose incredible skills have been hidden under Seattle's gray rain clouds, which hovered over an until recently moribund program.
In 2008, Locker was knocked out in Game 4 against Stanford with a season-ending thumb injury and the Huskies went 0-12. A year later, with Steve Sarkisian taking over for Tyrone Willingham, the Huskies went 5-7, beating USC, Arizona and California in the process, and suddenly looking like a Pac-10 contender heading into 2010.
Dramatic improvement, yes, but Heisman-worthy? Maybe not as a settled body of work.
The burgeoning hype for Locker, which rubs some folks the wrong way (Oregon fans?), isn't based on what he's done so far. His numbers playing for mediocre-to-bad teams his first three years aren't the basis for projections that he will be a high first-round NFL draft pick -- perhaps No. 1 overall -- next fall. Nor are they the basis for his Heisman campaign.
With Locker, it's all about potential. And there's good reason to believe that potential will take a significant step toward realization this fall. The Huskies have solid talent returning, particularly on offense, and they have a brutal schedule that features many marquee games in which Locker could make a national audience go, "Wow."
What might Locker 4.0 look like in top form? Almost no one in the country saw Locker's performance on Dec. 5 against California for good reason: The Big 12 and SEC title games were played that day. But Locker led the Huskies to a 42-10 upset of Cal by accounting for five total touchdowns, three passing, two rushing. He completed 19 of 23 for 248 yards with no interceptions and rushed for 90 yards on 14 carries.
It was as dominating an individual performance as you'll see. It looked like Locker, who brings an appealing childlike glee to the game, could have done anything he wanted at any time.
All the glad-handing in the world won't make sparkling but off-the-radar performances attract the attention of Heisman voters, however. That requires winning, and the real Heisman hype rocket has an obvious potential launching point: Against Nebraska on Sept. 18 in Husky Stadium.
The Cornhuskers figure to be a top-10 team. If the Huskies can start 2-0 -- hardly automatic considering the opener is at BYU -- that game will attract significant national interest. Maybe even "College GameDay."
It will be billed as the Cornhuskers elite defense vs. Locker (whether that's accurate or not). And if Locker prevails with a sterling performance? At that point, the Heisman hype will begin in earnest.
And, of course, Mel Kiper and Todd McShay will start writing sonnets about Locker's future playing on Sundays.
January, 20, 2010
1/20/10
12:03
PM ET
Lots of extraordinary games to choose from, as well as many ways to ascribe greatness: the size of the stage, the competitiveness of the game and the overall strangeness.

And we made the executive decision not to make this a list of USC upset losses -- other than the biggest one of those.

10. Oregon 56, Arizona State 55 (2 OT), 2000: Many of you are drawing a blank, but the ones who saw this one are jumping out of their chairs and going, "Oh man. That one was nuts." Both teams scored 21 points in the fourth quarter. The teams combined for 1,228 yards, 663 of those for the Sun Devils. Ducks quarterback Joey Harrington threw six -- SIX! -- touchdown passes, including three in the fourth quarter, the last of which tied the score with 27 seconds left after the Sun Devils gave away a critical fumble. Arizona State freshman QB Jeff Krohn threw five TD passes, by the way. ASU lost the game when coach Bruce Snyder decided to fake the extra point and go for the two-point conversion in the second overtime. It failed, leaving fans in Tempe stunned.

9. Washington State 30, USC 27 (OT), 2002: Any of you Cougars fans able to muster the memory of kicker Drew Dunning's slide on his knees at Martin Stadium? Dunning sent the game into overtime with a 35-yard field goal and then made the game-winner from the same distance in a victory that was critical to the Cougars' run to the Rose Bowl. The game featured a brilliant quarterback duel between Carson Palmer and Jason Gesser -- Gesser passed for 315 yards, Palmer for 381 -- and a dominant performance from Cougars defensive tackle Rien Long, who went on to win the Outland Trophy. Between this game and the 2006 Rose Bowl, USC lost just once.

8. Oregon 44, Arizona 41 (2 OT), 2009: If Arizona had won this game, we now know the Wildcats would have played in their first Rose Bowl. The Wildcats led 24-14 early in the fourth quarter, but then the game went crazy. With red-clad Arizona fans encircling the field, Ducks quarterback Jeremiah Masoli tied the game in regulation with six seconds left with a touchdown pass to Ed Dickson. Masoli then won it in the second overtime with a 1-yard run. Masoli ran for three TDs and passed for three more.

7. Stanford 24, USC 23, 2007: Greatest upset in Pac-10 history? Maybe. Stanford was a 41-point underdog playing its backup quarterback at No. 2 USC, which had won 35 in a row at home. But Trojans quarterback John David Booty, who foolishly played -- and was allowed to play -- with an injured throwing hand, threw four interceptions, while Stanford's Tavita Pritchard led a clutch, game-winning drive, throwing a 10-yard touchdown pass to Mark Bradford on fourth-and-goal with 49 seconds remaining.

6. Oregon 37, Oregon State 33, 2009: It was the Civil War for the Roses, with the Ducks earning a berth in the Rose Bowl. While the return of Ducks running back LeGarrette Blount was significant -- he scored a critical touchdown -- the game belonged to redshirt freshman running back LaMichael James, who scored three touchdowns and rushed for 166 yards, and quarterback Jeremiah Masoli, who ran over Beavers safety Lance Mitchell to convert a fourth-and-3 play from the Beavers' 33 with 3:41 left, as Oregon ran out the final six minutes with its final drive.

5. California 31, Oregon 24, 2007: Sixth-ranked California, featuring a stellar performance from receiver DeSean Jackson, outlasted No. 11 Oregon in a game between two teams that would at one point rise to No. 2 during the season, though both ultimately crumbled. The game turned on a strange play as the Ducks were on the cusp of tying the score. With 22 seconds to go, Dennis Dixon found Cameron Colvin near the goal line, but Colvin fumbled trying to reach the ball into the end zone when he was hit by Marcus Ezeff. The loose ball went through the end zone and was ruled a touchback and possession for Cal.

4. Washington 33, Oregon State 30, 2000: It was the greatest game no one saw because of the late, West Coast kickoff at Husky Stadium. And at the time, its magnitude wasn't clear. The critical play of the back-and-forth affair happened when Washington defensive tackle Larry Tripplett caught Ken Simonton for a three-yard loss on second-and-1 from the Huskies 26-yard line with 42 seconds left. The Beavers panicked and mistakenly spiked the ball -- they had a timeout left -- and then Ryan Cesca missed a 46-yard field goal to tie. It was the Beavers' only loss of the season; they crushed Notre Dame in the Fiesta Bowl. They would have played Oklahoma for the national title if they had prevailed. And the win helped the Huskies win the Rose Bowl tiebreaker.

3. USC 23, California 17, 2004: No. 7 California had a first-and-goal on top-ranked USC's 9-yard line with under two minutes left. At that point, Cal quarterback Aaron Rodgers had completed 29 of 31 passes for 267 yards and a touchdown. But the Bears couldn't punch it in, with USC registering a sack and forcing three incompletions. It was the closest call of the season for the best team of the USC dynasty.

2. USC 34, Notre Dame 31, 2005: The infamous "Bush Push" game. No. 9 Notre Dame was about to knock off top-ranked rival USC and make Irish coach Charlie Weis a national sensation, but Matt Leinart led a drive for the ages in the waning moments as the Trojans prevailed, scoring the winning points when Leinart got a little extra help from Bush on his second effort on a quarterback sneak.

1. Texas 41, USC 38, 2006 Rose Bowl: Perhaps the great game in college football history, particularly considering that the stakes were a national title for two unbeaten teams and the field was packed with talent and future high draft choices. Vince Young almost single-handedly willed his team to the victory -- he ran for 200 yards and passed for 267 more -- and denied the Trojans a third consecutive national title. USC walked away with a laundry list of "what ifs," but the ultimate result was a 34-game winning streak coming to an end.
January, 20, 2010
1/20/10
9:00
AM ET
Yes, there are lots of USC teams in our list of the "best Pac-10 teams of the decade."
Not sure how you get around that. From 2002 to 2008, the Trojans finished ranked in the nation's top four. During that span, no other conference team topped the Trojans in the national rankings.
One team not listed, however, merits special mention: Oregon in 2007.
That team was 8-1, ranked No. 2 in the BCS standings and appeared to be headed for a showdown with LSU for the national championship. Then quarterback Dennis Dixon blew out his knee at Arizona -- he'd actually hurt it the week before vs. Arizona State -- and the Ducks subsequently lost to the Wildcats, the first of three consecutive losses before a blowout victory over South Florida in the Sun Bowl.
More than a few people -- not just Ducks fans -- believe that team would have won the national title if Dixon had remained healthy.
Of course, if wishes were fishes then cows would fly.
10.
USC, 2007
: A toss-up between this squad and the Trojans 2006 team. The '07 team finished ranked third in the AP and second in the coaches poll, while '06 finished fourth in both. '07 lost to 41-point underdog Stanford and at Oregon, see above about the Ducks. '06 lost at Oregon State and at UCLA, a 13-9 defeat that cost it a spot in the national title game. That last detail iced it for '07.
9.
USC, 2002
: More than a few pundits watching Carson Palmer and company pound Iowa in the Orange Bowl opined that, by season's end, this might be the nation's best team in 2002. After a 3-2 start in Year Two of the Pete Carroll Era, the Trojans won eight in a row to finish 11-2 and ranked No. 4.
[+] Enlarge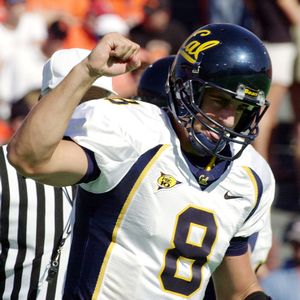 AP Photo/Don RyanAaron Rodgers and the Golden Bears only had one regular-season loss in 2004.
8.
California, 2004
: Sure, the Bears laid an egg vs. Texas Tech in the Holiday Bowl -- quick Cal fans: how many receivers were missing due to injury? And what do you think of Mack Brown? -- but Aaron Rodgers and company put on quite a show. The only regular-season defeat came in a thriller at USC -- see below -- 23-17, when the Trojans held strong after the Bears had a first-and-goal from the 9-yard line with less than two minutes left.
7.
Oregon State, 2000
: If not for a crazy finish at Washington in a 33-30 defeat, the Beavers might have played Oklahoma for the national championship. They went on to blister Notre Dame 41-9 in the Fiesta Bowl and finished ranked fourth in the nation. Go back and look at the roster: Chad Johnson, T.J. Houshmandzadeh, DeLawrence Grant, Dennis Weathersby, LeDarius Jackson, Ken Simonton, etc. This was hardly a scrappy, little team.
6.
Washington, 2000
: This crew of Huskies was hardly dominant but they just found a way to win week after week, led by quarterback Marques Tuiasosopo. The 11-1 season included a victory over Miami, which finished ranked No. 2, a loss at No. 7 Oregon, and a Rose Bowl win over Drew Brees and Purdue.
5.
USC, 2008
: This crew paired one of the best defenses in college football history with a quarterback who's playing in the AFC championship this weekend. Yes, it's fair to ask how the horsepucky this team didn't win the national championship. Oregon State fans care to explain?
4.
Oregon, 2001:
How strange was the Ducks 49-42 loss vs Stanford, their only defeat of the season? The normally staid AP said this in the game story, it was "a game that had everything but aliens landing on the Autzen Stadium turf." The Ducks led by 14 in the fourth quarter before a blocked punt and interception from Joey Harrington allowed the Cardinal to take the lead. While Oregon fans mostly remember getting BCSed out of the national title game by Nebraska, the Stanford game prevented them from playing Miami in the Rose Bowl. The Ducks blasted Colorado in the Fiesta Bowl and finished No. 2, still the program's best final ranking.
3.
USC, 2003
: A dominant team that lost only in triple-overtime at California. Only a BCS computer glitch forced the Trojans, ranked No. 1 in every poll, to share a portion of the national title with another squad.
2.
USC, 2005
: The offense was a thing of beauty -- 580 yards, 49 points per game -- but a young defense, which featured a true freshman and four sophomore starters, cost the Trojans in the thrilling BCS title loss to the University of Vince Young.
1.
USC, 2004
: Unbeaten, undisputed. Dominant. Best team of the decade in all of college football? Perhaps, though folks could make a strong argument for Miami in 2001. An extraordinary array of talent on both sides of the ball. And defense was the difference vs. 2005. It ranked sixth in the nation in total defense and third in scoring. The Trojans battered Oklahoma 55-19 for the national title.
September, 10, 2008
9/10/08
3:51
PM ET
| | |
| --- | --- |
| | |
| | AP Photo/David J. Phillip |
| | Oregon quarterback Justin Roper has plenty of options at his disposal. |
Posted by ESPN.com's Adam Rittenberg
Purdue knows all about big numbers and the spread offense.
The Boilermakers broke the school scoring record in each of Joe Tiller's first two seasons as head coach. Purdue ranked seventh nationally in passing offense in 1998, fourth in 1999 and sixth in 2000.
Superlative statistics became a Purdue trademark, and Tiller's offense earned the nickname basketball on grass. But even Tiller and his coaches haven't seen a beast quite like the Oregon offense, which takes the field Saturday at Ross-Ade Stadium (ABC, 3:30 p.m. ET).
The 17th-ranked Ducks are more like pinball on grass.
"This is probably the fastest team we've ever seen here in the 12 years," Boilermakers defensive coordinator Brock Spack said Wednesday. "Most teams have one or two guys that can get it done. They have one at every spot."
Oregon's eye-popping production so far this season brings back memories of Tiller's early Purdue teams. The Ducks lead the nation in total offense, averaging 592 yards a game, and rank fifth nationally in scoring (55 ppg).
No Ducks player ranks in the top 50 nationally in any major statistical category, a testament to the team's skill-position depth. Led by Jeremiah Johnson, who expects to play Saturday despite a right shoulder injury, five players with at least 10 carries average more than 35 rushing yards a game. Top wideout Terence Scott averages 16.1 yards per reception, and the next two options, Jeff Maehl and Jaison Williams, aren't far behind (13.4 ypg).
"When we first came to Purdue, we had some gaudy numbers," said Tiller, who can become the winningest coach in team history if he beats the Ducks. "We did it because the defenses weren't equipped to defend the spread, what we were throwing at them. Defenses are better equipped today to do that, but Oregon just has superior talent.
"From an offensive productivity point of view, their foot speed gives them an edge over many of the people that are trying to defend them."