On The Trail: Midwest Region:

James Franklin
March, 3, 2014
Mar 3
5:30
AM ET
The Early Offer is RecruitingNation's regular feature, giving you a daily dose of recruiting in the mornings. Monday's offerings: After a few weeks to recover from the holiday that was signing day, it's always interesting to analyze the data to get a better understanding of what really happened. This past Friday, I took a look at the teams that saw the
biggest gains from 2013 to 2014
. But what were some of the teams that were on the other end of the spectrum?
To continue reading this article you must be an Insider
February, 5, 2014
Feb 5
7:00
AM ET
Chance Sorrell
stuck his finger in the air to hush his parents.
The Vanderbilt commit had waited for this phone call for close to two weeks. He had wandered the halls of Middletown (Ohio) High School and been stopped, several times, and asked by his teammates and teachers: "What's going on with your coach?" Back in early January, he didn't know where James Franklin would wind up -- or, by extension, where he would. No one did.
So, on the night of Jan. 11, he didn't want to miss the thrust of this phone call while his parents whispered in the background. It could determine his future. It could answer all the questions that raged inside the mind of the three-star offensive tackle. It could put an end to those difficult mornings waking up because it was so hard to fall asleep with this weighing on his mind.
So, on a Saturday night, when an unknown number flashed on his cell -- from Pennsylvania -- he leaped from the couch, muted the TV and sprinted along with his parents to the quieter kitchen. Franklin had been formally introduced as Penn State's head coach less than five hours earlier. It was 9 p.m. now.
And, sure enough, Franklin was on the other line.
Chance, we really like you and we want you to play here. And we're offering you a scholarship at Penn State --
Sorrell couldn't make out the last few words of Franklin's pitch because his parents, literally bouncing with excitement, whispered loudly: "Commit right now!" Sorrell pointed his finger toward his parents, as if to signify, "Just a second here."
When Franklin finished speaking, Sorrell's grin widened: "Yes, sir, I'm committing."
Can I take that as you committing to Penn State?
"Yeah."
Sorrell had never before even stepped foot on campus, so Franklin asked him to repeat himself twice more. And then, his voice rising as it's wont to do when he gets excited, Franklin asked one final time:
So, you're telling me that Chance Sorrell is committing to Penn State?
"It got to the point," Sorrell said with a laugh, "where I finally just said, 'I, Chance Sorrell, am committing to Penn State.' And I guess he had about 10 people in the room because they started cheering when I said that. I think he just wanted me to say it like that."
Sorrell was the first commit of Franklin's Penn State coaching career, and it came less than four hours after Franklin stepped off the dais inside Beaver Stadium -- while T-shirts emblazoned with Franklin's slogan of "Dominate the region" were still ideas in business owners' heads. Franklin had landed in Happy Valley on a twin-jet less than 11 hours before.
Sorrell's commitment would set off a chain of other pledges -- seven more in less than a month -- and he promised Tuesday night he'd scan and email in his letter of intent by 7 a.m. Wednesday.
For the 265-pound prospect, the decision was an easy one. Hours before Franklin's call, he sat at his kitchen table while his father sprawled out a three-inch deck of coaches' business cards and pulled one at a time to ask whether he was interested. Wake Forest, Bowling Green (his first offer) and Tennessee were tossed into the "yes" pile.
But as soon as Franklin offered, those business cards were cleared off the table for good. He trusted Franklin and, although he had been committed to Vanderbilt since June, he felt even more loyal to his coach.
A day after originally committing to the Commodores, a dejected Sorrell picked up the phone to inform his head coach he had torn his labrum. And, if Franklin needed to rescind the offer, he totally understood.
"He told me, 'Chance, you committed to me -- and I'm committed to you. Even if you don't play a single snap, you're graduating with a degree from Vanderbilt,'" Sorrell said.
"So, of course, I wanted to follow him at Penn State. It just seemed like a tremendous fit."
Sorrell has since visited Happy Valley. He stared in awe over the 107,000 seats in Beaver Stadium, took in the players' lounge ("Vanderbilt didn't actually have a players' lounge," he added) and envisioned himself playing on the practice field and lifting in the blue and white weight room.
His recruitment to Penn State started with a phone call and, well, really ended with that same phone call. There was no doubt in Sorrell's mind that he wanted to play for Franklin and, when he received the Penn State offer, he didn't even really need to hear Franklin's pitch to become Franklin's first Penn State commit.
"I'd follow him anywhere," Sorrell said. "And it just seemed like a tremendous fit with a prestigious collegiate program like Penn State."
February, 4, 2014
Feb 4
1:30
PM ET
In the coming days, I'll take a closer look at whether the Big Ten would benefit from having prospects take official visits earlier, such as at the end of their junior years in high school. It's an idea Big Ten Network analyst Gerry DiNardo has championed, and one that makes since because of the accelerated recruiting cycle and the far-flung locations of some Big Ten schools.
Some Big Ten teams might not benefit from earlier official visits. They have no trouble getting recruits to campus and piling up early commits. Others must play the waiting game and make strong pushes before national signing day. Coaching changes can make an impact when teams get verbal commits, as Penn State has learned in recent weeks. Recruits also have been more likely to flip pledges leading up to signing day, forcing some teams to scramble to fill spots.
We're a day away from the big day, and while there are a few key undecided recruits who will make their choices Wednesday, most of the hay is in the barn, so to speak.
When did Big Ten teams get their 2014 recruits to verbally commit? Here's a closer look (
as of Monday night
):

ILLINOIS
Total commits:
18 (four already have signed)
March-May 2013: 4
June-July: 8
August-September: 0
October: 1
November: 0
December: 4
January: 1
February: 0

INDIANA
Total commits:
25 (six have signed)
March-May 2013: 0
June: 5
July: 4
August: 0
September: 1
October: 3
November: 0
December: 2
January: 6
February: 4

IOWA
Total commits:
21
January-April 2013: 2
June: 5
July: 3
August: 2
September: 1
October: 1
November: 2
December: 1
January: 4

MICHIGAN
Total commits:
16 (seven have signed)
August 2012: 1
February 2013: 3
April-May: 7
June: 3
July: 1
August: 1
September-February: 0

MICHIGAN STATE
Total commits:
21 (two have signed)
August 2012: 1
September 2012: 1
April-May 2013: 5
June: 4
July: 1
August: 1
September: 2
October: 0
November: 1
December: 3
January: 1
February: 1

MINNESOTA
Total commits:
19 (two have signed)
February-April 2013: 3
May: 0
June-July: 3
August: 0
September: 1
October: 1
November: 2
December: 1
January: 6
February: 2

NEBRASKA
Total commits:
26 (two have signed)
March 2013: 1
April-May: 0
June: 7
July: 3
August: 1
September: 0
October: 1
November: 2
December: 2
January: 6
February: 3

NORTHWESTERN
Total commits:
16 (one has enrolled)
March-April 2013: 4
May: 5
June: 1
July-November: 0
December: 3
January: 1
February: 2

OHIO STATE
Total commits:
22 (seven have signed)
December 2012: 1
January-February 2013: 3
March-May: 4
June: 5
July: 2
August: 1
September: 1
October-November: 0
December: 2
January: 3
February: 0

PENN STATE
Total commits:
25 (five have enrolled)
October 2012: 1
February-April 2013: 5
May: 2
June-July: 3
August-September: 0
October: 3
November: 1
December: 1
January: 8
February: 1

PURDUE
Total commits:
20 (two have signed)
May 2013: 2
June: 3
July: 1
August-September: 0
October: 1
November: 1
December: 8
January: 3
February: 1

WISCONSIN
Total commits:
27 (four have signed)
April 2012: 1
August 2012: 1
September 2012: 1
May 2013: 2
June-July: 5
August: 0
September: 2
October: 3
November: 5
December: 3
January: 2
February: 2
Notes/comments
The James Franklin effect certainly can be seen in Penn State's class, as all nine recruits who committed in January or February did so after Franklin's hiring on Jan. 11. Franklin flipped several prospects from his former team, Vanderbilt, and also brought in some surprises during a furious push down the stretch.
Early recruiting has been a hallmark for Brady Hoke at Michigan, and it's no surprise to see the Wolverines basically done with their 2014 class before the season. Michigan had 21 of its 27 recruits in the 2013 class verbally commit before the 2012 season.
Iowa's commit pattern was the steadiest in the league, as the Hawkeyes received at least one pledge every month between June 2013 and January 2014.
Nebraska has accelerated its recruiting pace in each of the last two years. The Huskers had just five verbal commits before the season in the 2012 class but doubled that total in the 2013 class and have 12 in the 2014 crop. Nebraska is one of the Big Ten schools that seemingly could benefit from earlier official visits because of its location in relation to recruiting hotbeds.
Gary Andersen's first full recruiting class at Wisconsin is a huge one, and Andersen and his staff did much of their work both during and after the 2013 season. Seventeen of Wisconsin's 27 pledges came after the games began.
Northwestern stockpiled commits early on and would have been done in mid-December after Parrker Westphal's pledge, but two prospects (Noah Westerfield and Jordan Thomas) decommited last month, forcing the Wildcats to make some late additions.
Ohio State's recruiting is following a somewhat familiar pattern under Urban Meyer: strong winter and spring, a few summer pickups, relatively quiet during the season and then a nice push from mid-December to early January. The Buckeyes have landed some of their best prospects late in the process, from 2013 recruits Mike Mitchell and Vonn Bell to 2014 standout Raekwon McMillan.
Purdue and Minnesota tend to add the bulk of their commits later in the process. The Boilers added 12 commits in the 2013 class following Darrell Hazell's hiring in early December, and 12 of their 20 commits in this year's class came after Dec. 1. Minnesota picked up nine of its 19 commits in the current class after Dec. 1 -- a similar ratio as it had in the 2013 class.
February, 3, 2014
Feb 3
11:00
AM ET
Whether it was Todd Graham leaving Pittsburgh a few years ago or James Franklin leaving Vanderbilt last month, reaction from fans, players and media in those areas was visceral. For Graham especially, considering Arizona State became his third head coaching gig in three years, questions naturally followed as to how he would ever be able to convince recruits to trust him.
But what has become increasingly clear in the wake of Graham joining Arizona State and Franklin heading to Penn State after three years at Vanderbilt is that college football recruits don't appear all that bothered by a nomadic track record from a head coach.
To continue reading this article you must be an Insider
February, 3, 2014
Feb 3
9:00
AM ET
National signing day is just 48 hours away. To get you ready, we checked in with our ESPN.com recruiting experts for their take on how the Big Ten is faring.
Senior national recruiting analyst Tom Luginbill and Big Ten recruiting reporter Tom VanHaaren spared time from their busy schedules to answer these questions:
Ohio State and Michigan again lead the way in the Big Ten recruiting rankings. How much late drama do you expect with those two programs?
[+] Enlarge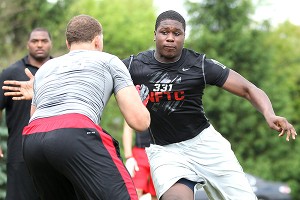 Tom Hauck for ESPNDE Malik McDowell, No. 60 in the ESPN 300, could come down to a signing day decision between Ohio State and Michigan.
Tom VanHaaren:
Probably not much for Michigan as it is really only targeting ESPN 300 defensive lineman
Malik McDowell
(Southfield, Mich./Southfield). McDowell visited Ohio State Jan. 31 and has hosted every head coach in his top four of Michigan, Michigan State, Ohio State and Florida State.
He will take his decision out to signing day, so there is a battle going on there, but there's still a chance he ends up at Michigan State or Florida State. He has kept everything close to the vest and it's anyone's guess as to where he ends up. Ohio State could have a little drama, but that happens when you land top ranked prospects.
Tom Luginbill:
I really just expect to see where McDowell falls.
What other Big Ten programs have impressed you?
TL:
Penn State and Wisconsin. Badgers coach Gary Andersen is adding more speed and athleticism to this class, including QB
D.J. Gillins
(Jacksonville, Fla./Ribault). They would love to close with CB
Chris Lammons
(Fort Lauderdale, Fla./Plantation).
TVH:
Michigan State has put together a good class. I really like ESPN 300 defensive back
Montae Nicholson
(Monroeville, Pa./Gateway) for the Spartans defense. I think Northwestern has put together a really good class as well with three ESPN 300 commitments. The Wildcats added in-state defensive back
Parrker Westphal
(Bolingbrook, Ill./Bolingbrook), which was a big get for them. Illinois did a lot to help fill immediate needs as well. The Illini lose four receivers and brought in some junior college prospects to compete right away.
How much impact has James Franklin made on Penn State's recruiting in a short time?
TVH:
It seems to be all positive for now. It's not surprising that he has flipped so many Vanderbilt commitments to Penn State, because he was the coach who recruited them. The recruits, however, that have flipped will all tell you that he is the guy they want to play for. There is already some excitement in the 2015 class and in the Pennsylvania area, so I think Penn State fans are going to be very happy with what Franklin and his staff does in the near future.
TL:
Significant, but it should be noted that
Michael O'Connor
(Bradenton, Fla./IMG Academy),
De'Andre Thompkins
(Swansboro, N.C./Swansboro) and
Chris Godwin
(Middletown, Del./Middletown) all enrolled early prior to his hire, but after Bill O'Brien departed, which tells you of their commitment to the program. Since his hiring, Penn State has added seven verbal commits, including flipping Rutgers commit WR
Saeed Blacknall
(Manalapan, N.J./Manalapan) this past week.
How much of an effect, if any, has Michigan State's on-field success had in its recruiting so far?
TL:
Minimal. They do what they do. The biggest myth is that they are made up of 2- and 3-star players, which is not true. It has been 4- or 3- star players the past three to four classes The Spartans develop players as well as anyone. They don't give in to external pressures to recruit anyone and they identify not only good players, but the right players for them.
TVH:
It had some impact in the 2014 class, but because that class was already almost over by the time the Spartans won the Rose Bowl, the real affect will likely be on 2015 and 2016 prospects. Michigan State already has one of the top in-state prospects committed with
Kyonta Stallworth
(St. Clair Shores, Mich./South Lake) and there is a realistic chance the Spartans could land most of the top prospects from the state of Michigan. They have already heard from some prospects that they otherwise would have been out of the running for, so I think 2015 could be where you see some of those affects.
How have Maryland and Rutgers done in recruiting, and are their efforts up to Big Ten standards?
TVH:
Rutgers has suffered a lot of decommitments in the 2014 class. It seems like this is a whole new class from what it used to be. The most recent was Blacknall, who flipped to Penn State. Maryland has had a better time recruiting in this class, but is still outside the top 40 in the class rankings. The Terrapins have had a lot of injuries to deal with, so I think once they get healthy and get back on track they will start to see a little more success. Now that they're in the Big Ten they can tell local recruits that they can stay close to home and still play in big stadiums and on national television, which will be a big draw.
TL:
Rutgers is crumbling. At one time they had four ESPN 300 prospects and all have decommitted. This is not a good start for the Knights heading into the Big Ten. We very much like the top third of Maryland's class, and the middle third has upside, but there is a significant drop off in talent in the bottom third, in our opinion.
What teams do you view as disappointing with this class?
TL:
Rutgers. The rest have essentially been as expected for the most part.
TVH:
Can I cop out and give everyone a trophy? I don't think anyone has a really disappointing class. I imagine Rutgers' coaches aren't thrilled with the way things have gone, but for the Big Ten teams from this season I think most of them have done a really nice job filling needs and getting a few big recruits in the class.
Finally, name a few players who we can expect to have an immediate impact in the 2014 season.
TVH:
Jabrill Peppers
(Paramus, N.J./Paramus Catholic) is probably the first name that sticks out. He is the No. 2-ranked prospect in the country for a reason and could end being an outstanding college football player once he's done. I expect him to play early in some capacity. Potentially, a guy like
Dominique Booth
(Indianapolis/Pike) at Indiana at receiver, running back
Jeff Jones
(Minneapolis/Washburn) if he sticks with Minnesota,
Johnnie Dixon
(Palm Beach Gardens, Fla./Dwyer) at Ohio State and maybe juco defensive lineman
Joe Keels
(Kenosha, Wisc./Highland (Kan.) Community College) at Nebraska.
TL:
Peppers, (Ohio State LB)
Raekwon McMillan
(Hinesville, Ga./Liberty County) and Jones, if he sticks.
January, 14, 2014
Jan 14
5:30
AM ET
The Early Offer is RecruitingNation's regular feature, giving you a daily dose of recruiting in the mornings. Today's offerings: Kentucky coach Mark Stoops admitted his first season didn't go like he had planned, but those struggles haven't hurt the Wildcats on the recruiting trail; Vanderbilt is in a tough recruiting situation if it moves too fast or too slow with its coaching search; and Clemson coach Dabo Swinney thought of a different way recruiting classes should be evaluated.
To continue reading this article you must be an Insider
January, 13, 2014
Jan 13
5:30
AM ET
The Early Offer is RecruitingNation's regular feature, giving you a daily dose of recruiting in the mornings. Today's offerings: The American Football Coaches Assn. annual convention is in Indianapolis, Ind., this week and the buzz from the first day was all about new Penn State coach James Franklin; whether Vanderbilt can remain a recruiting winner, and what exactly a commitment means.
To continue reading this article you must be an Insider
January, 11, 2014
Jan 11
11:29
PM ET
James Franklin is not wasting time as head coach of Penn State. The boisterous coach said at his introduction press conference that he would dominate the region in recruiting and he is already off to a great start.
To continue reading this article you must be an Insider
January, 11, 2014
Jan 11
10:00
AM ET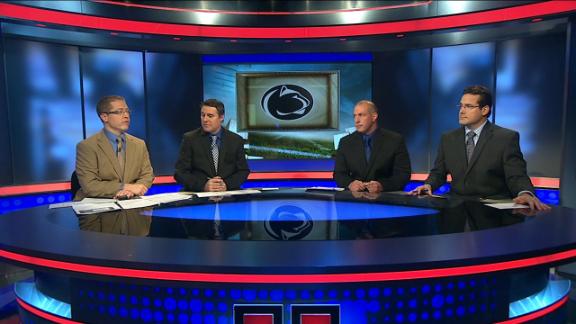 Penn State has
hired former Vanderbilt coach James Franklin
to take over the vacant head-coaching position in Happy Valley. With a coaching change coming so close to signing da, there are always recruiting implications, and this one seems to be positive for Penn State.
Reactions from the Nittany Lions' commitments in the 2014 class have been overwhelmingly positive, including comments from some of the commits set to enroll early.
To continue reading this article you must be an Insider