NCF On The Trail:

Adonis Thomas
September, 19, 2014
Sep 19
10:00
AM ET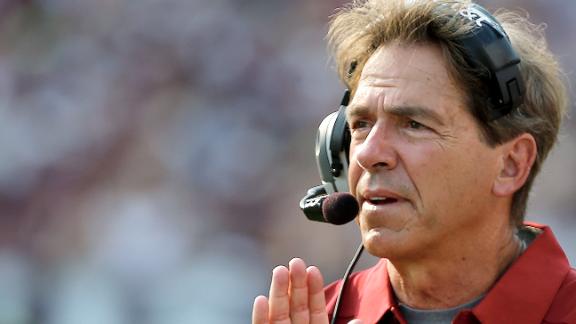 There are once again some big games around the SEC this weekend. The Florida at Alabama game should draw many top recruits, as will the LSU-Mississippi State game. There will be many recruits taking unofficial visits and even a few taking official visits. Here is a closer look at some top expected visitors.
August, 1, 2014
Aug 1
7:51
PM ET
July, 28, 2014
Jul 28
5:30
AM ET
Early Offer: 2016 targets come off board

The Early Offer is RecruitingNation's regular feature, giving you a dose of recruiting in the mornings. Today's offerings: It's been said recruits are committing sooner than ever before and the recent run of pledges in the 2016 class proves to some that an early signing period is needed now more than ever. Plus, if you want to know how competitive it is to recruit in the Southeast, just check out the up-and-down two weeks the
Florida Gators
have had on the recruiting trail.
It's never too early

Signing day for the Class of 2016 isn't for another 555 days, but that hasn't stopped a high number of
ESPN Junior 300
prospects from making early decisions. In the last eight days alone, seven of the best players in next year's class committed, and overall 47 of the top 300 prospects have made their decisions.
To continue reading this article you must be an Insider
June, 26, 2014
Jun 26
11:00
AM ET
When looking at the teams in most need of a strong season on the field, the Florida Gators are at the top of the list. After grabbing the momentum in the state following a 11-2 season in 2012, the Gators quickly lost that momentum with a 4-8 campaign last season.
On the recruiting front, the Gators have some of the nation's best early leans who will be looking to see what happens on the field in 2014.
Here are five questions the Gators face on the recruiting front headed into July.
To continue reading this article you must be an Insider
May, 18, 2014
May 18
11:10
AM ET
The state of Georgia is loaded in both the 2015 and 2016 classes.
In the 2015 class, the linebacker position is one of strength, as a number of rangy, athletic prospects -- highlighted by
ESPN 300
prospects
Adonis Thomas
and
Roquan Smith
-- are available.
Five schools made the final cut on Thursday night for Thomas, one of the nation's top prospects.
To continue reading this article you must be an Insider
March, 24, 2014
Mar 24
11:15
AM ET
The NFTC tour continued to roll on with a stop in Atlanta this past weekend. The event featured a very strong roster of talent, including a pair of top-five prospects in the
ESPN Junior 300
. No group was lean on talent, with plenty of promising 2015 and even 2016 prospects to evaluate. It's tough to name everyone who competed and did well. Below are some of the event's top and most notable performers in the latest addition of the Recruiting Nation NFTC Awards.
To continue reading this article you must be an Insider
March, 24, 2014
Mar 24
5:30
AM ET
The Early Offer is RecruitingNation's regular feature, giving you a dose of recruiting in the mornings. Today's offerings: As the center of an intense recruiting battle between Florida, Georgia, Ohio State, Texas and Texas A&M, a four-star linebacker will lean on those close to him when it comes time to make a decision; and two future SEC opponents took turns testing each other at Sunday's Atlanta Nike Training Camp.
To continue reading this article you must be an Insider
February, 6, 2014
Feb 6
8:00
AM ET
The recruiting process has become so accelerated over the past five years that if a coaching staff isn't currently evaluating the next class as it recruits the current class, it will be left behind in today's college football world. For that reason, we introduced our first-ever underclassmen ESPN Junior 300 for the 2015 class last July. The rankings were based primarily off sophomore film evaluation and that ranking was updated throughout this past year's recruiting cycle while evaluating close to 1,000 underclassmen prospects.
As part of the underclassmen evaluation process, we produced more generalized prospect reports with strengths, areas of improvement and a bottom line. The reason was to lay a more general foundation as these prospects will be re-evaluated, broadened out and morphed into our upperclassmen format after the prospects' junior season, when we have more extensive video and resources to evaluate. There is more improvement and change in a prospect's ability level and production between his sophomore and junior seasons than between his junior and senior seasons. The early film evaluations are on 15-year-old prospects, which means there is a ton of physical, mental and competitive development to come.
[+] Enlarge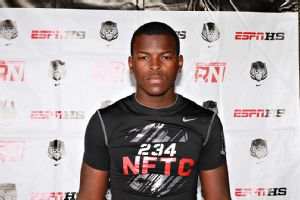 Tom Hauck/ESPN.comJacques Patrick is one of the most intriguing prospects from an evaluation standpoint, as he could fit as a RB or an LB.
RecruitingNation's scouts will now spend the next several months evaluating the 2015 class as upperclassmen based off extensive junior game and premium cut-ups video accessed through HUDL. These upperclassmen evaluations are a more strategic player evaluation based on a set of critical factors and traits specific to a certain position in a "template" format. This method also will allow us to mirror our college-to-NFL player evaluations done by Todd McShay and his staff so that when it comes time for a player to be draft-eligible, you will be able to access how we evaluated a particular player coming out of high school and how he is being evaluated coming out of college with similar or identical critical factors by position.
The phrases "critical factors" or "position-specific traits" are what we use as a template for what we are looking for in a player at a particular position. Each position has a set of critical factors that we will address in a template format that is divided into its own individual sections. We feel this will provide more clarity and also align better with our NFL draft reports.
Generally there can be as many as 8-10 critical factors per position, but we have tapered this down to the five we feel are most important. We as evaluators have the freedom to include more detail about other traits that we feel best serve the evaluation of that player and will add that to one of the five areas we feel it best fits.
Look for the first release of our upperclassmen 2015 ESPN 300 this spring and pay special attention to these five prospects that could see a change in stock:
Kyler Murray
(Allen, Texas/Allen): Forget the measurables, just forget them. Study the production and you won't care that Murray is 5-foot-11. When it is all said and done he could make the biggest jump of all prospects between now and next national signing day. He's a dynamic playmaker that comes from one of the premier programs in the country and he's used to having a high level of expectation placed upon him. He's answered the bell at every turn and we expect that he could be the most coveted dual-threat QB in this class.
Adonis Thomas
(Lawrenceville, Ga./Central Gwinnett): In the mold of this year's
Christian Miller
as an OLB/DE, Thomas has one of the highest ceilings for development of any front-seven player in the class. He continues to gain steam due to his range, speed and athleticism. Coaches want length, you hear them use that term all the time. They can put on the weight when they get the kids to campus. Thomas is long and he can run, a coveted combination for a disruptive guy off the edge.
Daylon Charlot
(Patterson, La./Patterson): He reminds us of a faster version of
Jarvis Landry
. Charlot catches everything thrown his way. What we love about this young man is his ability to play both on the inside and outside. He can do all the jet-sweep, bubble-screen stuff and make plays in space, or he can run right by you vertically with top-end speed. We love his playmaking ability with the ball in his hands and feel he is going to continue to emerge as a prospect.
Jacques Patrick
(Orlando, Fla./Timber Creek): He is already one of the most debated prospects among our staff for the 2015 class. He can be difficult to project as a pure RB at times because of his measurables and he could easily be a linebacker candidate at the next level. He is a very unique and gifted athlete, who at times in recent evaluations has intrigued us a bit more as a RB candidate, flashing better top-end speed which, coupled with his size, could make him a dangerous runner. He is a 2015 prospect who could easily see a change in stock upon further evaluation and will be debated frequently among our staff.
Jonathan Ledbetter
(Tucker, Ga./Tucker): Sitting outside the ESPN Junior 300, Ledbetter is prospect who looks poised to be a 300 member in the future. He possesses good size, very good playing strength and can be a physical and disruptive presence in the trenches. In recent opportunities to further evaluate him, both on film as well as at the Under Armour All-America Combine, Ledbetter has impressed and certainly looks like a strong candidate for the ESPN 300.
December, 8, 2013
12/08/13
7:41
PM ET
With college coaches out and about visiting schools and prospects, a number of players in the 2015 class from the Atlanta area have seen their stock quickly rise. One of those is junior
Adonis Thomas
(Lawrenceville, Ga./Central Gwinnett).
The 6-foot-4, 212-pound outside linebacker is the No. 207-ranked prospect in the ESPN Junior 300 and has seen his stock skyrocket in December with offers from some heavy hitters nationally.
To continue reading this article you must be an Insider
July, 29, 2013
7/29/13
2:45
PM ET
COLUMBUS, Ohio -- Could there be a pipeline that leads from Lawrenceville, Ga., to Columbus?
That remains to be seen, but Ohio State made an impression at its Friday Night Lights camp with athlete
Adonis Thomas
(Lawrenceville, Ga./Central Gwinnett).
To continue reading this article you must be an Insider