NCF On The Trail:

Jalen Campbell
April, 9, 2014
4/09/14
10:00
AM ET

Charlie Strong asked for a couple of months to let the dust settle and establish himself. That's all the time he needed to get his point across as the new coach at Texas.

Since taking over in early January, Strong has visited multiple high school campuses throughout the state, hosted junior day events and used countless cellphone minutes to connect with players, coaches and parents. Gone, for now, is the perception that the job of replacing Mack Brown -- an iconic figure in college football -- would be too difficult for Strong.

The reality -- Strong's directness, his X's and O's knowledge and win-now attitude -- is setting in with the Class of 2015 recruits. Strong is now the face of what many believe is the new Texas. The transformation took roughly 90 days.


February, 23, 2014
2/23/14
10:00
AM ET
AUSTIN, Texas -- In the midst of the January recruiting frenzy, a process far more hectic than usual for Texas' brand new coaching staff, defensive coordinator Vance Bedford submitted a plea on his Twitter account to the class of 2015: Be patient.
The new Longhorns coaches were scrambling to crisscross the state and finish off the recruiting class they inherited. They needed every day they could get.
Once the fax machine was turned off for good on signing day, the next battle began. Charlie Strong and his coaches had 16 days to plan for its first junior day and, truly, its first impression with a brand new batch of recruits.
That big day arrived Saturday. When it was over, the visiting recruits offered a common reaction as they left campus. Texas, they said, seemed different.
[+] Enlarge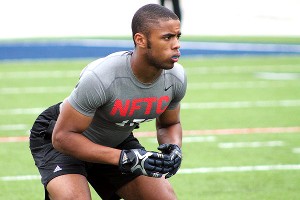 Max Olson/ESPNLinebacker Cameron Townsend says the new Texas coaching staff has made a strong early impression.
"Coach Strong and Coach Mack Brown are two totally different people. But, you know, I still get similar vibes," Missouri City (Texas) Ridge Point linebacker
Cameron Townsend
said. "I definitely like the new coaching staff a lot. I really like Coach Strong. He seems like a really legit guy."
Based on the standards his predecessor established, Strong's first Texas junior day wasn't filled with fireworks or countless rapid-fire commitments. But the first step in a long year of recruiting was a successful one.
Offensive tackle
Ronnie Major
switched his commitment from Baylor to the Longhorns midway through the day. The Huntsville, Texas, lineman landed his offer during the visit and committed on the spot.
Parting ways with Baylor wasn't easy -- Major had been committed since August -- but it was the relationship he built with Joe Wickline and the staff in the past month that sealed the deal.
"That's a great coaching staff," Major said. "I'm going to like playing for them. They said when I come to Texas, we'll have a great program and I'll get a lot better."
Major was one of seven visiting recruits who left town with scholarship offers. Those new offers went to ESPN 300 cornerback
Holton Hill
, receiver
Ryan Newsome
, safety
DeShon Elliott
, defensive end
Charles Omenihu
, Houston cornerback pledge
Jordan Tolbert
and a 2016 prospect, tight end
Kaden Smith
.
Smith already holds offers from the likes of Alabama, Oklahoma, Clemson, Texas A&M and Michigan but had never visited the Longhorns. Strong made it clear just how much Texas needed him.
"We were definitely impressed with Coach Strong," said Janell Smith, his mother. "He has a lot of energy and it looks like a great future here."
Hill, a corner from Houston Lamar, received the second offer of the day and admitted he's built up a stronger relationship with this staff in a short period of time than he had with previous Texas coaches.
"I actually liked it better," Hill said of the coaching change. "I like the coaching staff. I feel like I'll have a better connection to them."
Former LSU commit
Xavier Lewis
(Laplace, La./East St. John) remembers the first thing Strong said to him Saturday when they shook hands was simple: "I want you here."
"Coach [Chris] Vaughn and Coach Bedford, they're not all just about football," the ESPN 300 cornerback said. "They're about building you up as a man. I liked that [Strong] was really hands-on with everybody and moving around and talking to everybody."
The experience had to be somewhat surreal for the six prospects committed to Texas. Brown and his assistants had recruited them for nearly a full year and convinced them they belonged on the 40 Acres. How would the new staff make them feel wanted?
That's a question ESPN 300 running back
Jordan Stevenson
wanted to answer. The Dallas South Oak Cliff standout was recently offered by Alabama but says he's confident he'll still feel comfortable at Texas, no matter who's coaching him.
Stevenson made his verbal pledge one day after Texas' stunning Red River Rivalry victory over Oklahoma in October. A lot has changed since then.
"Everything happened so fast," he said. "But now I'm stronger and prouder of the decision I made. I don't ever question that. It's a blessing."
When his cousins
Sione Teuhema
and
Maea Teuhema
decommitted from Texas earlier this month and chose LSU,
Patrick Vahe
knew many expected him to do the same.
The ESPN 300 offensive guard from Euless (Texas) Trinity said he isn't having second thoughts after spending time with Strong and his coaches. He brought his entire family along for the visit and was proud of what he witnessed.
"The coaches had a really close bond, and it only took them a few weeks to get that," Vahe said. "That said a lot about them, about how they communicate with each other and get on the same page. I feel like they'll do the same with the players.
"I'm not following people. I've thought about it and I think UT is the best place for me. Coach Strong, he showed us a lot."
Corpus Christi (Texas) Flour Bluff cornerback
Jalen Campbell
is one of the leaders of that committed class. He still has lots of love for Brown and what he did at Texas.
But after Saturday, Campbell can't wait to see what's coming next.
"You could tell everybody was ready to go. The main goal is winning," Campbell said. "I think, for the most part, the coaches were more serious. They were smiling, but they're ready to go."
February, 22, 2014
2/22/14
8:00
AM ET
Texas takes its first big step toward building up its 2015 recruiting class under new coach Charlie Strong on Saturday, with the Longhorns' first junior day of the year.
The Longhorns are reportedly bringing in as many as 70 prospects for unofficial campus visits this weekend, including six committed prospects and more than a dozen ranked in the ESPN 300.
To continue reading this article you must be an Insider
December, 14, 2013
12/14/13
10:30
PM ET
The inevitable is now a reality. At the start of 2014, Mack Brown will no longer be the head coach of the Texas Longhorns.
After a week of drama within the Forty Acres that would make some soap operas jealous, one of college football's most interesting stories was stamped with an ending. Texas announced Saturday that Brown will resign following the Longhorns game against Oregon in the Valero Alamo Bowl on Dec. 30. Per the Longhorn Network, Brown already has informed the team of his incoming resignation.
For college football recruits, Brown's news means a completely new era of Texas football. Many of the prospects committed to Brown's program were mere toddlers when he left North Carolina to take over at Texas in 1998. The majority of 2014 commits were born in 1995 or 1996.
What will Brown's departure mean? For some of the 23 commits, consider it a wait-and-see process. For most of them, consider it a new chapter -- one they're looking forward to.
One thing's for certain: The recruits were big fans of Brown not only as a coach but as a person.
To continue reading this article you must be an Insider
November, 29, 2013
11/29/13
2:45
PM ET
The Texas marching band paid tribute to outgoing Longhorns athletic director DeLoss Dodds by spelling out "DELOSS" at halftime of Texas' 41-16 victory over Texas Tech on Thanksgiving.
Perhaps they should have spelled out "MACK" as well?
Growing sentiment around the 40 Acres is that Longhorns coach Mack Brown is on his way out regardless of how Texas ends this season. If that were indeed the case, then Thursday's drubbing of the Red Raiders would have been his last home game as Texas' head coach.
That's not the sentiment among the recruits who have pledged to play for Texas.
To continue reading this article you must be an Insider
November, 19, 2013
11/19/13
8:00
PM ET
While recruiting is undoubtedly a marathon and not a sprint, that doesn't mean there is anything wrong with a good start.
The key for any program is being able to sustain and finish strong, and only time will tell which programs will be able to do that, but what we do know is which teams are off to a fast start in the Class of 2015. Below are the five programs that are leading the pack early for 2015, as well as a few other notable fast starters:
To continue reading this article you must be an Insider
November, 17, 2013
11/17/13
4:10
PM ET
Everything was set up so perfectly for the Longhorns prior to kickoff on Saturday afternoon.
They came in riding a six-game winning streak with a chance to make it seven against a marquee opponent in Oklahoma State, who was in search of its sixth straight victory.
I'm too cool pic.twitter.com/C1WByUBiqn

— LeonardFournette (@_fournette) November 16, 2013
The sidelines were littered with some of the top recruits in the country, including the nation's top player in running back
Leonard Fournette
(New Orleans/Saint Augustine), ESPN 300 safety
Jamal Adams
(Lewisville, Texas/Hebron) and ESPN 300 cornerback
Tony Brown
(Beaumont, Texas/Ozen). The latter two were on official visits.
The sky was even painted a picturesque blend of blue, pink, orange and yellow.
But then kickoff came and with it went much of the momentum, both on the field and in recruiting, that Texas had built up over the last two months.
Oklahoma State manhandled the Longhorns
. The final score was 38-13 but it could have been a lot worse. A mass exodus of a tired fan base began late in the third quarter.
It was the exact opposite of the environment Texas was hoping to create for the recruits in attendance. They witnessed Oklahoma State bask in glory from their seats directly behind the Cowboys' bench.
Many of those were 2014 commits, as 12 of Texas' 24-member class were expected to be in Austin.
In addition to 2015 commit
Jalen Campbell
(Corpus Christi, Texas/Flour Bluff), the Longhorns were also expected to host several top junior prospects. They included athlete
Louis Brown
(Burton, Texas/Burton), running back
Lanard Fournette
(New Orleans/Saint Augustine), cornerback
Holton Hill
(Houston/Lamar), quarterback
J.W. Ketchum
(Missouri City, Texas/Thurgood Marshall), cornerback
Keivon Ramsey
(Converse, Texas/Judson), wide receiver
Kemah Siverand
(Houston/Cypress Ridge), linebacker
Cameron Townsend
(Missouri City, Texas/Ridge Point) and defensive back
Jordan Tolbert
(Missouri City, Texas/Ridge Point).
Texas also hosted its lone 2016 commit, receiver
Reggie Hemphill
, along with several 2016 teammates from Manvel, Texas, in safety
Deontay Anderson
, who has a Texas offer, linebacker Jordan Carmouche, and athlete D'Eriq King. Fort Worth (Texas) Southwest 2016 quarterback
Devin Williams
was also slated to be in attendance.
For as ugly as the loss was, and for as many questions as it has already brought about concerning the future of Texas coach Mack Brown, this defeat doesn't seem like it will have that much of an affect on those already verbally pledged to Texas.
They've endured quite a bit already but have long maintained their desire to help turn this program around. Take this tweet from Cuney for example: "There they go on my Coach Brown! Get off his back man. He not the 1 playing. He can only do so much!"



To continue reading this article you must be an Insider
October, 15, 2013
10/15/13
8:00
PM ET
Editor's note: For a look at the national recruiter power rankings based only on Class of 2014 success,
click here
.
The best college football coaches will tell you that when it comes to recruiting, their business is an art. It's a craft you must perfect if you want to have the best players commit and ultimately sign. Recruiting isn't for everybody, but those who are good at it -- particularly for building the 2014 class -- should be recognized, as the business is extremely competitive.
Here are 10 of the top recruiters from the Big 12.
To continue reading this article you must be an Insider
October, 10, 2013
10/10/13
2:00
PM ET
The Big 12 has a big weekend ahead in Dallas and Texas Tech is surging. Here's a look at some of the Big 12's top recruiting storylines.
Big names set to attend Red River Rivalry
There is never a season, regardless of what type of shape either program is in, that the Cotton Bowl won't be filled with some of the most desirable recruits in the country.
To continue reading this article you must be an Insider
August, 22, 2013
8/22/13
9:00
AM ET
RecruitingNation released its first ever ESPN junior 300 in mid-July, and a slew of already committed prospects have put six programs off to an electric start in the 2015 recruiting cycle. With the college season just days away, here are the fast starters with future commitments on the horizon.
To continue reading this article you must be an Insider
June, 9, 2013
6/09/13
5:38
PM ET
AUSTIN, Texas –
Johnny Shaw
won't soon forget the moment when he received his scholarship offer from Texas on Sunday, or the feelings that offer elicited. It was all just too surreal.
"I've been dreaming for this day," Shaw said. "I haven't been looking for it -- I've been dreaming it. When I got the offer, my heart just dropped. I felt like the moment stopped, like the hands of time just stopped."
[+] Enlarge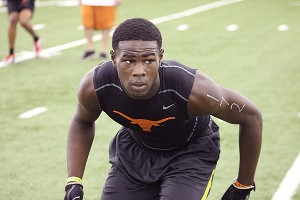 Max Olson/ESPNClass of 2015 safety Johnny Shaw flipped from TCU to Texas on Sunday at the Longhorns' minicamp.
From there, the Center (Texas) safety's choice was an easy one. Right after Texas camp wrapped up on Sunday afternoon, Shaw announced that he was officially flipping from TCU to the Longhorns.
He was the second of three pledges during UT's minicamp, followed quickly by the commitment of Buda (Texas) Hayes offensive tackle
Connor Lanfear
. That puts Texas at seven early commits for its 2015 class.
Shaw had originally committed to TCU on May 18 during a visit. Back then, he thought it was a no-brainer. The Horned Frogs coaching staff rolled out the red carpet for him and made Shaw their one and only visitor that Saturday.
But no matter what, Shaw was always going to wait for Texas.
"I'm picking Texas because they're the first team on my list," Shaw said. "I've been liking them ever since I was little. I just like the Longhorns."
Center coach Kevin Goodwin attended the UT camp with Shaw and wasn't the least bit surprised that Shaw flipped. Ever since Shaw attended Texas sophomore day, he'd been fired up about the possibility of playing his college ball in Austin.
According to Goodwin, Texas is getting an unusual physical talent in the 6-foot-2, 188-pound defensive back.
"The special thing about Johnny is, in a day of finesse ball, he's a hitter," Goodwin said. He's one of those guys who comes [up] and strikes you. That's what makes him special. He's big, he likes to strike and he has the ability to get back there and intercept the ball at 50 yards as well."
Shaw is Texas' second defensive back pledge for 2015 along with
Jalen Campbell
(Corpus Christi, Texas/Flour Bluff). Lufkin (Texas) athlete
Keke Coutee
also committed to Texas on Sunday and could end up in the secondary, though he played receiver during the camp.
Goodwin had warned Shaw prior to their sophomore day visit that he might not get an offer that day. He knew more touted sophomore safeties
Deionte Thompson
(Orange, Texas/West Orange-Stark) and
Larry Pryor Jr
. (Sulphur Springs, Texas/Sulphur Springs) might be in attendance and be higher on Texas' board. He preached patience.
And there's no denying Shaw set out to make a statement at camp. He wanted an offer, and he wanted to earn it.
"I proved that I'm faster and more physical than most of the DBs here," Shaw said.
As he made his way out of the Texas indoor practice facility on Sunday, Shaw couldn't stop smiling.
He still couldn't believe he'd just committed to Texas. This was his plan going into the day, yes, but going home a future Longhorn was still just a tad hard to handle.
"Especially for a sophomore, man ... it feels like a dream," he said. "A real good dream."
April, 5, 2013
4/05/13
10:03
AM ET
The Nike Football Training Camp series will continue outside of Dallas on Sunday. Athletes will trek to Allen, Texas, the home of one of the most impressive high school stadiums in the country. Allen Eagles Stadium, a $60-million facility, opened last year and featured nearly 22,000 fans watching Texas powers Allen and Southlake Carroll clash.
Here are five storylines to watch on Sunday.
Talented DBs aplenty
It's been said on multiple occasions that the 2014 class may be one of the strongest in years at producing big-time defensive backs in the region. The battle for defensive back MVP has the potential of being extremely competitive with players such as
Laurence Jones
(Monroe, La./Neville),
Jamal Adams
(Lewisville, Texas/Hebron),
Tony Brown
(Beaumont, Texas/Ozen),
Steven Parker
(Jenks, Okla./Jenks) and
Arrion Springs
(San Antonio/Roosevelt) expected to be in attendance.
Chris Hardeman
(Houston/Alief Taylor) has committed to LSU, while
Dylan Sumner-Gardner
(Mesquite, Texas/West Mesquite) and
Armani Watts
(Forney, Texas/North Forney) have pledged to Texas A&M.
Deionte Thompson
(Orange, Texas/West Orange-Stark), a 2015 prospect, has verbally committed to Alabama. All of the DBs will have their shots in one-on-one drills against equally talented ESPN Watch List receivers such as
Malachi Dupre
(River Ridge, La./John Curtis),
K.D. Cannon
(Mount Pleasant, Texas/Mount Pleasant) and Texas commit
Lorenzo Joe
(Abilene, Texas/Cooper).
To continue reading this article you must be an Insider
March, 30, 2013
3/30/13
7:09
PM ET
AUSTIN, Texas -- A big-time Texas recruiting day got even bigger right before the start of the spring game.
Cornerback
Jalen Campbell
(Corpus Christi, Texas/Flour Bluff) became the third member of the Longhorns' 2015 class after making a commitment on Saturday afternoon.
The 5-foot-11, 175-pound prospect received an offer from Texas last weekend during the Longhorns' first-ever Sophomore Day and pulled the trigger on his return visit. He confirmed his decision in a text message prior to the game's kickoff.
Texas was the only school to offer Campbell, and he had early interest in LSU, Oregon and Georgia. He joins offensive lineman
Aaron Garza
(Sherman, Texas/Sherman) and defensive tackle
Bryce English
(DeSoto, Texas/DeSoto) in Texas' 2015 class.
The pledge is a rare one in two ways. Texas has never taken pledges this early in Mack Brown's tenure until Garza became the first last Saturday, and Corpus Christi is an area the program has not recruited much in recent years.
The secondary should be a priority for Texas with the class of 2015, considering starting corners
Quandre Diggs
and Carrington Byndom will both be out of the program by the time Campbell steps foot on campus.
Despite his size, Campbell is being recruited as a corner, though he could play eventually a variety of roles in the Longhorn secondary.