NCF On The Trail:

Nick Bosa
February, 17, 2015
Feb 17
11:00
PM ET
December, 13, 2014
12/13/14
10:30
AM ET
ORLANDO, Fla. -- Plantation (Fla.) American Heritage defeated Tallahassee (Fla.) Godby 38-0 and Fort Lauderdale (Fla.) St. Thomas Aquinas defeated Kissimmee (Fla.) Osceola 31-0 in the FHSAA class 5A and 7A state championship games on Friday. The games featured several prospects in the ESPN 300 and ESPN Junior 300, including five-star athlete
Torrance Gibson
and the 18th-ranked player in the ESPN Junior 300,
Nick Bosa
.
Snelson opens recruitment
The 25th-ranked player in the ESPN Junior 300,
Dredrick Snelson
, recently backed off his commitment to Miami. The 6-foot, 192 pound wide receiver said he felt he made a decision too soon in the recruiting process.
"I just felt like I did it too early," Snelson said. "I just want to do what's best for me and give everyone an opportunity."
After opening things back up, Snelson said there are five schools he is now focusing on -- Florida, Florida State, Georgia, South Carolina and Alabama. He has no time frame for when he would like to make a decision.
Gibson likes what he sees from Ohio State quarterbacks
Five-star athlete and Ohio State commitment Gibson took notice when Ohio State's third-string quarterback
Cardale Jones
led the Buckeyes to a 59-0 win against Wisconsin in the Big 10 championship game last Saturday. The 13th-ranked player in the ESPN 300 said he is excited about how Ohio State has developed their quarterbacks this season.
"It excites me a lot," Gibson said. "They were down to their third-string quarterback, and look what Tom Herman did with him. 59-0, that's very impressive."
Now that Ohio State is in the inaugural football playoff and will take on Alabama in the opening round, Gibson said he will be watching the game closely.
"It's going to be a great, close game," he said. "Urban Meyer and Tom Herman, they believe in their system. It's going to be a good game and I'm going to keep my eye on that game."
Bosa names a leader
To continue reading this article you must be an Insider
November, 19, 2014
11/19/14
10:35
AM ET
Here are 10 things to know about the updated
2016 ESPN Junior 300
rankings.
10. Prospects committing at a fast rate
There are currently 65 ESPN Junior 300 players who have already committed, and that number is expected to at least double by the end of July. Of the 65 committed, 31 are committed to out-of-state schools. In which states are kids staying home the most? Nine of 10 from the state of Texas are committed to in-state schools, while 11 of 13 from Florida are committed to in-state schools.
To continue reading this article you must be an Insider
May, 22, 2014
5/22/14
2:00
PM ET
FORT LAUDERDALE, Fla. -- It was just two years ago that current Ohio State star freshman
Joey Bosa
was a top national prospect coming out of St. Thomas Aquinas in Fort Lauderdale.
Now there is another budding star at the high school that produced three 2014 NFL draft picks, and the last name remains the same.
Class of 2016 defensive lineman
Nick Bosa
has been a standout the past two years for the Raiders, and like many who have come before him at the talent-rich school, he will be a national recruit with a quickly growing offer list.
To continue reading this article you must be an Insider
September, 6, 2013
9/06/13
11:00
AM ET
@bwessfootball: How do you see Penn State's class rounding out? Would you say PSU is now the favorite for Montae Nicholson and Qadree Ollison?
Brad Bournival: The first part of that question is tricky as the Nittany Lions are still in on Dravon Henry (Aliquippa, Pa./Aliquippa), Ricky Walker (Hampton, Va./Bethel), Alex Bookser (Pittsburgh/Mount Lebanon), Thomas Holley (Brooklyn, N.Y./Lincoln) and Mike Gesicki (Manahawkin, N.J./Southern Regional) but may not be the favorite for any of them. As far as Ollison goes, I fully expect him to be part of the 2014 Penn State class by Monday afternoon. The fact he's visiting the Nittany Lions just before his announcement bodes well for Penn State. As far as Nicholson goes, the jury is still out on that one. He's visiting Michigan State this weekend, but Pittsburgh is in his backyard and don't count out Oregon or Florida State. The safety wants to set official visit dates soon so that could be telling.
---
[+] Enlarge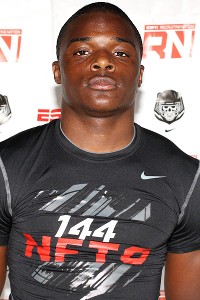 Tom Hauck for ESPN.comCould Michigan State land standout cornerback Darius West?
@Collin_Stauder:
Any chance Michigan State grabs Nicholson or Darius West down the stretch?
Tom VanHaaren: That's a pretty relevant question right now as Nicholson (Monroeville, Pa./Gateway) is visiting Michigan State this weekend and West (Lima, Ohio/Central) just recently took a visit to East Lansing.
I think you could probably even throw defensive back Parrker Westphal (Bolingbrook, Ill./Bolingbrook) in this question because he recently told me that he would like to get out to Michigan State for a game.
It was believed that Northwestern and Vanderbilt had the best shot with Westphal, but if he makes it out to East Lansing that might be an interesting situation. He was originally going to make a decision before his season, but it looks like he could take a few visits.
As for West, he is still committed to Kentucky and publicly is saying the visit to Michigan State wasn't a big deal. I don't think a prospect takes a visit this late in the game if it's not a big deal. If Kentucky continues to struggle that could be something to watch.
Nicholson has had an interesting recruitment recently with Michigan telling him they aren't recruiting him anymore. I believe he is open at this point, so this visit could help Michigan State. It's too early to tell with him, though.
---
@DukeLukeofJuke: Do you see any dark horse recruits that few are connecting to Ohio State at the moment that could end up in Columbus by national signing day?
Bournival: The names are pretty standard at this point in recruits like Noah Brown (Sparta, N.J./Pope John XXIII), Chad Mavety (Garden City, N.Y./Nassau Community College), Damian Prince (Forestville, Md./Bishop McNamara), Raekwon McMillan (Hinesville, Ga./Liberty County), Erick Smith (Cleveland/Glenville) and Marshon Lattimore (Cleveland/Glenville). If you're asking me to go out on a limb, maybe someone like Gesicki or Alex Bookser (Pittsburgh/Mount Lebanon) winds up with the Buckeyes. While it's not much of a stretch, those two aren't getting a lot of play lately in recent Ohio State news.
---
@ssullie71: Has Malik McDowell given a timeline when he will make his decision on colleges?
VanHaaren: He is saying going into this weekend that he plans on waiting to make a decision. This has been a hot topic, because I do believe there is a chance he makes a decision sooner than later.
McDowell (Southfield, Mich./Southfield) has been somewhat quiet about all this and doesn't share much, so he could do anything. It wouldn't surprise me to see him wait things out, but it wouldn't surprise me to see him make a decision soon.
He initially had been saying he was going to wait until the Army All-American game, but I don't think that will happen anymore.
---
jbacevice@gmail.com: Damon Webb is the face of the 2014 class for Ohio State. Eric Glover-Williams has that honor in 2015. Put your prognosticator glasses on, who takes that role in 2016?
Bournival: Early signs point to someone with a familiar last name. While there aren't a ton of offers out there just yet to 2016 stars, I don't think it will much matter as defensive end Nick Bosa (Fort Lauderdale, Fla./St. Thomas Aquinas) has all the tools to carry the flag if he picks the Buckeyes down the line.
We all know is brother Joey is already making a name for himself as a freshman at Ohio State, but Nick could be even bigger. St. Thomas Aquinas coach Rocco Casullo has already said he thinks everyone will know all there is about the sophomore by the time he finishes with the Raiders. Buckeyes assistant Mike Vrabel is high on Nick already, but not just because of his play. The 6-foot-2, 215-pound defensive end's character and maturation at such a young age is what many are talking about.
August, 27, 2013
8/27/13
10:00
AM ET
It's not unusual for football to run in the family, which is why it's no surprise to hear a recruit mention his younger brother as a prospect to watch in the future. There are plenty of past and current prospects who now have brothers rising up in the ranks and creating a name for themselves.
The Big Ten alone has a handful of younger brothers who will be household names once their time comes. Here is a look at a few prospects with ties to the Big Ten.
2015 LB Justin Hilliard
Cincinnati, Ohio/St. Xavier
6-2, 230 pounds
No. 145 in ESPN Jr. 300
Brother:
2014 running back C.J. Hilliard, who signed with Iowa.
Offers:
Arkansas, Boston College, Florida State, Georgia Tech, Illinois, Indiana, Iowa, Kentucky, Miami, Michigan, Notre Dame, Nebraska, Ohio State and Penn State among others.
To continue reading this article you must be an Insider
June, 5, 2013
6/05/13
10:00
AM ET
BuckeyeNation continues to hit the road in search of budding Division I talent who should catch the eyes of Ohio State fans. Here's what we came up with this week:

This week's targets:
BuckeyeNation as well as RecruitingNation headed to Columbus, Ohio, for the Elite 11 and Nike Football Training Camp. Seven Buckeyes commitments -- the only pledges missing were
Marcelys Jones
(Cleveland/Glenville) and
Sam Hubbard
(Cincinnati/Moeller) -- made their way to the Ohio State campus and didn't disappoint as
Kyle Berger
(Cleveland/St. Ignatius),
Kyle Trout
(Lancaster, Ohio/Lancaster),
Damon Webb
(Detroit/Cass Tech),
Dylan Thompson
(Lombard, Ill./Montini Catholic) and teammates
Dante Booker
and
Parris Campbell Jr.
of Akron (Ohio) St. Vincent-St. Mary each earned trips to The Opening.
Detroit rock city:
Assistant coach Kerry Coombs spent a good portion of the evaluation period in Detroit, and for good reason. He went after two-time Michigan commit
David Dawson
from Cass Tech High School last season, but missed. Coombs and the Buckeyes didn't this time around as Webb committed back in January.
Malik McDowell
of Detroit Loyola is also on the Ohio State radar. Before he said yes to Michigan,
Lawrence Marshall
was an Ohio State pledge, even if it was only for three days. Marshall lives in Southfield, Mich. a suburb 19 minutes away from Detroit
.
To continue reading this article you must be an Insider
November, 6, 2012
11/06/12
2:03
PM ET
Might there be another Bosa headed to Ohio State in four years?
That remains to be seen, but the Buckeyes threw their hat in the ring early with an offer to freshman defensive end
Nick Bosa
(Ft. Lauderdale, Fla./St. Thomas Aquinas).
Bosa is certainly not a strange last name to recruiting cirles as his brother
Joey Bosa
is an Under Armour All-American, ESPN 150 defensive tackle and 2013 Ohio State commit. His father,
John Bosa
was a a first-round pick by the Miami Dolphins in the 1987 NFL Draft.
To continue reading this article you must be an Insider