New England Patriots:

Cincinnati Bengals
October, 3, 2014
10/03/14
8:00
AM ET
Sunday night's game between the
Cincinnati Bengals
and
New England Patriots
at Gillette Stadium has intrigue on both sides.
Are the efficient, attacking Bengals, who at 3-0 have been as impressive as any team through the first quarter of the season, for real?
And will the 2-2 Patriots, who are reeling after an embarrassing 41-14 loss to the
Kansas City Chiefs
on Monday night, turn in a second straight dud on national television that will elevate the heightened panic level in New England that much more?
ESPN.com NFL Nation reporters Mike Reiss (Patriots) and Coley Harvey (Bengals) break it down:
Reiss:
Coley, the Bengals are coming off their bye and the Patriots have the short week after the "Monday Night Football" meltdown. How fair is it to say this game is a measuring stick for the Bengals, or are they more past that at this point?
Harvey:
Personally, Mike, I think it's fair to call this a measuring stick type of game for the Bengals. If you ask the players and coaches, though, they'll give you a far different answer. As defensive end
Wallace Gilberry
was quick to put it earlier this week: "There are still 13 games to play, man." Indeed, it's early, and indeed there are other games on the schedule that certainly will let the Bengals know how good they are, but this is a good early test. Not only are they playing a Patriots team desperate to prove that last Monday at Kansas City was a fluke -- Gilberry was among those in Cincinnati's locker room who dismissed the notion that the blowout was a precursor to something bigger for New England -- but the Bengals also are facing a team that defends its home turf quite well. Like the Bengals, the Patriots are on a double-digit home winning streak. Still, having said all of that, I contend that a Bengals win inside what should be a hostile Gillette Stadium would prove that they are worthy of the No. 1 Power Ranking that several others and I have been quick to bestow upon them since they stomped Tennessee to improve to 3-0 in Week 3. A win also would prove that
Andy Dalton
, a quarterback who has lost four of six career regular-season games in prime time, is better this season than he has been in years past.
The Patriots don't often crumble on a big stage the way they did Monday night in Kansas City. As someone who has been around these guys for a while, what is it about this team, Mike, that could convince you they respond -- even on a short week -- with a much more favorable outcome in Sunday's game?
Reiss:
The leadership in the locker room would be the main thing, Coley. They have some good men in that room, starting with quarterback
Tom Brady
, and that leadership helped them recover from a disappointing Week 1 loss at Miami. I sensed from talking to players this week that they were disgusted with their performance Monday, starting with a lack of energy and emotion from the get-go. You can't go into that frenzied environment that way and think that's acceptable. I expect them to play with greater passion on Sunday night. Whether that will be good enough, or if it's more of a talent issue, we'll find out.
The Bengals released former Patriot BenJarvus Green-Ellis at the end of the preseason. Many in New England would probably be interested to know what led to that and how the team's offense has taken shape in his absence.
Harvey:
All Patriots fans need to know about Green-Ellis' release is the following date: May 9, 2014. That was the night the Bengals took running back
Jeremy Hill
with the 55th pick in the draft. Even though Bengals coaches staunchly defended Green-Ellis and said Hill's selection had nothing to do with the veteran, the writing appeared on the wall for the Law Firm. His days were numbered. As soon as Hill started practicing in organized team activities and minicamp, it became clear that he was the future. He ran like a new Porsche off the showroom floor. Green-Ellis was remarkably slower and less agile, sputtering along like a 1985 jalopy with a sluggish transmission. When Green-Ellis got hurt near the end of the preseason and didn't play in the last two games, it seemed likely that he would be cut. And then he was. Green-Ellis' 3.4 yards per carry and lacking reliability with the football in his hands last season also had an adverse effect on his chances of staying with the team. After not fumbling once in New England, Green-Ellis fumbled five times in his two seasons with the Bengals.
I'm stunned I'm actually typing these words, but: The Patriots' offense through four games ranks among the worst in the league in several categories. To me, it all seemed like premature conjecture this offseason when debates raged over whether Brady was getting over the hill. But it seems like the question does appear a legitimate one to pose: Have we seen the best of Brady?
Reiss:
To play off your analogy, Coley, this offense is in need of a big-time tuneup. There are several issues, and Brady contributed to them on Monday with some poor decision-making. But my take after film study has been that Brady's struggles are more a result of factors around him -- poor, inconsistent offensive line play and limited options in the passing game are tops on the list -- and I still believe that. Put Brady around different talent -- the Broncos', for example -- and I think we'd see markedly different results.
As for the defense that Brady faces Sunday night, what are the Bengals doing, and who are some of the key players making them so effective?
Harvey:
It's funny, some of my colleagues here in Cincinnati and I were joking about how you're hard-pressed to find anyone who mentions Mike Zimmer's name around Paul Brown Stadium these days. That's not a knock on Zimmer, the current Vikings head coach who left his six-year post as the Bengals' defensive coordinator in January. Instead it's a credit to how well Paul Guenther has taught his scheme to his players. As good as the Bengals were under Zimmer -- they ranked third in total defense last season -- they look even better under Guenther, even if the rankings are lower in most respects. There's a modified bend-but-don't break philosophy that has made them one of the better units so far this year. The Bengals may allow big yards on first and second down, but come third down, they largely buckle down and hold. They rank second in third-down defense. Guenther is the big key to the defense's effectiveness, particularly because of how well he has taught his aggressive defense. He was in charge of blitz calls and third-down scheming when Zimmer was in charge. It's evident that that was Guenther's strength, too, because all the Bengals seemingly do on third down is blitz. As far as players, you have to acknowledge Gilberry and fellow defensive end
Carlos Dunlap
for solid play, as well as the three veteran cornerbacks
Leon Hall
,
Adam Jones
and
Terence Newman
, for keeping the unit afloat while linebacker
Vontaze Burfict
has struggled with concussion issues.
Despite allowing 41 points this week, New England's defense has been rather strong all season. The unit has given up nine or fewer points twice this year, and ranks in the top 5 in yards per game allowed, passing yards per game allowed and opposing quarterbacks' QBR. Where does the Patriots' best pressure appear to come, Mike? I ask because Dalton has been much better about handling it this year as opposed to years' past.
Reiss:
The defense has been way too inconsistent, specifically against the run. Meanwhile, the pressure has been nonexistent for long stretches, which is a big concern.
Chandler Jones
is their best pass-rusher at right defensive end, and he has a right shoulder injury suffered in the second quarter Monday night that bears monitoring. They've been effective blitzing up the middle at times with linebacker
Jerod Mayo
, but I wouldn't call them a pressure-based defense. In a game like this, where Dalton gets the ball out so quickly, it will be interesting to see how many pressure-based calls the Patriots make. My educated guess would be they are minimal.
October, 6, 2013
10/06/13
10:00
AM ET
Join our ESPN.com NFL experts as they break down the New England Patriots' visit to the Cincinnati Bengals. Contribute your thoughts and questions beginning at 1 p.m. ET. And, be sure to visit our
NFL Nation Blitz page
for commentary from every game, as well as fan photos and the latest buzz from Twitter. See you there.
January, 4, 2013
1/04/13
11:57
AM ET
The Patriots won't take the field this weekend, but there's plenty to be watching for as the NFL playoffs open with a four-game slate of wild-card round action.
Most importantly, the Patriots' divisional round opponent will be decided at some point this weekend, either by early Saturday night or on Sunday afternoon.
A quick recap of the scenarios:


* (3) Houston vs. (6) Cincinnati, 4:30 p.m., Saturday.
This one is simple: if the Texans beat the Bengals, they'll travel back to Foxborough next week for a rematch of Week 14's Monday Night Football tilt. If the Bengals win, they will next take on the Broncos.


* (4) Baltimore vs. (5) Indianapolis, 1:00 p.m., Sunday.
If Houston loses, the winner of the Ravens-Colts matchup will face the Patriots on Jan. 13. If Houston wins, the Ravens-Colts winner will head to Denver in the divisional round.
With the scenarios in place, here are five things we'll be watching for in the AFC wild card matchups.
1. Does momentum matter?
In talking to the Patriots, it's become clear that they don't believe momentum matters entering the playoffs. But it's hard to ignore the trending direction of each of the four AFC teams that will play this weekend. While Houston and Baltimore have combined for a 2-7 mark down the stretch, the Bengals and Colts come in on hot streaks adding up to 12 wins in their past 14 games combined. Both teams will have to travel this weekend, making the task tougher, but based on how each has played of late, they look like safe bets to make the games interesting.
[+] Enlarge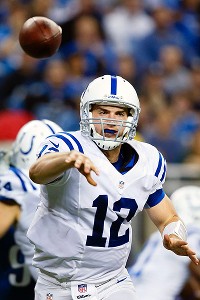 AP Photo/Rick OsentoskiWho says Pats fans have nothing to watch this weekend? For starters, you can check out Andrew Luck's playoff debut.
2. Playoff pressure.
A pair of quarterbacks, Houston's
Matt Schaub
(age 31) and Indianapolis'
Andrew Luck
(23), will make their first career playoff starts this weekend, putting them to a new test. The magnifying glass is held a little closer on quarterbacks during the playoffs, and both have something to prove in their initial starts in the postseason. Some are wondering whether Schaub has what it takes to make big plays when it matters most, while Luck is looking to build off an impressive rookie campaign and lead his team on a new stage. Without a previous sample to judge either off of, each will begin to mold their playoff legacy this weekend.
3. Lewis returns.
Ravens middle linebacker
Ray Lewis
is likely to return from a triceps injury this weekend, and it's possible that Sunday will be the final time he takes the field, as he announced on Wednesday that he will retire at the end of this season. His return was sure to inject his team with new life prior to the announcement, but the fact that this game could be his last will only further motivate his teammates. The Colts are also playing inspired football for head coach Chuck Pagano, who recently returned to the sidelines after being diagnosed with leukemia earlier this season. Both teams will be charged by emotion on Sunday.
4. Defensive line impact.
Each of the four teams in play this weekend has a Pro Bowl defensive lineman (
Robert Mathis
of the Colts made the game as an outside linebacker, but plays an end of the line alignment, comparable to
Rob Ninkovich
), putting the pressure on all offensive lines to stand tall in protection. Houston's
J.J. Watt
stated his case for Defensive Player of the Year in the NFL, while Cincinnati's
Geno Atkins
might be the best player that no one is talking about on a national stage. Mathis and
Haloti Ngata
, meanwhile, are veterans with proven track records that speak for themselves. Every play starts with sound blocking and protection up front. Keep an eye on these four studs.
5. Containing Johnson.
While the Texans slid down the stretch as a team, their star wide receiver,
Andre Johnson
, proved once again why he's one of the best players in all of football. Johnson finished with 1,154 receiving yards during his final nine games, and will meet a stingy Bengals secondary that did not allow a single receiver to surpass 100 yards in a game this season. The Bengals defense is vastly underrated and the secondary has a cast of dependable defenders that play well in coordinator Mike Zimmer's scheme. Defending Johnson is a big chore, but the Bengals have been up to the task consistently in 2012. Something has to give on Saturday.
January, 4, 2013
1/04/13
10:23
AM ET


The Patriots are off, but that doesn't mean we won't be keeping an eye on wild-card weekend. Here's how ESPNBoston.com's experts see Saturday's Bengals Texans game (4:30 p.m. ET, on NBC) and Sunday's Colts-Ravens game (1 p.m., on CBS) playing out. (If the Texans win, the Patriots will host them in the divisional round on Jan. 13. If they lose, the Pats face the winner of Sunday's Colts-Ravens game.) What are your predictions? Leave your picks in the comments section.