New England Patriots:

Draft pick scouting reports
May, 12, 2013
5/12/13
2:00
PM ET
We conclude our scouting report series with a look at Patriots seventh-round draft choice
Steve Beauharnais
, the team's final selection in 2013.
[+] Enlarge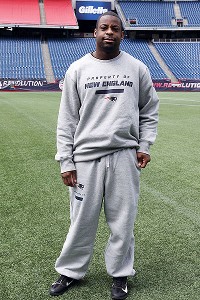 AP Photo/Michael DwyerSteve Beauharnais could face an uphill battle to secure a roster spot.
Alignment:
Beauharnais played as a stand-up linebacker for Rutgers, both in the middle of the defense and as a (mostly) strongside player. He was also used on occasion as an edge rusher for the defense.
Build/athleticism:
Beauharnais has the size and frame of a weakside NFL linebacker, as he checks in at 6-feet and roughly 240 pounds. He has a thick upper half and broad shoulders. He's a good overall athlete who flashes reliable movement skills, speed and quickness. He has sufficient agility and lateral quickness to move from sideline to sideline.
Skills/traits:
Beauharnais shows solid instincts as a run defender and is a technician in taking on blocks. He squares his shoulders up and is unafraid of contact. He shows good ability to "sort through trash" in the middle of a running play and is a reliable tackler. He has sufficient quickness off the edge as a rusher but did not show an extensive arsenal of rush moves. As a coverage player Beauharnais is also sufficient, showing enough speed to carry tight ends up the field, but quicker targets will beat him laterally at the top of routes. He's a tough and physical player, much like his Rutgers teammates drafted ahead of him.
Projection:
The avenue Beauharnais probably needs to take toward securing a roster spot is on special teams. The Patriots have a trio of penciled-in starters at linebacker with
Jerod Mayo
,
Dont'a Hightower
and
Brandon Spikes
, as well as
Jamie Collins
and
Dane Fletcher
among the backups behind them. Beauharnais projects to be a capable special-teams player at the NFL level with good toughness and enough speed to serve as a coverage player. He has backup linebacker potential, and will have to play bigger than his 6-foot frame. A reliable draft choice who was considered a high-quality teammate coming out of Rutgers, he could develop into an end-of-the-roster player as a rookie or perhaps a practice squadder.
May, 11, 2013
5/11/13
5:00
AM ET
Continuing our scouting report series with a look at the first of two Patriots seventh-round picks, defensive end/outside linebacker
Michael Buchanan
.
[+] Enlarge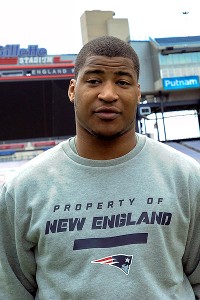 Bob DeChiara/USA TODAY SportsWill Michael Buchanan's skill set be enough to make an impact?
Alignment:
Buchanan was used as both a defensive end and stand-up linebacker for Illinois. In the Fighting Illini's base defensive package, Buchanan played as an end, either with a hand in the dirt or standing up in a two-point stance. In some of their sub packages he was used as a stand-up linebacker in a bubble alignment (roughly 3 yards behind the line of scrimmage).
Build/athleticism:
Buchanan is a long, wiry player on film who appeared thicker in person when we met him at the start of rookie minicamp. He's a smooth, nimble defensive lineman with good hips and good quickness. He has the ability to torque his body and bend the corner as a rusher and shows good closing ability as a backside run defender.
Skills/traits:
Buchanan was regarded by many as more of a pass-rushing defensive end than a run-stuffer, and though his production was down from the 2011 to 2012 season, he still flashed quickness off the snap and a developed arsenal of rushing techniques to generate pressure. He shows a good two-hand shiver to fight through an opposing offensive tackle, though he has room to develop more counter pass-rush moves when he gets caught up against a tackle. Buchanan slithered around too many blocks as a run defender (this hurt him on occasion when defending read-option plays in college) and needs to work on squaring up and taking on blocks. He showed sufficient in-line strength to stack a tackle or tight end.
Projection:
There's a mixed bag of thoughts relating to Buchanan, as he has impressive movement skills for a player of his size and enough pass-rushing ability to project as a possible factor. But he needs to become a more consistent run defender and put on some weight to hold up against bigger tackles. When we scouted
Jamie Collins
, we mentioned the possibility of the Patriots' using him as a stand-up outside linebacker in some 3-4 fronts. If the team were to implement some of those fronts for 2013, Buchanan might be an option to play on the edge as well. As is the case with many seventh-round picks, Buchanan will need to contribute on special teams, and he has the athleticism to do that early on in his career.
May, 10, 2013
5/10/13
5:00
AM ET
Moving along in our series of scouting reports on the Patriots' 2013 draft class with a look at fourth-round wide receiver
Josh Boyce
.
Alignment:
Boyce was a versatile receiver for TCU, aligning all over the formation. He played in the slot, as a perimeter target, and ran an extensive route tree.
[+] Enlarge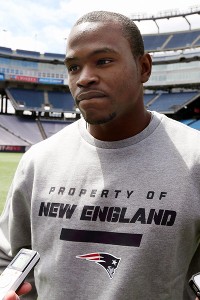 AP Photo/Michael DwyerProvided he gets healthy, Josh Boyce should compete for playing time in the Pats' receiving corps.
Build/athleticism:
Strong, thick and sturdy, Boyce stands at 5-foot-11 and 206 pounds, an intriguing mix of bulk and speed. Boyce flashes electric speed, something that allowed him to work on the kickoff return team in college (he projects to return in the NFL as well). He's not an overly sudden player, but he has good quickness and agility.
Skills/traits:
Boyce can line up anywhere along the formation and work into his route using a variety of skills. He isn't afraid to be physical with his hands against press coverage, can catch the ball at or near the line of scrimmage and also extend the field vertically with his speed. Boyce takes time to get up to top speed, as he can be deliberate at times in his stem. He's a reliable route runner who worked the full tree: short, underneath concepts and intermediate-to-deep routes as well. He has good hands and a sufficient catch window. As a blocker, Boyce needs to more consistently position himself to sustain contact, rather than lining players up for a single thud to knock them off their mark.
Projection:
While it seems safe to project that second-round pick
Aaron Dobson
will work extensively (if not exclusively) from the perimeter as a Patriot, Boyce's role is more difficult to project. That's not due to a lack of skills, but rather the versatility to play from multiple alignments. Look for Boyce to work from the slot, as a "Z" receiver, and to be a player who can stretch the field for the Patriots. That's similar to the role that
Julian Edelman
was playing early on during the 2012 season and again before he suffered his season-ending injury. Depending on the status of Boyce's foot (which prevented him from taking part in at least the first two days of rookie minicamp), he may be ready to compete for time early on. With a made-over receiving corps, a number of spots are up for grabs. Assuming
Rob Gronkowski
and
Aaron Hernandez
are healthy, they'll be the focal point of the passing game along with
Danny Amendola
. But complementary receivers are critical to the Patriots offense, and Boyce could compete for the No. 3 receiver job as a rookie.
May, 9, 2013
5/09/13
5:00
AM ET
Continuing our look at the Patriots draft picks with a scouting report on safety
Duron Harmon
, the team's second third-rounder this year.
[+] Enlarge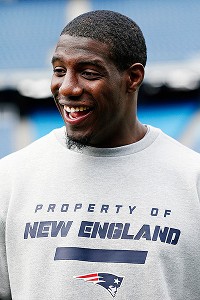 AP Photo/Michael DwyerDuron Harmon's initial contributions are likelier to come on special teams than on defense.
Alignment:
Harmon aligned as a safety for Rutgers, often as a strong safety to the tight end side of the formation.
Build/athleticism:
Harmon stands at 6-foot-1 and close to 200 pounds, with good thickness through his chest and lower half. He is a sturdily built safety who did not miss any extended time in college due to injury. He has good athleticism overall, good size, acceleration and quickness, but he's a little stiff in his hip swivel. He is not an overly reactive athlete and can get stuck at the top of routes in man-to-man coverage. An aggressive, hard-nosed safety.
Skills/traits:
Much like former Rutgers and current Patriots teammate
Logan Ryan
, Harmon's aggressive, physical playing style shows up early on tape. He is a downhill player who is a very willing run defender and a sound, wrap-up tackler. He is just a sufficient man-to-man coverage player; because of his hip movements, receivers can beat him at the top of routes. He shows very good eye discipline and route recognition as a deep-half-of-the-field defender and takes good angles toward the football. He is a responsible, reliable over-the-top defender who gets to the right place, but he's not elite enough of an athlete to consistently get there early to force turnovers. He showed good ball skills in limited exposure of on-ball opportunities.
Projection:
Also like Ryan, Harmon should benefit from not being forced into action immediately on defense as a rookie. Assuming
Devin McCourty
remains at free safety (there's little to suggest otherwise), there are three veterans who project ahead of Harmon on the depth chart:
Steve Gregory
,
Tavon Wilson
and
Adrian Wilson
. But like another drafted safety from the 2012 class,
Nate Ebner
, Harmon should be an immediate contributor on special teams and will have the opportunity to learn from the veteran safeties ahead of him. One thought on Harmon is that while he may not play extensively on defense in 2012, the Patriots don't have an established strong safety of the future besides him on the roster. Adrian Wilson and Gregory are both in their 30s, and Tavon Wilson could be viewed as a free safety option. Harmon doesn't project to be a consistent playmaker in the back half of the field, but he's a tough, physical player who can be reliable as a developmental option.
May, 8, 2013
5/08/13
5:00
AM ET
We continue our scouting series on the Patriots draft picks with a look at the first of three Rutgers players chosen, cornerback
Logan Ryan
(third round, 83rd overall).
Alignment:
Ryan aligned as a perimeter cornerback for Rutgers, often to the boundary side (the side with less distance from the football to the sideline. Some defenses prefer their best cornerback on the boundary side if he is a physical player for run defense purposes, among other reasons).
[+] Enlarge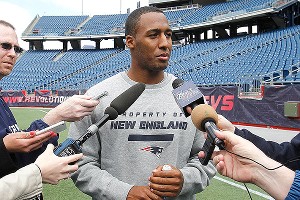 Jim Rogash/Getty ImagesLook for Ryan to be involved in sub packages as the fourth cornerback for the Patriots.
Build/athleticism:
Ryan has good size and bulk for the cornerback position, standing nearly six feet tall and just over 190 pounds. He has good quickness both in his reactive movements and when accelerating at the break of a route. He has sufficient speed for the position, but is quicker that he is fast. Ryan has smooth hips and can transition from his backpedal to turn and run, and can also break off his jams at the line of scrimmage to retreat into his zone drop.
Skills/traits:
What stands out when evaluating Ryan is his aggressive, physical style of play. He is unafraid to engage a wide receiver at the line of scrimmage to knock him off of his route, and he is an aggressive run defender with an edge-setting mentality. Patriots cornerbacks are asked to ably defend the run (
Kyle Arrington
and
Devin McCourty
, previously a cornerback, are both solid run defenders), and Ryan's style of play should fit in in that sense. He has good ball skills and anticipation to disrupt the football at the point of catch. He has good pattern-read skills and anticipation. The lack of top end speed hurts Ryan as a perimeter cornerback in man-to-man coverage, as bigger receivers who can leverage him have a chance to break free.
Projection:
With
Aqib Talib
,
Alfonzo Dennard
and Kyle Arrington back in 2013, there's no pressure for Ryan to be an immediate defensive contributor, but look for him to be involved in sub packages as the fourth cornerback. He's an adept Cover 2 cornerback because of his ability to be physical in his jam and then sink into his zone duties. His aggressive mentality should make him a core special teams contributor as both a coverage and hold-up player during his rookie season. A solid but not spectacular cornerback who has a ceiling of being a second starter.
May, 7, 2013
5/07/13
5:00
AM ET
We continue our series of scouting reports for the Patriots 2013 draft choices with a look at wide receiver
Aaron Dobson
.
Alignment:
Dobson was used primarily as a perimeter receiver in Marshall's offense, often aligning to the quarterback's left side.
[+] Enlarge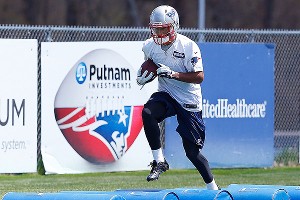 Jim Rogash/Getty ImagesAaron Dobson seems to be in line to contend for the No. 2 receiver spot.
Build/athleticism:
As we saw up close and personal during interviews at rookie minicamp, Dobson is a long, big-framed wide receiver standing at 6-foot-3 and 211 pounds. Dobson has very good straight-line speed and acceleration, and is able to pick up his pace in tight spaces and break free in the open field. He has good lateral agility, but is better moving north-south. He has fluid strides down the field and has excellent body control to torque and adjust to the football when it is in the air. The Patriots have not had a receiver with his sort of size and speed combination during either of the past two seasons.
Skills/traits:
Dobson is a smooth, high-cut receiver who can run an extensive route tree from the perimeter of the offensive formation. He was used in the underneath passing game on both in- and out-breaking routes and showed good discipline in his double-move routes to stretch the field vertically. He shows very good speed and an excellent catch frame, although he did have a few concentration drops during his final college season (there was some talk of Dobson not having any drops in 2012, but that was not the case). What makes Dobson intriguing is the ability to be a factor on the perimeter and after the catch. The Patriots relied on
Brandon Lloyd
as a perimeter target in 2012, but Lloyd's limited run-after-catch ability limited the offensive explosiveness. While Dobson is just a sufficient make-you-miss runner, he has the acceleration, straight-line speed and contact strength to explode up the field vertically. He has a tendency to be a push/pop blocker, going for forearm shivers to a defensive back rather than latching on and walling off.
Projection:
On paper, it would appear that Dobson has landed in a role conducive to early playing time and production. The Patriots have long needed a perimeter target, and with Brandon Lloyd gone, the No. 2 receiver job looks to be available for the taking. If Dobson can hone what made him successful in college and master the intricacies of the Patriots' passing game, he could assume that role and become a dependable target for Brady. He has the speed to be used in bubble screens and could become a major factor in the red zone because of his size and ability to play with excellent body control with the ball in the air in man coverage. He flashed excellent catching skills on occasion in college, and despite his average-sized hands (nine inches), he has very good ability to pluck and snatch the football. The Patriots may lean on Dobson in the red zone as a fade target toward the back pylon.
May, 6, 2013
5/06/13
5:00
AM ET
We were able to get our hands on some game film on the Patriots' draft picks, and we'll plan to unveil scouting reports on the picks throughout the course of the week. These scouting reports help us to project how each pick will fit into the Patriots roster, keeping in mind that what role the team has in mind for them is yet unknown, and we may not get a sense of the roles until later in OTAs or even training camp.
We'll kick things off with linebacker
Jamie Collins
, the team's top choice.
[+] Enlarge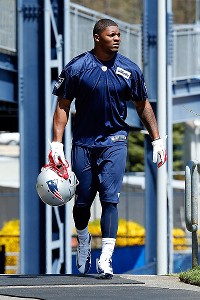 Jim Rogash/Getty ImagesJamie Collins' physicality and athleticism all but guarantee that he'll find his way onto the field for the Patriots.
Alignment:
Collins was used extensively as a hand-in-the-dirt defensive end at Southern Miss, playing as one bookend of their four-man fronts. Given his athleticism and range, Collins was also used as a play-in-space linebacker who dropped into coverage.
Build/athleticism:
Collins is a long, linear player who has very good range in his arms (nearly 34 inches long), a strong but lean build through his core and sufficient bulk at 250 pounds. He has a very good first step off the line of scrimmage and very good ability to torque his body to squirm through crevices on "games" in which he becomes an interior rusher. He has excellent ability to close in the open field and very good range from sideline to sideline. He enters the Patriots program as the team's most explosive and athletic linebacker overall.
Skills/traits:
He has very good ability to get off the ball, turn the corner and bend around an opposing offensive tackle. He spends extensive time in the backfield and is a disruptive player who can close from the weak side and chase down runners in the open field. Collins' production was excellent during his final year at Southern Miss despite a weak supporting cast that allowed opposing offensive lines to account for him. He showed just average ability to take on blocks, often being overwhelmed at the point of attack. He does not have the base right now to hold up against double-teams. He did show good ability to slide off of blocks at the second level, although he was more often playing at or near the line of scrimmage. A good tackler who has the traits to be very good and effective in the open field.
Projection:
The most noteworthy area that Collins appears to have to work on is his ability to anchor as a run defender at the point of attack (he'll have a terrific mentor in
Jerod Mayo
for that), but his unique skill set is easy to identify. Given his athleticism, in particular his explosiveness, Collins projects to be able to play in multiple roles for the Patriots. The team has a need to improve its coverage at the linebacker spot, and it would not come as a surprise to see Collins play alongside Mayo in sub defensive packages. Though the Patriots have the personnel set to run four-man fronts, it will be interesting to see if they also elect to work in some 3-4 looks, in which Collins would be a capable weakside outside linebacker (sometimes called the "Jack" linebacker). That position lends itself to pass-rushing opportunities, and Collins clearly can rush the passer. If the Patriots don't see Collins as a fit in sub packages as a coverage player, he has the juice to be a rusher as well. The bottom line with a player like Collins is that his athleticism is impressive enough that he'll find his way on the field in some capacity. That will extend to special teams as well, where Collins has the tools to be an outstanding coverage player.