New England Patriots:

Learning more about ...
May, 9, 2011
5/09/11
2:00
PM ET
In the fifth of a series on Patriots 2011 draft choices, ESPNBoston.com speaks with Central Arkansas defensive coordinator Matt Williamson about Patriots sixth-round draft choice Markell Carter:
*
How would you characterize Markell as a player?:
"The first thing I'd say is that he wanted to be really good. At the same time, he wanted everyone else around him to know he was a good person. He always wanted to do the right thing, and he was always seeking help, and all the information he could, to become a better football player. He was always looking for whatever he could find to gain an edge on the offensive lineman he was going against. He is a great all-around person, and has the drive inside of him to make himself better every day."
[+] Enlarge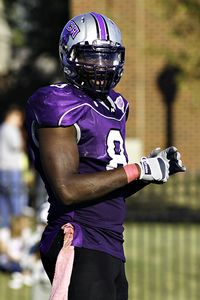 Courtesy University of Central Arkansas "One thing I'd say is that the Patriots got a winner. He wants to win, whether it's in his college algebra class or on the field," Central Arkansas defensive coordinator Matt Williamson said about Markell Carter.
*
From a style-of-play standpoint, how was he utilized?:
"We run a 4-3 and he was a great rush end for us. He is so athletic that we experimented with standing him up a bit, but in the end, you're either a 4-3 team or a 3-4 team. We'd get into a 3-4 in passing situations but he was our best pass rusher and it's hard to stand him up; we felt personnel-wise, our team was better letting him rush the passer, which is something he's really good at. Can he stand up? Absolutely. But for what we needed, it would be like taking your best quarterback and moving him somewhere else. ... Markell, in my eyes, is a flashy player. When I say that, it means he does what he's supposed to do, he always plays hard, he hardly makes mistakes, and every 5 or 6 plays there is a 'Holy cow, what was that?' type of big-time play. I think that's what put him a cut above and that's why he was drafted. He plays hard, has great passion, and had those flashes."
*
What were some of the biggest questions you were getting from NFL scouts and coaches?:
"The biggest question that NFL teams ask [with any prospect], more than ever it seems, is 'What type of person is he?' I can stand on the table for Markell. In my eyes, he's the type of kid -- as a 20-, 19- and 18-year old -- that if I needed to go do something I'd have him watch my kids. I have an 8- and 5-year old and that's the type of person he is. I'll be honest, with some of the kids at 18 and 19 years old, I wouldn't trust them. But Markell is honest, mature and a level-headed person. He always handles business and doesn't get in trouble off the field. He's not the type of person who is going to negatively affect the name of a program. He'll show up, work hard, practice, and try to get better every single day. He turned it up a gear his senior year."
*
Was there a performance, or a moment that stood out to you from his time at Central Arkansas?:
"Two games this year, against Southeast Louisiana, and the last game against McNeese State. That last game, we had to win to make the playoffs and he turned it on. I've never seen him play like that. He was dominant. They couldn't block him. He had a couple of sacks, and a scoop-and-score for 30 yards or so. He got really, really nasty that game."
*
What type of progression did you see from Markell over his career?:
"I coached the defensive line my first two years here and he had played receiver in high school and wasn't that physical. So that was the biggest hurdle he had to make. Could he be more physical? I think that started to show up by his junior year, then he just turned it on. When we signed him, he was 225 [pounds]. He got up to 272, 275, but that was a little too heavy for him. He dropped it down to 255, 260 and that was the ideal weight for him."
*
Any final impressions of your time working with Markell?:
"One thing I'd say is that the Patriots got a winner. He wants to win, whether it's in his college Algebra class, or on the field. That's his mentality and I think that's helped him become the player he is. He learned that from his parents and hopefully a little from his coaches. He always has that inner drive. He's going to get you. It might take him a few times, but he's going to find a way to beat you and finish on top."
May, 6, 2011
5/06/11
10:44
PM ET
In the fourth of a series on Patriots 2011 draft choices, ESPNBoston.com speaks with Marshall tight ends coach Phil Ratliff about New England fifth-round pick Lee Smith:
•
How would you characterize Lee as a tight end in terms of style of play?:
"He's a throwback, someone who is going to come off the football and block you. He's very physical and plays extremely hard. We've always had this thing in our [meeting] room to be the last one blocking, and he truly epitomizes that. You don't want to be standing around when the play is still going on. He blocks well beyond the play being over. How hard he plays, and his mentality, he's the nicest guy you'd ever meet off the field. He steps on the field and he totally changes. His intensity, his work ethic, he was far and away the most respected player on our football team the last three years. He is truly a natural leader."
[+] Enlarge
AP Photo/Michael ConroyPatriots draft pick Lee Smith is known primarily as a blocking tight end, but his former coach says he's got great hands, too.
•
How might you envision him making his mark in the NFL?:
"I don't know if I've seen another player as physical as him at the tight end position. From what I understand, it's hard to find guys like Lee that enjoy blocking. His mentality is that he's going to do whatever is best for the team. He will not complain. I know in college, a lot of tight ends just want to catch the ball. He's not like that. He'll do whatever. If they want to line him up and have him block every play, that's what he'll do."
•
Lee's strength seems to be his blocking, but he does have 75 career catches. How would you assess his ability to get open and catch the football?:
"People might not realize the hands that he has, and the ability to get open on those short and intermediate routes, because he uses his strength and his size. He's a very big man. He's going to improve every day. His first three years, Cody Slate was the hybrid-type tight end, and we'd go two-tight end set, and Lee would be the on-the-ball tight end. We'd move Cody around and Cody would catch most of the balls. Lee never complained one bit. This year, probably the last six games, I'll bet he caught 30 passes. People might think he's just a big old blocking tight end, but God has blessed him with some very solid hands. He's a very, very smart football player who reads coverages, understands leverage, and he's physical when matched up against linebackers. He is what he is, but don't underestimate his ability to catch the football."
•
Was there a performance, or a moment that stood out to you from Lee's time at Marshall?:
"This kind of epitomizes Lee Smith. We're going to open up with Ohio State this year, so for six months he talks about the opportunity to block [defensive lineman Cam] Heyward. He thinks about it every day, and he talks to me about it every single day. That, in itself, let's you know how he is. He's such a self-motivator. He is such a tough, physical player, a hard-nosed guy who understands what a team is. He's hard on himself and he rises to the challenge. ... Heyward had one tackle that day."
•
What were some of the questions you got from NFL coaches and scouts?:
"Right after Lee got drafted, I told him that I wasn't surprised the Patriots drafted him, even though they have the good tight ends they have on the roster, because they spent more time with him and was more in-depth about the total Lee Smith. I could tell they liked what he was made up of. [Teams] brought up the past; he had a little rocky past early. But it's so irrelevant now. He's a totally different guy from that. All it took was for him to get out of Knoxsville and get to Huntington and into a structured [program], and he just took off. For the last five years, he's been anything you'd ever want in a player. He's my favorite player of all-time."
•
What makes Lee your all-time favorite?:
"Just his work ethic, his true leadership, his mentality, his personality. In my opinion, that's why the Patriots have been so successful. They saw that. He may not run the best 40 time, he may not lift the most weights, but I'll tell you what, as a person and football player, his mentality, how he self-motivates, a leader. There is no question in my mind, he'll have a very good career in the NFL."
May, 5, 2011
5/05/11
10:51
AM ET
In the third of a series on Patriots 2011 draft choices, ESPNBoston.com speaks with Virginia cornerbacks coach Chip West about New England second-round pick Ras-I Dowling:
•
How would you characterize Ras-I as a cornerback?:
"I would say 'big' and 'physical'. He goes at it hard. He likes to play a physical brand of corner."
•
Is there a comparison to an NFL player that comes to mind?:
"I'm an old-school guy, so I think more about some of the older guys. Eric Allen comes to mind, from his time with Philadelphia."
[+] Enlarge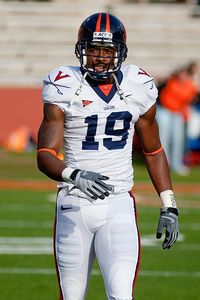 Jeremy Brevard/Icon SMIThe Patriots picked Ras-I Dowling with the No. 33 pick in the recent draft.
•
What were some of the biggest questions NFL coaches and scouts had for you on Ras-I?:
"Most of it was about durability. I've never known Ras-I to miss a lot of games because of injury other than this past year. It's not his fault he got hurt. He's a competitor, a good player, and most of all, in my opinion, a great, great young man. As far as a person who people will love and take a liking to, he's that example."
•
What were your first impressions of working with Ras-I in your first year on staff in 2010?:
"I saw a really good football player, coming off a good, solid junior year. Selfishly, I was hoping he would come back [for his senior season]. I saw a good player who possessed good man coverage skills. With the size Ras-I has [6-foot-2, 200 pounds], one thing I'm not sure people understand is the type of movements he has. He moves fluently and possesses a unique skill set for a player that size."
•
Even though this was your first year on staff, how would you compare and contrast Ras-I to his former teammate Chris Cook, a second-round pick of the Vikings in 2010?:
"Some people think their styles are similar, some think it's drastically different. I didn't spend a lot of time with Chris. I always thought Chris was physical, and I also feel that Ras-I is very physical. We play a lot of man-coverage at the line of scrimmage, asking our corners to bump-and-run, get in the receiver's face. We challenged our corners."
•
What did you notice about the way he handled his injury-filled 2010 season?
: "He kept his faith going and understood that all he could do was get better, and try to get back on the field. His spirits were always up. He was always upbeat."
•
How much did you notice the role faith played in his life?
: "I definitely noticed it. The one thing I could say about Ras-I is that he lives it. Some coaches will tell you 'He won't get you fired -- on and off the field.' I definitely feel that way about Ras-I. He is strong as far as spirituality. Everybody tries to do the right thing, and he lives that every day."
•
What might New England followers not know about Ras-I that would interest them?:
"He's a very special young man. Obviously the Patriots saw what they needed to see as far as the player, and with that, I think the biggest selling point is that you couldn't get a better person. Flat out, you just couldn't get a better person. He's a very coachable young man who I like a lot. He's very special."
May, 3, 2011
5/03/11
9:31
PM ET
In the second of a series on Patriots 2011 draft choices, ESPNBoston.com speaks with Cal associate head coach/running game coordinator Ron Gould about New England second-round pick Shane Vereen:
[+] Enlarge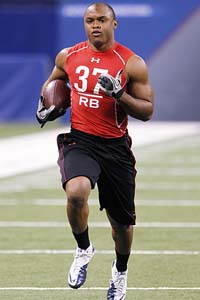 Joe Robbins/Getty Images"The thing that separates him from a lot of guys is his work ethic and that he's smart," Cal associate head coach Ron Gould said of Patriots second-round pick Shane Vereen.
•
How would you characterize Shane as a running back?:
"The guy that stands out to me [as a comparison] when it comes to style of play is Marshall Faulk. He can run between the tackles and be physical inside. He has the ability to pass-protect on third down. He can catch the ball as a wide receiver, or coming out of the backfield. He can be an every-down guy and is the type of player who is going to rise to the occasion with the opportunity to compete. He has that competitive spirit. He's already a talented young man, but the thing that separates him from a lot of guys is his work ethic and that he's smart. He understands football, so he'll adjust to things because of his football IQ."
•
What were some of the biggest questions NFL coaches and scouts had for you on Shane?:
"His size. They look at him on film and he might look small. But you see him in person, he's a lot thicker than people think he is, a lot stronger than people think he is -- he's a 380 bencher, he power cleans well over 330, and is almost a 475 squatter. He's a lot stronger than people think and a lot bigger than people think [5-10 1/4, 210 pounds]."
•
Was there one performance that stands out in your mind during his career at Cal? :
"There were a lot of them, but one that comes to mind was when we were playing Stanford when he was a sophomore. He carried the ball 42 times. Somebody asked me after the game if I knew how many carries he had and I said 'Maybe 25, 30 max.' It was 42. I could not believe it, but it was a day where he willed us to victory with his heart, passion and desire -- that competitive spirit he has inside of him."
•
Are there any stories that stand out from the time you were recruiting him?
: "I thought he's be going to UCLA because when I walked into his high school coach's office, all I saw was UCLA; I think his wife was an assistant coach there. So I was thinking 'Oh my goodness, he's probably going there.' But we were able to cultivate a great relationship. I remember him running track on Fridays and then he'd drive north to my office and we would meet on Saturdays. If we had Junior Day, he was always there. He would visit campus to see what was going on, and that said a lot about him. Once I got to meet his family, you could see how supportive his parents were. I knew right away from talking to his mom that if there was any problem, she would nip it in the bud. When you talk about Shane's character, he's the type of guy that if you had a daughter, you'd want him to marry her. That's the highest compliment."
•
What did you see from Shane when it came to handling adversity?:
"When Shane came in as a freshman, he had pulled his quad a little bit and didn't have that snap in his legs that I was used to seeing. So I told him we were going to redshirt him, because he wasn't ready to go yet. He was not happy with me. The one thing I told him was 'If you're upset, the one thing I want you to do is come talk to me about it.' He did just that. He let me know how he felt, we talked through it, and I thought that spoke to his maturity. I don't think many kids would that; the easier route would be to pout and go through the entire year upset."
•
What should New England followers know most of all about Shane?:
"He's an unbelievable kid. He could be an ace for an organization. He'll never embarrass the organization. He's just a tremendous character guy, a tremendous athlete. I'm very passionate about the guy."
May, 2, 2011
5/02/11
2:55
PM ET
In the first of a series on Patriots 2011 draft choices, ESPNBoston.com speaks with former Colorado offensive line coach
Denver Johnson
about New England first-round pick Nate Solder:
•
What was the most common question you heard from NFL coaches and scouts on Nate?:
"It was kind of funny because everybody was trying to find salt with him, almost like 'this is too good to be true.' Nate is just a very humble, unassuming person. He is very generous with his time. He isn't the guy who is going to show up with a gun in his bag and be on the police blotter. So everyone was trying to dig up dirt because no one could find anything. I think they sensed we might be hiding something about him, but we weren't. He's the real deal, everything you'd want a kid to be. He's the kind of guy you hope your daughter brings home to meet you one day. He's as good as gold and a tremendously blessed athlete on top of it."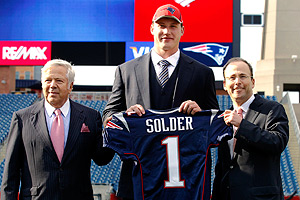 AP Photo/Winslow TownsonNat Solder's college offensive line coach says the 6-foot-8 first-rounder has a "suddenness to him" that you just can't teach.
•
How would you characterize Nate as a football player?:
"I could go several different ways with that. Probably the most accurate thing to talk about is how he still has it all in front of him. Nate came out of a school in the mountains of Western Colorado, and arrived at Colorado as a tight end. He was converted to offensive tackle and I coached him the last two years. In the last half of this past season, he just really started to become an offensive lineman. I think the guy has such tremendous upside. He's injury-free, with no major surgeries, so he's pristine in that way. He's immensely talented, with tremendous God-given ability, highly intelligent with a great work ethic. In my opinion, he's just scratched the surface in what he can be. I think the people of Boston and New England fans everywhere would be really excited about what they have in Nate."
•
How would you describe what makes Nate unique as a player?:
"Other than the obvious, his tremendous physical assets -- he's long at 6-foot-8 -- the term I use is 'sudden.' He has so much suddenness to him. He can come out of his stance, get that first step on the ground, and snap up in pass protection. All of these things have a little development in front of him, but you can't teach that suddenness. He's kind of a quiet, unassuming guy. He's not one that is going to head-butt the Coke machine in the locker room. But he's highly competitive and he is a sponge, someone who wants to be a good football player. I believe he will be."
•
Is there a game that stands out from Nate's career at Colorado?:
"He was so consistent for me, so I'm not sure any one stands out more than any other. He lined up against Oklahoma, Nebraska, Texas, those type of teams, and was amazingly consistent for us. He was a great player on a struggling team. We didn't have great seasons at Colorado, but it wasn't his fault. He held up his end of the deal."
•
Is there a player from the NFL that might be a good comparison?:
"I was shocked at Colorado when he was moved to the offensive line. I thought he was someone who could have played defensive line, and been an all-Big 12 defensive end. I was thinking along the lines of Ed 'Too Tall' Jones from the old
Dallas Cowboys
days. But we had a tremendous need on the offensive line and I was delighted to get him."
•
How does Nate's height create a challenge for him against some smaller edge rushers?:
"The thing that Nate can do, as opposed to a lot of other guys his height, is bend. He has tremendous ankle, knee and hip flexibility. He can lower his body without bending at the waist. Sometimes smaller guys can be problematic, and that's something any lineman can learn to better deal with, but coaches will work on that aspect of it. He has the inherent ability to bend and move his feet."
•
What was your experience with Nate's family?:
"Mom and Dad are just great people. Nate is kind of an All-American kid and it's an All-American family. His dad hunts elk in the mountains and they run a bed and breakfast in the mountains. They are salt of the earth people. Good folks."