Tom Brady: 'This is not tiddlywinks'
September, 18, 2013
9/18/13
2:45
PM ET
FOXBOROUGH, Mass. -- Patriots quarterback
Tom Brady
's on-field emotion and body language has been a hot topic of discussion following Thursday's 13-10 win in which his frustration boiled over.
[+] Enlarge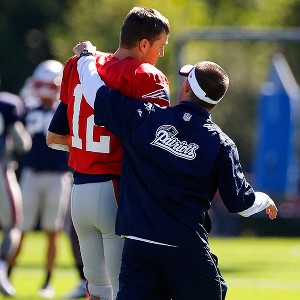 AP Photo/Stephan SavoiaTom Brady says he has spent more time with his pass-catchers this season than any time he can remember.
Brady, who repeated his thoughts that the burden is on all players, including him, shed some more light on his mindset today.
"I try to be pretty consistent. I think at this point, just trying to be my normal self, which can be not always the most patient, which I've said in the past. But I think there is a real urgency to what we do here. This is not tiddlywinks," he said.
"This is real football. This is a real job," he continued. "We're held accountable every single day for what we do, so I think just trying to convey that message to everybody so everybody knows that -- this is about winning football games. We're doing our best to do it. That's why we work hard and why you make the commitments to the players you play with, so that you can go out and try to win on a consistent basis."
Speaking about the trust that must be developed between a quarterback and his pass-catchers, Brady said it starts with hard work.
"We've been doing, certainly, a lot of that. I can't remember a year where we've spent as much time together as we've spent since the spring," he relayed. "It's going to pay off at some point."
Injuries to
Rob Gronkowski
and
Danny Amendola
has left Brady with an inexperienced receiving corps comprised primarily on
Julian Edelman
and rookies.
A few other soundbites from Brady:
Buccaneers safety Dashon Goldson:
"[He's] one of my favorite players. If I were a safety, I'd try to play like him."
Goldson's one-game suspension being overturned:
"They obviously didn't ask me. I didn't get to weigh in [smiling]."
Buccaneers cornerback Darrelle Revis:
"I don't think there have been many balls caught on him in these two weeks. He looks like the same guy to me. There is nothing negative about his playing style. There is nothing negative about his skill set. He can really do it all. He's fast, he's quick, he matches up against small guys, he matches up against big guys. He's really long. He's really strong. He's patient. Some guys really guess all the time and sometimes they guess wrong. He never guesses wrong. He's smart. He sees the whole field. I've never played against anyone as good as him. He's as good as there is, as I've ever played against. You just have to be careful when you throw his way because you know he's going to be close. No one is going to be wide open. You just have to make sure you put the ball in position where only the receiver can catch it."
Revis and top cornerbacks he's faced over the years:
"Ty [Law] was a great player. We played a lot of zone with Ty and Ty always had a great feel. I remember him intercepting me a lot of times in practice and 'how did he see that or get to that ball?' He had such great field vision. That's what it is with those guys in the secondary. There are certain corners that are really man-to-man corners. Like the Jets over the last few years with Revis and [Antonio] Cromartie, they just put those guys on one particular guy and say 'take the ball away.' That's what they do a good job of. Darrelle has been a great man-to-man corner. They're probably playing a little more zone now than what he used to play. There are some great corners I've been able to play against –
Champ Bailey
and
Patrick Surtain
, that goes back a few years.
Charles Woodson
, I love the way he plays the game still. Darrelle is certainly at the top."