Snapshot: Brady shakes off the shiner
October, 16, 2013
10/16/13
1:20
PM ET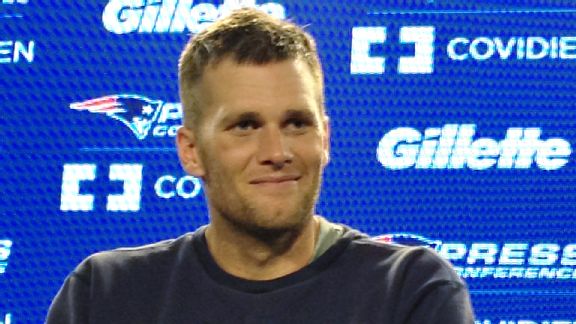 Mike Reiss/ESPNTom Brady didn't give details on how he got a black eye, but said it happened in Sunday's game.
FOXBOROUGH, Mass. -- New England Patriots quarterback Tom Brady arrived at his weekly news conference with a black eye.
He said that it happened in Sunday's win over the Saints.
"One of those dirty plays," he cracked.
MORE FROM ESPN BOSTON

Want to submit a question for Mike Reiss' weekly Patriots mailbag? Click here and come back every Tuesday around noon for the 'bag.
Latest headlines on ESPNBoston.com:
UPCOMING GAMES
| | W-L | PF | PA | HM | AW | STK | L10 |
| --- | --- | --- | --- | --- | --- | --- | --- |
| BAL | 1-1 | 30.5 | 26.0 | 0-0 | 1-1 | L1 | |
| NWE | 2-0 | 40.0 | 19.0 | 2-0 | 0-0 | W2 | |
| | W-L | PF | PA | HM | AW | STK | L10 |
| --- | --- | --- | --- | --- | --- | --- | --- |
| IND | 2-1 | 19.0 | 22.7 | 1-0 | 1-1 | L1 | |
| NWE | 2-0 | 40.0 | 19.0 | 2-0 | 0-0 | W2 | |
| | W-L | PF | PA | HM | AW | STK | L10 |
| --- | --- | --- | --- | --- | --- | --- | --- |
| NWE | 2-0 | 40.0 | 19.0 | 2-0 | 0-0 | W2 | |
| SEA | 2-0 | 29.5 | 19.5 | 2-0 | 0-0 | W2 | |
LATEST ON THE NEW ENGLAND PATRIOTS