Shapshots: Patriots training camp Day 2
July, 25, 2014
Jul 25
9:23
PM ET
FOXBOROUGH, Mass. -- The scene on the practice fields behind Gillette Stadium on the second day of New England Patriots training camp: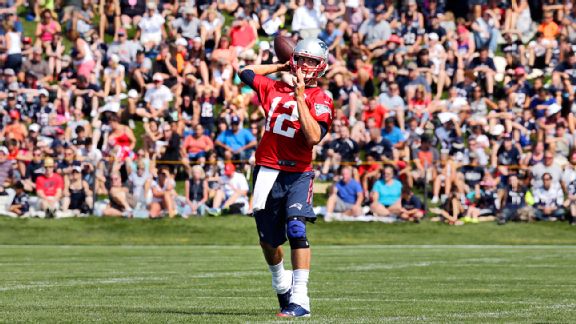 AP PhotoTom Brady lets one fly in front of his adoring fans.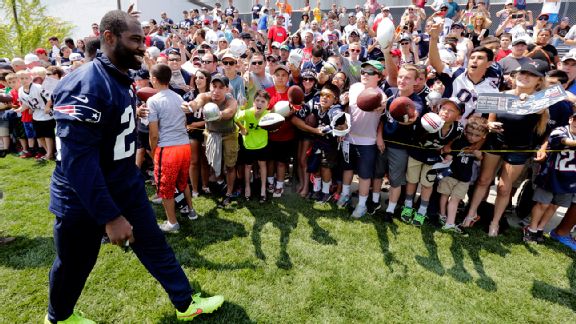 AP PhotoDarrelle Revis took time to sign autographs.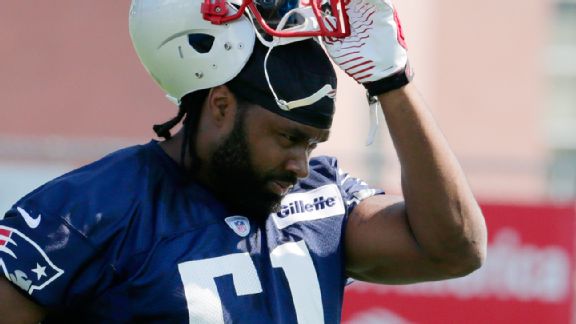 AP PhotoJerod Mayo lifts off his helmet Friday morning.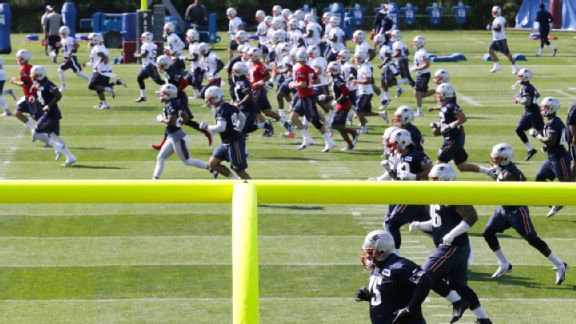 AP PhotoThe Patriots run across the practice field behind Gillette Stadium.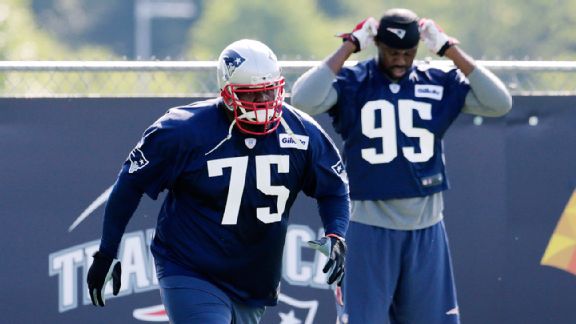 AP PhotoVince Wilfork and Chandler Jones prepare to run.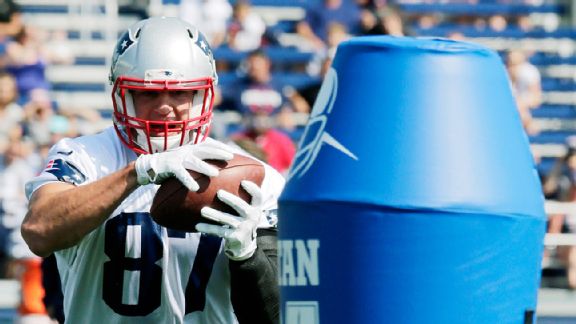 AP PhotoRob Gronkowski says he isn't yet 100 percent -- but he's getting there.
Mike Reiss/ESPNBoston.comRobert Kraft was a guest on the SportsCenter set Friday and Foxborough, flanked by Tedy Bruschi and Hannah Storm.
MORE FROM ESPN BOSTON

Want to submit a question for Mike Reiss' weekly Patriots mailbag? Click here and come back every Tuesday around noon for the 'bag.
Latest headlines on ESPNBoston.com:
WEEK 12 - SUNDAY 11/23 - FINAL
UPCOMING GAMES
| | W-L | PF | PA | HM | AW | STK | L10 |
| --- | --- | --- | --- | --- | --- | --- | --- |
| DET | 7-4 | 17.9 | 17.3 | 4-1 | 3-3 | L2 | |
| NWE | 9-2 | 32.5 | 20.6 | 6-0 | 3-2 | W7 | |
| | W-L | PF | PA | HM | AW | STK | L10 |
| --- | --- | --- | --- | --- | --- | --- | --- |
| NWE | 9-2 | 32.5 | 20.6 | 6-0 | 3-2 | W7 | |
| GNB | 8-3 | 32.2 | 22.4 | 5-0 | 3-3 | W3 | |
| | W-L | PF | PA | HM | AW | STK | L10 |
| --- | --- | --- | --- | --- | --- | --- | --- |
| NWE | 9-2 | 32.5 | 20.6 | 6-0 | 3-2 | W7 | |
| SDG | 7-4 | 22.3 | 19.6 | 5-1 | 2-3 | W2 | |
LATEST ON THE NEW ENGLAND PATRIOTS