New England Patriots:

2013 Week 15 NE at MIA
December, 15, 2013
12/15/13
8:15
PM ET

ESPN.com NFL Nation Dolphins reporter James Walker captures the atmosphere in the locker room after the team's thrilling victory and how there is a feeling they can beat anyone, while ESPN.com NFL Nation Patriots reporter Mike Reiss relays the disappointment on the Patriots' side as they let an opportunity to clinch the AFC East slip away.
December, 15, 2013
12/15/13
8:14
PM ET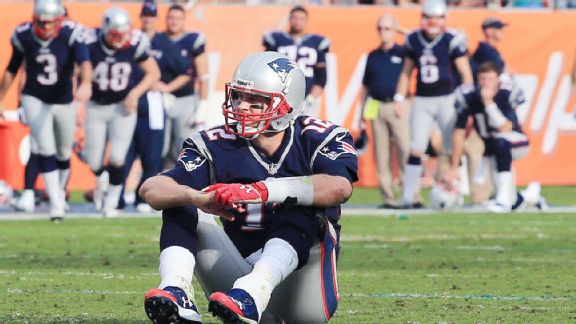 Robert Mayer/USA TODAY Sports "We had chances and just weren't able to make enough plays," coach Bill Belichick said after New England's loss.
MIAMI -- The
New England Patriots
have lived most of the 2013 season on the edge, and it finally caught up to them in Sunday's
24-20 loss
to the
Miami Dolphins
. The defeat also appeared to push quarterback
Tom Brady
over the edge.
Brady took two questions in his postgame news conference, answering the last one with an expletive before walking off.
"We had plenty of chances all day," he said. "We make some good plays and then we make plenty of [expletive] plays."
That was it. Brady's 55-second session captured the across-the-board frustration from a team that let two opportunities slip through its grasp: The chance to clinch the AFC East championship with a victory and also keep control of the chance to be the No. 1 seed in the AFC playoffs.
Coach Bill Belichick said last week that there was no time for such big-picture talk and what unfolded Sunday at steamy Sun Life Stadium was a reminder why. Things change fast in the NFL and now the 10-4 Patriots, who a few days ago were being discussed as a potential No. 1 seed after the
Denver Broncos
' home loss to
San Diego Chargers
, are anything but locks to even earn a first-round playoff bye.
Heck, they aren't even a lock to win the AFC East at this point. Up next is a tough road game against the
Baltimore Ravens
, followed by the regular-season finale at home against the
Buffalo Bills
. The Dolphins (8-6) close with a trip to Buffalo and a finale at home against the
New York Jets
.
To understand how Patriots players felt about that, one needed only to watch Brady's remarks afterward. Even in games in which Brady leaves the field fuming, such as the Nov. 18 loss in Carolina when he lit into referee Clete Blakeman as he exited, he usually cools down by the time he answers questions from reporters.
This time was different, the frustration building as he listened to a question about the team's valiant final drive falling short, his jaw clenched tight and the emotions started to boil within.

After saying an expletive, Brady sounded like he was about to continue his thought, saying "so ..." But then he gathered himself, nodded his head a few times and said "thank you" as he reached down to pick up his bag and walked off.
It all happened fast, coming after Brady previously said, "It turns out we come up on the short end of the stick so it just wasn't a good day. We just couldn't make enough plays when we had a chance to."
True, but much like most of the games the Patriots have played this year, the result could have been different had a few plays gone in the other direction. Since it didn't, much of the focus will be on the deficiencies that were easy for everyone to see.
On offense, the Patriots badly missed tight end
Rob Gronkowski
in the red zone (it had one touchdown in four trips). On defense, there were no turnovers for the second game in a row and when a stop was needed on the Dolphins' game-winning drive, such as on fourth-and-5, the unit couldn't deliver. And even on special teams, usually reliable
Stephen Gostkowski
booted the kickoff out of bounds after the Patriots went ahead 20-17, giving Miami a shorter field for their final march.
"It was a disappointing game," coach Bill Belichick said. "It was close, very competitive. We had chances and just weren't able to make enough plays."
The Patriots' red-zone struggles weren't surprising when considering Brady is 21-of-34 when throwing to Gronkowski in the end zone over the past three seasons, and 26-of-97 to all other intended receivers, according to ESPN's Stats & Information.
Still, for a team that prides itself on "next man up" and finding creative solutions to account for significant personnel losses, there are no excuses.
Meanwhile, on a day the injury-ravaged defense had its moments, it wilted in the clutch by failing to close out the Dolphins on third-and-16 and then fourth-and-5 on the game-winning drive. A good defense finds a way to make those plays, and at this point, the depleted Patriots clearly aren't in that category.
This is a unit that has to win with scheme, and Sunday's plan -- tailored to take away the middle-of-the-field passing game, specifically versatile tight end
Charles Clay
-- looked solid for long stretches of the game. But what resulted was that they were eaten up on the outside and down the field, as Dolphins quarterback Ryan Tanehill was 12-of-18 for 217 yards and one touchdown on throws 10 or more yards downfield.
It made sense that the Patriots took such an approach, often using top cornerback
Aqib Talib
inside, because in the first 13 games of the season Tannehill had a 45.5 completion percentage with three touchdowns and 11 interceptions on throws 10 or more yards down the field. Yet as has been the case in recent weeks -- whether it's Houston's
Case Keenum
, Cleveland's
Jason Campbell
or Tannehill -- opposing quarterbacks aren't finding the Patriots' defense too difficult to carve up.
Add in the special teams miscue on Gostkowski's kickoff, and there were enough slip-ups in each phase to produce the final result.
So it's no wonder that Brady was still steaming by the time he met the media. The Patriots have been living on the edge for most of the season and it finally caught up to them, the opportunity to clinch the AFC East and control the AFC's No. 1 seed slipping away from them in the process.
December, 15, 2013
12/15/13
6:10
PM ET
MIAMI --
New England Patriots
kicker
Stephen Gostkowski
took the blame for his kickoff that sailed out of bounds, giving the
Miami Dolphins
the ball at the 40-yard line to set up their game-winning touchdown drive in the fourth quarter.
The Patriots had just scored to go ahead 20-17 with 4:07 remaining when Gostkowski, who has been a star performer in the two games leading into Sunday, made the uncharacteristic mistake.
Gostkowski
"It was just a case of over-kicking and trying to kill the ball. It was not a good kick at all," Gostkowski said following the Patriots'
24-20 loss
. "It was terrible timing. It's a play I definitely wish I could take back. It stinks to lose and stinks to have an effect on the game like that."
The play, reminiscent of Carolina kicker John Kasay's miscue in Super Bowl XXXVIII that helped the Patriots win in thrilling fashion, likely had an effect on the Dolphins' play-calling. The Dolphins faced fourth-and-5 from their own 45-yard line and successfully went for it, a decision they might not have made if they were at their 25.
Gostkowski, who had field goals of 22 and 23 yards, explained that he wasn't in control as he struck the ball. Earlier in the game, he missed a 48-yard field-goal attempt wide left.
"I felt like I hit it pretty well and the wind was blowing left to right all day, and I played it left-middle," he said. "I felt like I hit it right where I aimed and it just kind of leaked left a little.
"It's upsetting. There are very few times when I feel like I hit a good kick and I miss. Usually you just hit a crappy kick. I felt like I put a good swing on it, it was a good operation. Today just wasn't our day and it stinks to play terrible and you lose. It's like pouring salt on the wound."
December, 15, 2013
12/15/13
5:40
PM ET
MIAMI -- A primary question heading into Week 15 was how the
New England Patriots
would account for the loss of tight end
Rob Gronkowski
. The team's top pass-catching weapon, Gronkowski was placed on injured reserve on Monday after suffering a torn ACL and MCL against the Browns last Sunday.
Below is an overview of some of the key players that were counted on to fill Gronkowski's production during the team's 24-20 Week 15 loss to the Dolphins.
Tight end Michael Hoomanawanui:
Coming back for the first time since a Week 11 knee injury, Hoomanwanui was the team's top tight end, playing 72 of 81 offensive snaps. He had just one catch, but it was a critical one, as he snagged a beautiful one-handed catch for a touchdown to give the Patriots a 10-0 second-quarter lead.
Tight end Matthew Mulligan:
The only other tight end that was active Sunday, Mulligan contributed 16 snaps on offense. He did not record a catch, but did appear to hold his own as an edge-setting run-blocker. (Note:
D.J. Williams
was inactive for Sunday's game.)
Wide receiver Josh Boyce:
Gronkowski wasn't the only critical skill player who was out, as rookie wide receivers
Aaron Dobson
(foot) and
Kenbrell Thompkins
(hip) also missed the game. Boyce was thrust into a larger offensive role, catching four passes for 42 yards. He also had critical drops during the game. He was spotted after the game walking gingerly with no shoe on his right foot.
Wide receiver Austin Collie:
Collie effectively became the third wide receiver late in the game, and he once again proved to be a dependable fill-in. He had two catches for 25 yards.
Running back Shane Vereen:
Vereen has been a valuable player for the Patriots' offense since returning from his own injury, but he had his quietest game of the season. Vereen racked up just 21 yards on five total touches.
December, 15, 2013
12/15/13
5:15
PM ET
MIAMI -- In what has been a weekly ritual of late, the
New England Patriots
found themselves knotted in a tight ball game late in the fourth quarter on Sunday in Miami.
The stakes were high and the circumstances were clear: Eighty yards to go for a touchdown, three timeouts remaining and down by four points.
Given their recent run of success in similar circumstances, you can't fault the Patriots for feeling confident they were still very much alive with their backs against the wall.
[+] Enlarge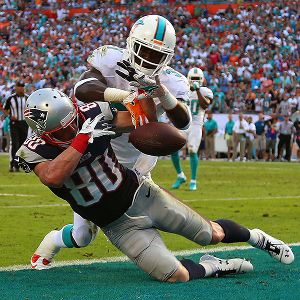 Mike Ehrmann/Getty ImagesMichael Thomas (31) broke up a would-be touchdown pass from Tom Brady to Danny Amendola late in the fourth quarter.
"We work on the two-minute drill every week and, you know, we felt like we had a good chance and we wanted to execute the plays we had practiced," wide receiver
Danny Amendola
said following the game. "You know it's frustrating, but it didn't work out today."
The Patriots had their chances, as they quickly found themselves deep in Dolphins territory. Amendola had perhaps the best opportunity to put his team ahead, as a throw from
Tom Brady
fell into his hands as he attempted to outleverage a Dolphins defender in the end zone.
"I'd like to have that one," Amendola, who was unsure if the defender jousted the ball free from his arms, said of the near touchdown.
"I don't know, I'll have to look at film, but the game's on the line," he said. "I'd really like to have that one."
The near touchdown overshadows what was arguably Amendola's best day as a Patriot, as he racked up 10 catches for 131 yards. He combined with
Julian Edelman
-- who chipped in 13 catches, 139 yards and a touchdown -- to give the Dolphins' secondary fits for much of the afternoon.
Despite the production and exceptional effort in finding space, neither player was satisfied following the game, a 24-20 defeat.
"We didn't find enough [space]," a disappointed Edelman said following the game. "We didn't make the plays when we had to and Miami did."
Ultimately, the Patriots came up just short, as Brady's fourth-down throw on the game's penultimate play was intercepted by Dolphins safety
Michael Thomas
.
The result wasn't just a loss on Sunday, but it also prevented the Patriots from clinching their fifth straight AFC East division crown.
"That was a goal of ours," Amendola said. "The bottom line is we wanted to win this game and it just didn't happen."
They'll aim to atone for the loss next week against Baltimore, who they'll quickly turn the page to in the not-too-distant future.
"We're going to go back and watch this film, fix what we have to," Edelman said. "Take the good from the good, the bad from bad, and everything in between, and prepare for the
Baltimore Ravens
."
December, 15, 2013
12/15/13
4:20
PM ET
MIAMI -- At an initial glance, a look at which players were "up" in the Patriots' game against the Dolphins and those at the opposite end of the spectrum:
Up
Julian Edelman
: On the field where he broke his foot last year, receiver delivers with another big game.
Michael Hoomanawanui
: Tight end's 13-yard, one-handed touchdown grab late in the second quarter is one for the highlight reel.
Aqib Talib
: Cornerback who often aligns on the inside part of the field, likely with the idea of taking away the Dolphins' middle-of-the-field passing game, isn't heard from often.
Down
Josh Boyce
: Rookie receiver can't come up with two catches against tight coverage, one of which came in the end zone.
Marquice Cole
/
Steve Gregory
: Defensive backs are in coverage on
Mike Wallace
's 39-yard catch-and-run touchdown at the end of the second quarter.
Dane Fletcher
: Linebacker is flagged for a critical pass-interference penalty on third down late in the third quarter.
Stephen Gostkowski
: After the Patriots go ahead 20-17, sends his kickoff out of bounds, giving the Dolphins the ball at the 40.
December, 15, 2013
12/15/13
3:58
PM ET
MIAMI -- Thoughts on the
New England Patriots
' 24-20
loss
to the
Miami Dolphins
at Sun Life Stadium:
What it means:
The Patriots fall to 10-4 and miss out on the chance to clinch the AFC East. Furthermore, after they had the door open to potentially earn a No. 1 playoff seed with wins in their final three games, that opportunity is now off the board. This game came down to a few plays, as many of the Patriots' games have this season. A gutsy call by the Dolphins to go for it on fourth down on their winning march was a biggie. The Patriots had a valiant final drive that fell just short.

Up-and-down defense can't hold:
When the Patriots needed their defense to come up with the stop, the unit couldn't deliver. It didn't help that normally reliable kicker
Stephen Gostkowski
booted a kickoff out of bounds, giving Miami the ball at the 40-yard line. The injury-ravaged defense had its moments, but two things stand out: (1) When it needed to come up with the big stop in the big moment, it couldn't; (2) The turnovers have dried up the past two weeks, and that's not good news for a D that thrives on them. Without those turnovers, the D is vulnerable.
Great finish:
From a pure football standpoint regardless of rooting interest, most would agree that this was another thrilling finish. The Patriots' resilience was on display again, as they showed they are a tough team to knock out. The Dolphins deserve credit for doing so -- as it took all 60 minutes.
Stock watch:
Tight end
Michael Hoomanawanui
earns a spot here for a sensational one-handed 13-yard touchdown catch in the second quarter. The Patriots had been stopped in the red zone on their first trip, and just when it seemed like the loss of
Rob Gronkowski
was playing a major role in the team's red zone struggles ... Hoomanawanui delivered. Still, red zone struggles overall were an issue in the game.
Injuries to monitor:
Starting left tackle
Nate Solder
, who had been on the injury report with a concussion, left the game in the second half and did not return. The team announced that he had a head injury. ... There was no official announcement, but rookie receiver/kickoff returner
Josh Boyce
didn't finish the game, with
Austin Collie
taking his place. That could have been performance-related.
What's next:
The Patriots visit the Ravens on Sunday. The game will kick off at 4:25 p.m. ET after being flexed out of prime time.
December, 15, 2013
12/15/13
2:21
PM ET
MIAMI -- Sharing halftime thoughts on the
New England Patriots
' game against the Dolphins at Sun Life Stadium (New England leads
10-7
):

Quick half:
This has been a game with a quick pace. Not a lot of penalties, which isn't surprising as these two teams are among the least penalized in the NFL. Good action.
Hoomanwanui with the highlight:
Just as it appeared the Patriots' red-zone struggles were going to resurface, tight end Michael Hoomanwanui came up with one of the most impressive catches you'll see -- reaching up with his right hand to snare a 13-yard laser in the end zone from quarterback
Tom Brady
. That gave the Patriots a 10-0 lead. Hoomanawanui is active for the first time since injuring his knee on Nov. 18 against the Panthers, and that was a difference-making play.
Late Dolphins touchdown ends half on downer:
The Patriots had played a solid first half up until the Dolphins' final drive, as Miami won the "situational" football battle. An injury thrust
Marquice Cole
into the game at cornerback (
Kyle Arrington
required medical attention) and the Dolphins went after him on
Mike Wallace
's long catch-and-run touchdown. It didn't help that safety
Steve Gregory
over-ran the play. That was a downer in an otherwise fairly solid defensive half for the Patriots.
Third-down defense getting it done:
In part because they had sacks on early downs, the Patriots' third-down defense has been as good as we've seen in recent weeks, with Miami in long-yardage situations. The Patriots are mostly playing their nickel defense (five defensive backs), and cornerback
Aqib Talib
has been moving all over as a chess piece of sorts. As noted above, until the Dolphins' final drive, the D had done its part.
Special teams a big part of second quarter:
The second quarter was a good "advertisement" on the importance of special teams play. Both punters had magnificent efforts -- Miami's
Brandon Fields
to pin the Patriots deep, and New England's
Ryan Allen
to shift field position with a 57-yard effort. Also, the botched Miami field goal appeared to be a fake (one wing flared out at the snap) that backfired as Fields, the holder, had the snap clang off his facemask.
Patriots get the ball to open second half:
After calling heads and winning the opening toss, the Patriots will get the ball for the start of the second half.
December, 15, 2013
12/15/13
1:45
PM ET
MIAMI -- After 15 minutes of play, the
New England Patriots
lead the Mimami Dolphins
3-0
. Passing along quick-hit notes and observations from the first quarter.

1. Patriots offense starts with points:
The Patriots' offense wanted to start faster today than it has in recent weeks, and while the Patriots were unable to manufacture a touchdown on the opening drive, they did come through with a field goal. The 16-play drive gave the Patriots their first lead in the first half since Week 9 against the Steelers.
2. Blount opens game in backfield:
For the second consecutive week, it was running back
LeGarrette Blount
getting the lead carries for the Patriots. The 27-year old has run well of late, and looked sharp early. He has used his big frame to effectively power through defenders. Running back
Stevan Ridley
entered on the second drive, earning his first carry on his second snap and dashing for 11 yards and a first down.
3. Defensive notes:
The Patriots' defense seems to be changing between its base and sub personnel based upon the presence of Dolphins tight end
Charles Clay
. When he's in the game, the Patriots are using their sub defense and effectively treating him as if he were a third wide receiver. When he's off the field, the team has relied upon its base defense. It hasn't been on every play, but we've seen
Aqib Talib
used to defend Clay on occasion.
4. Allen pins Fins deep:
Ryan Allen
planted a beautiful punt on the Dolphins' 6-yard line to end the quarter. He's developed nicely as a directional and short-field punter. The Dolphins will begin the second quarter deep in their own territory.
5. Penalty box:
No Patriots were flagged for penalties during the first quarter.