New England Patriots:

2013 Week 5 NWE at CIN
October, 6, 2013
Oct 6
7:50
PM ET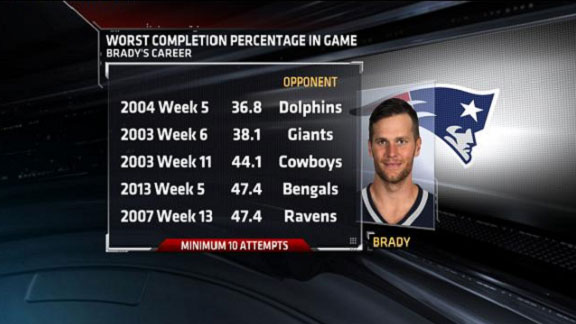 ESPN Stats and InfoTom Brady was held to fewer than 200 passing yards for the second time this season.
CINCINNATI -- The losing script looked familiar.
When the
New England Patriots
' offense has been knocked off track in recent years, the formula is usually the same: Quarterback
Tom Brady
gets hit early, the offensive line struggles to consistently hold its ground and the critical situations they usually win sway in the other direction.
That's precisely how things unfolded in Sunday's 13-6 loss to the
Cincinnati Bengals
at Paul Brown Stadium. Brady was battered early, a sack on the second offensive play setting a tone, as his streak of 52 straight games with at least one touchdown pass was snapped two shy of
Drew Brees
' NFL record.
"It's one of the premier, best quarterbacks in the league. To be able to go out and hit him consistently and get him rattled, it's a big plus," Bengals defensive end
Wallace Gilberry
said after Brady was sacked four times. In-game statisticians recorded eight hits on him overall. "When you can do that early, it does something to your self-esteem."
At the same time, this wasn't all on Brady or the offensive line.

A costly second-quarter fumble by running back
LeGarrette Blount
, the 10th of his three-plus-year career, and multiple drops by Brady's receivers didn't help the cause. Three of those drops came in the final 3 minutes, 30 seconds when the Patriots had two chances to drive for a game-tying touchdown, albeit in a driving rainstorm.
Overall, the Patriots were 1-of-12 on third down and they couldn't punch it in from the 1-yard line on three attempts, settling for a field goal on their one trip inside the Bengals' red zone.
So one can understand that there was a mix of reaction from Patriots players afterward; in one respect, they credited a talented Bengals defense led by an attacking line, while at the same time lamenting missed opportunities as they turned in their lowest point total since a 21-0 loss to the
Miami Dolphins
on Dec. 10, 2006.
"You can't expect to kick two field goals and win many games in the NFL," said Brady, who was held to fewer than 200 passing yards for the second time this season (18-of-38 for 197 yards, 1 INT).
"We can do a better job than that, and we are going to have to if we want to win these games. We had too many silly execution errors and mental mistakes today. It is hard to drive the ball down the field if you keep making those mistakes."
[+] Enlarge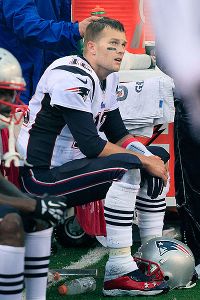 AP Photo/Tom UhlmanTom Brady sits on the bench after throwing an interception in the final minute.
Even more frustrating for the Patriots was that their defense did its part. Hold a team to 13 points, especially with Brady at quarterback, and it should be a victory.
"The defense played great, as they have all year, and I think we really let them down," said left guard
Logan Mankins
, one of the team's captains. "The truth right now is that we're so inconsistent offensively."
The burning question is why, and also if those inconsistencies can be overcome to compete for a championship, which is the standard that's been set in New England.
The potential return of tight end
Rob Gronkowski
next Sunday against the 5-0
New Orleans Saints
could help. And receiver
Danny Amendola
, returning for the first time since injuring his groin on Sept. 8, is still on a limited snap count (he was charted as being on the field for 38 of 63 snaps, including penalties).
But for a team that has rallied around the next-man-up theme for more than a decade, to pinpoint Gronkowski and Amendola as primary reasons for offensive inefficiency would be like several of Brady's passes Sunday -- off the mark. And to the players' credit, no one was going there.
"They flat out just beat us. Sometimes you have to tip your hat," receiver
Julian Edelman
said. "We have no excuses."
The Bengals did it with a familiar formula that Patriots followers have seen in the past -- batter Brady by winning the battle at the line of scrimmage -- as coach Marvin Lewis later gave coordinator Mike Zimmer a game ball. While the Bengals generated pressure with the standard four rushers, the blitz also was effective, as they sent extra rushers on 12 of Brady's 41 dropbacks, according to ESPN Stats & Information tracking, and totaled three of their four sacks with the added pressure.
"For the majority of the game, he was on his back," Bengals defensive tackle
Domata Peko
said. "Every play, he needed help coming up off the ground."
When Brady gets knocked down like that, the Patriots usually go down with him.
Yes, this was a familiar script.
October, 6, 2013
Oct 6
5:50
PM ET
CINCINNATI -- After missing three games with a groin injury,
New England Patriots
wide receiver
Danny Amendola
made his return to the field on Sunday, logging 38 of 63 snaps and leading the team in both catches (four) and receiving yards (55).
The receiver was limited early in the game, often being held off in two- and three-wide-receiver sets, but after it was over he said he felt OK in his first game back.
Amendola
"I felt pretty good," he said. "There's a lot of work to be done and we've just got to get better."
Amendola also revealed a bit about the process leading up to the decision that he was going to play, as he alluded to the fact that he had a "good idea" he'd be on the field when he traveled with the team on Saturday. Ultimately, the decision came down to how Amendola felt as he prepared for the game, something he tested during an extensive pregame warm-up.
"It was just something that, it was day-to-day all week and it just felt good enough to play," he said.
The pregame warm-up was important for Amendola in order to ensure that he was fully ready to roll.
"Practice is practice during the week, then you get into the game, adrenaline's flowing, it's a lot faster," he noted. "I had to make sure I was ready, but I felt pretty good."
On the field, Amendola nearly corralled his first touchdown catch with the Patriots, coming up inches short as he nearly rolled in for the score.
"I caught it, I knew I was close," he said of the play. "I thought I could roll in, I thought I was going to be in, but it didn't roll that way."
Things didn't roll the way the Patriots' offense wanted them to throughout the day, as a late chance to tie the score amid difficult conditions -- steady rain -- came up short. Amendola said the team was ready for the rain, but the offensive futility ultimately came down to a need to execute better.
"It was raining, but that's something that we practice," he said. "We anticipate playing in the rain, we just need to get better."
October, 6, 2013
Oct 6
5:30
PM ET
CINCINNATI -- Observed in the locker room after the
New England Patriots
' 13-6 loss to the
Cincinnati Bengals
:
Following up with Tommy Kelly:
The veteran defensive tackle, who left the game in the fourth quarter with a knee injury and didn't return, was one of the last players to leave the locker room. Unlike
Vince Wilfork
last week, who left Atlanta on the back of a cart after tearing his Achilles, Kelly walked out under his own power and his injury didn't appear, on the surface, to be as serious as Wilfork's. Kelly said he planned to speak with reporters later in the week, but when asked briefly about the knee, he said "everything's good." What that exactly means remains a bit unclear.
Brady
Tom Brady on his streak being snapped:
The quarterback had his streak of 52 straight games with at least one touchdown pass snapped. When asked about it, Brady said, "I'm bummed that we lost. That's all that really matters."
Crediting the Bengals' defense:
As is often the case in a losing team's locker room, there was plenty of focus on the team's mistakes. At the same time, receiver
Julian Edelman
-- who singled out the red zone as the key area in the game -- pointed out that some credited belonged on the Bengals' side as well. "They were mixing it up, spinning the dial, doing what they do. They flat-out beat us. Sometimes you have to tip your hat," he said. "We have no excuses."
Letting the defense down:
Offensive lineman
Logan Mankins
said, "The truth right now is that we're so inconsistent offensively. ... Today, the defense played great, as they have all year. I think we really let them down." No further explanation required.
Amendola's groin responds well:
Receiver
Danny Amendola
was charted on the field for 38 of 64 snaps (including penalties), as he was managed in his return from a groin injury. He drew a large crowd of reporters at his locker after the game and said he felt good, although there were a few plays he wanted to have back. Amendola also said he felt he had scored on a play in which he was ruled just shy of the end zone.
October, 6, 2013
Oct 6
3:59
PM ET
CINCINNATI -- Thoughts from the
New England Patriots
'
13-6 loss
to the
Cincinnati Bengals
:

What it means:
The Patriots' offense was held without a touchdown as the Bengals' defense -- and missed opportunities by New England -- was the story of the game. The Patriots, who had two drives with a chance to score a game-tying touchdown, fall to 4-1. Parts of the end of the game were played in a driving rainstorm.
Brady's streak:
Quarterback
Tom Brady
's streak of 52 straight games with at least one touchdown pass was snapped. The record was 54 straight games, set by Saints quarterback
Drew Brees
. Had Brady kept the streak alive, he would have had a chance to tie the mark against Brees' Saints. Brady was intercepted with 16 seconds left to end it on an underthrown pass.
Kelly's knee injury and defensive tackle concerns:
Veteran defensive tackle
Tommy Kelly
left the game in the second half with a knee injury, returned briefly, then left for good. A potential Kelly absence would be a big blow in the wake of the Patriots losing defensive tackle
Vince Wilfork
for the season. The Patriots have rookies
Joe Vellano
and
Chris Jones
next on the depth chart and also have first-year player
Marcus Forston
and rookie A.J. Francis on the practice squad.
More on the injury front:
Veteran running back
Leon Washington
left the game in the first half with an ankle injury and did not return. Washington, who had a thigh injury that limited him to just one of the team's first four games, opened Sunday as the Patriots' primary kickoff returner.
Stock watch, up:
Defense. On a day in which the Patriots' offense was stymied -- and credit goes to the Bengals' defense for making life so difficult -- the Patriots' defense kept the team in the game. Safety
Devin McCourty
's forced fumble late in the fourth quarter had the team in position to potentially tie. And then the defense delivered another stop to force a punt.
Stock watch, down:
LeGarrette Blount
. The running back fumbled in the second quarter, ending a promising drive. With top running back
Stevan Ridley
out with a thigh injury, this was Blount's time to assume a lead role. The fumble hurt.
Managing Amendola:
Receiver
Danny Amendola
played for the first time since injuring his groin in the Sept. 8 season opener. Including penalties, he was on the field for 38 of 63 snaps (unofficially), which reflects how he was managed in his return.
What's next:
The Patriots return home to face the
New Orleans Saints
on Sunday.
October, 6, 2013
Oct 6
3:20
PM ET
CINCINNATI -- Entering the final quarter of action, the
New England Patriots
trail the Bengals 6-3. Passing along quick-hit notes and observations from the third quarter:
1. Offense sputtering.
It hasn't been pretty for the Patriots' offense, with nothing doing through three quarters. As the fourth quarter begins, quarterback
Tom Brady
has just 15 minutes to extend his streak of consecutive games with a touchdown pass. He's currently at 52. If he manages one in the fourth quarter, he'll have a chance to tie
Drew Brees
' record against Brees and the Saints next Sunday.
2. Rookie Jones shining.
If one were to guess a Patriots defensive lineman with the last name Jones to record 1.5 sacks, most would go with
Chandler Jones
, their standout defensive end. But it's been the other Jones, Chris, who has shined thus far. Playing his most significant reps of the season,
Chris Jones
already has 1.5 sacks. He's held up well as one of the players charged with replacing
Vince Wilfork
.
3. Strong day for Allen.
Credit rookie punter
Ryan Allen
for a strong start to the day, perhaps the best of his young career. He's placed three straight punts within the Bengals' 10-yard line. His punt late in the second quarter actually helped the Patriots get a shot to have the ball back at the end of the half to get their first three points.
4. Defense holding up its end of the bargain.
As tough as it's been for the offense today, the defense has been very good. With just six points surrendered and three sacks, it's been another productive effort thus far. Top Bengals receiver
A.J. Green
largely has been held in check, and the run defense didn't allow a big play until the final snap of the quarter.
5. Penalty box.
No Patriots were flagged for penalties during the third quarter.
October, 4, 2013
Oct 4
6:00
PM ET
Entering Week 4, there were unique schools of thought relating to the
New England Patriots
and
Cincinnati Bengals
: Some wondered if the Patriots' 3-0 start had an element of fools gold to it because the competition wasn't particularly strong.
Conversely, some were ready to launch the Bengals into the conversation of the AFC's best teams (outside of Denver) with back-to-back wins, including a home victory over the potent
Green Bay Packers
.

But as we enter Week 5, perceptions may have changed. The Patriots earned some new believers after doing something only one other team had done to the Falcons in the past 13 tries: beat them at home during the regular season. The defense looks to be capable of neutralizing a formidable passing attack, though a big blow came across the front with nose tackle
Vince Wilfork
tearing his Achilles.
The Bengals, meanwhile, were kept entirely in check by the Browns in Week 4, managing just a pair of field goals in a 17-6 defeat. The running game couldn't get it going against a talented defensive front and quarterback
Andy Dalton
was underwhelming, failing to throw a touchdown pass for the first time this season.
But on Sunday, neither team will be concerned with what they have done thus far or even in the most recent week. It's all about starting off the second quarter of the season off right.
When the two square off this Sunday, here's what we'll be watching for:
1. Gronk/Amendola watch.
Another week, another period of waiting and wondering whether tight end
Rob Gronkowski
(back/forearm) and/or
Danny Amendola
(groin) will return to action. The narrative remains the same: Each has practiced on a limited basis and each appears to be improving, inching closer to a return. But until they step on the game field and rejoin the offense, this will be a primary storyline for the team. Tight end
Matthew Mulligan
became the first player at the position to score a touchdown for the Patriots this season during the Week 4 win, but suffice it to say that the absence of Gronk has dramatically impacted the role of tight ends. If Gronk doesn't play, the Patriots will be down to just two tight ends, having released
Zach Sudfeld
on Thursday. Amendola, meanwhile, has been substituted for by
Julian Edelman
, who admirably is tied for the lead in the NFL with 34 catches.
Update, Saturday 3:00 p.m.
: A league source tells ESPN NFL Insider Adam Schefter that Gronkowski
did not travel
to Cincinnati and won't play, but Amendola did make the trip.
2. Replacing Wilfork.
The Patriots opted not to seek external help in their quest to replace Wilfork, who was placed on injured reserve on Thursday. The likeliest scenario is an internal promotion from the practice squad, as both
Marcus Forston
and A.J. Francis project as candidates to be called up (we'd suspect there's room for just one of them). While Wilfork's impact is difficult to quantify in many ways, there's a fitting stat worth passing: with Wilfork off the field, the Patriots have allowed 5.0 yards per rush compared to 4.1 when he is on it. The Bengals have an exciting young back in
Gio Bernard
that will put the Patriots new look run defense to the test.
[+] Enlarge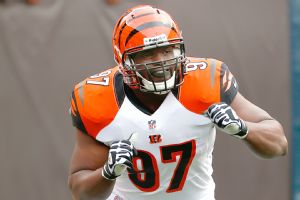 AP Photo/Scott BoehmGeno Atkins has 2.5 sacks through four games this season.
3. Protecting Brady.
A prevailing theme from the week was just how disruptive and dangerous the Bengals pass rush can be, led by defensive tackle
Geno Atkins
and extending to the perimeter with both
Carlos Dunlap
and
Michael Johnson
. As quarterback
Tom Brady
noted, the Bengals are particularly dangerous because not only is their starting group a handful, but their back-ups are talented too. A particular focus should be paid to Atkins, who Bill Belichick suggested would be worthy of the top overall pick if the 2010 draft -- during which he was taken in the fourth round -- was redone. The Patriots offensive line has allowed just seven sacks thus far in 2013, but Sunday will present a unique test.
4. Containing Green.
Another week, another test against a top member of the 2011 draft. Just seven days following a matchup with
Julio Jones
, the Patriots secondary will have to take on the lone receiver drafted ahead of Jones,
A.J. Green
. In just 36 pro games, Green already has 21 scores. He's a dynamic downfield threat that can do it all from a route-running perspective. He was limited to just 51 yards receiving in Week 4 (due in large part to a stingy defensive effort from Browns cornerback
Joe Haden
), but was still targeted 15 times. In the red zone and everywhere else, Green is a top option for Dalton.
5. Red zone efficiency.
The Patriots offense is getting there as it relates to red zone scoring, but there's still work to be done. After scoring touchdowns in two of three red zone trips last Sunday night, the team will look to build on its momentum and aim to regain the form it had throughout much of the 2012 regular season. That will be aided in a big way when both Gronkowski and Amendola return, as each -- particularly Gronkowski -- adds a multitude of layers to what they can accomplish in the condensed portion of the field. The Bengals have allowed their opponents to score touchdowns in nearly 73 percent of their red zone trips, seventh worst in the NFL.