New England Patriots:

2013 Week 6 NOR at NWE
October, 13, 2013
10/13/13
11:20
PM ET
FOXBOROUGH, Mass. --
New England Patriots
players involved in a dramatic eight-play, game-winning touchdown drive brought it back to life in a jubilant postgame locker room.
The situation had been dire -- 1:13 remaining, trailing 27-23, the ball on their 30-yard line, no timeouts -- which made reliving the improbable finish that much sweeter.
[+] Enlarge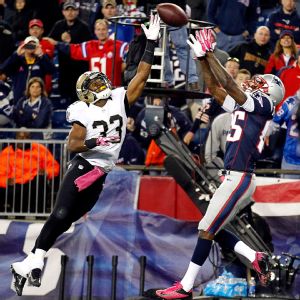 Stew Milne/USA TODAY Sports"It was just a deep ball, zone coverage, the DB [Jabari Greer] ended up letting me get behind him and I just went up there and made a play," Kenbrell Thompkins said of his winning TD catch.
"Before we went out, everyone was just focused, trying to prepare for the situation. We work on that situation on Thursdays a bunch, Coach [Bill Belichick] makes it really hard on us, so we're just focused at that point," receiver
Julian Edelman
said. "We were trying to get back from what we had dug ourselves into it. We just wanted to go out there and start it off right."
They did so with Edelman's 23-yard catch over the middle on a laser from quarterback
Tom Brady
, the team employing a four-receiver package (Edelman,
Aaron Dobson
,
Kenbrell Thompkins
and
Austin Collie
) to get more speed on the field.
"It was Tampa 2 [defense], a middle read, and Tommy put it on the line and I went up and got it," Edelman said of the drive-starting play, in which he had lined up in the right slot and got behind linebacker
David Hawthorne
and found the opening in front of safety
Rafael Bush
. "You can't think of anything else at that point. You just have to give the ball to the ref and get back to the next play."
Everyone was on the same page.
"I'm thinking, 'We have to get back to the ball and make another play. There is still a lot of field to cover, probably less than a minute now,'" Dobson said.
Indeed, the Patriots didn't snap the ball again until there were 53 seconds remaining, Brady connecting on a 15-yard pass over the middle to Collie, who had bumped up the depth chart after
Danny Amendola
had previously left the game with a head injury. Collie had played just one snap prior to the final drive.
"It was an in-route, I saw the middle of the field vacant, and kind of knew I was a viable option," Collie said of the play in which he lined up in the left slot. "The ball came my way, I caught it, got down as quick as I could, then gave the ball to the ref."
Collie's quick work was imperative as the Patriots were back at the line of scrimmage for their next play with 39 seconds remaining.
Considering Sunday was Collie's 11th day as a Patriot, his ability to come through in that critical situation, without the benefit of a huddle, was not overlooked by Belichick. The coach praised Collie, telling reporters he has spent more than two hours daily working overtime with position coach Chad O'Shea. It showed on the final march.
"That whole drive was me making sure I'm dialed in, making sure I was where I needed to be, and reminding myself 'expect the ball to be coming to you on this play,'" Collie said.
The ball now at the Saints 32, Brady then connected with Dobson on a 6-yard pass to the right side.
"Just an off-the-ball pass," Dobson explained. "The DB [
Keenan Lewis
] on me was way off and [Brady] kind of looked at me and we were on the same page. I knew I had to get out of bounds and [Lewis] helped me get out."
That stopped the clock with 35 seconds remaining, setting up back-to-back incompletions over the deep middle to Edelman from the Saints 26.
"I wish I could have had the second one back, I got banged at the end. You have to make that catch," said Edelman, who was banged up on the play and left the game as tight end
Michael Hoomanawanui
came on in his place.
Then, once again, Collie rose up in the critical situation: fourth-and-4, with 24 seconds remaining.
"Got an out-route and you just make sure you get separation and make sure you catch the ball when it comes to you," he said of the 9-yard catch in which he shook safety
Malcolm Jenkins
with authority. "It was a big down."
"

That's a very memorable moment for me, probably one of the best football games I've played in.

"

-- Patriots WR Aaron Dobson
Because Collie couldn't get out of bounds, players hustled back to the line for a spike to stop the clock, setting up the final touchdown, Brady firing a 17-yard strike to Thompkins in the back left-hand corner of the end zone. Thompkins rose up to make the catch, keeping his feet in bounds with five seconds remaining.
"We had everybody going in the end zone and he kind of snuck into the corner and I put it up there for him," Brady said. "He came down and made a great catch."
"It was just a deep ball, zone coverage, the DB [
Jabari Greer
] ended up letting me get behind him and I just went up there and made a play," said Thompkins, who pumped his right fist in the air repeatedly in celebration.
"Just awesome. Perfect textbook catch, the timing, getting his feet in," Hoomanawanui added. "He just made an unreal play but it's nothing new to us. We see that kind of stuff every day from him. It was just awesome to see it in that situation at the end of the game, and let the fans see it."
Parts of Gillette Stadium had actually emptied out by that point, those who left missing one of the most dramatic finishes in recent Patriots memory.
Those who stayed had seen this type of Brady magic before. The difference, of course, was that the supporting cast was almost entirely new.
"That's a very memorable moment for me, probably one of the best football games I've played in," said Dobson, the second-round pick from Marshall. "Going through that as a rookie, a last drive type of thing, and we all had a catch. I just felt we all contributed."
October, 13, 2013
10/13/13
9:27
PM ET
FOXBOROUGH, Mass. -- Given his superhuman start to the 2013 regular season, just finding a way to contain Saints tight end
Jimmy Graham
would've been a job well done for the Patriots secondary.
After all, in each of his five games entering Sunday's contest, Graham had either surpassed 100 yards receiving or hauled in a score, three times accomplishing both in a single game.
[+] Enlarge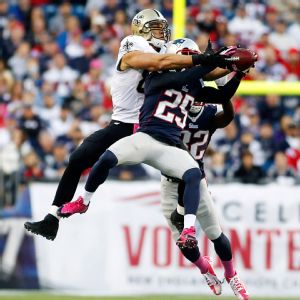 Stew Milne/USA TODAY SportsSaints TE Jimmy Graham, who led the league in receiving yards entering Week 6, was held without a catch for the first time since October 2010.
He led the league in receiving yards entering Week 6 with 596.
And that's exactly how many yards he left Sunday's game with, as the Patriots shut out the tight end from the box score, the first time he's gone without a catch since Halloween of 2010.
Safe to say slowing Graham down was a focus for the Patriots secondary.
"All week we knew, all we kept hearing was Jimmy Graham, Jimmy Graham," Patriots safety
Devin McCourty
said.
And as unlikely as it might have been to achieve, McCourty said following his team's thrilling 30-27 win that shutting down Graham -- not simply containing him -- was the goal for his secondary.
"You don't come in and say, 'we just want to try and contain him,' you come in with the game plan 'we got to try and shut him down,'" McCourty said. "That's the only way we'll have a chance to win this game, because if he has the type of game he's been having, we won't have a chance."
Though he left the game in the second half with a hip injury, cornerback
Aqib Talib
, who shadowed Graham while he was on the field, catalyzed the effort. Talib has emerged as perhaps the team's most valuable defender, ably containing top receivers throughout much of the season.
But Sunday was his best effort yet, finding a way to slow the league's best tight end.
"There's two good football players right there," Bill Belichick said of the Talib-Graham matchup. "Aqib, he really competed hard. In the end, I don't think either one of them were on the field. I think both guys ended up being out. It was a great battle, a great matchup, I thought Talib battled him."
Second-year cornerback
Alfonzo Dennard
, the starter opposite Talib, was in awe of his teammate's performance.
"Aqib is amazing. He is amazing," he said. "I like Aqib and I learn a lot from him."
He added that losing Talib was a difficult blow because of the game plan the team had built around using him to shadow Graham.
"It changed a lot because we had a whole little thing going by who Aqib goes to," he said. "A little matchup, so it changed a lot, but everything went well."
When Talib went down, the Patriots were forced to change things up on the fly, something they were able to accomplish in part by using McCourty at cornerback, the position he played when drafted out of Rutgers back in 2010.
He held his own at his old position and discussed the transition in a typically humble manner after the game.
"Once Aqib went down, we just had to adjust," McCourty said. "With me playing different positions in the defense, I'm able to be flexible and I was able to move around and play a bunch of different positions tonight."
In the end, regardless of who was responsible for marking Graham, who eventually left the game due to injury, it was an effort the secondary can hang its hat on.
"It's a lot of pride," Dennard said of the end result. "He's a very good tight end. Our biggest thing was to go in there and try to stop him, just stop their whole receiving corps and tight ends, so we did a pretty good job."
October, 13, 2013
10/13/13
7:40
PM ET
FOXBOROUGH, Mass. -- A few thoughts on the
New England Patriots
'
30-27 victory
over the
New Orleans Saints
:

What it means:
A stunner. Playing without tight end
Rob Gronkowski
for the sixth straight game to open the season, the Patriots were in good position to pull out the victory before things unraveled a bit in the fourth quarter. But they pulled out a thrilling victory on a 17-yard touchdown pass --
Tom Brady
to rookie
Kenbrell Thompkins
-- with five seconds left. What an ending. The Patriots improve to 5-1.
Talib's hip injury a biggie:
Cornerback
Aqib Talib
has arguably been the Patriots' best defensive player this season, and his work matching up against Saints tight end
Jimmy Graham
in the first half was exemplary. But Talib left early in the third quarter with a hip injury and didn't return. His potential absence would be a big blow. Talib had initially attempted to play through the injury, but after two snaps took himself out of the game and headed to the locker room with team doctor Thomas Gill.
Amendola, Mayo and Connolly also injured:
Receiver
Danny Amendola
, on a 1-yard end-around late in the third quarter, lowered his head and safety
Rafael Bush
made helmet-to-helmet contact with him. Amendola lay motionless before being helped to his feet and needing assistance to walk to the sideline. He didn't return. The Patriots announced a head injury, presumably a concussion. Elsewhere, linebacker
Jerod Mayo
left late in the fourth quarter with what appeared to be a right shoulder injury and didn't return. Also, starting right guard
Dan Connolly
left the game after two series and didn't return. The team announced he had a head injury, presumably a concussion. Third-year veteran
Marcus Cannon
replaced him in the lineup.
Stock watch -- up
: Kicker
Stephen Gostkowski
. He hit a 54-yard field goal in the third quarter, a career-long kick, as he set the franchise record for the most field goal of 50 yards or more (nine).
Stock watch -- down:
Offensive play calling and execution in the red zone. Leading 20-17 midway through the fourth quarter, the Patriots advanced inside the Saints' red zone and ran three straight times. They settled for a field goal.
Stat of the day:
With cornerback
Kyle Arrington
's fourth-quarter interception of a pass intended for Graham, the Patriots recorded at least one turnover for their 33rd straight game. That's the longest active streak in the NFL.
What's next:
The Patriots visit the
New York Jets
next Sunday. The Patriots, who are 2-0 in the AFC East, recorded a 13-10 victory over the Jets on Sept. 12.
October, 13, 2013
10/13/13
5:55
PM ET
FOXBOROUGH, Mass. -- Sharing some halftime thoughts as the
New England Patriots
lead the
New Orleans Saints
,
17-7
:

Best half of the season
. It doesn't seem like a stretch to call this the Patriots' best half of the season. They have bounced back with a strong performance after last Sunday's 13-6 loss to the
Cincinnati Bengals
.
Talib on Graham
. The Patriots, from this viewpoint, haven't had a true matchup cornerback since
Ty Law
(1995-2004). They have one in
Aqib Talib
and we're seeing how that type of player can be a difference-maker, as Talib has matched up almost exclusively against tight end
Jimmy Graham
and has held his own. Talib has a unique combination of physicality and athleticism, and this matchup was something that was foreshadowed twice leading into the game -- first in
Bruschi's Breakdown
, and then in
colleague Field Yates' weekly X's and O's thought
. Talib is playing at an extremely high level this season.
Tempo on offense
. The offensive plan has been highlighted by tempo. The Patriots want to play fast, and it has proven to be effective at times. This has mostly been a three- and four-receiver approach from the Patriots and for the first time this season, we're seeing the receivers a bit more in synch with
Tom Brady
, with rookie
Aaron Dobson
elevating his level of play. In the running game, the return of running back
Stevan Ridley
(2 TDs) has been a spark. He is running hard, as the Patriots had just one rushing touchdown on the season entering the game.
Injury updates
. Starting right guard
Dan Connolly
left the game after two series with a head injury and hasn't returned. He's been replaced by
Marcus Cannon
.
Intriguing chess match
. In the end, it's the players who determine the outcome of the game. But we've also been enamored with the chess match between two of the best coaches in the NFL -- New England's Bill Belichick and New Orleans' Sean Payton. On Saints tight end
Benjamin Watson
's 25-yard catch in the first quarter, the Patriots got caught with just 10 defenders on the field.
Saints get the ball.
After winning the opening toss and deferring the choice to the second half, the Saints get the ball to open the second half.