New England Patriots:

Andrew Luck
January, 16, 2014
Jan 16
10:00
AM ET
When the question was asked to
New England Patriots
players about the one player they'd choose to build a team around, there was no age discrimination. Even at age 36, they were going with quarterback
Tom Brady
.
So then, just out of curiosity, the question was presented to them this way, "If not Brady..."
Respect for
Peyton Manning
was evident in the responses (he won the vote, with Brady third behind him and Andrew Luck). Dallas'
DeMarcus Ware
got a mention. So did Seattle quarterback
Russell Wilson
.
The question is a challenging one because quarterbacks such as Wilson or
Andrew Luck
are just beginning their careers and the general manager starting a team can build with the long-term in mind with them. A decade-long foundation is created when you make that decision.
With Brady and Manning, the window is most likely going to be less than a decade.
That's why I'd go with Luck, because of the position he plays and the promise he's already shown. It looks like he could be the next great one.
And, hopefully, I wouldn't have to bottom out in one season, like the
Indianapolis Colts
did in 2011, to make it happen.
January, 10, 2014
Jan 10
10:00
AM ET
Some might say this is just like old times.
The
Indianapolis Colts
visit the
New England Patriots
in a highly anticipated playoff game. We've seen this script before, and it was often extremely entertaining, not to mention history-making.
But in a way, this is also much different.
The marquee players have mostly changed. Furthermore, because the Colts are in the second year of a new front-office and coaching regime, there's a new face on what was once arguably one of the NFL's greatest rivalries. Maybe a game like Saturday's sparks it up again.
We can hardly wait, and here to break it down for us are ESPN.com NFL Nation reporters Mike Reiss (Patriots) and Mike Wells (Colts):
Reiss:
Mike, it used to be the
Tom Brady
versus
Peyton Manning
storyline. Now it's Brady against
Andrew Luck
. From having watched Luck throughout the season, what have you noticed about him that reflects his growth as the Colts' franchise player in his second season?
Wells:
His maturity and will to win. Both of those elements were on display last weekend when Luck led the Colts to an improbable 45-44 come-from-behind victory over Kansas City after being down by 28 points in the third quarter. It looked like the Colts were going to have a difficult time winning the AFC South after receiver
Reggie Wayne
was lost for the season with a torn ACL, but Luck continued to work with his young receivers to develop continuity with them. Luck didn't pass for as many yards this season as he did during his rookie season, but he improved his completion percentage and also cut his interceptions in half from 18 to nine. Reducing his turnovers was huge for Luck. He went from trying to force the issue with his arm to tucking the ball and running or just taking the sack.
I've said all season that there's no better quarterback in the NFL than Brady when it comes to getting the most out of his receivers. Some Colts fans don't agree with me. You're around Brady on a regular basis. Why is he able to be successful with a group of relatively unknown receivers?
Reiss:
Where to begin? Brady is exceptionally smart, with the recall of a golfer who might go through each shot of his round with vivid detail. Former offensive coordinator Bill O'Brien once
nicknamed Brady's brain "IBM"
because it is computer-like, and when you consider that Brady has essentially been in the same offensive system for 14 years, that's a major advantage. Brady also takes great care of himself physically, having just played every snap of a regular season for the first time of his 14-year career. I think it starts there, and it trickles down to his competitive drive and the feeling that he has an ownership stake in this team. He's been having weekly film sessions with the young receivers on Tuesdays this year, as he's almost morphed into another coach who demands excellence. He previously acknowledged that he had to learn to have more patience because of the unique situation and he's been rewarded for it. It's been impressive to watch.
We covered the quarterbacks, but let's not stop there. Tell us more about the Colts' defense and what linebacker
Robert Mathis
has done to put himself in the discussion for NFL Defensive Player of the Year.
Wells:
Mathis hasn't hidden the fact that he came into this season with a glacier-sized chip on his shoulder. He wanted to prove to people that he didn't need
Dwight Freeney
starting opposite of him to be effective. Mathis backed it up by leading the league in sacks with 19.5. He became the 30th player in league history to record at least 100 sacks in a career earlier this season. He also set the Colts' single-season and career sack records. I think Mathis is the frontrunner for Defensive Player of the Year. Mathis has a knack for pulling off one of his customary strip-sacks at the right time. He did it against Manning and the
Denver Broncos
in Week 7 and he did it again against Kansas City last weekend. Chiefs quarterback
Alex Smith
was having his way against the Colts when Mathis forced the turnover. The Colts scored five plays later.
Speaking of defense, how much will the loss of linebacker
Brandon Spikes
impact New England?
Reiss:
I thought Patriots linebacker
Dont'a Hightower
summed it up nicely when asked what the Patriots would miss without Spikes. He said, "Intimidation. Fire. He brings that spark to the defense that a lot of people don't." Spikes was most effective playing downhill in the running game, which was especially important for the team after losing powerful defensive tackles
Vince Wilfork
(Sept. 29) and
Tommy Kelly
(Oct. 6) to season-ending injuries. At times, the Patriots just sent Spikes straight into the heart of the opposing offensive line to account for those injuries. So they'll have to piece things together, with top draft pick
Jamie Collins
(52nd overall) and four-year veteran
Dane Fletcher
the two linebackers who figure to see a spike in playing time. Spikes wasn't a big factor in sub packages as pass coverage isn't his forte, so he probably wasn't going to have a very high snap count in this game anyway. He played 59 percent of the defensive snaps on the season.
We heard Bill Belichick say that if ever there was a Hall of Fame kicker, it was
Adam Vinatieri
. He just turned 41, is the oldest player in the NFL, and is scheduled to be an unrestricted free agent in the offseason. What are your thoughts on his future with the Colts?
Wells:
This is going to be a tough decision for the Colts in the offseason. Vinatieri was 35-of-40 on field goals, including four from at least 50 yards, and a perfect 34-of-34 on extra points in the regular season. But he'll be 42 years by the end of next season. Age and the fact that Vinatieri just handles field goals and extra points are two major things that the Colts will take into consideration this winter. Punter
Pat McAfee
, who also handles kickoff duties, will be a free agent, too. The Colts have to decide what direction they want to go in the kicking department. If I were a betting man, which I'm not outside of penny slot machines, I'd say Vinatieri will not be back next season. He may end up being a Hall of Famer like Belichick said when he finally decides to hang up his cleats.
The Patriots were a perfect 8-0 at Gillette Stadium during the regular season. Half of those wins were by three points or less, though. Is Gillette Stadium really a home-field advantage for New England?
Reiss:
I don't think this is a home-field advantage like I've seen for other teams, such as Seattle with the "12th Man." That, to me, is at the top of the list based on tough places to play because of the crowd and other factors. In this case, I think what makes the Patriots tough at home is that they are a good team that plays smart, and almost annually develops the type of mental toughness that is necessary to have when playing in the Northeast at this time of year. The Patriots' home record (regular season and playoffs) since 2002 is 91-18, easily the best mark in the NFL over that span. I see where the Colts are 79-27 at home in that same period, third in the NFL. The Patriots have had some close calls at home this year and no one should be surprised if this game also comes down to the wire.
January, 6, 2014
Jan 6
10:00
AM ET
When it was determined that the Patriots would play host to the Colts on Saturday night in an AFC divisional-round showdown, the
Tom Brady
versus
Andrew Luck
matchup immediately surfaced as a primary storyline.
"Truthfully, I'm not worried about the opposing quarterback," Brady told Boston sports radio station WEEI on Monday morning when asked what he thought when he watches Luck play. "I'm thinking about the defense and what I need to do to play against them.
Brady
Luck
"I didn't watch one snap of Indy's offense, nor will I this week," he continued. "I'll be focused on the defense and what we need to do score points, because that's what my job is."
That job starts with the Patriots finding a way to slow down Colts defensive end
Robert Mathis
, the league's regular season leader with 19.5 sacks and a top candidate for defensive player of the year honors.
In seven career games against the Patriots, Mathis has five sacks.
"And like I said, it all starts with Robert Mathis and being the defensive player of the year, basically, 19.5 sacks, he kind of wreaks a lot of havoc," Brady said. "We've got to be able to figure out how to slow him down and then we've got to be really balanced on offense like we've been. We've got to run it, and when we throw, we've got to throw it good."
The Patriots' offense found its rhythm late in the season, particularly in two wins in the season's final two weeks. Running back
LeGarrette Blount
was a spark plug for an improved rushing attack, and Brady knows the offense must once again be at its best to advance to their third straight AFC Championship Game.
"There's not going to be much margin of error this week, and we know that," he said. "So we've got to put everything in, it's the biggest week of our year."
January, 4, 2014
Jan 4
8:45
PM ET
The
Indianapolis Colts
pulled off a shocking
45-44 comeback
win against the
Kansas City Chiefs
in the wild-card round of the playoffs, and here are a few thoughts from a
New England Patriots
perspective:
Luck
1.
Andrew Luck factor:
If the Patriots host the Colts next week, which would happen if the No. 6 Chargers beat the No. 3 Bengals tomorrow, this is where it starts. Entering the wild-card round, the thought was that if there was
one player who could take over a game and possibly end the team's season
, it was Luck. He did it to the Chiefs, albeit with some luck (e.g.
Donald Brown
's fumble and recovery for a TD). It's one thing to prepare for a top running back like
Jamaal Charles
(Chiefs) or a top receiver like
A.J. Green
(Bengals), but when the signature player is a quarterback, it's a whole different ballgame.
2.
Defense looks vulnerable:
One area where I gave the
Colts too much credit is on defense
. That's a vulnerable unit, particularly in the secondary. The presence of Patriots rookie receiver
Aaron Dobson
could be key in this type of matchup, as he's a bigger target (6-foot-3, 200) with more of an outside-the-numbers and downfield presence. The Colts struggled against the Chiefs' bigger receivers, and Dobson (foot injury) is really all the Patriots have in that area.
3.
Don't get fooled by a dome team playing outdoors:
The Patriots are undefeated at home this season, and it's absolutely an advantage for them that they will be playing at 8:15 p.m. ET on Saturday, Jan. 11. They are also one of the NFL's best teams playing in adverse conditions, and it figures to be cold. With this in mind, there might be a thought to dismiss the Colts' chances as a dome team coming outdoors, but that would be a mistake. The Colts showed a lot in this area in a Week 16 win at Kansas City, where it was frigid and they played one of their best games of the season. I'd still pick the Patriots, but this Colts team deserves respect.
November, 15, 2012
11/15/12
5:25
PM ET
FOXBOROUGH, Mass. -- Patriots quarterback
Tom Brady
spent his rookie season on the sidelines as a backup to
Drew Bledsoe
, so he can appreciate the quick and smooth transition Colts quarterback
Andrew Luck
has made in leading his team to a 6-3 start in his rookie season.
"It's always challenging for those rookies. I don't know, I was a rookie, I was like fourth-string and eating nachos before the game in the stands," Brady joked when speaking of Luck on Thursday afternoon. "There wasn't much of me thinking of playing and I always admire those rookies who can do it, because it is such a challenge whether you're a defensive end like
Chandler Jones
, or
Dont'a Hightower
or Andrew Luck or any of these rookies that are really playing a big role for a certain team. It's a real credit to them and their ability to transition and focus on all these things that really come about and play well."
It wasn't long after his rookie season that Brady became a leader and focal point for the Patriots, as he was thrust into action during his second season when Bledsoe went down with a serious injury.
Brady can relate to Luck as a leader at a young stage in his career, but cited a difference in their circumstances, as Brady had had a full year with the team to familiarize himself with the system and his teammates. That makes Luck's immediate ascension to the starter very impressive to Brady.
"That's part of the position as well," he said of becoming a leader in the huddle. "That happened and I had quite a few -- 18 months -- to develop camaraderie with the guys that I played with and it was a lot of time and practice spent with extra coaching sessions and so forth. For those rookies, it's coming right from college to this position, it's very challenging."
Brady recalled meeting
Peyton Manning
for the first time on the field prior to a game between their two teams.
"He came over and he said, 'Hey Tom, I'm Peyton.'" Brady said his reply was "something I probably can't repeat."
Brady said that he doesn't know if he'll introduce himself to Luck before the game on Sunday.
"We'll see," he said.
But rather than focusing on the new chapter of the Patriots-Colts rivalry and his first meeting with a Luck-led team, Brady is keyed on the Colts' defense.
"My focus has been on what that defense does," he continued. It's always the Colts defense and it's always centered around two players [defensive ends
Dwight Freeney
and
Robert Mathis
] and those two guys are still there. That's really the challenge for us this week, is trying to figure out how to block that entire front and there's a lot of different looks from the last time we played them, trying to kind of understand them and how they're doing things. But they're good and they really rush the passer and that's a big challenge."
November, 15, 2012
11/15/12
5:14
PM ET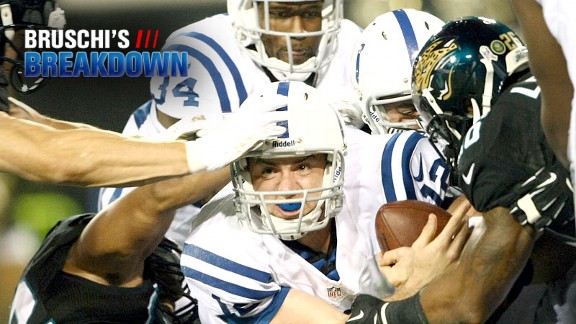 Douglas Jones/US Presswire
Every week before the Patriots play a game, Tedy Bruschi and Mike Reiss dissect the action as part of "Bruschi's Breakdown."
This week's breakdown is posted
and Bruschi sees it as an intriguing matchup for a number of reasons. He will be watching for how rookie QB Andrew Luck fares against the struggling Patriots defense.
"(Luck) doesn't necessarily 'wow' you with his ability to scramble, or his strong arm -- he'll often use touch over velocity -- but I think he wins you over with his consistency," writes Bruschi. "Over and over again, making the right read, the good decision, such as taking a sack instead of forcing the ball somewhere. Maybe it's shrugging off a rush with his exceptional lower-body strength. The Colts have been excellent on third down and he's obviously a big part of that. He steadily gets better as games go on, and hasn't made the big mistakes that have cost his team a victory. And probably most impressive is the way you rarely see him make the same mistake twice."
As for the New England secondary, Bruschi takes a very Belichickian approach: It is what it is.
"There have been a lot of questions this week about the defense, and my feeling is 'this is what you have' and you just have to accept that," writes Bruschi. "They are going to give up yards; you're going to see quarterbacks like Ryan Fitzpatrick and possibly Andrew Luck going up and down the field against them. You're going to see some miscommunications in the secondary, like what happened in the end zone last week against the Bills. So what they have to keep doing is making big plays. That's what has been saving them, things like a Brandon Spikes forced fumble, or a Devin McCourty interception. That's a sign of a defense that knows when to step up and make a big play. It's tough to live this way and bank on making the big play, but it seems like that's what their forte is."
And here is Tedy's take on how he thinks the Patriots will utilize cornerback Aqib Talib, who will be making his Patriots debut on Sunday:
"This will really reflect how Bill Belichick views the secondary. I think it should probably be spot duty -- Talib coming in for a series here, or a series there, and making it simple for him so he doesn't get caught up in a lot of communication adjustments where he could make a mental error. But if Bill views the problems as bigger than that, he could throw him right into the fire and try to get things right as quickly as possible. Either way, it will be something to watch. You can make things simple for a cornerback, which is usually the position that is the last level of communication within a defense."
To read "Bruschi's Breakdown",
CLICK HERE.
November, 14, 2012
11/14/12
12:58
PM ET
FOXBOROUGH, Mass. -- The deficiencies of the
New England Patriots
' defense have been the talk of the town this week -- and all season, for that matter.
But
Indianapolis Colts
quarterback
Andrew Luck
says he's impressed with what he sees from the Patriots' defense.
"I think they do a great job of mixing up coverages and disguising coverages," Luck said. "It's hard to get a beat on what they're doing."
Luck pointed to how the Patriots have dealt with multiple injuries in their secondary, especially at safety.
"They're banged up here and there, but they do a great job I think of getting the job done," Luck said. "It will be a very tough test for us."
The Patriots run defense was one of the league's best through the first half of the season, but hiccuped last Sunday against the
Buffalo Bills
, allowing 162 yards on the ground.
On the whole, Luck said he still believes that containing the Patriots' defensive line is a difficult task.
"I think their front four is incredibly stout. (Vince) Wilfork is one of the best nose tackles in the league," he said. "Their two very good edge rushers on the side. They do get to the quarterback, and even if it's not a sack, they harass (you), force the quarterback to throw, force the quarterback out of the pocket.
"That will be the focus all week," he added, "and I'm sure our line will do a great job and it will be a great test for them."
November, 13, 2012
11/13/12
1:42
PM ET
The Colts have enjoyed one of the more impressive turnarounds in the NFL this season after just two wins during the 2011 campaign. A multitude of factors have played into the resurgence, but near the top has been the play of quarterback
Andrew Luck
, the first pick in last April's draft.
[+] Enlarge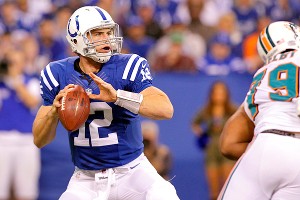 AP Photo/AJ MastPatriots defensive coordinator Matt Patricia said Andrew Luck isn't playing like a rookie quarterback.
On a conference call with local media on Tuesday afternoon, Patriots coach Bill Belichick said he didn't spend lot of time studying Luck before the draft because the team wasn't planning to take a quarterback in the first round (as well as the fact that Luck would be long gone by the time the team made its first selection). Nonetheless, some of what Belichick saw on Luck's college film has already shown up during his young NFL career.
"I think the things that we knew about him coming out have certainly played out this season," Belichick said. "Big kid, good arm, can make all the throws, very athletic, good movement in the pocket, handles the offense well. They do a lot of checking and changing plays and you can see him handling the offensive team in those situations, as well as end of the game-type situations where he's got to make good situational plays and decisions. He's done a good job in all of those things."
Defensive coordinator Matt Patricia, who is charged with devising a game plan to stop Luck, has been impressed as well.
"Indianapolis offensively is doing a phenomenal job. You can really tell Andrew Luck is grasping what they're trying to do and obviously coach (Bruce) Arians is doing a great job of getting him in the right situations," Patricia said. "They have some excellent players around him. Obviously
Reggie Wayne
is one of the best wide receivers in the NFL. He has progressed throughout the year and I would say he's playing at a very high level right now from an offensive standpoint."
Patricia also suggested that Luck isn't playing like a rookie.
"I certainly understand that he has the title of a rookie, but we're well into the season and he's played quite a few games in the NFL," he continued. "He's doing a good job of really handling that offense and running that offense and putting them in good situations to win football games. I think that's what you want to get out of your quarterback.
And while he won't spend time this week preparing to face Luck, Patriots offensive coordinator Josh McDaniels has caught some of Luck's film during his preparation for other games, and the 23-year old Stanford graduate has made a favorable impression.
"We've had a chance I think to have the Indianapolis offense in maybe one or two breakdowns this year, and he certainly has done a nice job of adapting to the pro game, and coach (Bruce) Arians has done a great job of putting him in position to be successful," McDaniels said of Luck. "And I think he deserves a lot of credit, I know that's not an easy thing to do with a rookie quarterback or as a rookie quarterback in order to get in there and handle all the different things that you see on a weekly basis in the NFL and be productive and win games.
"I think the most important thing is he's really handled some tough, difficult situations, close games, and played really big in those situations and helped his team to victory," McDaniels continued. "I've got a ton of respect for him."