New England Patriots:

Benjamin Watson
April, 7, 2014
Apr 7
5:03
PM ET
In a piece on SportsonEarth.com, Mike Tanier looks at the
best all-time "double dips" in the first round
of the NFL draft.
When a team hits on two first-round picks in the same year, it can be a franchise-altering turn of events. The
New England Patriots
have had multiple first-round selections twice in Bill Belichick's tenure, with the combination of defensive tackle
Vince Wilfork
and tight end
Benjamin Watson
in 2004, and the duo of defensive end
Chandler Jones
and linebacker
Dont'a Hightower
in 2012.
But it was a different Patriots "double dip" that registered on Tanier's top 10 list -- the 1977 duo of cornerback Raymond Clayborn and receiver Stanley Morgan.
"Morgan and Clayborn helped the Patriots shake the perennial doormat status they held from the mid-1960s through the mid-1970s and were veteran leaders on the 1985 AFC Championship team," Tanier writes in ranking them sixth. "Not bad for a pair of converted running backs."
Clayborn's candidacy for the Patriots Hall of Fame was a hot topic last week when the nomination committee met to narrow down this year's finalists, so Tanier's timing is impeccable with a fun read that also includes another Patriots twist.
The No. 8 all-time double dip -- the 49ers' tandem of linebacker
Patrick Willis
and left tackle
Joe Staley
-- came as a result of the Patriots trading their late first-rounder to San Francisco.
October, 11, 2013
10/11/13
5:00
AM ET
We'll use this space each week to highlight players, coaches and executives from the Patriots' upcoming opponent who have connections to the team. This week, a pair of newcomers to the Saints in 2013 lead the way.
Watson
Tight end Benjamin Watson.
The second of the Patriots' first-round picks in 2004, Watson is now with his third team, having spent multiple years in Cleveland with the Browns, with whom he signed a free agent contract to depart New England. Always a gifted athlete, Watson provides complementary support to
Jimmy Graham
. He has started two of five games this season, catching five total passes for 49 yards and one touchdown.
Defensive coordinator Rob Ryan.
A member of the Patriots staff as the linebackers coach during the team's first Super Bowl-winning season, Ryan has had notable performances against the Patriots in the past. Specifically, he guided a standout defensive effort with the Browns when the team was struggling during the 2010 season. Ryan's defense gave
Tom Brady
all kinds of fits, limiting him to 224 yards on 19-of-36 passing in a resounding 34-14 win for the Browns. A year after allowing more yards than any other defense in NFL history, the Saints are surrendering the 11th-fewest per game this season and are fourth in scoring defense, yielding just 14.6 points per game. Ryan has been a big part of the turnaround.
December, 3, 2009
12/03/09
1:44
PM ET
FOXBOROUGH, Mass., -- Tight end
Benjamin Watson
had faced a few Xs and Os questions Thursday afternoon, but nothing of the hard-hitting variety. So it was time to deliver a tough one:
"Do you like wearing throwback uniforms?"
Watson chuckled at the "hard" question, as the Patriots will be wearing their red throwbacks Sunday in Miami. Had the game stayed at night, the Patriots would have been in their white throwbacks.
"I think it's fun to wear something different. It's always fun to put on a different costume and go out and play," he said.
Watson wore a white Patriots cap with the "Pat Patriot" logo in the locker room Thursday.
"I decided I'd throw it on and show a little throwback support," he chuckled.
December, 3, 2009
12/03/09
12:08
PM ET
FOXBOROUGH, Mass., -- How does a University of Georgia car flag make its way on the back of a chair in the Patriots' locker room?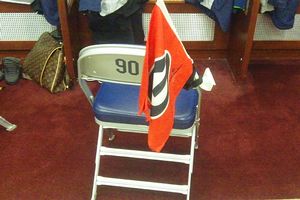 Chris Forsberg/ESPNBoston.com A Georgia flag was flying in the Patriots' locker room.
That was the question posed to tight end Benjamin Watson, a Georgia alum, on Thursday.
It turns out Watson was on the winning end of a friendly game with Georgia Tech alums Gary Guyton (linebacker) and Darryl Richard (practice squad defensive lineman) after Georgia beat Georgia Tech, 30-24, on Nov. 28.
"Georgia pulled the win out, so they had to wear some Georgia apparel," Watson said. "A little bragging rights for the week."
November, 25, 2009
11/25/09
9:16
AM ET
Saints linebacker
Jonathan Vilma
has been posting comments about his opponents each week on his PlayMaker Mobile page, and his thoughts on one Patriots player caught the eye this week:
"Nobody talks about their tight ends but they have two great tight ends. Ben Watsonand Chris Baker. You can't sleep on New England's tight ends. Ben Watson is one of the most underrated guys in the league, but of course he doesn't get the spotlight playing behind Moss and Welker."
Watson is having one of the best seasons of his six-year career in New England, with 20 receptions for 307 yards and four touchdowns.
November, 23, 2009
11/23/09
10:29
AM ET
A look at snaps played by Patriots offensive skill-position players in the team's 31-14 win over the Jets:

WR Randy Moss – 76 of 83 snaps
WR Wes Welker – 64 of 83
TE Chris Baker – 57 of 83
TE Benjamin Watson – 56 of 83
RB Kevin Faulk – 39 of 83
RB Laurence Maroney – 37 of 83
WR Julian Edelman – 28 of 83
WR Isaiah Stanback – 23 of 83
RB/FB BenJarvus Green-Ellis – 20 of 83
FB Dan Connolly – 5 of 83
WR Matthew Slater – 5 of 83
TE Mark LeVoir – 3 of 83

(snaps include an offensive holding penalty, defensive holding penalty, offensive pass interference penalty and two delay of game penalties)

ANALYSIS: The 83 snaps tied a season-high for a game (vs. Falcons) and reflected the decisive time of possession advantage the Patriots had (39:54-20:06). … Maroney's 37 snaps were a season-high. His 23 carries were the third highest total of his career (including playoffs) as his hard running – and the fact he seemed to be get stronger later in the game -- was a big part of the win. … Edelman's playtime spiked from last week (5 snaps vs. Colts) as he was part of three- and four-receiver sets. … One of the interesting parts of the game was how Connolly started at right guard then moved to fullback on the start of the second series of the game before returning to guard. … Green-Ellis lined up as a lead-blocking fullback, running back, and in the shotgun in a two-back set. … Slater was the lone receiver in a power set with two tight ends and lead-blocking fullback.
November, 19, 2009
11/19/09
4:10
PM ET
November, 8, 2009
11/08/09
8:18
AM ET
FOXBOROUGH -- There shouldn't be too many surprises when the Patriots release their inactives shortly.
Five players have already been downgraded to out: wide receiver Julian Edelman (forearm), defensive end Jarvis Green (knee), offensive tackle Matt Light (knee), and running backs Sammy Morris (knee) and Fred Taylor (ankle).
Three players were listed as questionable on this week's injury report: defensive end Ty Warren (ankle), cornerback Jonathan Wilhite (illness), and tight end Benjamin Watson (back). That means each has a 50 percent chance of playing.
Watson was one of the first on the field for warmups this morning and didn't seem to have any issues as he went through his routine.
It should be interesting to see who the other three inactives are.
With the injuries on the defensive line, it would seem rookie Ron Brace, whose only appearance came in a Week 2 game loss to the Jets, would be a likely candidate to be active. First-year cornerback Kyle Arrington, activated from the practice squad this week, could get a look depending on the health of Wilhite and Terrence Wheatley, who was inactive for the Patriots' last game against the Buccaneers in London.