New England Patriots:

Benjarvus Green-ellis
January, 10, 2014
Jan 10
2:00
PM ET
The
New England Patriots
got it right with linebacker
Jerod Mayo
in the 2008 draft.
Mayo
That's the big takeaway from looking at ESPN analyst Mel Kiper Jr.'s 2008 "re-draft" (
Insider content

), which is neat to look back on and ask the question,
"If teams could do it all over again, who would they pick?"
The Patriots had traded down from seventh to 10th and picked Mayo, who in Kiper's re-draft would be the No. 6 overall selection to the
New York Jets
(they bombed with Ohio State's
Vernon Gholston
).
Other Patriots-based nuggets from Kiper's re-draft:
1. Cornerback
Aqib Talib
, who went 20th overall to the Buccaneers, would move up to 13th.
2. Former Patriots running back
Danny Woodhead
lands in the "also considered" category, as do current Patriots cornerback
Kyle Arrington
and receiver
Danny Amendola
. All went undrafted in '08.
3. With the 10th overall selection of the re-draft, Kiper slotted defensive end
Chris Long
to the Patriots. He was the No. 2 overall pick in the actual draft.
QUICK-HIT THOUGHTS:
The 2008 draft wasn't one of the best of Belichick's 14-year tenure in terms of quantity, but they got decisive quality of it with Mayo and fifth-rounder
Matthew Slater
. The players selected between them -- cornerbacks
Terrence Wheatley
(second round) and
Jonathan Wilhite
(fourth round), and outside linebacker
Shawn Crable
(third round) and quarterback
Kevin O'Connell
(third round) -- didn't stick long-term. But the Patriots also get credit, from this viewpoint, for signing running back
BenJarvus Green-Ellis
as an undrafted free agent that year.
October, 4, 2013
10/04/13
5:00
AM ET
Each week we'll use this space to highlight players, coaches and other members of the Patriots' upcoming opponent who have previous ties to the organization. This week, we lead with a current Bengals running back who defined reliability during his time in New England.
Running back BenJarvus Green-Ellis.
Nicknamed "The Law Firm" for his lengthy, four-part name, Green-Ellis ascended from an unknown undrafted free agent out of Ole Miss to a special teams contributor and eventually a starter for a team that appeared in the Super Bowl. A humble worker both on and off the field, Green-Ellis was perfectly reliable: He never fumbled during his four seasons in New England (564 total touches).
Wide receiver Brandon Tate.
A speedy receiver in whom the Patriots invested a third-round pick on out of North Carolina, Tate's greatest contributions for the Patriots came on special teams, where he returned two kicks for a score during the 2010 season. That's a role he's continued with the Bengals.
Quarterback Zac Robinson.
Robinson, who is currently on the PUP list, was taken by the Patriots in the seventh round out of Oklahoma State in 2010. He wasn't around for long in New England, as he was waived at the end of training camp and has since been on the Seahawks and Lions before joining the Bengals in 2011.
Tight end Alex Smith.
Smith's tenure was brief as a Patriot, though the team saw enough in him to initially send the Buccaneers a fifth-round draft choice for him following the 2009 draft. He was cut in September of that year and has bounced around the league since.
August, 8, 2012
8/08/12
2:10
PM ET
FOXBOROUGH, Mass. -- What was the biggest lesson
New England Patriots
tailback
Stevan Ridley
learned in his rookie year?
"The ball can't be on the ground," Ridley said bluntly Wednesday. "That's no secret. Fumbles will have you on the bench."
[+] Enlarge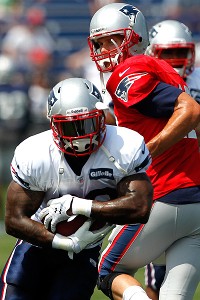 AP Photo/Michael DwyerBall security is something running back Stevan Ridley is working on during training camp.
Ridley admits last season's playoff run still stings. A solid rookie year was otherwise overshadowed by fumbling twice in his last two games, including a fumble in a crucial playoff win against the
Denver Broncos
. That was enough for New England coach Bill Belichick to put Ridley on ice for the remainder of the team's Super Bowl run. Ridley was inactive in both the AFC title game and the Super Bowl.
Ridley is using that cruel ending to his rookie season as motivation to come back a better player in Year 2. As a result, Ridley is running well in training camp and has taken the lead as New England's projected No. 1 tailback. The Patriots have not released a firm depth chart, but Ridley is expected to start in Thursday's preseason opener against the
New Orleans Saints
. It will be Ridley's first game action since his postseason fumble against Denver.
"I'm a little bit more comfortable out there," Ridley said of his second season. "Am I perfect? Not by any means. I still have a lot of work to do. Over time, my carries and my reps on the field have increased, but it's still a long way to go and there's still a lot of work to be done."
Ridley is outshining his training camp roommate,
Shane Vereen
, so far in camp. Both were high draft picks in 2011. Their potential is the reason New England was comfortable not re-signing
BenJarvus Green-Ellis
and cut fellow veteran
Joseph Addai
in the summer.
Ridley's game experience last year is showing through in his running. He's hitting the holes well and showing good vision in New England's pass-first system. Ridley rushed for 441 yards and averaged 5.1 yards per carry last season. That kind of average will make New England's offense extremely dangerous. Ridley just needs to continue to gain the trust of the coaching staff by holding onto the football.
"This year I'm going to go and do the best that I can to keep the ball high and tight," Ridley said. "I know that if I can keep the ball in my hands, I'm going to be on the field. So my work is cut out for me."
Ridley knows he must grow up fast in his second season. The Patriots, favorites in the AFC, will be relying on a young running back this year, whether it's Ridley or Vereen. So far Ridley's performance in camp gives him the inside track.
January, 12, 2011
1/12/11
2:18
PM ET
The Patriots' top two running backs stepped to the podium Wednesday in Foxborough for separate news conferences, and each was asked about the other as part of the interview.

BenJarvus Green-Ellis and Danny Woodhead have a lot in common: Both were undrafted and both entered this season with little expected from them.

Here is a sampling from the Q&A for each:

Green-Ellis:

Q. Can you talk about Danny Woodhead and the way you guys complement each other?

A. "Me and Danny, like I said, we both work extremely hard at practice. Our lockers are both next to each other and we spend a lot of time together. We have some days where we're here 12 hours out of a day. I see the guys up here more than I see my own family, so we have to develop a good relationship."

Q. Why do you think you and Danny work so well together?

A. "'I'm not sure. I guess it's just a good complement. We just try to do our best. I don't know how well it works or how well it doesn't work. The only thing I know that we do is we just try to go out there and work hard and whatever plays are called, just run them to the best of our ability and let everything else take care of itself."

Woodhead:

Q. Why do you think that you and BenJarvus Green-Ellis complement each other so well?

A. "I don't know; do we complement each other well? I'm not one to judge. More than anything, I think Benny and I just go out and work as hard as we can every single day, out in practice [or] whether it be in the meeting rooms. And we try to do what we can for when our time comes -- maybe to get the ball or block or whatever it may be to help out the rest of our teammates."

Q. Have you guys become close given how much time you spend together?

A. "Benny and I, he's one of the people right from the get-go that helped me out, and so did Freddy [Taylor], Sammy [Morris], [Kevin Faulk] -- everyone's helped out. The whole running back room, I think, is a very close-knit group."
January, 12, 2011
1/12/11
1:55
PM ET
Like all of his other teammates, BenJarvus Green-Ellis wouldn't take the bait on Wednesday when asked his reaction to Antonio Cromartie calling Tom Brady an "ass----".

"Everyone is entitled to their own opinion," Green-Ellis said, "but I'm more than sure [No.] 12 will handle his own situation."

He was also asked whether he thought it was unfair to call Brady an expletive.

"I mean, that's his opinion," Green-Ellis said. "Whatever he wants to say about Tom, that's his opinion. Like I said, Tom will handle his own situation about [how] he feels about that."

December, 5, 2009
12/05/09
6:30
AM ET
On Saturdays throughout the season, one Patriots player's football journey is featured. This week, it is second-year running back BenJarvus Green-Ellis.

Green-Ellis signed with the Patriots as a rookie free agent in May of 2008, initially spent time on the practice squad, and then was promoted to the active roster in October to help fill the void when injuries struck. This season, he made the club out of training camp and has served as a backup (92 yards, 22 carries).

Where his football journey started: "I was 7 or 8 years old. I started playing park ball for a Little League team in New Orleans and have been playing ever since."

What positions he played: "When I was 7, I was 80 pounds. The required weight was 78. By the time Saturday came around, I somehow found a way to be 78 pounds. The first game I started off at left tackle because I was bigger than everybody, but after the first game they put me at running back and I've been there ever since."

Teams and players he followed growing up: "I didn't watch too much football growing up. I'd see Barry Sanders at times and hear talk about Walter Payton, but I didn't watch one particular team or anything like that."

On people he looks up to or those who have helped him in his career: "My dad. He worked hard to get where he is, and it wasn't anything that happened overnight. It's about never getting complacent. I communicate with my parents every day."

Attending St. Augustine High in New Orleans: "That was a lot of fun. My sophomore year, we had 15 people go Division 1. We just stockpiled. It was an all-boys school and we were always known for good teams – track, basketball, football and band. I also ran track and we won state championships in two years."

One high school memory that stands out: "I played 60 games, so there were a lot. Maybe one from my sophomore year, when we played [Shreveport] Evangel Christian [Academy] and they hadn't lost in a long time. Their quarterback was Brock Berlin. We went down there, you saw all the state titles they had, and we smashed them the night after Thanksgiving. That was my first time leaving New Orleans."

What the crowds were like for high school games: "All our games had big crowds. We averaged about 10,000 to 20,000 people. Our band was 200-230 by itself so we always came deep."

On his NFL dreams at that time: "I wasn't much of a big dreamer. I was always taught that whatever you put your mind to, you could do it. I just always assumed that if I worked hard and did what I was supposed to, it would happen. That's kind of how it went."

On initially attending Indiana out of high school: "I was offered at LSU, Oklahoma, Florida State, Indiana and Tulsa. I didn't really want to go to Oklahoma because they were more of a passing team at the time; that was before Adrian Peterson went. I really didn't want to stay home either because all the running backs in our state were going to LSU, so I just decided to go to Indiana because it gave me a chance to play early. I was on the same Big Ten All-Freshman team with Laurence [Maroney]. After my freshman and sophomore year, I transferred to Ole Miss when Coach [Gerry] DiNardo got fired. It didn't feel the same once he wasn't there."

Sitting out one year after transferring to Ole Miss: "I went in January and learned the offense through spring ball. Sitting out didn't really bother me because that was the season of the hurricane [Katrina]. Because I wasn't playing, it gave me a chance to get things done that I needed to at home in New Orleans. Once I started playing, it was about competing at the highest level. We didn't have any 'gimme' teams on the schedule."

On not getting drafted and signing with the Patriots: "Not getting drafted, it's the way things work some time. I didn't have control over that. Talking to my agent and consulting with people, it seemed like this would be one of the better long-term decisions for me. I said 'all right' and trusted what they said."

What he likes about football and being with the Patriots: "Working hard. My dad always told me that whatever you want, you have to work hard for. I've been working hard ever since. I like competing, and you have a chance to compete with another player who is at the same level you are at. That's a good feeling when you beat him on a play."
November, 23, 2009
11/23/09
10:29
AM ET
A look at snaps played by Patriots offensive skill-position players in the team's 31-14 win over the Jets:

WR Randy Moss – 76 of 83 snaps
WR Wes Welker – 64 of 83
TE Chris Baker – 57 of 83
TE Benjamin Watson – 56 of 83
RB Kevin Faulk – 39 of 83
RB Laurence Maroney – 37 of 83
WR Julian Edelman – 28 of 83
WR Isaiah Stanback – 23 of 83
RB/FB BenJarvus Green-Ellis – 20 of 83
FB Dan Connolly – 5 of 83
WR Matthew Slater – 5 of 83
TE Mark LeVoir – 3 of 83

(snaps include an offensive holding penalty, defensive holding penalty, offensive pass interference penalty and two delay of game penalties)

ANALYSIS: The 83 snaps tied a season-high for a game (vs. Falcons) and reflected the decisive time of possession advantage the Patriots had (39:54-20:06). … Maroney's 37 snaps were a season-high. His 23 carries were the third highest total of his career (including playoffs) as his hard running – and the fact he seemed to be get stronger later in the game -- was a big part of the win. … Edelman's playtime spiked from last week (5 snaps vs. Colts) as he was part of three- and four-receiver sets. … One of the interesting parts of the game was how Connolly started at right guard then moved to fullback on the start of the second series of the game before returning to guard. … Green-Ellis lined up as a lead-blocking fullback, running back, and in the shotgun in a two-back set. … Slater was the lone receiver in a power set with two tight ends and lead-blocking fullback.
November, 15, 2009
11/15/09
7:24
PM ET
INDIANAPOLIS -- Patriots running back BenJarvus Green-Ellis returned to the locker room during the final moments of the first half with an apparent illness.
Green-Ellis was seen leaning over the Patriots bench and appeared to be vomitting. Trainers appeared to motion for an I.V. and Green-Ellis departed with less than a minute to play in the half.
Green-Ellis was back on the sideline for the third quarter.

October, 18, 2009
10/18/09
6:29
PM ET
FOXBOROUGH, Mass. -- One of the dazzling plays in the Patriots' 59-0 victory over the Titans was a 40-yard touchdown pass from Tom Brady to Randy Moss on a flea-flicker.
Here's a breakdown of the play:

The situation: The Patriots led 10-0 with 10:02 remaining in the second quarter. New England had the ball on the Titans' 40-yard line, headed toward the open end of the stadium.
Offensive personnel: The Patriots had two receivers, two tight ends and running back BenJarvus Green-Ellis on the field. Receiver Randy Moss lined up on the right side, while Wes Welker was to the left, but not split particularly wide. Tight end Chris Baker was on the right side of the line, with tight end Benjamin Watson on the left side.
At the snap: Brady took his drop from center and handed off to Green-Ellis, who sold the run hard up the middle. "Benny went through there and the guy was really far upfield," Brady recalled. "He turned with Benny and Benny pitched it back."
Defensive play call: "It was quarters coverage, zone coverage, and it was a good play call [by New England]," explained Titans safety Chris Hope. "With the running back touching the ball, it puts me in the run front. I had to respect the run. At the same time, I tried to react and come back and help on the back end and make a play."
Patriots receivers attack the deep parts of the field: Welker sprinted down the field before cutting his route to the middle, while Moss worked behind him, threatening the deep third of the field coming from right to left toward the end zone. "It was definitely a play we were working on and the defense really bit up thinking it was a run," Welker said. "I almost wanted to throw my hand up and take it through the middle. But we have Randy for that."
Brady connects with Moss in the end zone: "I had great time to throw," Brady said. "You can always tell when Randy is open, because he puts on another gear. I just threw it out there, he was wide open, and he made a great catch. It was a big play for us."
Result and impact: The touchdown gave the Patriots a 17-0 lead and sparked a five-touchdown quarter that boosted the lead to 45-0 at the half. The game was well in hand.