New England Patriots:

Chris White
December, 27, 2013
12/27/13
5:00
AM ET
We normally use this space to highlight players or members of the Patriots' upcoming opponent's organization who have ties to New England. With Sunday marking the second time that they'll face the Bills this season, we'll do things a little differently and note current Patriots with ties to Buffalo.
Long-snapper Danny Aiken.
Undrafted out of Virginia in 2011, Aiken got his start with the Bills, attending training camp with the team that preseason. The Patriots signed Aiken shortly after his release from Buffalo, and he has held the long-snapping duties since.
Linebacker Chris White.
Originally a sixth-round pick of the Bills out of Mississippi State in 2011, White was traded this past offseason to Detroit, who subsequently waived him. The Patriots claimed him, and he has served as a coverage player on special teams in 2013.
Offensive assistant Brian Daboll.
Daboll is a native of Buffalo and attended St. Francis High School, just a handful of miles from Ralph Wilson Stadium, where the Bills play their home games. He went on to play at the nearby University of Rochester.
October, 26, 2013
10/26/13
5:00
AM ET
FOXBOROUGH, Mass. -- Receiver
Wes Welker
is the highest profile acquisition the
New England Patriots
have made for a player with AFC East ties. But he's far from the only one.
The familiarity of facing a player twice a year in division play has led the Patriots to sign several others in Bill Belichick's 14-year coaching tenure, such as receiver Sam Aiken (Bills), cornerback
Marquice Cole
(Jets), defensive end Shaun Ellis (Jets) and running back Sammy Morris (Bills/Dolphins), among others.
White
This year, core special teams player
Chris White
has been added to the list.
White played 22 games for the Bills in 2011-2012 after being selected in the sixth round of the NFL draft, so when the Patriots were looking for special teams help at the 53-man roster cutdown in September, the 6-foot-3, 240-pound White was at the top of their list.
"He's a young guy [24] but experienced and plays in all four phases of the game [kickoff return, kickoff coverage, punt return, punt coverage]," Belichick said. "He's a core guy for us -- dependable, smart, works hard."
White, who has played in all seven games this season, totaling three special-teams tackles (2 solo, 1 assisted), shares his "football journey":
When he first started playing football:
"I started when I was young, flag football. I was 5 or 6 maybe. My mom [Amy Myrick] had put me in all sports -- basketball, baseball, football. I did everything."
First positions:
"Running back and linebacker."
Role models in his life:
"My mom. I look up to her bigtime. She kind of raised me and my brother [Carl] by herself. My parents got divorced, and my dad [Larry] died when I was 8. It was tough, but she's always been there for me. She's the reason why I'm here today."
[+] Enlarge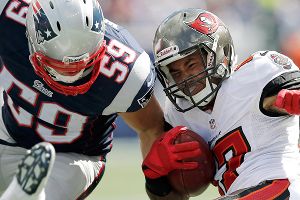 Winslow Townson/Getty ImagesChris White, left, has played on special teams in all seven Patriots games this season.
Learning important lessons at Vancleave (Miss) High School:
"To tell you the truth, I kind of messed around in high school and didn't take my classes as seriously as I should have. That led me to Junior College, which was probably the best thing that happened to me. The only D-I school I had been getting recruited to was Southern Miss., and I ended up going to Mississippi State [after junior college]. We had a pretty good two years when I was there, under a new coach, Dan Mullen. That helped my career out a lot."
Attending Mississippi Gulf Coast Community College:
"It definitely helped [get me on track] -- small school, small Mississippi town. It was close to home, about an hour away, and that helped. I could go home on the weekends and see my family and stuff like that. They check classes there; you have to keep your grades up. [Coach] Steve Campbell, he does a really good job with that program. He's still there and is a great head coach."
How he ultimately turned the corner with grades:
"I think football helped a lot. I started seeing I was pretty good at football, so I said, 'You know what, I'm going to take my grades and classes pretty seriously now.' In high school, I just wanted to have fun. I got by."
Football at Mississippi Gulf Coast Community College:
"We won a national championship my freshman year, which was awesome, 12-0. Then my sophomore year, we went 10-2. We won a lot of games there, and they're still really good."
Earning a scholarship at Mississippi State:
"It was in-state, an SEC school, and it's a good college town. I definitely enjoyed it. I had committed after my first year of junior college. Other schools were talking to me -- South Florida, Kansas State, Southern Miss -- but they didn't really offer me a scholarship because I was already committed."
Top football memories at Mississippi State:
"I'd probably say beating Florida and Georgia my senior year. Those were pretty fun games. We played Florida in Gainesville, and I was the national defensive player of the week. I enjoyed that [smiling]. "
Drafted in the sixth round by the Bills in 2011:
"I was expecting it, knowing I was going to go late, but I was still disappointed [it wasn't earlier]. Still, you get the call and you're excited. I was pumped."
Lessons from his two-plus years with the Bills:
"You learn that NFL is 'Not For Long' -- guys come and go. It's a tough business, but it's a good business. It's a great town, a great sports town. They love their Bills, so it's a good place to play."
Top football memory from the Bills:
"[Laughing] Probably beating the Patriots my rookie year. That was a great game for us."
Traded by the Bills in the 2013 preseason for Lions QB Thad Lewis:
"I was kind of shocked and surprised by it, but that happens. I had to go with it. Then the Lions released me [within a week] and I ended up here. So I'm happy about playing here."
If he takes anything with him from his brief stop in Detroit:
"Not too much. When it's that fast, it's kind of like a blur."
Reaction to being claimed by the Patriots on Sept. 1:
"I was pumped. There's a lot of winning here. I like that."
Proud of his Mississippi roots:
"I love Mississippi. People are really nice down there. It's a lot of small towns and just great people. The coast is a good place to live, because you have the water and a few things to do. Not as much compared to Boston, but still things to do."
Favorite professional athlete growing up:
"Brett Favre. Obviously, a Mississippi guy [smiling]."
Favorite professional team growing up:
"The
Washington Redskins
. My dad was a big Redskins fan, I don't know why he was. But we were bigtime Redskins fans. I was a Saints fan, too. My stepfather [Nick Myrick], that's still one of his favorite teams, behind us obviously [smiling]."
Impressions of New England from a Mississippian:
"I like it a lot. The country is so pretty up here; the trees and stuff are beautiful. In Mississippi, you see a lot of pine trees. You come up here and it's different. I love it."
Summing up his football journey:
"Kind of the underdog. I've always been fighting to earn a job and keep playing. That's what I'm still trying to do -- keep fighting."
September, 7, 2013
9/07/13
11:00
AM ET
Every day before the New England Patriots play a game, we'll attempt to predict the team's inactive players.
The Patriots currently have 52 players on their roster. With 46 players allowed on the game-day roster, there are six players who won't be part of the season opener against the
Buffalo Bills
.
Our best guess on the list:
RB
Brandon Bolden
-- Has been limited in practice with a knee injury and was one of the only players not spotted in the preseason finale, so the hunch is that he might need more time.
WR
Aaron Dobson
-- Rookie was limited in practice with a hamstring injury and currently projects to a reserve role (and doesn't contribute on special teams).
DT
A.J. Francis
-- Claimed on waivers from the Dolphins on Sunday, the undrafted rookie is still getting up to speed in the system.
TE
Rob Gronkowski
-- Listed as doubtful as he recovers from forearm and back surgeries, he still seems to be a few weeks away.
OT/G
Will Svitek
-- Veteran who backs up multiple spots has already been declared out with a knee injury.
LB
Chris White
-- Claimed on waivers from the Lions on Sunday, he probably needs more time to get integrated into the system.
Extra point:
The Patriots sometimes make roster moves the day of the game, and it wouldn't be a surprise if they fill their final roster spot Saturday. Guard Josh Kline would be an ideal candidate from this view, and if it happens, it could bump rookie guard/center
Chris Barker
to the inactive list.
September, 6, 2013
9/06/13
5:00
AM ET
After preparing for each other throughout the offseason, coupled with the fact that they're division rivals, the
New England Patriots
and
Buffalo Bills
have grown familiar.


There are also several connections between the two organizations -- including former Patriots players now with the Bills, who are highlighted below.
Tight end Lee Smith.
Smith, a 2011 fifth-round pick of the Patriots, was released by the team at the final roster cut-down that year, and the feeling was that the Patriots wanted to sign Smith to the practice squad. The opportunity never presented itself, as he was claimed by the Bills off waivers. He has eight catches in 26 games for Buffalo.
Offensive tackle Thomas Welch.
Another former Patriots draft choice, Welch has kicked around among four organizations, eventually landing in Buffalo. He started one game for the Patriots in 2010 and played in three for Buffalo last season.
Other connections of note
Patriots linebacker Chris White.
White, recently claimed off of waivers by the Patriots, was traded from Buffalo to Detroit in exchange for quarterback
Thad Lewis
in August. White, 24, was a sixth-round pick of the Bills in 2011.
Patriots defensive end Chandler Jones/Bills head coach Doug Marrone.
The Patriots may rely on Jones for some scouting reports this week, as Jones was a star for Marrone at Syracuse when Marrone was head coach there. Said Marrone of Jones on Wednesday, "Obviously we were very proud of Chandler at Syracuse and I'm very proud of him now. I've seen him get better and better. I've seen him really step it up and really be a good professional. He's one heck of a football player and we're going to have our hands full with him."
September, 1, 2013
9/01/13
8:20
PM ET
FOXBOROUGH, Mass. -- The
New England Patriots
put in waiver claims on rookie cornerback
Marcus Cooper
(49ers) and rookie defensive tackle
Chris Jones
(Texans), but were not awarded the players because they were claimed by other teams that had priority in the waiver order.
Cooper, a seventh-round draft choice (252nd out of 254 picks) out of Rutgers, ended up with the Chiefs. Jones, a sixth-round draft choice out of Bowling Green, ended up with the Buccaneers.
Between these two claims, plus the four players the Patriots were awarded on waivers (center/guard Braxston Cave, linebacker Chris White, guard Chris Barker and defensive tackle A.J. Francis), the team was more aggressive on the waiver wire than the norm in recent years.
Part of the reason the Patriots were so aggressive likely was to address areas on the roster where depth was thin.
September, 1, 2013
9/01/13
5:17
PM ET
FOXBOROUGH, Mass. -- The Patriots were awarded linebacker
Chris White
on waivers, according to a league source.
White recently was traded from the
Buffalo Bills
to the
Detroit Lions
, who subsequently waived him as part of the team's final cut down. White has played in 22 career games in two NFL seasons, totaling 19 tackles. The addition of White gives the Patriots seven linebackers on their roster.
In addition, the team tried out free-agent center
Edwin Williams
, a veteran of four seasons who spent 2010-12 with the
Chicago Bears
. The team claimed a pair of interior linemen on waivers on Sunday, an area that may need depth as veteran
Will Svitek
was absent from Sunday's practice.
Finally, three players, defensive ends
Jermaine Cunningham
and
Justin Francis
, as well as offensive lineman Chris McDonald, who were waived/injured on Saturday, passed through waivers unclaimed and will revert to the Patriots' injured reserve list.