New England Patriots:

D.J. Williams
June, 2, 2014
Jun 2
6:45
PM ET
There's another potential suitor for tight end
Jermichael Finley
, but it's with the same caveat as there is with the
Green Bay Packers
.
Finley
Everything hinges on Finley's surgically repaired neck.
The free-agent tight end visited the
New England Patriots
last Friday, according to ESPN's Adam Caplan. The trip to Foxborough came less than a week after Finley was in Green Bay
to check in with the Packers' team doctors
.
Finley has reportedly been cleared by the doctor who performed his neck fusion surgery, Dr. Joseph Maroon. But the Packers' doctors did not put Finley through the full battery of tests that would need to be done in order to clear him to return to the team.
Last week, Packers tight end
Brandon Bostick
, one of Finley's closest former teammates, said he believes Finley
will play in the NFL again
but was not sure whether it would be in Green Bay.
Finley bruised his spinal cord -- an injury that left him briefly without movement and feeling -- after taking a hit in the Oct. 20 game against the
Cleveland Browns
. He has not played since. Less than a month later, he had his C-3 and C-4 vertebrae fused together.
He was in the final season of a two-year, $14 million contract when he was injured. As an unrestricted free agent, he is allowed to visit and be examined by any team.
The Patriots' interest in Finley makes sense. Tight end
Rob Gronkowski
is coming off ACL reconstruction. The other tight ends on their roster are former Packers draft pick
D.J. Williams
,
Michael Hoomanawanui
and rookies
Justin Jones
and
Asa Watson
.
May, 31, 2014
May 31
5:00
AM ET
FOXBOROUGH, Mass. -- Emptying out the notebook from the Patriots' organized team activities Friday:
Something that stood out to me late in practice was second-year linebacker Steve Beauharnais leading the defensive huddle with authority in 11-on-11 drills. I watched him put his hands on a teammate after barking out the play-call in a take-charge type of manner. Beaurharnais, the seventh-round pick from Rutgers, is a candidate to elevate into a Dane Fletcher-type reserve role in 2014.


The Patriots were light at tight end, with only Michael Hoomanawanui and undrafted rookie Justin Jones on the field. Rob Gronkowski and D.J. Williams were present but not taking part in practice, while undrafted rookie Asa Watson was at the required Rookie Premeire event. Energetic assistant coach Brian Daboll was working the tight ends hard. Jones stands out with his height (6-8, 277) and he seems to have reliable hands. Because he's so big, fluidity with footwork in tight spaces (e.g. sharp cuts in cone drills) looks like it can be a challenge for him.


With the light tight end crew, fullback James Develin broke down with the group and went through pass-catching and blocking drills with them.


There was a quick tempo to the early part of practice, with coaches urging players to get lined up quickly as the offense went through some of its plays. Things eventually slowed down, but it was a good example of how the Patriots want to have the ability to play fast and the coaches created mental stress for the players. Along those lines, there was also plenty of signaling by defensive players, and the use of headsets by the coaching staff.


Linebacker Jerod Mayo (torn pectoral muscle, Oct. 13) was on the field for most of the practice, a sign that his recovery has progressed well, as was expected after he met with reporters earlier this month.


Just as we saw in the AFC-East clinching victory in Baltimore in December, second-year player Josh Kline lined up at left guard. In this case, it was because Logan Mankins wasn't present.


Receivers Danny Amendola, Reggie Dunn and Kenbrell Thompkins, and running back Roy Finch, were a few players taking reps as punt returners. There were several parts of practice devoted to special teams, as is often the case.


While more of the practice was about teaching, receiver Julian Edelman seemed to have a productive session with several catches. At one point, after a missed connection with Tom Brady along the right sideline, he was upset with himself and showed his frustration outwardly. With Edelman and Amendola paired together at times, the Patriots still seemed to be lacking that taller outside presence on sideline and downfield throws.


Practice finished with players called over to a hill behind the second practice field, which they had to run multiple times. As Tom Brady noted later Friday night, it's an uphill climb for the team to get where it wants to go.


The next organized team activity open to reporters is Thursday.
May, 28, 2014
May 28
5:00
AM ET
Media members will be on hand to watch the Patriots in their third organized team activity of the week, on Friday.
With this in mind, here are five players who were limited in some form in 2013 that will pique our interest to see how they've progressed:
[+] Enlarge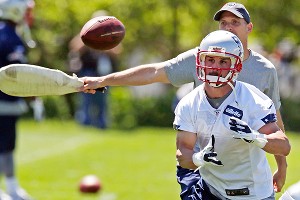 AP Photo/Charles KrupaDanny Amendola thrived in OTAs last year, but struggled with a groin injury during the season.
WR Danny Amendola
-- He looked quick and decisive and appeared to be the best receiver on the field in this setting last year. But a groin injury in training camp that was re-aggravated in the 2013 regular-season opener knocked him off course. Can he regain that early momentum?
DT Armond Armstead
-- The Patriots signed him from the Canadian Football League last year and had high hopes for him, with Bill Belichick at one point referring to him as a top-3 player in the rotation before a surprise infection prior to training camp landed him on season-ending injured reserve. If Armstead is healthy, he could help provide an interior pass rush.
WR Josh Boyce
-- The high 2013 fourth-round draft choice from Texas Christian came out as a junior and this is considered a big year for his development after he played just 14.1 percent of the offensive snaps last season. Boyce, who is considered a smart player, talked about the mental challenge as a rookie and a full year in the team's system should help him.
WR Mark Harrison
-- At 6-foot-3 and 230 pounds, the former undrafted free agent from Rutgers fits a different physical profile than the rest of the team's receivers. We still think he'd be a possible fit as a move tight end, but Bill Belichick said the plans are to keep him at receiver for now after he missed his rookie season with a foot injury.
TE D.J. Williams
-- A 2011 fifth-round draft choice of the Packers, the 6-foot-2, 245-pound Williams projects as the top "move" tight end on the roster at this time. He played in 11 offensive snaps for the Patriots last season, so this is a great opportunity for him to show he's capable.
March, 19, 2014
Mar 19
11:30
AM ET
A few leftover pieces of
New England Patriots
mail from
Tuesday's mailbag
...
Chris (Washington DC):
Hey Mike, the TE position has always been one that has been one of Tom Brady's favorite targets. From Christian Fauria, to Ben Watson, to Gronk and Hernandez. I know they re-signed Michael Hoomanawanui but is he enough? Do the Patriots trust that he will be reliable this season as the full time starter for most if not all of the season? Or do you think this will be something they address to get help in the draft and or free agency?
Chris, I think the Patriots are happy to have Hoomanawanui back as he's proven to be a reliable, team-first player. But I also believe they aren't done addressing the position. There are currently three tight ends on the roster --
Rob Gronkowski
, Hoomanawanui and
D.J. Williams
-- and I would anticipate at least two more added by the time training camp begins in late July. We're looking at a partial snapshot right now.
---
Tom C. (North andover ma):
Hey Mike, I was very disappointed at the loss of Dane Fletcher. His special teams efforts were significant but I always liked what I saw of him when he played. Fletcher just always seemed to show up and make plays. He only went to Tampa on a one-year deal. Why weren't the Patriots more interested in keeping him?
Tom, my educated guess would be economics, as perhaps the Patriots view Fletcher as more of a pure core special teamer, and paying a salary north of $1 million for that might not represent the best value to them when you can have a younger player at more than half the cost. Also, sometimes it's more the player's choice to seek a fresh start, which is something to keep in mind as well. I'm going to be interested to watch how that unfolds because Fletcher is going to a much different defensive system under Lovie Smith than what the Patriots play under Bill Belichick. Maybe it turns out to be a better fit for him.
---
Benjamin (Concord, MA):
Hi Mike, with the Patriots taking such an uncanny aggressive offseason approach this offseason,wouldn't it be fair to expect the team to perhaps move up in the draft for some "real" talent. If so, who could you envision them trading up for?
Benjamin, I see it a little bit differently in terms of the "aggressiveness." Obviously, the
Darrelle Revis
signing was a big one, and that is unusual, but I think it was more about capitalizing on an unexpected opportunity than a specific philosophical change in approach. With this in mind, I wouldn't expect anything different in the team's draft approach. If the right players are there and there is an opportunity to move up (e.g.
Chandler Jones
/
Dont'a Hightower
in 2012), I think they'll do it. If the better play is to trade back in a 4-picks-for-1-pick scenario (similar to last year), I think they'd do that, too. It's all about seizing the opportunities that present themselves.
---
John (Honolulu):
Hi Mike, last year the [Patriots] picked up Armond Armstead from the CFL and after missing last season, he will be back in 2014. While maybe better suited for the interior of the defense, do you think he gets a look at possibly defensive end? We know that Rob Ninkovich and Chandler Jones need a breather now and then.
John, I had specifically asked Bill Belichick that question last year, about the possibility of Armstead as an end-of-the-line player and he dismissed it by noting Armstead is 295 pounds and more suited for the interior.
---
Josh (Reading/PA):
Hi Mike, obviously things are fluid right now, but is it possible to get a sense of how much more room the Pats have under the salary cap now that they've signed/re-signed Hoomanawanui, Revis, Browner, LaFell, Edelman, and Co? I know it may be hard to say, what with pending potential releases/restructures with Vince and A. Wilson, but is it still reasonable to think that we can still keep Blount and Wendell while bringing a veteran pass-rusher aboard?
Josh, a conservative estimate is around $7 million of cap space. I still think Blount has a good chance of being back. My take on
Ryan Wendell
is that they would welcome him back at lower financial levels with the hope of adding competition at the position.
March, 3, 2014
Mar 3
1:00
PM ET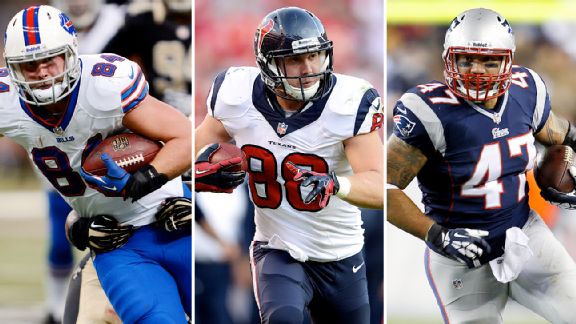 AP PhotoScott Chandler, Garrett Graham and Michael Hoomanawanui are three tight ends who could potentially help the Patriots in 2014.
First installment in a multi-part Patriots series on free-agent fits at various positions leading into the start of free agency March 11.
Position:
Tight end
Players under contract for 2014:
Rob Gronkowski
,
D.J. Williams
Level of need:
High
Projected top targets:
Scott Chandler
(Bills),
Garrett Graham
(Texans),
Michael Hoomanawanui
(Patriots)

Why Chandler fits:
The Patriots know him well from having faced the Bills twice a season, and Chandler has had some of his best games against them. At 6-foot-7 and 260 pounds, Chandler runs well and could work at both the "F" (more receiver-like) and "Y" (more in-line blocker) positions, which is valuable versatility even though he isn't dominant in either area.
Why Graham fits:
More of an H-back type, the 6-foot-3, 243-pound Graham catches the ball well and could provide another "move" option alongside D.J. Williams.
Why Hoomanawanui fits:
He played 54.3 percent of the offensive snaps for the Patriots in 2013, knows the system and proved to be dependable in maximizing his skill set. He doesn't threaten as much in the passing game but has excellent hands and has shown a knack for coming down with the football in tight windows. Competitive blocker.
Other names of note:
Jeff Cumberland
(Jets),
Ed Dickson
(Ravens),
Jermichael Finley
(Packers),
Dustin Keller
(Dolphins),
Jeron Mastrud
(Raiders),
Matthew Mulligan
(Patriots),
Brandon Myers
(Giants),
Brandon Pettigrew
(Lions)
Franchise tag:
Jimmy Graham
(Saints)
Market conditions:
The Ravens' reported five-year, $28.5 million extension with
Dennis Pitta
gives a feel for what a solid player at the position might command. Other than the Saints' Graham, who figures to be well north of that, we'd be surprised if any other free agents hit that number. The Lions' Pettigrew might not be too far behind. With the draft filled with only a few top-end prospects, teams with a need at the position could move quickly.
Questions to answer at the position:
When will Rob Gronkowski be healthy? When Gronkowski does return to the field, how long will he stay there? Can D.J. Williams develop into a potential top option as a "move" tight end? Would the Patriots draft a tight end in the first round?
December, 28, 2013
12/28/13
11:00
AM ET
Before the New England Patriots play a game, we'll attempt to predict the team's inactive players.

Our best guess on the list for Sunday's game against the Bills:
Devin McCourty:
Starting safety has missed all week of practice with a concussion. Rookie
Duron Harmon
is the top candidate to take his place.
Nate Solder:
Starting left tackle has been on the injury report the past three weeks with a concussion. He's been limited in practice this week and more visible in the locker room, but we'll play a hunch that the team sits him out for a second straight week.
Dane Fletcher:
Linebacker was a game-time decision last Sunday because of a groin injury, and didn't pass the pre-game test. If he is inactive again, it could potentially give him another two weeks to heal if the Patriots earn a first-round bye.
Shane Vereen:
Running back was held out of last Sunday's win after leaving with a groin injury, and if this was the playoffs, he'd be ready to go. But the possibility of the team holding him back as a precaution makes some sense from this viewpoint.
D.J. Williams:
Tight end adds a third layer of depth, and while it would be helpful to have it on the 46-man game-day roster, needs at other positions trump the luxury of a No. 3 tight end.
Jake Bequette:
Second-year defensive end is fifth on the depth chart and has been inactive the past eight games.
Josh Boyce:
Rookie receiver and primary kickoff returner has already been ruled for the second straight week with an ankle injury.
(Last week: 4 of 7 projections correct.)
EXTRA POINT:
The Patriots have two open spots on their 53-man roster and those will likely be filled today with promotions from the practice squad (our best guesses are safety
Kanorris Davis
and offensive tackle Jordan Devey). Thus, a full complement of seven inactives is projected.
December, 10, 2013
12/10/13
1:26
PM ET
The Patriots have turned the page after their Week 14 win over the
Cleveland Browns
, with a focus now on the
Miami Dolphins
, their Week 15 foe.
Offensively, the challenge this week is not only sizing up the Dolphins' defense, but game planning without tight end
Rob Gronkowski
, placed on injured reserved Monday afternoon.
In a conference call with reporters Tuesday afternoon, offensive coordinator Josh McDaniels dissected the process of trying to account for Gronkowski's absence.
"I don't think you can replace a player like that, a guy that can do so many unique things, with anybody," he said. "I think the thing that we rely on the most from one week to the next has always been trying to figure out what part of our offensive system do you use to maximize the strengths of the players that we have available for us that week against the strengths of the opponent we're playing that week as well.
"And so I think for us the formula's not going to change, the variables that can we use, however, will and I think that happens a lot during the course of the season," he continued.
For the Patriots, that could mean more of a reliance on tight ends
Matthew Mulligan
, recently re-signed
D.J. Williams
and perhaps
Michael Hoomanawanui
, who is working his way back from a knee injury.
Playing without Gronkowski is not necessarily a new challenge for the Patriots -- he missed 11 games dating back to last season before making his 2013 debut -- though McDaniels doesn't know whether playing without Gronkowski previously makes them better equipped to do so again now.
"I think we've experienced playing without him before and I think that -- I don't know if we're better equipped," he said. "I'm not exactly sure how to rate that, I just know that any time you lose a player like that where you can't use a player like that, you need to put your time in to a few different things and other people have to play different roles and you just play offense a little differently."
With a trip to Miami on the horizon, McDaniels and the rest of the offensive staff are focused on ways to maximize the healthy personnel on the roster for this Sunday and going forward.
"I think we kind of have an idea exactly what we need to use, how to kind of formulate our game plan to max out our strengths and try to make up for the loss of a unique player," he said.
December, 9, 2013
12/09/13
4:59
PM ET
The Patriots have placed tight end
Rob Gronkowski
on injured reserve, officially ending his 2013 season after he suffered a torn ACL and MCL, according to ESPN NFL Insider Adam Schefter.
The team also officially re-signed tight end
D.J. Williams
, as Mike Reiss reported earlier today.
Gronkowski becomes the fifth starter to land on injured reserve this season, joining nose tackle
Vince Wilfork
, linebacker
Jerod Mayo
, defensive tackle
Tommy Kelly
and offensive tackle
Sebastian Vollmer
.
He left the team's game on Sunday in the third quarter after taking a hit to his right knee from Browns safety
T.J. Ward
.
Gronkowski played in seven games this season, totaling 39 catches, 592 yards and four touchdowns.
By re-signing Williams, the Patriots add another veteran reserve at the position. The team also has
Michael Hoomanawanui
,
Matthew Mulligan
and fullback
James Develin
, who has taken reps at the position at times this season.
December, 9, 2013
12/09/13
9:58
AM ET
With starting tight end
Rob Gronkowski
suffering what the Patriots fear is a torn ACL according to ESPN NFL Insider Adam Schefter, the team will bring back tight end
D.J. Williams
, a league source confirms. Williams is en route to the team on Monday and must pass a physical to officially sign.
The Boston Globe first reported the news.
Williams, who was released last Wednesday after one week with the team, played three offensive snaps in a Week 13 win over the
Houston Texans
. A former fifth-round pick of the Packers out of Arkansas in 2010, he has also spent time with the Jaguars.
Without Gronkowski, the Patriots' depth at tight end will be tested.
Michael Hoomanawanui
has missed three straight games while nursing a knee injury, while fullback
James Develin
has also taken some reps at the position.
Veteran
Matthew Mulligan
played a season-high 39 snaps on Sunday in the team's 27-26 win over the Browns.
A corresponding roster move will need to be made to officially sign Williams.
December, 4, 2013
12/04/13
5:05
PM ET
The Patriots released veteran tight end
D.J. Williams
on Wednesday, one week after he was signed.
Williams, who played three offensive snaps in the team's Week 13 win over Houston, provided depth and insurance while the team was without Michael Hoomanawanui, who returned to practice Wednesday after missing two games due to a knee injury.
With Hoomanawanui back in the mix, the Patriots have three players at tight end, led by
Rob Gronkowski
. Veteran
Matthew Mulligan
is the team's other backup.
Originally a fifth-round pick out of Arkansas in 2011, Williams has also spent time with the Jaguars during his pro career.
The Patriots now have one vacant spot on their active roster.
November, 26, 2013
11/26/13
3:05
PM ET
The
New England Patriots
have agreed to terms with free agent tight end
D.J. Williams
, a league source confirmed.
The agreement was initially reported by CBSSports.com.
Williams, originally a 2011 fifth-round pick of the Packers out of Arkansas, was claimed off of waivers by Jacksonville in September after being waived by Green Bay at the conclusion of training camp.
Williams, the John Mackey award winner in 2010 as the nation's top tight end in college football, has nine career catches for 70 yards.
The Patriots had just two tight ends active against the Broncos on Sunday night, because
Michael Hoomanawanui
was forced to sit out because of a knee injury suffered in Week 11. It is unclear whether Hoomanawanui's injury will cause him to miss any further time.
Rob Gronkowski
, the team's top tight end, played all 86 of the offensive snaps against Denver, the first time he has done so this season. Veteran
Matthew Mulligan
played 24 snaps in a reserve role, while the Patriots have also used fullback
James Develin
in a tight end role at times this season.
Because the Patriots have a full active roster at 53 players, a corresponding transaction will need to be made to clear room for Williams.