New England Patriots:

Dion Jordan
July, 3, 2014
Jul 3
10:00
AM ET
New England Patriots
coach Bill Belichick has job security. His three counterparts in the AFC East? Not so much.
Rex Ryan landed a contract extension this offseason, but don't let that fool you. He will have reason to be nervous if the
New York Jets
miss the playoffs for the fourth consecutive season. The
Buffalo Bills
' 6-10 record last season wasn't ominous for Doug Marrone -- that was just his first year on the job. But with an ownership change on the horizon, a failure to improve in 2014 might not bode well for Marrone.
Then there is Joe Philbin of the
Miami Dolphins
. He survived a bullying scandal that took place in his locker room and on his practice field. A late-season collapse that cost Miami a playoff berth couldn't sink Philbin, not when you consider the adversity the team fought through just to be in contention. But now Philbin enters his third year, when a lot is expected of a regime. He is likely out of second chances.
The four writers who cover the division -- Rich Cimini in New York, Mike Reiss in New England, Mike Rodak in Buffalo and James Walker in Miami -- offered their insights on the AFC East hot seat and other key topics. They also polled their Twitter followers to find out if they saw the issues differently.

Which AFC East coach enters camp on the hottest seat?
Rich Cimini: Doug Marrone's seat is lukewarm and Rex Ryan's is warm. Joe Philbin? Let's just say his tush is feeling extreme heat. Frankly, I'm a bit surprised he survived last season's debacle. Not only did the Dolphins collapse down the stretch to blow a playoff spot, but they became a national punchline because of the bullying scandal. The mess cost general manager Jeff Ireland his job, but Philbin emerged as the Teflon Man. He has now run out of mulligans. Philbin is working for a new GM, Dennis Hickey, and it's hard to imagine him returning in 2015 if the Dolphins miss the playoffs again. Philbin is an offensive-minded coach, but his offense -- quarterback Ryan Tannehill, in particular -- has shown no improvement. ... We would mention Bill Belichick's seat, except it's really not a seat. In this division, it's a throne.
Mike Reiss
: Is it possible for someone to go from a Coach of the Year candidate last December to the hot seat in late July? It shouldn't be, but that is the situation in which Dolphins coach Joe Philbin finds himself. I thought Philbin deserved a lot of credit for keeping things together last season, and after the Dolphins beat the Patriots in mid-December many were singing his praises. But the team sputtered the final two weeks of the season and now Philbin, entering his third season, could be viewed as having the hottest seat among AFC East coaches. Crazy business, this NFL.
Mike Rodak: This is a close race between Rex Ryan, Doug Marrone and Joe Philbin. Ryan faces the tough scrutiny of the New York market, and if the Jets' combo of quarterbacks Geno Smith and Michael Vick doesn't pan out, Ryan could be gone, despite his contract extension this year. In Buffalo, a pending ownership change naturally puts Marrone's future in doubt. I don't think CEO Russ Brandon or general manager Doug Whaley would fire Marrone even if things don't go well this season, but their voices might not matter if a new owner wants sweeping changes. In Miami, new GM Hickey has given Philbin his vote of approval, but how long will that last? If I had to pick one situation where the head coach's job is most in question, it's Philbin with the Dolphins.
James Walker: Miami's Joe Philbin has the hottest seat in the AFC East. After going a combined 15-17 his first two seasons, this year is really playoffs or bust for Philbin. He was fortunate to survive last year's late-season collapse and major locker-room issues with the bullying scandal that embarrassed the franchise. General manager Jeff Ireland and offensive coordinator Mike Sherman and others lost their jobs, but Miami owner Stephen Ross offered Philbin one more opportunity to prove he's the right coach for the team. The key for Philbin will be winning within the division. He is 4-8 against AFC East teams, and that won't cut it this season.
@RichCimini #jetsfourdowns Marrone. If the Bills regress, he'll be on the hot seat because they DO have a lot of talent, esp on defense.

- Andrew Conrad (@aconrad283) June 15, 2014
---

Which of your team's positional battles intrigues you the most?
Cimini: No question, it's the quarterback situation even though Geno Smith versus Michael Vick isn't a true open competition. No matter, it's still a compelling story, one that will create many headlines in training camp. It's Smith's job to lose, but I'm curious to gauge his development now that he has had a full season and a full offseason to immerse himself in the offense. More than anything, he should be better at seeing the field and reading defenses. How will he handle the pressure of knowing there is a capable replacement if he falters? Let's be honest, he never had to deal with that as a rookie. If Smith is outplayed by Vick, it will put the coaches in a delicate position. Clearly, they want Smith to be the starter, but they also have to consider the possible message it sends. If the best guy isn't playing, it's bad form. One position, so many fascinating subplots.
Reiss: Receiver looks like the Patriots' most compelling position battle. They are counting on big-time improvement from second-year players Aaron Dobson (second round), Josh Boyce (fourth round) and Kenbrell Thompkins (undrafted), while big 2013 free-agent signing Danny Amendola will be looking to prove he can stay healthy and recapture the magic we saw in the 2013 season opener. Veterans Julian Edelman and Brandon LaFell are also expected to play significant roles, and can slippery-quick seventh-round pick Jeremy Gallon be a sleeper? Lots of questions to answer.
Rodak: The starting spot that seems most up for grabs in Buffalo this offseason is at safety. Who will start opposite Aaron Williams? The Bills lost Jairus Byrd and didn't address the loss in free agency or the draft, instead putting their faith in two of their draft selections from last season -- Duke Williams (fourth round) and Jonathan Meeks (fifth round) -- as well as a more experienced veteran, Da'Norris Searcy. With Aaron Williams recovering from shoulder surgery for most of organized team activities, we didn't get a great feel for which player had the best shot to win Byrd's old job. In the few times that Williams was on the field, it was Searcy lining up with the first team, but Duke Williams and Meeks also got reps with the first unit throughout OTAs. It's a battle that will continue into training camp.
Walker: The Dolphins have a few good position battles, but I am most intrigued by the competition to be the slot receiver because of the immense depth at the position. The Dolphins have Brandon Gibson, Rishard Matthews and rookie second-round pick Jarvis Landry all competing for one spot. In addition, these receivers have different styles. Gibson is more detailed and cerebral. He gets open with his route-running. Matthews is the biggest and most physical receiver of the bunch. Landry is sort of a combination of the two, but he lacks blazing speed. I think all three are capable of handling the position. It's just a matter of who performs the best and which style the coaching staff prefers.
@mikerodak running backs look to be more interesting than I expected, and even though there isn't competition QB growth is #1

- Bob rieth (@Bob_rieth) June 16, 2014
---

Which veteran on your team is poised for a breakout season?
Cimini: For several reasons, it should be Quinton Coples. After two nondescript seasons, it's time to turn potential into production -- and he knows it. The talent is there. With Coples, whose work ethic was questioned when he came out of North Carolina, it is a matter of want-to. Does he want to be great? The former first-round pick was slowed last season by a position change ("rush" linebacker) and a fractured ankle in the preseason, which cost him three games. Now he should be comfortable at the position and he dropped weight in the offseason, which should help his quickness on the edge as a pass-rusher. Coples has the ability to turn a middling pass rush into a very good one.
Reiss: With the Patriots bolstering their secondary with Darrelle Revis, a player like third-year defensive end Chandler Jones could be a primary beneficiary of better coverage. He had six sacks as a rookie and followed that up with 11.5 last season. Could he hit 15 this season? As long as he stays healthy, it wouldn't surprise me.
Rodak: There was no shortage of breakout performers for the Bills last season, especially on defense. Defensive end Jerry Hughes, cornerback Leodis McKelvin, safety Aaron Williams and defensive tackle Marcell Dareus all enjoyed the best seasons. This season, I see two strong candidates for breakout performances: wide receiver Robert Woods and cornerback Stephon Gilmore. Woods had a strong start to last season -- he was a candidate for NFL rookie of the month in September -- but a revolving door at quarterback and a late-season ankle injury hampered his progress. If quarterback EJ Manuel bounces back from his up-and-down rookie season, Woods could stand to benefit. I would give him the edge to break out over Gilmore, a former first-round pick who was limited by a wrist injury most of last season but is among the better cornerbacks in the division when healthy.
Walker: Last season the Dolphins saw significant returns from a second-year defensive end, Olivier Vernon. He led the Dolphins with 11.5 sacks and really came on strong in 2013. So I'm going to stick with the same position and the same experience level and go with current second-year defensive end Dion Jordan. The Dolphins got little return for their No. 3 overall pick last year -- he had just 26 tackles and two sacks. But I like what I saw from Jordan during organized team activities and minicamp. Jordan hit the weight room hard this offseason and bulked up about 17 pounds. He's much stronger, which is key because Miami's coaching staff was concerned about Jordan's ability to stuff the run. Jordan should put up better numbers and be an all-around better player. His biggest issue is getting playing time behind Vernon and Pro Bowl defensive end Cameron Wake.
@JamesWalkerNFL Dion Jordan. Can't hold him back anymore. He will get 10 sacks and will be on the field 40 plays per game

- Tom Ernisse (@ternisse13) June 4, 2014
---

How many years do you think Tom Brady has left?
Cimini: No doubt, Jets fans will celebrate the day Brady decides to call it quits. Statistically, he's in a two-year decline, but he played with such a patchwork receiving corps last season that it's hard to say he is going south. Brady, who turns 37 in August, should have at least two more Brady-like seasons. I'm basing that on recent history. After all, John Elway won his second Super Bowl at 38 -- and promptly retired. It's rare in the modern era for a quarterback to play well beyond 38. Brett Favre had a great year at 40, and Warren Moon enjoyed a good year at 38, but the examples are few and far between. The Patriots drafted Jimmy Garoppolo in the second round for a reason. Brady is signed through 2017, but I'd be mildly surprised if he's still around at the age of 40.
Reiss: I'm not going to be the one who bets against Tom Brady. I still see him playing at a high level through the completion of his current contract in 2017, and based on the way he takes care of his body, the dedication to his craft, and the desire to play as long as possible, I could see him going the Warren Moon route and playing into his 40s. It's all contingent on good health, but will Tom Brady still be slinging passes and winning games in the year 2020? Yup.
Rodak: I would peg Brady's window at 3-4 years. In the past, he has spoken about his fear of the "abyss" that will follow his playing career. Yet we've also seen him in the public eye as a father in recent years and I think he would embrace that role in retirement. The bigger question is whether Bill Belichick would ever "move on" from Brady or simply allow him to play -- and start -- as long as he'd like. Belichick is markedly unemotional when he makes personnel decisions, so I don't think he would necessarily let Brady dictate when his career ends. Even if Belichick's final season coincides with Brady's, I think Belichick would want to leave the organization in a good spot. That could mean handing over the reins to a younger starter if the situation calls for it.
Walker: I covered Brady for two seasons as ESPN.com's AFC East reporter. To me, he has always come off as a player who wished he could play football forever. You would be surprised how many NFL players are not that way. Brady isn't motivated by money or fame. I think there is a genuine love for the game and thirst for competition that will be hard for Brady to let go. That is why I expect Brady to hold on for as long as he can. I expect two or three more quality seasons, but I wouldn't be surprised if Brady tries to go longer. I think Brady is too competitive to walk away on his own. Father Time might have to pull him away from the NFL.
@MikeReiss Two. (hoping he goes out with a ring (a la John Elway)- Because i think he has less than 3 - I'm watching the back up QB battle.

- Elizabeth (@capesquad) June 18, 2014
.
October, 24, 2013
10/24/13
12:00
PM ET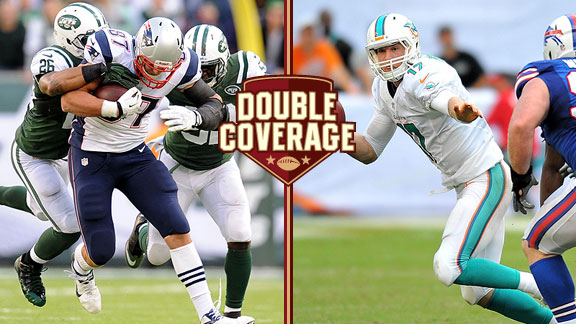 USA TODAY SportsRob Gronkowski's second game this season will be against Ryan Tannehill and the sliding Dolphins.
.
At the start of the 2013 season, a hot-button question was which AFC East team was closest to contending with the
New England Patriots
for the division championship. Most seemed to agree it was the
Miami Dolphins
, who were as aggressive as any NFL team in reshaping their roster in the offseason.
But through seven weeks of the regular season, the picture looks a bit different than many projected.
First, the Patriots' stranglehold on the AFC East doesn't seem as strong as it has been for long stretches since 2001, a span in which they have posted a 61-16 record against division foes. They are coming off a surprising 30-27 overtime road loss to the
New York Jets
to drop to 5-2.
Meanwhile, the Dolphins opened the year with three straight wins, but have slid back to the pack with three straight losses, the latest a surprising setback to the visiting
Buffalo Bills
this past Sunday 23-21.
Could the Bills and Jets be further along than the Dolphins? And are the Patriots suddenly vulnerable?
Those are topical questions to ask as the Dolphins prepare to visit the Patriots on Sunday (1 p.m. ET), and NFL Nation Dolphins reporter James Walker and NFL Nation Patriots reporter Mike Reiss help us break it down:
Reiss:
James, let's start by giving Patriots followers a feel for where things have broken down for the Dolphins.
Walker:
Where do I start, Mike? Not much has gone right for the Dolphins since their 3-0 start. The biggest problems have been on offense. With the exception of last week against Buffalo, the running game was non-existent. That made the Dolphins one-dimensional and very pass-heavy. That also let opponents know they can pin their ears back and get after the quarterback. Miami has allowed 26 quarterback sacks in six games, and a majority occurred in the second halves and fourth quarters when the Dolphins quit early on the running game. The lack of pass protection and an inconsistent running game put a lot of pressure on second-year quarterback
Ryan Tannehill
, who is trying too hard. He has seven turnovers -- five interceptions, two lost fumbles -- in the past three games. Tannehill has a lot of potential, but he's not ready to carry the Dolphins' offense by himself. The issues around him must improve, which is why the Dolphins traded this week for veteran offensive tackle
Bryant McKinnie
.
Mike, one of the biggest concerns for Miami this week is stopping Pro Bowl tight end
Rob Gronkowski
. How did Gronkowski look in his first game back and what do you expect in his second game?
Reiss:
Gronkowski was an immediate difference-maker, playing 51 of 79 offensive snaps (including penalties). So the first thing to look at this week is just his workload, which should gradually increase. When healthy, Gronkowski seldom comes off the field. As for his production, all we have to do is look at how many times he was targeted by
Tom Brady
against the Jets -- 17 times. And, of course, he finished with the eight catches for 114 yards. The Patriots are obviously a better team with Gronkowski, and it showed up Sunday, specifically in the red zone where the space gets tight. Tell us more about the Dolphins' defense and how they might defend him.
Walker:
My feeling is Miami will try to go conventional and let the linebackers and occasionally the safety cover Gronkowski. Dolphins safety
Reshad Jones
hasn't been great in coverage this season, but he's playing much better the past two weeks. I think the Dolphins should get creative with Gronkowski. One option is to have rookie defensive end and athletic No. 3 overall pick
Dion Jordan
line up on Gronkowski at times. Jordan is long, athletic and can be physical with Gronkowski at the line of scrimmage. That would be a good curveball. According to defensive coordinator Kevin Coyle, Miami's primary focus is not to worry about the receptions but to prevent the vertical plays. The Dolphins want to keep Gronkowski in front of them.
Mike, New England's defense started fast but has allowed 57 points in the past two games. Have injuries caught up with this group?
Reiss:
In a word, yes. It is still a good unit but naturally not the same without players like defensive tackle
Vince Wilfork
and linebacker
Jerod Mayo
, which has forced the coaching staff to shuffle things around. The Patriots were also without cornerback
Aqib Talib
on Sunday, and I think he's been their best defender this season. We'll see if he's back this week from a hip injury. Overall, it's still a well-coached unit and they create turnovers, as evidenced by their streak of 34 straight games with at least one. I'm sure one of the things that will be watched closely here in New England is what type of impact receiver
Mike Wallace
has on the game. Some followers of the team would have loved to see the Patriots sign him as a free agent, especially in light of the struggles the offense is having this season. How would you assess Wallace's impact in Miami? Are they happy with the signing?
Walker:
It's been a work in progress, Mike. The sense I get is it's still a feeling out process with the coaches in terms of how to use Wallace to the best of his abilities. He's a unique receiver with speed. Yet, the Dolphins don't have enough pass protection to allow Wallace to run enough "nine routes" down the field. It hasn't always been a match. But Miami is starting to do a better job of getting Wallace the football in other ways. The Dolphins have run more screens, slants and reverses to keep him involved. Wallace has had his best games this year when he gets a couple of receptions early. That's happened against Indianapolis and Baltimore, which were Wallace's two 100-yard games. If the Dolphins want to have a chance of pulling off the upset, they need at least one or two big plays from Wallace in game.
Finally, Mike, the Patriots are 5-2 but don't look as dominant as previous years. The Dolphins are struggling. But is the AFC East as a whole closing the gap on New England this year?
Reiss:
That's a good question, James, and I think this game Sunday will help us better answer it. The Patriots went down to the wire with the Bills in the season-opener and had two down-to-the-wire games with the Jets. If the same thing happens with the Dolphins, that would be some pretty good evidence to suggest that the gap in the division is indeed closing. And yet then, we are reminded of this time last year
when every team in the division was 3-3
and we thought the gap had closed. Turns out that wasn't the case. That's why I view things more through a short-term lens and spotlight this as an important game for the Patriots from an AFC East perspective as they could improve to 3-1 in the division, with division games remaining at the Dolphins (Dec. 15) and home against the Bills (Dec. 29).
.