New England Patriots:

Ed Reed
November, 29, 2013
11/29/13
12:00
PM ET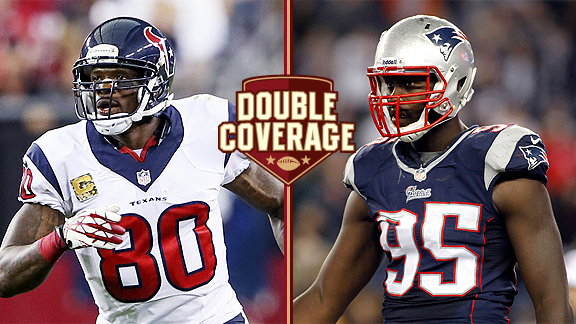 USA Today SportsAndre Johnson, left, and the Texans hope to surprise Chandler Jones and the Patriots.
HOUSTON -- The last time the
Houston Texans
faced the
New England Patriots
during the regular season, Houston was 11-1 and the hottest team in the league. To celebrate their youthful camaraderie, they ordered letterman jackets, the kind high school teams wear, and the jackets happened to come in right before the Patriots game.
That game marked a turning point for the Texans.
The timing of the jackets had nothing to do with the opponent; former Texans Connor Barwin and Shaun Cody were simply trying to create a tradition. That they lost so badly just after unveiling them turned the jackets into a punch line.
The Patriots won 42-14, and the Texans finished their season having lost three of their last four games. That meant losing the home-field advantage that seemed theirs before that game and led to another meeting with the Patriots in the divisional round of the playoffs. New England won again, 41-28.
It was a lesson for the Texans in what it takes to be a great team.
Heading into this season, many thought the Texans were positioned to be one of the top teams in the NFL. The Patriots seemed poised for a down year, by their standards, but here we are in Week 13 and they sit in their usual spot atop the AFC East.
ESPN.com Texans reporter Tania Ganguli and Patriots reporter Mike Reiss discuss the matchup.
Ganguli:
Mike, how has the loss of so many of his top targets from last season impacted Patriots quarterback
Tom Brady
?
Reiss:
We saw it impact Brady more significantly through the first eight games. But things have started to click the past two games, and it's no coincidence that it coincides with tight end
Rob Gronkowski
's reaching a new level of comfort since his return Oct. 20, and running back
Shane Vereen
's coming off the injured reserve list. With those two joining receivers
Aaron Dobson
,
Julian Edelman
,
Danny Amendola
and
Kenbrell Thompkins
, the pass-catching corps has been as stocked as we've seen all season.
I know it's been a down year for the Texans, but is
J.J. Watt
still creating havoc? Is that defense still tough?
Ganguli:
Watt is still creating havoc. He has 9.5 sacks, three forced fumbles and four passes defensed. He is someone opposing offenses must track on every play. The Texans' defense has played well, but it has holes. On Sunday, the Jaguars had success with the matchup of receiver
Cecil Shorts
against cornerback
Brandon Harris
in the slot. Injuries to middle linebacker
Brian Cushing
and strong safety
Danieal Manning
have been particularly damaging. The Texans have statistically been much better with Cushing than without him since he was drafted. Their attempt to add some mental toughness with
Ed Reed
didn't work as they had hoped, so two young players are starting at safety --
Shiloh Keo
at free safety and
D.J. Swearinger
at strong safety. Swearinger is the Texans' rookie second-round pick. He will be really good, but right now he's learning a lot about playing at this level. They haven't allowed a lot of yards, but have allowed too many points and not created enough turnovers.
Speaking of turnovers, as I watched Sunday night's Patriots game against the Broncos, it seemed every time I looked up the Patriots had either committed or forced a turnover. What did you make of that? Was it an aberration?
Reiss:
The forced turnovers were the norm, as the Patriots recently ended a streak of 36 games with at least one forced turnover (Nov. 18 vs. Carolina). The Patriots' committing turnovers was a little more out of character, although one of the pressing issues facing the club is what to do with lead running back
Stevan Ridley
(3 lost fumbles in the past three games). The Patriots are traditionally strong in turnover differential, and this season is no different, as they are plus-8 with 23 takeaways and 15 giveaways.
I know this probably comes out of left field, but how is the playing surface at Reliant Stadium? Patriots followers remember the last visit, in 2009, when
Wes Welker
tore his ACL. I saw a recent game, and it looks like there are patches of grass on the field with noticeable seams in certain parts.
Ganguli:
Not out of left field at all. If the game you saw was the Texans' Nov. 3 Sunday night game against the
Indianapolis Colts
, this was a major topic of conversation that night. The field looked pretty bad, mostly because there was a college game played on the same grass that week. They replaced the center of the field, but the outer grass was a mess. The University of Houston has played five games at Reliant Stadium this season while its stadium is being renovated. It has played most of them on field turf. The Cougars will play again on Friday morning, and none of the grass will be replaced between that game and the Texans-Patriots game Sunday. I believe the thinking is that will give it enough time to recover. Something to watch, though.
Let's talk more about defense to wrap up here. Will
Aqib Talib
be assigned to
Andre Johnson
on Sunday? How do you think he'll fare?
Reiss:
That would make a lot of sense, as Talib has often been assigned the opponent's top receiver. After a rocky game Nov. 18 against Carolina and
Steve Smith
, he was very good this past Sunday night against
Demaryius Thomas
in the 34-31 win against the Broncos. Talib has been key for the pass defense. Meanwhile, the loss of key players to season-ending injuries (defensive tackles
Vince Wilfork
and
Tommy Kelly
, and linebacker
Jerod Mayo
) has hurt the run defense at times, such as in the Broncos game. But they played a 4-2-5 nickel for most of the game, and I don't think that will be as much of a factor against the Texans. The Patriots will probably be in their base defense more often, and they played well against the Panthers' tough running attack in that package.
One thing I think Patriots followers would be interested to hear is what has happened to the Texans? How could a team go so quickly from the AFC divisional round of the playoffs and talking about "letterman" jackets to vying for the No. 1 pick in the draft?
Ganguli:
Even with some of the missteps in the offseason, it would have been difficult to foresee this. There are a lot of issues, but I'll focus on the quarterback situation. The biggest mystery is what happened to quarterback
Matt Schaub
. He was never on the level of Brady, but he gave the Texans what they needed. He was consistent and productive. He actually played really well in leading comebacks against the
San Diego Chargers
and
Tennessee Titans
this season. That seems so long ago. The Texans' turnover margin has been among the worst in the league all season, and Schaub was part of that. He became the first quarterback in NFL history to throw pick-sixes in four consecutive games. He threw one on the first pass of the game against the
San Francisco 49ers
, and that game marked the only time this season Schaub played poorly from start to finish. There were myriad other problems, but Schaub lost his starting spot when he suffered a foot and ankle injury in Week 6. First-year quarterback
Case Keenum
took over, but his play hasn't meant victories. In his first three starts, he played well in the first half and not so well in the second half. His most recent game, against Jacksonville, was his worst of the season. Keenum threw for 169 yards, no touchdowns and one interception.
.
November, 14, 2013
11/14/13
4:50
PM ET
FOXBOROUGH, Mass. -- After signing with the Jets on Thursday, veteran safety
Ed Reed
was asked by reporters if the Patriots had also contacted him. He said yes, while adding that a player from a third team also texted him after he was waived Tuesday by the Texans.
Reed
The possibility of Reed coming to New England created a bit of a buzz over the last two days. After Reed landed with the Jets, there were a few lingering questions:
Were the Patriots interested and Reed simply chose the Jets instead? Or did the Patriots, while respectful of Reed's career, not deem him a fit?
With Reed acknowledging that the Patriots made contact, it now seems fair to say there was at least some level of interest from New England. To what level remains unclear, as it could have been more of a reach-out to let Reed know that if the safety situation changed in New England in the coming weeks -- and he was still available -- perhaps then there would be a better fit.
For his part, Reed said of the Patriots that, "Going in there [and] trying to learn a new situation probably would have been difficult." (
h/t Kimberley A. Martin of Newsday
)
As for the Patriots' present snapshot at safety, the following is the playing-time breakdown this season:
Devin McCourty
-- 660 of 667 (99 percent)
Steve Gregory
-- 554 of 667 (83.1 percent)
Duron Harmon
-- 125 of 667 (18.7 percent)
Tavon Wilson
-- 5 of 667 (0.7 percent)
Gregory broke his right thumb Nov. 3 and has yet to practice, which has Harmon (2013 third round, Rutgers) and Wilson (2012 second round, Illinois) primed to bump up the depth chart until his return (estimated at a "few weeks", according to ESPN NFL Insider Adam Schefter). Special teamer
Nate Ebner
would also move one step closer to possibly seeing time on defense in sub packages, which aren't projected to be a major part of the plan Monday in Carolina.
November, 14, 2013
11/14/13
12:10
PM ET
FLORHAM PARK, N.J. -- Safety
Ed Reed
and the
New York Jets
reached an agreement Thursday on a contract after the nine-time Pro Bowler cleared waivers Wednesday afternoon following his release by the
Houston Texans
.

The Jets announced that Reed is expected to practice with the team Thursday.
Reed once played for Jets coach Rex Ryan when Ryan served as a defensive coordinator with the
Baltimore Ravens
(2002-08). Ryan once called Reed "the best safety that's ever played."
Reed is familiar with Ryan's system, his defensive coordinator (former Ravens assistant Dennis Thurman) and the team's lead safety,
Dawan Landry
, another ex-Raven.
On Wednesday, Ryan sounded intrigued by Reed's availability, acknowledging that he and general manager John Idzik discussed the player. People close to the situation questioned whether Idzik would sign off on it. Idzik, hired last January to rebuild the team, is operating from a long-term plan.
But the landscape has changed, as the Jets are a surprising 5-4, currently holding the second wild-card position in the AFC.
(
Read more here.
)
November, 13, 2013
11/13/13
4:40
PM ET
Former Texans safety
Ed Reed
cleared waivers on Wednesday and is now a free agent, according to ESPN NFL Insider Adam Schefter.
The move doesn't come as a major surprise, as a team that claimed Reed would have to absorb his current contract and would be on the hook for up to nearly $1.7 million for the rest of this season, as
previously broken down here
.
Should a team be interested in signing Reed at this point, it would be able to negotiate a new contract with the former All-Pro.
The Patriots have become a hot topic of discussion as a potential landing spot for Reed given the high praise Bill Belichick has shared for him as a player in previous years, as well as the potential need to add a secondary piece while
Steve Gregory
recovers from a thumb injury.
November, 13, 2013
11/13/13
12:45
PM ET
When news broke out of Houston that the Texans had parted ways with safety
Ed Reed
and that Reed has cleared waivers, immediate reaction turned to what's next for the future Hall of Famer.
[+] Enlarge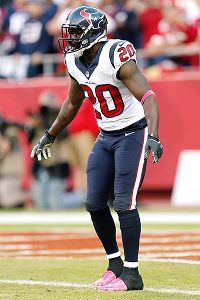 AP Photo/Scott BoehmEd Reed has certainly not the player he used to be, but that doesn't mean he Couldn't help the Patriots.
Colleague
Mike Reiss examined whether Reed fit with the Patriots
Tuesday, and we wanted to add to the discussion with a look at Reed's game tape from his brief tenure in Houston.
Had a team claimed Reed on waivers, his price tag for the rest of 2013 essentially would have been $1,673,500.
Because Reed went unclaimed, he is now a free agent and can sign with any team of his choosing, presuming there are suitors. He'll be likely to earn close to a minimum salary deal with little guaranteed money, par for the course for free agents that are signed at this juncture of the season.
As far as the tape goes, below is our evaluation of Reed's play in 2013.
• Alignment.
Reed played a true safety position for the Texans, aligning to the weak side of the offensive formation (away from the tight end) and typically in a deep shell (close to 15 yards off the ball). Reed and strong safety
Danieal Manning
would often flip-flop sides of the field based on shifting and motioning by the opponent.

• Strengths.
What is important to decipher is this: Which traits that made Reed such a terrific player for so many years have carried over to the present day? And which ones have faded? Reed remains an exceptionally instinctive player who can pattern read from multiple receiver sets to either side of the formation. He diagnoses passes and running plays effectively, evidenced by the first few steps he takes as the ball is snapped. As a tackler, Reed is a low, wrap-up tackler that aims for an opponent's bottom half. Though not a powerful drive-through tackler, he has long arms and has showed consistent technique this season.
• Limitations.
Simply put, Reed's eyes move faster than his legs. At 35, Reed does not have the speed and functional mobility he had during the prime years of his career. Where this limitation shows up most is on downfield throws on which he needs to drift from his center field alignment to provide aid over the top to a cornerback. With 8:43 left in the first quarter of a Week 6 matchup against the Rams, Reed dropped into center field and scanned what was in front of him. He quickly diagnosed a throw down the sideline to his left, which required Reed to open his hips and sprint to provide help to the cornerback in coverage, who had been beat. Reed wasn't able to close the gap, and though the pass was incomplete, the cornerback was forced to interfere with the receiver and prevent a touchdown. Getting to the sideline on these types of plays is an area in which we've seen Patriots safety
Devin McCourty
thrive this season, much like Reed used to as well. As Father Time catches up to him, Reed now struggles to accomplish that task like he used to.
• What's TBD.
One area that we don't have an answer on based on 2013 film is how Reed's ball skills look these days. He didn't break up any passes this season (that's tied to his mobility), but he was once among the best in the NFL as it relates to handling the football (he was a punt returner for many years for Baltimore) and intercepting passes. Ball skills and catching skills tend not to fade, and presumably Reed would make the most of his chances if he can get to the spot needed to make a play.
• Projecting a Patriots role.
Say Reed were to become a Patriot, how might he be used? There's no way to say definitively, but based on his tape from this season, he's better off in a spot different than how he was used in Houston. The Patriots have their free safety in McCourty, though they do play some half-field safety responsibilities, meaning there are times when the strong safety will have to handle free-safety chores. For Reed, though not a heavy-framed player, he has the tackling willingness and instincts to handle some of the duties
Steve Gregory
has manned this season. With Gregory possibly missing upcoming games due to a broken thumb, the Patriots could have a void to fill. In-house options to replace Gregory include safety
Duron Harmon
, who has an interception in each of his past two games. Gregory's injury doesn't appear to be a long-term one, so the expectation is he'll be back in a few weeks, if not sooner.
• The verdict.
Would an investment in Reed be worth it? He's best suited to play a situational defensive role and provide veteran leadership and wisdom to a secondary that features five first- or second-year players. Claiming Reed and having to pay the near $1.7 million for this season seems too rich for a part-time contributor, but if he were to clear waivers, the move would have some merit. The money would not be onerous, and Bill Belichick's admiration for Reed's game has long been clear. Belichick and defensive coordinator Matt Patricia don't need Reed to play an every-down role and are a creative duo that could maximize his strengths. With that in mind, if signed on a free-agent contract, Reed would be a worthwhile Patriots investment in my view.
November, 12, 2013
11/12/13
1:20
PM ET
With news that the
Houston Texans
will release safety
Ed Reed
today, the question naturally comes to mind: Might the
New England Patriots
be interested?
Reed
We know all about the mutual admiration between Reed and Patriots coach Bill Belichick. It's something that has come up annually in the days leading up to recent Patriots-Ravens games.
The Patriots also have a need, as starting safety
Steve Gregory
broke his right thumb on Nov. 3 and is expected to miss a "few weeks," according to ESPN NFL Insider Adam Schefter. The backups are rookie
Duron Harmon
, disappointing-from-a-defensive-perspective 2012 second-round draft choice
Tavon Wilson
, and special teamer
Nate Ebner
.
Given those factors, it wouldn't be surprising if the Patriots were indeed interested in Reed, who obviously is no longer a Pro Bowl-caliber player but could still help in a complementary role.
This takes us back to the offseason and the team's decision-making process at the position. The Patriots saw it as a need and ultimately signed veteran safety
Adrian Wilson
(three years, $5 million) instead of Reed (three years, reported $15 million). Part of that might have been cost-related but also about focusing on a different style of play -- Wilson is a bigger, more physical safety while Reed is the rangy free-safety type (a role held by emerging Pro Bowl talent
Devin McCourty
in New England).

While some of our friends on the Boston talk radio circuit crushed the Patriots for taking the cheap route, it turns out the moves didn't work out for anyone involved. Wilson was on the roster bubble by the end of training camp and ultimately landed on season-ending injured reserve, while Reed was a big disappointment and will now have a bigger hit on the Texans' salary cap.
Has the picture now changed enough that the Patriots would consider signing Reed, especially at what would probably be a significantly reduced price?
Consider that two of the Patriots' final seven games are against Houston and Baltimore -- Reed's former teams -- and it adds value to the consideration.
So if Reed passes through waivers, and there is interest from Reed himself, it makes sense to think the Patriots would at least explore the possibility, if not make it happen.
February, 22, 2013
2/22/13
2:43
PM ET
INDIANAPOLIS -- Patriots tight end
Rob Gronkowski
's scheduled appearance working the Oscars red carpet for the "Rich Eisen Podcast" has been spiked.
An NFL spokesman confirmed that Gronkowski,
who was initially scheduled for the gig
, is out.
Ravens safety
Ed Reed
takes his place.
The Oscars are scheduled for Sunday, Feb. 24.
After finishing the season on injured reserve following a second break in his left forearm, Gronkowski has already made offseason headlines for dancing on a stage in Las Vegas and wrestling a friend while wearing a large sling/cast on the arm. He was later photographed wearing a T-shirt saying "Sorry for partying," which caught the attention of many.
As for the Oscars red carpet, perhaps the Patriots stepped in and decided that might have been a bit too much.
Or maybe we could say it's Ed Reed's first interception for the Patriots?
January, 30, 2013
1/30/13
5:43
PM ET
By
Jamison Hensley, ESPN.com
NEW ORLEANS -- It appears that Patriots coach Bill Belichick's bromance with Ravens safety
Ed Reed
is not a one-sided affair.
Reed, who has deflected questions about his future this month, couldn't help himself when a Boston Herald reporter asked if he could see himself playing for Belichick next season.
"Yeah, oh yeah, man, I could definitely play for Coach Belichick," said Reed, who is an unrestricted free agent in March. "He is a great coach. I'm sure he can help me to expand my football knowledge even more as a player and as a coach, so if I'm ever able to be around him, just like I was at the Pro Bowl, it's huge."
I speculated two weeks ago that Reed could find a new home in New England next season. A couple of years ago,
Tom Brady
joked that Belichick wanted to adopt Ed Reed and change his name to "Ed Belichick."
Now it appears that Reed is taking fashion tips from Belichick. I couldn't make this next quote up if I tried.
"It's the reason why I wear my sweater cut off a little bit," Reed said. "He's the first guy I saw like, 'That's cool.' You know, that's cool. He cuts those sweater sleeves, and he'll be comfortable. So there's a reason why. Most people will tell you around the facility that's how I look. It's just a blessing to even have met, to know Coach Belichick."
What's next for Reed and Belichick? Secret handshakes? Late-night texting BFFs?
There is a chance that the Super Bowl will be Ed Reed's final game for Baltimore. I guess we'll have to wait a few months before we find out if Reed is swapping a Ravens jersey for a Patriots hoodie.
Jamison Hensley is ESPN.com's AFC North blogger.
January, 22, 2013
1/22/13
1:48
PM ET
Ravens safety Ed Reed said that Patriots quarterback Tom Brady has reached out to him to apologize for making contact with him on a slide late in the first half of the AFC Championship.
"I told him -- you know, we talked,"
Reed told WJZ-FM in Baltimore
. "We talked actually not too long ago, we talked on the phone. He actually reached out to me, texted me. I tried to text him back, but the message exploded after 12 seconds, so I had to call him ... and he's just apologized and what not. But I told him, 'You know, it's good, man.'"
Reed said that at the time of the incident, he did not say anything to Brady.
"For the most part, I didn't say anything to him when he said something to me at the game," he said. "... He was going, 'You want to play like that, let's go.' But no, Brady's a great competitor and I love going against him and I know where his heart is at for this game. It was all good."
The nine-time Pro Bowl safety added that he has respect for Brady.
"I know he's a great player," he said. "I respect Brady and his game for all it stands for, and I know he's not a dirty player. And emotions get going in the game."
September, 28, 2012
9/28/12
4:16
PM ET
Ravens safety
Ed Reed
was fined $21,000 by the NFL for his hit on Patriots receiver
Deion Branch
late in the third quarter of last Sunday's game. Reed was fined for "unnecessary roughness" because he "struck a defenseless player in the head and neck area."
Reed was assessed a personal foul on the play.
Branch and Reed slapped hands afterwards, with Branch smiling after absorbing the crunching hit over the middle.