New England Patriots:

Jeff Tarpinian
December, 4, 2013
12/04/13
5:00
AM ET
Every Wednesday during the season, we'll lead off the day with a quick recap of notable former New England Patriots players and their standing with new teams.
Jake Ballard (Cardinals)
Tight end plays four offensive snaps and six on special teams in a 24-21 road loss to the Eagles. Doesn't register on the stat sheet.
Season snapshot:
Has been with the Cardinals for four games since signing Nov. 4, playing 53 of 281 snaps and totaling two catches for 44 yards.
Chung
Patrick Chung (Eagles)
Safety starts and plays all 71 snaps in a 24-21 home win over the Cardinals. Has one pass defended.
Season snapshot:
Has started six of 12 games and is credited with 36 tackles.
Jermaine Cunningham (Jets)
Outside linebacker plays six defensive snaps and 11 on special teams in a 23-3 home loss to the Dolphins. Doesn't register on the stat sheet.
Season snapshot:
Spent the month of October with the 49ers but never appeared in a game. Signed with the Jets on Nov. 20. He dressed Nov. 24 but didn't play, so the Dolphins game was his debut.
Brandon Deaderick (Jaguars)
Defensive tackle plays 23 of 75 snaps in 32-28 road win over the Browns. Totals one tackle.
Season snapshot:
Has played 288 total snaps, totaling eight tackles, one sack, one fumble recovery and one pass defended.
A.J. Francis (Dolphins)
Defensive tackle is inactive in a 23-3 road win over the Jets.
Season snapshot:
Signed off the Patriots' practice squad Nov. 26,
Kyle Love (Chiefs)
Defensive tackle is inactive in a 35-28 home loss to the Broncos.
Season snapshot:
After spending training camp with the Jaguars and being released before the season opener, he signed with the Chiefs on Nov. 19. Appeared in one game, playing two snaps, before being waived Dec. 3.
Greg Salas (Jets)
Receiver is targeted four times and makes one catch in a 23-3 home loss to the Dolphins. Plays 30 of 55 snaps.
Season snapshot:
In four games with the Jets since making his debut Nov. 3, he has seven catches for 137 yards. Has played 118 of 231 offensive snaps in those games.
Zach Sudfeld (Jets)
Plays seven snaps on offense and 15 on special teams but doesn't register on the stat sheet.
Season snapshot:
Tight end has played 103 offensive snaps in seven games. Has four catches for 56 yards.
Jeff Tarpinian
(Texans)
Linebacker plays in a reserve role in a 34-31 home loss to the Patriots, totaling two tackles and a half-sack. Plays 27 of 70 snaps.
Season snapshot:
After signing with the Texans on Oct. 28, has played in four games, totaling 12 tackles on defense. Has played 92 of 271 defensive snaps.
Washington
Leon Washington (Titans)
Wearing No. 26, he is the primary kickoff returner and punt returner in a 22-14 road loss to the Colts, totaling three kickoff returns for 78 yards (26.0 avg.) and two punt returns for 43 yards (21.5 avg.), with two fair catches. Doesn't play on offense.
Season snapshot:
Released by the Patriots on Nov. 23; signed with the Titans on Nov. 26.
Wes Welker (Broncos)

Receiver finishes with three catches for 38 yards as his presence draws attention and opens things up for fellow receiver Eric Decker to have a big day in a 35-28 road win over the Chiefs. Plays 63 of 70 snaps.
Season snapshot:
Has played 722 of 906 offensive snaps (79.6 percent), and has 68 catches for 717 yards and nine touchdowns.
Danny Woodhead (Chargers)

Running back has seven carries for 22 yards and adds two catches for 13 yards in a 17-10 home loss to the Bengals. Plays 27 of 65 snaps.
Season snapshot:
Has 61 receptions for 482 yards and five TDs, and has carried the ball 77 times for 288 yards and two TDs. Has played 384 offensive snaps.
Others:
Colts starting guard
Donald Thomas
landed on season-ending injured reserve in Week 2. ... Defensive end
Trevor Scott
played four games (54 snaps) with the Buccaneers before he was released Oct. 24. ... Punter
Zoltan Mesko
was released by the Steelers on Oct. 29 after appearing in seven games and ranking 31st in punting average (42.5) and 29th in net punting average (36.7). ... Quarterback
Brian Hoyer
started two games for the Browns, leading them to two wins, before tearing his ACL in his third start and landing on season-ending injured reserve.
November, 29, 2013
11/29/13
5:00
AM ET
Each week we use this space to highlight members of the New England Patriots' upcoming opponent that have a connection to the team. This week, we lead off with a player that spent part of 2013 on the Patriots' practice squad and has become a surprise defensive contributor for the
Houston Texans
.
Linebacker Jeff Tarpinian:
Originally signed as an undrafted free agent out of Iowa back in 2011, Tarpinian was released by the Patriots from their practice squad this year before landing on the Panthers' practice squad, albeit briefly. He was signed by the Texans, who had been hurt by inside linebacker injuries, on Oct. 28, and quickly has made an impact. In three games, Tarpinian already has 14 tackles.
Cornerback Josh Victorian:
A former member of the Patriots' practice squad, Victorian is a reserve defensive back in Houston who has two tackles in three games played this season.
Associate director of pro scouting Bobby Grier:
A member of the Patriots' organization for nearly two decades from 1981 to 1999, Grier joined the Texans in the same role he currently serves in. He worked in a number of capacities in New England, including three years as the vice president of player personnel from 1997 to 1999.
And now, a trio of current Patriots with Texans ties.
Defensive tackle Chris Jones:
A sixth-round pick for Houston this past April, Jones was waived by the Texans and Buccaneers before landing in New England. Given that he already has five sacks this season and is playing a healthy number of snaps per game, it's fair to wonder if the Texans wish they could have this one back.
Running back Cierre Wood:
The practice squad player was undrafted out of Notre Dame, landing on the Texans, where little-touted backs have gone on to success (notably,
Arian Foster
). Wood was among a trio of Texans who were released from the active roster as a disciplinary measure after an incident the night before a game against the Chiefs.
Linebacker Ja'Gared Davis:
Another current practice squad player, Davis was signed by the Texans as an undrafted free agent out of SMU this April. Upon being waived in late August, Davis landed with the Patriots via a waiver claim. He was promoted to the active roster for one game this season before being waived and re-signed to the practice squad.
September, 1, 2013
9/01/13
8:10
PM ET
The
New England Patriots
announced the following five players have been signed to the practice squad: LB Ja'Gared Davis, S Kanorris Davis, CB Justin Green, DL Marcus Forston and LB Jeff Tarpinian.
The Patriots claimed Ja'Gared Davis off waivers last week from the Texans. The other four players were with the team in training camp.
The team has three open spots on the eight-man practice squad.
August, 31, 2013
8/31/13
6:40
PM ET
August, 31, 2013
8/31/13
3:00
PM ET
Sharing non-
Tim Tebow
-based thoughts on some of the Patriots' roster moves today:
1a. The change at punter, with
Zoltan Mesko
out and rookie
Ryan Allen
in, has many layers. Both showed this preseason that they are deserving of punting in the NFL this season and that's why I took the unconventional approach of keeping both on a
final 53-man roster projection
(the idea being that maybe it would have been easier to slide Allen to the practice squad after a few weeks). Allen's upside is obvious; his leg is a bit stronger than Mesko's. But Mesko's control and directional punting seemed a notch above over the course of training camp and the preseason. However, Allen's three second-half punts on Thursday might have been the clincher, which showed his potential when it comes to control and directional punting.
Mesko
Allen
1b. Economics shouldn't have been the primary reason for the decision to go with Allen over Mesko, but it has to be a consideration. Mesko was due to earn $1.3 million in the final year of his contract. Allen has a three-year contract and is due to earn $405,000 this season.
1c. There is a trickle-down effect when it comes to the field-goal operation, as Mesko has served as the primary holder for kicker
Stephen Gostkowski
. Allen didn't hold at Louisiana Tech, but he's worked on the skill since joining the Patriots. Allen will likely become the primary holder, although backup quarterback
Ryan Mallett
could also be a consideration for the role.
1d. In 2005, the Patriots released rookie kicker
Robbie Gould
after an impressive camp and later regretted it when
Adam Vinatieri
departed in free agency the following year. I wondered how much that experience might have played a factor in this decision.
1e. Mesko goes down as one of the players who was most fun to cover. He also seemed most genuine and his farewell message to fans was most classy. One of my favorite personal memories of Mesko was how he was brought to tears after receiving the team's community service award in 2012. It meant so much to him and the emotions took over.
2. The biggest surprise has come among the reserves at defensive end, with
Justin Francis
,
Marcus Benard
and
Jermaine Cunningham
all being cut. They projected to the 3-4-5 spots on the depth chart. Health was likely a factor with Francis and Cunningham, as they have been sidelined. There is always the possibility for them to return if not picked up elsewhere, but an initial thought is that 2013 seventh-round pick
Michael Buchanan
(
previous film breakdown
) has impressed to the point that the coaching staff felt comfortable letting go of more experienced depth at the position.
Buchanan was impressive on Thursday
.
3. Tight end
Michael Hoomanawanui
was scheduled to earn $1.3 million, but he's agreed to reduce the salary this year with the chance to recoup some of the earnings in incentives, which helped him stick on the roster. Hoomanawanui's smarts, professionalism and dependability made an impression on the coaching staff last season. That he was the last tight end standing among the group of himself,
Jake Ballard
and
Daniel Fells
is a minor surprise.
4. The release of defensive tackle
Marcus Forston
was a mild surprise from this viewpoint. This could mean that rookie defensive tackle
Joe Vellano
is the top backup behind
Vince Wilfork
and
Tommy Kelly
.
Vellano caught the eye early in training camp
, but still didn't think he'd top Forston at this point.
5. Still waiting to hear the fate of presumed bubble players like Vellano, safety
Adrian Wilson
, running back
Leon Washington
, linebacker
Jeff Tarpinian
, fullback
James Develin
and linebacker
Steve Beauharnais
.
August, 31, 2013
8/31/13
5:00
AM ET
July, 5, 2013
7/05/13
4:58
PM ET
The Patriots have made substantial investments in their linebacking corps over recent seasons, as
Dont'a Hightower
was a first round pick in 2012,
Jamie Collins
the team's top draft choice in 2013 and
Jerod Mayo
the recipient of a five-year extension near the close of the 2011 regular season.
The top end of the depth chart at the position seems to be mostly in place (the starting trio from last year returns in 2013), but there's a number of players in the mix for depth purposes, including
Jeff Tarpinian
, the subject of this morning's
Bubble Watch post
by Mike Rodak.
Tarpinian enters his third year in the program in 2013 after initially making the Patriots roster as an undrafted linebacker in 2011 out of Iowa. An injury cut that season short, while he became a practice squad player in 2012.
As was laid out by Rodak, other players who offer core special teams value are competition for Tarpinian, but one other wrinkle of note related to the 25-year old is that, should the Patriots want to have him on the practice squad, the active roster will need to be at 53 players on every game day. That's because 2013 would be Tarpinian's third year on the practice squad, and teams are required to have a full boat on the active roster if they want to keep a third year practice squadder (this same stipulation applied to
James Develin
last year).
There were weeks last year that the Patriots kept just 52 players on the active roster, and while not a major storyline, it's a part of the roster construction that the team keeps in mind as the season progresses. It doesn't decide the fate for a player like Tarpinian, but it's one of the many factors that is considered when evaluating his roster status.
July, 5, 2013
7/05/13
5:00
AM ET
(Continuing a month-long series analyzing players who are on the roster bubble and where they may potentially fit in 2013.)
NAME:
Jeff Tarpinian
[+] Enlarge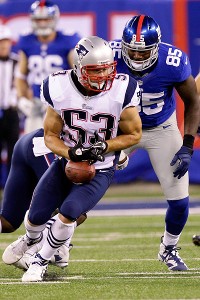 AP Photo/Kathy WillensJeff Tarpinian has limited game experience but has a chance to secure a spot if he stays healthy.
POSITION:
Linebacker
AGE:
25
2012 STATS:
3 games (0 starts), 1 tackle
INJURY STATUS:
No known injuries.
CHANCE OF MAKING 53-MAN ROSTER:
45%
WHY HE SHOULD MAKE IT:
Tarpinian had a quiet season in 2012, but that may in part be attributed to a serious head injury that ended his rookie campaign. Now entering his third season, he still has potential to supplant veteran
Niko Koutouvides
, who turned 32 in March, as a core special-teams player.
WHY HE SHOULD NOT MAKE IT:
While the Tarpinian's battle with Koutouvides will be one to monitor, rookie
Steve Beauharnais
could also prevent Tarpinian from making the 53-man roster. The Patriots may be reluctant to expose Beauharnais, a seventh-round pick, to waivers. Tarpinian is still practice squad eligible, and the chances of being able to keep Beauharnais on the 53-man roster and Tarpinian on the practice squad may be better than the reverse (Beauharnais on the practice squad and Tarpinian on the 53-man roster).
CLOSEST COMPETITION:
LB Steve Beauharnais, LB Niko Koutouvides, LB
Mike Rivera
October, 20, 2012
10/20/12
4:20
PM ET
The Patriots promoted linebacker
Jeff Tarpinian
from the practice squad Saturday, and released center/guard
Matt Tennant
to make room for him, the team announced.
The promotion of Tarpinian is likely with special teams considerations in mind. The Patriots have already ruled out linebacker
Tracy White
(left foot) and running back
Brandon Bolden
(knee), two players who make significant contributions on special teams.
Last week, without White, the Patriots used four different players to account for the role that White plays on four different special teams units.
Tarpinian also adds depth at linebacker, where the Patriots also have depth questions with rookie
Dont'a Hightower
(hamstring) questionable. The second-year player out of Iowa made the Patriots' 53-man roster last season after joining the club as a rookie free agent. He played in seven games with one start before landing on injured reserve in late November.
Tennant, of Boston College, has now been released two different times by the Patriots since the club claimed him on waivers from the Saints on Sept. 1. He did not play a game for the team this season.
JETS' INJURIES
: Rich Cimini of ESPNNewYork reports that the Jets will be without nose tackle
Sione Pouha
, running back
Bilal Powell
, safety
Eric Smith
and nose tackle
Kenrick Ellis
, all of whom were listed as doubtful on the injury report, while running back
Joe McKnight
, listed as questionable with a high ankle sprain even though he didn't practice all week, made the trip and will be a game-time decision (
link here
).
September, 22, 2011
9/22/11
1:21
PM ET
FOXBOROUGH, Mass. -- The Patriots added linebacker Jeff Tarpinian to their 53-man roster Thursday, releasing linebacker
A.J. Edds
. With the vacant practice squad spot, the team also inked rookie cornerback Josh Victorian.
The Patriots signed Tarpinian this summer as a rookie free agent out of Iowa. He survived the cutdown to 53 players, but was released on Sept. 12 when the team elevated
Thomas Welch
from the practice squad to add depth at offensive lineman before the season-opener in Miami. Tarpinian landed with the Patriots' practice squad two days later. Due to injuries, Tarpinian could add special teams versatility.
The Patriots claimed Edds off waivers from the
Miami Dolphins
earlier this month. The former fourth-round pick of the Dolphins appeared at linebacker for 10 snaps in Sunday's win over the Chargers, while also serving a limited role on special teams.
Victorian spent part of training camp with the Baltimore Ravens after being inked as a rookie free agent out of Louisiana Tech.
September, 6, 2011
9/06/11
1:42
PM ET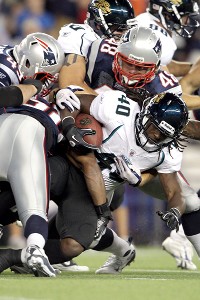 Elsa/Getty ImagesJeff Tarpinian makes a tackle during the preseason.
The fact that the Patriots kept rookie linebacker
Jeff Tarpinian
on the 53-man roster is evidence enough they like his potential and director of player personnel Nick Caserio offered high praise for the undrafted free agent during a conference call Tuesday.
"We like what we saw from Jeff in college and we like what we saw from him on the practice field," said Caserio. "He's a player we want to continue working with. And really, the reality is any player that's in our program, whether they're on the roster or whether they're on the practice squad -- they're in the program because we feel that's a player we want to work with. So that's why Jeff is here and that's why a lot of other players are here as well."
Sidelined for much of training camp due to injury, Tarpinian projected as a long shot to stick on the active roster. In fact, the practice squad (or even injured reserve) seemed like a more likely destinations, but even as the Patriots made tough roster decisions at other positions, Tarpinian earned his spot.
While at Iowa, Tarpinian shined on special teams, another reason he's likely been deemed so valuable in New England.
"He's a smart guy; Tough, instinctive, runs well," said Caserio. "He was around the football quite a bit in college. He has some attributes that are positives. We certainly would have liked to see him stay on the field a little bit more, but that's some of the things we liked."