New England Patriots:

Jimmy Garoppolo
June, 30, 2014
Jun 30
5:00
AM ET
As part of this slow time on the NFL calendar, when we'll be taking a break to recharge for the 2014 season, we introduce the pre-produced "checking the locks" series in which we analyze the players on the Patriots' roster who are "locks" to stick. Today, it's quarterbacks.
Sure-fire locks:
Tom Brady
,
Jimmy Garoppolo
Near lock:
Ryan Mallett
Mallett
ANALYSIS:
The last time the Patriots kept three quarterbacks on the 53-man roster was 2011, Mallett's rookie year when he was the No. 3 option behind Brady and
Brian Hoyer
. There is a strong chance the team goes with three again this year, with Garoppolo as the No. 3 before he elevates to the No. 2 spot next year when Mallett is an unrestricted free agent and likely with another club. The only thing that changes that is if Garoppolo shows he's capable of handling more at this early stage and another team decides Mallett is worth pursuing in a trade that makes sense for the Patriots. That seems unlikely, but it's why Mallett wouldn't be considered a sure-fire lock at this time.
Here's a snapshot look at how many quarterbacks
the Patriots have kept on the roster in Bill Belichick's coaching tenure.
June, 5, 2014
Jun 5
1:55
PM ET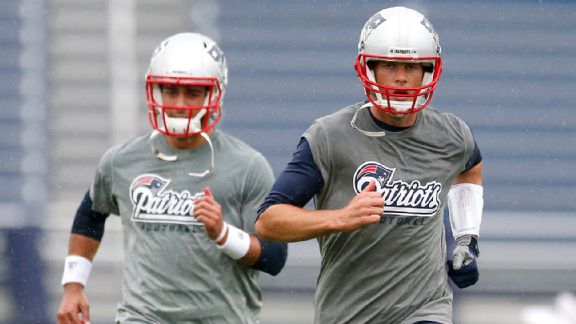 AP Photo/Michael Dwyer
We got our first look today at Patriots quarterback
Jimmy Garoppolo
(left), who was taken in the second round of last month's draft. Here, he runs side-by-side with
Tom Brady
(right) as the
New England Patriots
practiced outside in the rain.
May, 26, 2014
May 26
12:45
AM ET
The
New England Patriots
' official website is asking the question
"Is three quarterbacks a crowd?"
The question is a follow-up on Bill Belichick's remarks that the Patriots aren't really that interested in trading No. 2 quarterback
Ryan Mallett
. With the team drafting
Jimmy Garoppolo
in the second round (62nd overall), and with
Tom Brady
entrenched as the starter, it sets up a scenario in which the club will likely carry three quarterbacks in 2014.
With this in mind, here is a look at the team's history at the quarterback position under Belichick:
2013:
2 (Brady/Mallett)
2012:
2 (Brady/Mallett)
2011:
3 (Brady/Brian Hoyer/Mallett)
2010:
2 (Brady/Hoyer)
2009:
2 (Brady/Hoyer)
2008:
3 (Brady/Cassel/Kevin O'Connell)
2007:
3 (Brady/Cassel/Matt Gutierrez)
2006:
2/3 (Brady/Matt Cassel -- Testaverde/mid-year)
2005:
3 (Brady/Cassel/Doug Flutie)
2004:
3 (Brady/Rohan Davey/Jim Miller)
2003:
3 (Brady/Davey/Damon Huard)
2002:
3 (Brady/Davey/Huard)
2001:
3 (Drew Bledsoe/Brady/Huard)
2000:
4 (Bledsoe/John Friesz/Michael Bishop/Brady)
May, 22, 2014
May 22
2:30
PM ET
May, 15, 2014
May 15
5:00
AM ET
Peter King of
TheMMQB.com
was a guest on
ESPN Radio's "The Herd" program
this week, and he was asked about the
New England Patriots
drafting quarterback
Jimmy Garoppolo
in the second round (62nd overall).
Using a golf analogy, host Colin Cowherd asked King if he believes that Brady thinks he's now on the 14th or 15th hole of his NFL career.
"If you look at Brady now, he's going to be 37 this season, you clearly have two or three really prime years left," King responded. "A lot of people said, why are you wasting a second-round pick on a quarterback, but the way I look at it is that the Patriots needed an offensive weapon in the draft. They could have used a receiver or a tight end, we all know that. The only really good tight end worth taking right there is the
[C.J.] Fiedorowicz
kid from Iowa. At that point, there had been [six] receivers taken in the second round alone.
"If you have a chance to get a guy who you think, three to four years from now has a really good chance to succeed
Tom Brady
, why not do it if you have a belief in this kid? Train him, put him in your system, and hope the
Aaron Rodgers
story happens again."
May, 13, 2014
May 13
1:35
PM ET
FOXBOROUGH, Mass. -- Some highlights from rookie quarterback
Jimmy Garoppolo
's interview with media members on Tuesday afternoon at Gillette Stadium:
Setting the scene
: Garoppolo was moved to the far side of the playing field by the team's media relations staff, which knew that the second-round pick (No. 62 overall) would draw the biggest crowd of all the rookies available to reporters. Garoppolo was surrounded by about 40 reporters and the thought came to mind, "Wonder if he ever experienced coverage like this at Eastern Illinois?" Wearing shorts, a Patriots gray T-shirt and a Patriots cap that still had the price sticker underneath the brim, he was in command throughout. "To have this opportunity to come here, I couldn't imagine a better one," he said. "I'm excited to get after it with the guys."
[+] Enlarge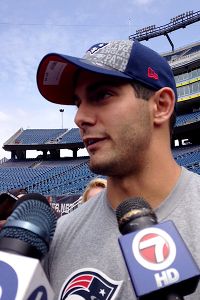 Mike Reiss/ESPNGaroppolo told reporters that he's spent much of the past two days studying the Patriots playbook. "I'm getting a little sleep-deprived," he said.
Quick meeting with Brady and Mallett
: Garoppolo said he had just a "quick introduction" with Tom Brady at this point. Ditto with No. 2 quarterback Ryan Mallett. Garoppolo explained that the rookies and veterans are separated at this point. "I think next week is when we'll interact with them more," he said, later adding that he plans to lean on them for as much advice and guidance as possible. The rookies had their first practice Monday, and Garoppolo gave a slight chuckle while recalling how there were some struggles with the warm-up because of initial nerves.
Issued jersey No. 10:
Garoppolo wore No. 10 at Eastern Illinois, and that is also what he has been issued by the team. "That's what they gave me. I'm not complaining about it," he said. Garoppolo also wore a pink band over his left wrist that had the word "strength" on it, and he explained it was in memory of his grandmother Lulu who passed away from breast cancer. It serves as a lucky charm of sorts for him.
The last time he was a backup:
Asked the last time he was a backup, Garoppolo was stumped. "Oh man," he replied. "I don't know … I don't think I ever have."
Already delving into the playbook:
Asked how much time he has spent on the playbook the past two days, Garoppolo said he couldn't even describe it. "I'm getting a little sleep-deprived," he said, "but that's a good thing in this business." He said there are not many similarities to the Eastern Illinois offense, adding, "It's like learning Spanish compared to English. It's a different language, really." He thinks he will be able to pick it up quickly, adding that he didn't play under center much in college.
What defines a quarterback
: When the topic of quarterbacks digesting as much film as possible came up, Garoppolo said it's part of what defines his approach. "Film and playbook, that's what makes a quarterback great," he said. "You have to have the physical tools obviously, but when you get into the film room, get with the coaches and talk about the playbook, that's what really separates you."
Biggest surprise of past few days
: Garoppolo described the range of emotions of the past few days as a whirlwind, and when asked the greatest surprise, he said it was leaving his mother on Mother's Day. "She was a little upset about it," he said with a chuckle. "It's business now, it's my job and I'm excited to be out here."
May, 11, 2014
May 11
5:00
AM ET
Quick-hit thoughts around the NFL and with the Patriots:
1. When it came to tight ends in the 2014 draft for the Patriots, I think it was a case where supply didn't meet demand. There were not a lot of viable options for the team in this year's class as they only saw a fit with a very small number of prospects and ultimately didn't draft at the position. It's amazing, in some respects, to think that the team had the position seemingly solidified in the short- and long-term two years ago with
Rob Gronkowski
and
Aaron Hernandez
. Now, it's one of their bigger question marks on offense.
2. On the trade front, I don't think things materialized the way the Patriots hoped this year late in the first round. Unlike 2013 when the team received a 4-for-1 haul for its No. 29 pick, my sense is that there were much more moderate discussions this year and this is reflected by the compensation exchanged in other first-round deals made around the NFL (teams weren't giving up a lot to move up, in part because of the depth of the draft). I do believe the Patriots still would have liked to trade down, but in the end, there just wasn't a partner willing to dance with a worthwhile enough offer. So given the dynamics in play, they were happy to turn in the card with Florida defensive tackle
Dominique Easley
.
3. In 15 drafts, I can't think of a riskier first-round pick by Bill Belichick and the Patriots. No one is denying that Dominique Easley is a big-time talent. At the same time, a player with bilateral ACLs -- a.k.a. torn ACLs in both knees over the last three seasons -- comes with a medical file not usually associated with the team's top pick. One could argue that medical advancements have reached a point where players are now coming back stronger after reconstruction. Still, if everyone thought that way, Easley wouldn't have lasted until the 29th pick. The Patriots are hoping that Easley can do what 49ers running back
Frank Gore
did -- tear both ACLs in college before becoming one of the NFL's most durable players at his position.
[+] Enlarge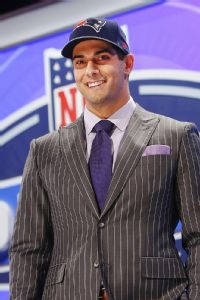 AP Photo/Jason DeCrowYou have to wonder why a team such as the Texans didn't bite on Jimmy Garoppolo before the Patriots did.
4. Whether it would have actually unfolded that way is only known by the key decision-makers in Seattle and Houston, but I think the Patriots felt they scooped both teams with their top picks, defensive lineman Dominique Easley (first round, No. 29) and quarterback
Jimmy Garoppolo
(second round, No. 62). Specific to Garoppolo, the link between what the Patriots value in a quarterback and what the Bill O'Brien-led Texans do is obviously similar. O'Brien ended up with
Tom Savage
in the fourth round. That may work out just fine in the long run, but I wonder if he's second-guessing the Texans not being able to pull off a minor trade back into the bottom of the second round to leapfrog the Patriots and land Garoppolo. The quarterback is the type of film junkie and lives-football-all-the-time type of guy I think he wants to be aligned with as he builds his team.
5. I thought the Bills' aggressive moves reflected an administration that believes it has a short window to win, perhaps because of ownership uncertainty. General manager Doug Whaley followed his conviction in trading a 2014 first-round pick, 2015 first-round pick and 2015 fourth-round pick to Cleveland to move up five spots in the first round to select receiver
Sammy Watkins
, in part because he believes it will be a low first-round pick next year. The Bills haven't made the playoffs since 1999 and now they're putting all their chips on second-year quarterback E.J. Manuel. Based on what we saw last year, would anyone be surprised if that's a top 10 pick? Not me.
6. From the "I'm not sure what to make of it" department: Patriots defensive lineman
Vince Wilfork
held his annual draft party Thursday night to benefit his charitable foundation, but he declined comment from all reporters. In an offseason in which we've heard from top players on defense such as
Rob Ninkovich
,
Chandler Jones
,
Devin McCourty
,
Jerod Mayo
,
Darrelle Revis
,
Dont'a Hightower
and even
Jamie Collins
, Wilfork is keeping a low profile. Maybe it's that he doesn't want to talk about his rehab from a torn Achilles or his restructured contract. Still, it strikes me as a bit outside the norm from one of the leaders of the team.
7. It was hard not to feel a little bit bad for former Patriots quarterback Brian Hoyer on Thursday night when the
Cleveland Browns
traded up for
Johnny Manziel
in the first round. The Browns didn't draft Manziel 22nd overall to sit for long, which narrows the window for Hoyer, who is coming back from a torn ACL after finally earning the starting role he coveted, to be on the field. But then two things came to mind: Hoyer isn't one to back down from competition, and he's also still in a much better situation now than 18 months ago. It's easy to forget, but Hoyer was out of football for most of the 2012 season. While he obviously desires a starting role, there's also something to be said for being on the
Matt Cassel
track as a backup who has the chance to stick in the league for 10-plus years. There were doubts about that with Hoyer not too long ago.
8. From inside the scouting/medical circles, one thing that was repeated to me multiple times in the pre-draft process is how players from Alabama often enter the NFL more banged-up when compared to most of their contemporaries. One line of thinking is that Alabama players might feel pressure to play through ailments because there is usually a top-shelf recruit behind them waiting to take their job if there is an opening. Interesting insight to me that I hadn't heard before.
9a. My favorite story of the three-day draft:
Carolina Panthers
general manager Dave Gettleman taking part on the third day via Skype so he could be in Worcester, Massachusetts, to attend his son's graduation from Becker College. Gettleman explained that there are certain life events that shouldn't be missed. My admiration for Gettleman grows greater when hearing this.
9b. Along those same lines, Jaguars general manager
David Caldwell
makes Friday his day to come to the office a bit later than the norm so he can drop off his son, David II, at school. He said it's something he learned from one of his mentors, Falcons general manager Thomas Dimitroff, who does something similar with his son Mason in Atlanta. Work-life balance can be a challenge for many, especially in the around-the-clock, big-business NFL, but I like hearing these types of stories. It doesn't always have to be so serious.
10. With the NFL draft now concluded, there should be plenty of changes to monitor in the scouting ranks around the league and I wouldn't be surprised if the Patriots are affected. My eyes will be on director of college scouting Jon Robinson, who arrived in New England in 2002 as an area scout, in part because of a strong recommendation from then Patriots national scout Jason Licht. With Licht now the Buccaneers' general manager, I could envision Robinson being a target for a top position in his administration, perhaps in an assistant general manager type role. Robinson's work with the Patriots was recently praised by director of player personnel Nick Caserio.
May, 10, 2014
May 10
7:40
PM ET
»
NFC wrap-ups
:
East
|
West
|
North
|
South
»
AFC
:
East
|
West
|
North
|
South
FOXBOROUGH, Mass. -- A wrap-up of the
New England Patriots
' draft.
Click here
for a full list of Patriots draftees.
[+] Enlarge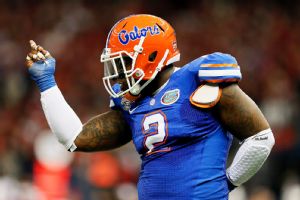 Kevin C. Cox/Getty ImagesFlorida's Dominique Easley will be an impact talent for the Patriots if he can stay healthy.
Best move:
Reinvesting in the offensive line. The Patriots hadn't drafted an offensive lineman in 2012 or 2013, but they triple-dipped with fourth-round center
Bryan Stork
(Florida State), fourth-round tackle
Cameron Fleming
(Stanford) and sixth-round right guard
Jon Halapio
(Florida). Time will tell if the picks were the right ones, but from a general standpoint, the Patriots needed to pay attention to the line both from an infusing-the-pipeline standpoint and also with salary cap integrity in mind. What stands out is the size of Stork (6-3 7/8, 315), Fleming (6-4 7/8, 323) and Halapio (6-3 1/2, 323). The Patriots added an element of offensive toughness in this draft, while also planning for the future. This is a big year for the team's offensive line as it transitions from former coach Dante Scarnecchia to Dave DeGuglielmo.
Riskiest move:
Dominique Easley
. The first-round defensive lineman is a big-time talent who wouldn't have been available at No. 29 if healthy. But he tore both ACLs at Florida and that affected his ability to work out at 100 percent in the pre-draft process. If Easley returns to full health, the Patriots' willingness to assume the risk could pay off in a big way as the team's interior pass rush could use a boost. But if problems crop up with Easley's knees, the Patriots might ultimately regret their willingness to invest such a high draft pick on an injured player.
Most surprising move:
Dominique Easley
. Wouldn't have thought the Patriots' selection of a player who tore both ACLs in a span of three years was an option in the first round. They generally don't assume that much risk with their top pick, which has contributed to their solid first-round draft record.

File it away:
All the angst that might have been expressed about the Patriots' selecting quarterback
Jimmy Garoppolo
with a late second-round pick (No. 62) will most likely be looked back upon with a chuckle. The biggest question from this perspective is if the Patriots passed on a player who might have helped them more immediately (e.g., Iowa tight end
C.J. Fiedorowicz
to the Texans three picks later), and that's going to be an interesting dynamic to follow in the years to come. But overall, there is no more important position than quarterback. The 2011 Colts are the prime example of a team that didn't address the backup spot and the bottom fell out of their season when starter Peyton Manning was lost for the season. People lost jobs because of it. The Colts were fortunate to wind up with the rare can't-miss prospect (Andrew Luck) the next year in the draft, but most teams aren't that lucky, so the Patriots were wise to be thinking ahead at a hard-to-fill position. It's just a bit jarring to hear the team acknowledge the possibility of a succession plan with Tom Brady, which is still four years away (if not longer) from this viewpoint.
May, 10, 2014
May 10
1:09
AM ET
FOXBOROUGH, Mass. --
New England Patriots
quarterback
Tom Brady
shows no signs of decline, but the team isn't taking any chances. Hence the selection of Eastern Illinois'
Jimmy Garoppolo
in the second round of the NFL draft (62nd overall), one of the more surprising league-wide picks.
[+] Enlarge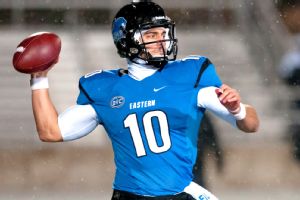 Bradley Leeb/USA TODAY Sports"The situation we have at quarterback, I think that we felt as an organization that we needed to address that to some degree in the future," Patriots coach Bill Belichick said of drafting Jimmy Garoppolo.
"The situation we have at quarterback, I think that we felt as an organization that we needed to address that to some degree in the future. I think you're better off being early rather than late at that position," coach Bill Belichick said late Friday night.
It was a straightforward acknowledgement from a coach who often prefers to avoid them. "Life after Brady" has been bantered about only on sports talk radio in the region, but this is the first time the Patriots have publicly said it is part of their mindset as well.
Brady will be 37 this upcoming season, but is still playing at an extremely high level and is signed through 2017. Because of this, and also the presence of No. 2 quarterback
Ryan Mallett
-- who is under contract through the 2014 season -- debate was already raging locally Friday night as to whether the Patriots wasted such a high draft pick on a player who might not see the field for four seasons, if ever. That doesn't figure to subside anytime soon.
Meanwhile, in New York, Garoppolo noted the similarities between his draft-day wait and how the
Green Bay Packers
selected sliding signal-caller
Aaron Rodgers
in the 2005 first round as
Brett Favre
's heir apparent. He said it worked out for Rodgers, and now he hopes the same happens for him.
When might that be?
Up to this point, it hasn't been on the Patriots' radar. Now it is at least a consideration.
"We know what Ryan's contract situation is, we know what Tom's age and contract situation is, and I don't think you want to have one quarterback on your team," Belichick explained. "I don't think that's responsible to the entire team or the organization."
One needs only to look at the 2011
Indianapolis Colts
as a prime example. When
Peyton Manning
was lost to a season-ending neck injury that year, the season went down with him, and it ultimately cost vice chairman (and current ESPN analyst) Bill Polian his job.
As for Garoppolo, Belichick said he spent one-on-one time with him this spring and "he has a lot of qualities that we admire in a quarterback." Scouts have touted his smarts, anticipation and work ethic, and he looks like an ideal fit for the team's hard-driving program.

The
Houston Texans
, it seems, had similar thoughts, as Garoppolo was believed to be a strong consideration for them at the top of the third round before the Patriots made the pick.
So instead, Garoppolo comes to New England to back up Brady and potentially replace him down the line.
Maybe it's in four years. Maybe it's longer.
Either way, for the first time, the Patriots let us know a potential succession is on their minds as well.
In their view, it's better to be early than late.
May, 9, 2014
May 9
9:40
PM ET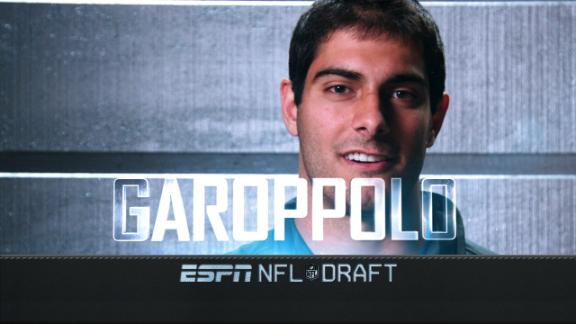 FOXBOROUGH, Mass. --
The pick:
Jimmy Garoppolo
, QB, Eastern Illinois
My take:
The
New England Patriots
are planning for the future with this pick. Top backup
Ryan Mallett
's contract expires after the 2014 season, and Garoppolo can possibly develop behind the scenes this year before elevating to the No. 2 role next year. That's the same path that Mallett (2011 third-round pick) took with the team, as he was the third-stringer behind
Brian Hoyer
in 2011 before bumping up the depth chart. Two things could change that plan, and it would be the Patriots trading Mallett at some point during the draft, or Garoppolo simply out-performing him in the preseason. Is it too early to be thinking quarterback in the draft?
Tom Brady
is signed through 2017 and still playing at a high level, so unless there is a sudden decline from Brady, Garoppolo most likely wouldn't get on the field until 2018 at the earliest (when he'd be on his second contract). But it's not out of the norm. The rival
Denver Broncos
, after all, selected
Brock Osweiler
in the second round of the 2012 draft with the idea of having a young signal-caller to develop for the future.
What did they pass up?
By investing in a developmental quarterback, the Patriots passed on tight end
C.J. Fiedorowicz
, who went three picks later at 65 to the
Houston Texans
. The Patriots have a need at tight end and Fiederowicz was one of their pre-draft visitors. Did the Patriots pass up a player who could have helped them now for a player who might not see the field for four-plus years? That's the debate when making a pick like this. The Patriots obviously didn't see a player who could help them immediately and would be guaranteed a roster spot on a well-stocked roster, and it will be interesting to see if their analysis was on the mark in the coming years.
Behind-the-scenes fact:
Garoppolo and Brady share the same agent.
What's next:
The Patriots' next pick is in the third round, 93rd overall.
April, 16, 2014
Apr 16
3:20
PM ET
The
New England Patriots
continue to devote attention and significant resources to the quarterback position in the NFL draft, as two weeks after creating a buzz by hosting
Johnny Manziel
and
Teddy Bridgewater
on visits at Gillette Stadium, they welcomed another top prospect earlier this week –
Jimmy Garoppolo
of Eastern Illinois.
Some analysts,
such as ESPN's Bill Polian
, have Garoppolo rated as high as a first-round draft choice.
The 6-foot-2 1/4, 226-pound Garoppolo earned the Walter Payton Award in 2013, which is given to the top player in the Football Championship Subdivision. In 14 games, he completed 375 of 568 passes for 5,050 yards with 53 touchdowns and nine interceptions.
NFL teams are allowed 30 in-house visits with out-of-town prospects, and the Patriots have devoted at least three of them to top quarterbacks (Manziel, Bridgewater, Garoppolo).
Starting quarterback
Tom Brady
turns 37 in August and is signed through 2017, while the only other signal-caller on the roster,
Ryan Mallett
, is scheduled to become an unrestricted free agent after the 2014 season.