New England Patriots:

Jimmy Graham
March, 3, 2014
Mar 3
1:00
PM ET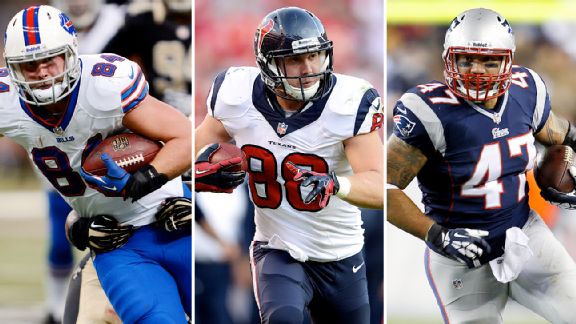 AP PhotoScott Chandler, Garrett Graham and Michael Hoomanawanui are three tight ends who could potentially help the Patriots in 2014.
First installment in a multi-part Patriots series on free-agent fits at various positions leading into the start of free agency March 11.
Position:
Tight end
Players under contract for 2014:
Rob Gronkowski
,
D.J. Williams
Level of need:
High
Projected top targets:
Scott Chandler
(Bills),
Garrett Graham
(Texans),
Michael Hoomanawanui
(Patriots)

Why Chandler fits:
The Patriots know him well from having faced the Bills twice a season, and Chandler has had some of his best games against them. At 6-foot-7 and 260 pounds, Chandler runs well and could work at both the "F" (more receiver-like) and "Y" (more in-line blocker) positions, which is valuable versatility even though he isn't dominant in either area.
Why Graham fits:
More of an H-back type, the 6-foot-3, 243-pound Graham catches the ball well and could provide another "move" option alongside D.J. Williams.
Why Hoomanawanui fits:
He played 54.3 percent of the offensive snaps for the Patriots in 2013, knows the system and proved to be dependable in maximizing his skill set. He doesn't threaten as much in the passing game but has excellent hands and has shown a knack for coming down with the football in tight windows. Competitive blocker.
Other names of note:
Jeff Cumberland
(Jets),
Ed Dickson
(Ravens),
Jermichael Finley
(Packers),
Dustin Keller
(Dolphins),
Jeron Mastrud
(Raiders),
Matthew Mulligan
(Patriots),
Brandon Myers
(Giants),
Brandon Pettigrew
(Lions)
Franchise tag:
Jimmy Graham
(Saints)
Market conditions:
The Ravens' reported five-year, $28.5 million extension with
Dennis Pitta
gives a feel for what a solid player at the position might command. Other than the Saints' Graham, who figures to be well north of that, we'd be surprised if any other free agents hit that number. The Lions' Pettigrew might not be too far behind. With the draft filled with only a few top-end prospects, teams with a need at the position could move quickly.
Questions to answer at the position:
When will Rob Gronkowski be healthy? When Gronkowski does return to the field, how long will he stay there? Can D.J. Williams develop into a potential top option as a "move" tight end? Would the Patriots draft a tight end in the first round?
October, 13, 2013
10/13/13
9:27
PM ET
FOXBOROUGH, Mass. -- Given his superhuman start to the 2013 regular season, just finding a way to contain Saints tight end
Jimmy Graham
would've been a job well done for the Patriots secondary.
After all, in each of his five games entering Sunday's contest, Graham had either surpassed 100 yards receiving or hauled in a score, three times accomplishing both in a single game.
[+] Enlarge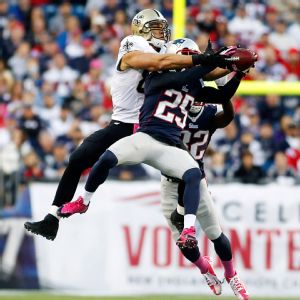 Stew Milne/USA TODAY SportsSaints TE Jimmy Graham, who led the league in receiving yards entering Week 6, was held without a catch for the first time since October 2010.
He led the league in receiving yards entering Week 6 with 596.
And that's exactly how many yards he left Sunday's game with, as the Patriots shut out the tight end from the box score, the first time he's gone without a catch since Halloween of 2010.
Safe to say slowing Graham down was a focus for the Patriots secondary.
"All week we knew, all we kept hearing was Jimmy Graham, Jimmy Graham," Patriots safety
Devin McCourty
said.
And as unlikely as it might have been to achieve, McCourty said following his team's thrilling 30-27 win that shutting down Graham -- not simply containing him -- was the goal for his secondary.
"You don't come in and say, 'we just want to try and contain him,' you come in with the game plan 'we got to try and shut him down,'" McCourty said. "That's the only way we'll have a chance to win this game, because if he has the type of game he's been having, we won't have a chance."
Though he left the game in the second half with a hip injury, cornerback
Aqib Talib
, who shadowed Graham while he was on the field, catalyzed the effort. Talib has emerged as perhaps the team's most valuable defender, ably containing top receivers throughout much of the season.
But Sunday was his best effort yet, finding a way to slow the league's best tight end.
"There's two good football players right there," Bill Belichick said of the Talib-Graham matchup. "Aqib, he really competed hard. In the end, I don't think either one of them were on the field. I think both guys ended up being out. It was a great battle, a great matchup, I thought Talib battled him."
Second-year cornerback
Alfonzo Dennard
, the starter opposite Talib, was in awe of his teammate's performance.
"Aqib is amazing. He is amazing," he said. "I like Aqib and I learn a lot from him."
He added that losing Talib was a difficult blow because of the game plan the team had built around using him to shadow Graham.
"It changed a lot because we had a whole little thing going by who Aqib goes to," he said. "A little matchup, so it changed a lot, but everything went well."
When Talib went down, the Patriots were forced to change things up on the fly, something they were able to accomplish in part by using McCourty at cornerback, the position he played when drafted out of Rutgers back in 2010.
He held his own at his old position and discussed the transition in a typically humble manner after the game.
"Once Aqib went down, we just had to adjust," McCourty said. "With me playing different positions in the defense, I'm able to be flexible and I was able to move around and play a bunch of different positions tonight."
In the end, regardless of who was responsible for marking Graham, who eventually left the game due to injury, it was an effort the secondary can hang its hat on.
"It's a lot of pride," Dennard said of the end result. "He's a very good tight end. Our biggest thing was to go in there and try to stop him, just stop their whole receiving corps and tight ends, so we did a pretty good job."
October, 13, 2013
10/13/13
5:10
PM ET
FOXBOROUGH, Mass. -- After 15 minutes of play, the
New England Patriots
trail the
New Orleans Saints
7-3
. Passing along quick-hit notes and observations from the first quarter.
1.
Pats start in no huddle, get field goal.
The Patriots moved fast on their opening drive, employing a no-huddle for much of it and traveling down into the Saints' red zone. The drive was eventually halted on a pair of negative plays, as running back
LeGarrette Blount
was taken down for a loss and then
Tom Brady
was sacked -- call that one a coverage sack, as Brady had plenty of time to get rid of it.
Stephen Gostkowski
connected on a 35-yard field goal to open the scoring.
2.
Talib checks Graham.
Perhaps no player was discussed more from a Saints perspective than tight end
Jimmy Graham
, the NFL's leader in receiving yards entering Week 6. In an effort to try and slow him down, the Patriots have turned to cornerback
Aqib Talib
, who shadowed Graham throughout the first quarter. That's a testament to the coaching staff's trust in Talib and his ability in man coverage. He's been their defensive MVP.
3.
Saints offense solves Pats' D.
It took two drives, but the Saints found the end zone, as quarterback
Drew Brees
hooked up with running back
Travaris Cadet
on a short score to give New Orleans their first lead of the day. A critical play on the nine-play, 73-yard drive was a pass over the middle to former Patriot Ben Watson. Adding to the frustration of that play was that the Patriots had just 10 defenders on the field.
4.
Ridley a spectator until third drive.
Though he is active after missing last week due to a knee injury, running back
Stevan Ridley
did not see the field until the final drive of the quarter. It's been LeGarrette Blount and
Brandon Bolden
splitting reps in the backfield, with Blount getting the lion's share of work. Ridley was limited in practice all week, but looked sharp on his first few carries.
5.
Penalty box.
No Patriots were flagged for penalties during the first quarter.
October, 12, 2013
10/12/13
3:30
PM ET
Perhaps more so than with any other cornerback in recent seasons, Bill Belichick and the Patriots have turned to
Aqib Talib
to shadow an opposing team's top target during the early part of the 2013 season. Be it
Julio Jones
or
A.J. Green
, we've seen Talib move around the formation to try to deter a talented wideout, and for the most part, he's done very well.
Talib
It hasn't been an every-snap occurrence, but it has happened enough to wonder if the Patriots would consider it again this Sunday.
And for those saying, "It's one thing to shadow Julio Jones or A.J. Green but a different story for a player such as
Marques Colston
," you're right. Colston is a terrific receiver, but not the same dynamic perimeter player that Green and Jones are.
But the Saints do have a difference-making pass target, he just doesn't play wide receiver, at least not according to the roster.
Graham
Jimmy Graham
is the NFL's leading receiver in terms of yards and has the athletic ability of most wideouts. He just also happens to stand at 6-foot-7 and can align on the end of the line of scrimmage as a blocker.
The Saints, as part of their diverse offensive attack, move Graham around the formation, as he more often than not is detached from the offensive line. So while he's listed as a tight end, he is used in enough "wide receiver" alignments to merit consideration of having Talib shadow him.
While Graham possesses a distinct height advantage, Talib is the Patriots' most talented man-to-man defender and has enough length to try to disrupt Graham at the line of scrimmage.
As is always the case, the Patriots won't rely on just one coverage principle to try to take away an opponent's best weapon. The team will likely turn to bracket coverages and other multiple-defender assignments to attempt to keep Graham in check.
But while shadowing a tight end with a cornerback may sound unconventional, it may also give the Patriots their best chance to slow Graham down, something no defense has been able to do thus far this season.
October, 11, 2013
10/11/13
12:00
PM ET
.
The
New England Patriots
are coming off their first loss of the season, and questions are mounting about the team's revamped offense. There are no such questions right now for the
New Orleans Saints
, who are 5-0 and have looked like one of the NFL's best teams.
That sets the stage for Sunday's highly anticipated matchup between these teams at Gillette Stadium in Foxborough, Mass.
"They're a good solid football team all the way around. They've been impressive," Patriots coach Bill Belichick said of the Saints. "We're going to have to play a good 60-minute football game on Sunday; that's what it is going to take."
In some ways, the Patriots will see a mirror image of themselves when looking at the Saints.
"I've said this before, when we started in 2006, we tried to look closely at the franchises that were having a lot of success and study closely what they were doing. New England was one of the main ones we looked at," Saints coach Sean Payton said. "These guys have been to five Super Bowls and won three [under Belichick]. That is pretty amazing."
Patriots reporter Mike Reiss and Saints reporter Mike Triplett break it down:
Reiss:
Let's start at the top with this one, Mike, and focus on the coaches. Patriots followers know they have one of the best coaches in the history of the game. Now in his 14th season, Belichick has the Patriots consistently contending. For the Saints, what stands out from here is what a difference it's been to have Payton back on the sideline this season. What is it about Payton that makes him one of the NFL's best coaches, and how has this turnaround from last year's disappointment unfolded?
Triplett:
You're right to start there. It's remarkable how much of an impact Payton's return (and his absence last year) has made on this team. Earlier this season, I would've answer that question by talking more about intangibles. Having Payton in charge clearly gives the Saints a confidence and puts them in a comfort zone that was lost last year. I think that helped them win two early games that came down to the wire. But lately, it's Payton's offensive genius that has been making the biggest impact. He's always stood out as arguably the best schemer and playcaller in the NFL. And that's been on full display the past two weeks – first when the Saints picked apart the
Miami Dolphins
at home on a Monday night, then when they won last week at Chicago with a patient, ball-control game plan. Giving Payton toys like
Jimmy Graham
and
Darren Sproles
in recent years – not to mention quarterback
Drew Brees
– has been almost unfair to the rest of the league.
Since we're on the subject, can you try telling me, in this brief format, what makes Belichick special? The Patriots seem to keep winning even while switching out 50 players on their roster over the years. I know that's something the Saints have always admired and tried to emulate.
Reiss:
Mike, I think the foundation of Belichick's success has been what we remember from the start of Super Bowl XXXVI, in the Superdome, prior to the Patriots' upset victory over the Rams in the 2001 season. The Patriots were introduced as a team before that game, as we all remember. There are obviously a lot of reasons for Belichick's success, and books have been written about it, so it's nearly impossible to narrow it down in a few sentences. But that's where I'd start – the focus on the complete team in a salary-cap era that makes it hard to remain competitive year in, year out. There are many layers to that, and it obviously helps to have a quarterback like
Tom Brady
, but Belichick is also a teacher at heart. So team-first, where the 53rd player has a similar level of importance as a player in the 1-10 range. Then the fact he's a teacher with an incredible knowledge of football.
This week, there has been plenty of teaching as it relates to how they might be able to slow down the Saints' offense. What has been the most effective approach you've seen teams employ against Graham and Sproles?
Triplett:
There haven't been many effective approaches against Graham. The
Chicago Bears
last week followed the formula that has worked best against the Saints over the years – a lot of Cover 2 zone defense that forced the Saints to settle for checkdown passes. But the Saints did a better job than I can ever remember of staying patient, settling for those short throws and avoiding turnovers. And Brees still completed 10 passes for 135 yards to Graham. Tampa Bay's defense rattled the Saints in Week 2 by hitting Brees a lot with a good rush from their front four. But Graham still caught 10 passes for 179 yards and a touchdown. And if a team wants to totally take Graham away, like Miami did in Week 4, the Saints are happy to exploit that, too. Sproles had seven catches for 114 yards in that game before Graham caught a single pass. And Graham still finished with four catches for 100 yards and two touchdowns.
So how do you think the Patriots might approach it? They do have a better defense than most of the ones the Saints have faced this season.
Reiss:
In a flip of the script that we had mostly seen from 2007 to 2012, the Patriots' defense is carrying the team right now. The Patriots rank second in the NFL in points allowed per game (14.0 avg.), and that includes a Week 1 touchdown the Bills scored on a long fumble return. The key, from this view, has been the Pro Bowl-level play of cornerback
Aqib Talib
. As for this specific matchup, I've wondered about the possibility of Talib on Graham, similar to how we saw him almost exclusively cover Buccaneers receiver
Vincent Jackson
(Week 3) and Bengals receiver
A.J. Green
(Week 5). Usually you don't see a cornerback matched up against a tight end, but maybe that outside-the-box thought is something the Patriots consider this week. Regardless, I expect the Patriots to be in their sub defense for most of this game. Their big linebackers don't look like a good matchup against Sproles, so it's imperative to get more speed on the field. I could see their top draft choice, speedy and athletic linebacker
Jamie Collins
, used more this week with Sproles in mind.
Speaking of defense, tell us more about how the Saints are getting it done on that side of the ball.
Triplett:
Obviously a ton of credit goes to new defensive coordinator Rob Ryan. He's been pushing all the right buttons as a schemer and a motivator. Players have loved playing for him for both reasons. It's reminiscent of the years when Gregg Williams was here, when they played with a ton of confidence. And he mixes up formations quite a bit – blitzing on occasion, but also rushing only two or three guys at times. Last week he caught the Bears off-guard early with some blitzes he hadn't shown much yet. Just as key, though, has been the emergence of young pass-rushers
Cameron Jordan
and
Junior Galette
. Jordan is a power-rushing 3-4 end, and Galette a speed-rushing 3-4 outside linebacker. But they've mostly lined up on the edges of a four-man rush. When teams can count on their four-man front as much as the Saints have this season, any scheme will be successful. The talent in the secondary is also solid across the board, especially now that they added veteran corner
Keenan Lewis
and rookie safety
Kenny Vaccaro
.
So what will they be facing in Brady this week? I know he hasn't looked like himself at times, but I'm still expecting him to hold his own in this high-profile duel with Brees.
Reiss:
The Saints will see a frustrated Brady, and that's often a dangerous Brady. The Patriots scored just six points in Sunday's loss to the Bengals, and Brady's streak of 52 straight games with at least one touchdown pass was snapped. That had a Saints tie-in, of course, as Brees holds the record at 54 straight games. Brady is obviously still one of the best quarterbacks in the NFL and is as competitive as they come. I'm sure he's aware that in three previous games in which he's squared off against teams led by Brees, he's 0-3. Brees has thrown eight touchdowns in those games, compared with three for Brady. Furthermore, Brady has thrown three interceptions in those games, while Brees hasn't thrown a single pick. Obviously, the quarterbacks don't face off against each other, but knowing Brady's competitiveness that still doesn't sit well with him. Expect his best, and the potential return of tight end
Rob Gronkowski
would obviously help.
I was curious about your thoughts on how the Saints might look different, if at all, when playing outdoors. Obviously they are awfully tough in the Superdome, but last week's game in Chicago didn't seem to affect them.
Triplett:
The Saints have definitely had a few off-days outdoors over the years, especially in colder weather or rain (playoff losses at Chicago, Seattle and San Francisco come to mind). They've had a lot of good days in those elements, too, though. They have the best road record in the NFL since 2009 (23-11, one more win than the Patriots). And they've got two outdoor wins this season (the Chicago game and an ugly 16-14 win on a rainy day at Tampa Bay). So I don't think it will be some sort of mental hurdle, and it's not like they're lost when they're outside of the Superdome. But it will certainly be a hurdle they have to overcome. They're definitely even more dangerous at home.
I was stunned to see how dominant New England has been at home, by the way (31-3 since 2009). Brees rattled off that statistic Wednesday – obviously it's one that's been drilled into players this week. What makes the Patriots so good at home?
Reiss:
When I think of decisive home-field advantages, with the crowd truly dictating aspects of the game such as false-start penalties, I wouldn't put Gillette Stadium in the same category as a place like Seattle. But like you said, home has been good to the Patriots, and I think the comforts of being in that environment, coupled with having good teams, getting better as the weather gets colder, acing critical situations and playing in a division where the other three teams have fallen on some hard times in recent years has contributed to that as well. I'm guessing that Saints offensive coordinator Pete Carmichael, who grew up in nearby Medway, Mass., might agree with the thought that Sunday has all the elements for what can make this a special time of year in New England for fans of the game: crisp but comfortable fall weather and two talented, well-coached teams playing at a high level going head-to-head. I'm excited for it, Mike. What about the matchup are you most looking forward to?
Triplett:
Easy. Brees vs. Brady. I'm sure I could give a more "under the radar" answer. But watching two of the best quarterbacks of all time going head-to-head is as good as it gets. And I think both of them will be fired up for this one for different reasons. Should be an intense fourth quarter.
.