New England Patriots:

Jonas Gray
November, 17, 2014
Nov 17
6:15
PM ET
By
Lee Schechter, Special to ESPNBoston.com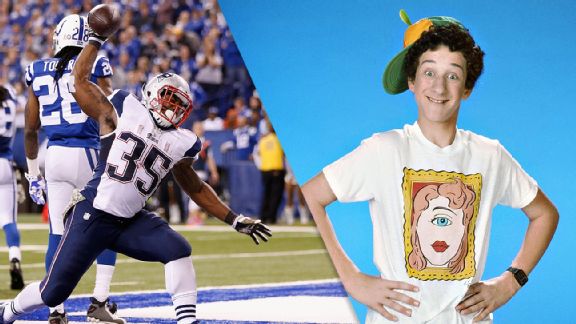 Getty ImagesLong before he torched the Colts, Jonas Gray did stand-up comedy on the same bill as "Screech" (aka Dustin Diamond).
FOXBOROUGH, Mass. -- Word is quickly spreading that the
New England Patriots
have a player with experience in comedy, and it just so happens he also was the star of Sunday night's
42-20 win
against the
Indianapolis Colts
.
Running back
Jonas Gray
isn't just a rumbling, power runner who stampeded all over the Colts' defense for 199 yards and four touchdowns. He is also a stand-up comic.
Fullback
James Develin
, who was Gray's lead blocker throughout the night, said he just found out about Gray's hidden talent.
"One little thing I found out today is that he used to be a comic," Develin said. "I guess he opened up for 'Screech' back in college or something like that."
Yes, Gray opened up for "Screech," who was played by Dustin Diamond in "Saved by the Bell."
"I mean, I feel better about him," Develin said. "It's opening up for somebody. It doesn't matter who it is."
In the locker room on Monday, Gray was asked about his stand-up comedy.
"No comment," Gray said. "No, I'm joking. Back in the day, I called myself a funny guy and did a little stand-up. I was pretty successful at it here and there. Booed off stage a few times."
Gray talked about the experience of opening for "Screech" and whether Gray may have stolen the spotlight from the more famous comedian.
"I think it was a reverse. No, no, no, I'm just joking," Gray said. "It was an honor. He did a good job."
Gray hasn't tried out his routines on his teammates yet, but Develin wasn't surprised to hear Gray is also a comedian.
"No, he's actually a pretty fun guy just around the locker room," Develin said. "It doesn't surprise me at all."
Team captain and safety
Devin McCourty
isn't ready to give out his critique of Gray the comedian.
"I haven't seen it so I don't want to get on him too bad before I actually get to view it," McCourty said.
One reporter asked Gray if he could provide an example of one of his jokes.
"No, no. I don't want anybody to steal them," Gray said. "You never know when they might come in handy."
Gray compared his comedic style to that of Kevin James, who is best known as Doug Heffernan on "King of Queens," because he gets the crowd involved. Gray expects his teammates to request some jokes now that his once-previously hidden talents have come to light.
"They will probably want me to tell a few jokes here and there," Gray said. "I'll give them a few good one-liners and [my teammates] will be OK."
Gray was asked about what his coach, Bill Belichick, will have to say about his comedy. Naturally, Gray cracked a joke about his coach, who isn't exactly known for his sense of humor.
"He would probably say, 'We are on to Detroit,'" Gray said.
Even with a career in comedy that Gray called successful, he isn't ready to quit his real job as an NFL running back, especially after the breakout performance he has worked his entire life for. Gray hasn't had the easiest journey after tearing his ACL during his senior year at Notre Dame, rehabbing it in Miami, playing on Baltimore's practice squad and then emerging with the Patriots this season.
Gray, who carries himself with confidence, a genuine passion for football and exceptional work ethic, said he never thought about going into comedy if football didn't work out.
In fact, he is all business at practice and in games.
"I'm a different player on the field," Gray said. "There's not a whole lot of room for laughing and comedy especially when I'm on the field. Maybe on the sideline a few times."
October, 17, 2014
Oct 17
11:58
AM ET
By
Lee Schechter, Special to ESPNBoston.com
When running back
Jonas Gray
was promoted to the 53-man roster hours before Thursday night's game against the Jets, it was tough to read how long he would be around.
But between his activation and participation (12 of 60 offensive snaps as well as special-teams repetitions), it appears Gray is here to stay.
Coach Bill Belichick addressed the decision to move Gray from the practice squad and the opportunity that he has going forward with
Stevan Ridley
sidelined for the season.
"I think Jonas has been solid for us all the way through preseason," Belichick said. "He's done a good job in practice and got an opportunity last night -- not a lot of opportunities -- but he had some blitz pickup opportunities and a few carries. He works hard and he's a tough kid, a bigger back obviously -- more in the Ridley size range.
"And he played for us in the kicking game as well. Keep going with that and this is just an opportunity for him, unfortunately the way it came out, but he's worked hard and he deserves it. We will see what he can do with it."
Gray, a 5-foot-10 and 230-pound physical runner out of Notre Dame, played in his first career NFL game in the 27-25 win over the Jets. Gray received the nod to play over rookie running back
James White
, as Gray provides the Patriots with a stronger runner who would be tough to take down in the wet weather conditions. Earlier in the week,
Gray said he and Ridley have a similar style
and that he wants to run with Ridley's passion.
It's difficult to get a read on how many carries Gray will receive in the immediate future, though he looked strong in blitz pickup. But the opportunity is there for Gray and the other running backs.
"We are going to have to build some timing and execution without Stevan back there, whether that's Jonas or more Shane [Vereen], Brandon [Bolden], James White, whoever is carrying the ball," Belichick said. "Obviously there's a lot of reps that we had with Stevan as the back and now we won't have.
"Other guys will have to help the line set up their blocks, read the blocking patterns with more frequency than they have done in the past relative to the number of carries and reps in practice that Stevan had," Belichick added. "That will all be part of it going forward for us as well."
January, 10, 2014
Jan 10
6:40
PM ET
The New England Patriots signed former Notre Dame running back Jonas Gray to a futures contract for the 2014 season, as they balance a short-term focus of preparing for the playoffs with the long-range vision of building the roster for the offseason.
The 5-foot-9, 230-pound Gray was originally signed as an undrafted free agent by the Dolphins in 2012. He hooked on with the
Ravens' practice squad
this year, where he spent all season, at one point
playing the role of Vikings running back Adrian Peterson on the scout team
.
The Ravens signed former Patriots practice squad running back Cierre Wood, who also played at Notre Dame,
to a future contract for 2014
. So essentially, the Patriots and Ravens have swapped developmental running backs from Notre Dame for 2014. Gray spent four years at Notre Dame (2008-2011), playing in 34 career games and totaling 1,100 yards rushing and 12 touchdowns on 189 carries (5.8 avg.).
Patriots running backs under contract for 2014
Brandon Bolden
Jonas Gray
Stevan Ridley
Shane Vereen
Note:
LeGarrette Blount is scheduled to become a free agent, and Sam McGuffie, currently on the practice squad, could be a candidate to stick around as well.