New England Patriots:

Julien Edelman
December, 29, 2013
12/29/13
9:55
PM ET
FOXBOROUGH, Mass. -- The Patriots follow their humble leader, coach Bill Belichick, when it comes to discussing individual statistics and accolades: Team success trumps it all.
Few players are as quick to criticize themselves and as willing to turn the attention toward the team when things go in their favor as wide receiver
Julian Edelman
, who became just the third player in franchise history to record 100 catches in a season.
After Sunday's
34-20 win
over Buffalo, when assessing what the accomplishment meant to him, Edelman started down a familiar path.
[+] Enlarge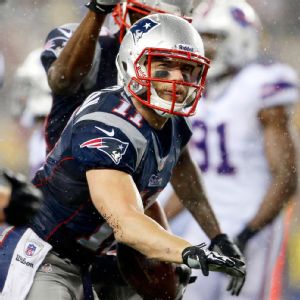 David Butler II/USA TODAY SportsJulien Edelman, who became the third Patriots player with a 100-catch season, celebrates after a 2-point conversion catch.
"It's cool and everything, but you really go out and you play for other things," he said. "Like playing in the last game of the year and winning that game, and we've put ourselves in an opportunity to go one step closer to that."
But, albeit briefly, Edelman opened up shortly after that, discussing the significance of his remarkable season.
105 catches, 1,056 yards, six touchdowns. All career highs.
And this by a player who generated hardly any interest in free agency, returning to the Patriots on a one-year deal and with many expecting a rotational role in the receiving corps.
That's proven to be far from the case, as Edelman has emerged as a leader and top target for quarterback
Tom Brady
, capping off his regular season with a team-high nine catches for 65 yards.
"It's definitely kind of cool, just with the road, it's been a crazy road, but it's definitely been kind of cool," Edelman conceded.
"A lot of things haven't gone my way in the past, you know, playing behind someone that's doing really well, or whether it's injuries or not executing certain situations, but it was kind of cool to get that today, but more importantly it was definitely great to go out there and win in those conditions," Edelman said, referring to playing behind such weapons as
Wes Welker
and enduring a foot injury that cut his 2012 season short.
The former college quarterback has successfully transitioned into an offensive catalyst for the Patriots, largely through hard work. He's been an offseason award winner in the past and it's a rare day when a teammate arrives to work earlier than Edelman.
The process of evolving as a player has coincided with the process of learning how to improve in any way he can.
"I don't want to take anything away from this win tonight, but guys that played here in the past like Welk [Wes Welker], Randy [Moss], and then Tom Brady, he's helped me a lot," Edelman said. "Being a professional and going out there and learning how to deal with the offseason, learning that there is no offseason, it's about getting better and coming into camp in shape and coming into camp ready."
Edelman did exactly that, recovering from the broken foot in the offseason but working his way back into shape for the start of training camp.
During a year that the Patriots have needed passing-game weapons perhaps more than any other since Brady became quarterback, Edelman has risen to the challenge.
It's been a long, crazy road indeed for Edelman, but one thing is clear: The Patriots wouldn't be where they are if not for his meteoric rise.
December, 22, 2013
12/22/13
7:05
PM ET
With just 15 minutes left to play, the
New England Patriots
lead the
Baltimore Ravens
20-0
. Passing along quick-hit notes and observations from the third quarter:
1. Patriots force turnover on downs.
The Ravens got the ball to open the second half, and their offense managed its best drive of the game, crossing midfield for the first time. But it didn't go much further, as the Ravens attempted to convert on fourth down, but
Logan Ryan
, who intercepted a pass earlier in the game, broke up a
Joe Flacco
throw.
2. Ryan records second pick.
Ryan has been everywhere, recording two interceptions and breaking up the aforementioned pass. The third-rounder's second pick of the day set up the Patriots for a field goal from
Stephen Gostkowski
, extending the lead to 20-0. He leads all NFL rookies with five interceptions this season.
3. Patriots stuff Ravens again.
The Ravens marched deep into Patriots territory, but a stingy defensive effort forced the second turnover on downs of the day. Defensive end
Rob Ninkovich
came up with the clutch stop to bring down
Ray Rice
short of the first-down marker.
4. Edelman closing in on 100/1,000.
Among the unlikely scenarios relating to this season, perhaps few foresaw a 100-catch, 1,000-yard season for wide receiver
Julian Edelman
. But he's closing in on exactly that, as he's up to 95 catches and 974 yards this season. He's among the best bargains in the NFL this season with a contract that pays him just over $1 million.
5. Penalty box.
The following Patriots were flagged for penalties during the third quarter: cornerback
Aqib Talib
(pass interference; declined).
September, 29, 2013
9/29/13
10:55
PM ET
ATLANTA -- Entering the final quarter of play, the
New England Patriots
lead the
Atlanta Falcons
13-10. Passing along quick-hit notes and observations from the third quarter:
1. Bolden returns.
After leaving the game in the first half with a knee injury, running back
Brandon Bolden
returned to open the second half. Bolden was unable to play in each of the team's first two games due to a right knee issue. Nose tackle
Vince Wilfork
, meanwhile, was ruled out of the rest of the game due to a right ankle issue.
2. Edelman triggers incentive clause.
In catching his third pass of the night, wide receiver
Julian Edelman
made himself a nice chunk of change, as he triggered an incentive clause in his contract that entitles him to $30,000 for 30 catches during the season. The next benchmark: 40 catches and an escalation of that bonus to $70,000.
3. Dobson banged up.
At the conclusion of an extended drive that resulted in a chip shot field goal, Patriots receiver
Aaron Dobson
went down to the ground and clutched his right shoulder area after taking a crunching hit in the end zone. Dobson, who was the intended target of the throw on the play, was taken off the field with help from the medical staff. He later left the sideline and headed back to the locker room.
4. Vellano registers first sack.
Getting extended playtime in Wilfork's absence, undrafted rookie
Joe Vellano
came through with his first career sack and the first sack for the Patriots defense on the evening. The sack pushed Atlanta into a 2nd-and-23 situation, putting the initial halt on what had been a productive drive.
5. Penalty box.
The following Patriots were flagged for penalties during the third quarter: guard
Logan Mankins
(holding), team offense (illegal shift; declined) and quarterback
Tom Brady
(delay of game).