New England Patriots:

Marcus Benard
August, 31, 2013
8/31/13
3:00
PM ET
Sharing non-
Tim Tebow
-based thoughts on some of the Patriots' roster moves today:
1a. The change at punter, with
Zoltan Mesko
out and rookie
Ryan Allen
in, has many layers. Both showed this preseason that they are deserving of punting in the NFL this season and that's why I took the unconventional approach of keeping both on a
final 53-man roster projection
(the idea being that maybe it would have been easier to slide Allen to the practice squad after a few weeks). Allen's upside is obvious; his leg is a bit stronger than Mesko's. But Mesko's control and directional punting seemed a notch above over the course of training camp and the preseason. However, Allen's three second-half punts on Thursday might have been the clincher, which showed his potential when it comes to control and directional punting.
Mesko
Allen
1b. Economics shouldn't have been the primary reason for the decision to go with Allen over Mesko, but it has to be a consideration. Mesko was due to earn $1.3 million in the final year of his contract. Allen has a three-year contract and is due to earn $405,000 this season.
1c. There is a trickle-down effect when it comes to the field-goal operation, as Mesko has served as the primary holder for kicker
Stephen Gostkowski
. Allen didn't hold at Louisiana Tech, but he's worked on the skill since joining the Patriots. Allen will likely become the primary holder, although backup quarterback
Ryan Mallett
could also be a consideration for the role.
1d. In 2005, the Patriots released rookie kicker
Robbie Gould
after an impressive camp and later regretted it when
Adam Vinatieri
departed in free agency the following year. I wondered how much that experience might have played a factor in this decision.
1e. Mesko goes down as one of the players who was most fun to cover. He also seemed most genuine and his farewell message to fans was most classy. One of my favorite personal memories of Mesko was how he was brought to tears after receiving the team's community service award in 2012. It meant so much to him and the emotions took over.
2. The biggest surprise has come among the reserves at defensive end, with
Justin Francis
,
Marcus Benard
and
Jermaine Cunningham
all being cut. They projected to the 3-4-5 spots on the depth chart. Health was likely a factor with Francis and Cunningham, as they have been sidelined. There is always the possibility for them to return if not picked up elsewhere, but an initial thought is that 2013 seventh-round pick
Michael Buchanan
(
previous film breakdown
) has impressed to the point that the coaching staff felt comfortable letting go of more experienced depth at the position.
Buchanan was impressive on Thursday
.
3. Tight end
Michael Hoomanawanui
was scheduled to earn $1.3 million, but he's agreed to reduce the salary this year with the chance to recoup some of the earnings in incentives, which helped him stick on the roster. Hoomanawanui's smarts, professionalism and dependability made an impression on the coaching staff last season. That he was the last tight end standing among the group of himself,
Jake Ballard
and
Daniel Fells
is a minor surprise.
4. The release of defensive tackle
Marcus Forston
was a mild surprise from this viewpoint. This could mean that rookie defensive tackle
Joe Vellano
is the top backup behind
Vince Wilfork
and
Tommy Kelly
.
Vellano caught the eye early in training camp
, but still didn't think he'd top Forston at this point.
5. Still waiting to hear the fate of presumed bubble players like Vellano, safety
Adrian Wilson
, running back
Leon Washington
, linebacker
Jeff Tarpinian
, fullback
James Develin
and linebacker
Steve Beauharnais
.
August, 30, 2013
8/30/13
2:42
PM ET
August, 30, 2013
8/30/13
2:25
PM ET
The Patriots have informed defensive end
Marcus Benard
that he has been released, a source confirms.

This is a mild surprise as Benard had been playing a top backup role, while also coming onto the field in sub situations as an interior rusher.
The five-year veteran had a career-high 7.5 sacks in 2010 with the Browns before injuries derailed him the past two years. After signing with the Patriots on Jan. 24 this year, he flashed some pass-rush explosion in training camp as he seemed to be making the most of his fresh start.
With starting ends
Chandler Jones
and
Rob Ninkovich
entrenched atop the depth chart, Benard had been competing for a reserve role against the likes of Jermaine Cunningham,
Justin Francis
,
Jake Bequette
and
Michael Buchanan
. In recent weeks, Cunningham and Francis were both sidelined with injury, so the 6-foot-2, 260-pound Benard seemed like he might have had some security.
But as we've learned on an annual basis with Bill Belichick, the Patriots often have their fair share of surprises as cutdown day approaches.
Current defensive end depth chart
Jones
Ninkovich
Francis
Cunningham
Buchanan
Bequette
August, 23, 2013
8/23/13
12:16
PM ET
DETROIT -- A look at the snaps played by Patriots defenders in the first half, when most of the top players were in the game, and analyzing what it might mean (includes penalties):
CB
Kyle Arrington
-- 36 of 36
S
Steve Gregory
-- 36 of 36
DE
Chandler Jones
-- 36 of 36
DE
Rob Ninkovich
-- 36 of 36
CB
Aqib Talib
-- 36 of 36
DT
Tommy Kelly
-- 26 of 36
LB
Dont'a Hightower
-- 23 of 36
LB
Brandon Spikes
-- 23 of 36
DT
Joe Vellano
-- 23 of 36
CB
Logan Ryan
-- 19 of 36
S
Duron Harmon
-- 18 of 36
S
Devin McCourty
-- 16 of 36
S
Adrian Wilson
-- 15 of 36
DE
Marcus Benard
-- 13 of 36
LB
Jerod Mayo
-- 13 of 36
LB
Jamie Collins
-- 11 of 36
DT
Marcus Forston
-- 10 of 36
LB
Dane Fletcher
-- 6 of 36
QUICK-HIT THOUGHTS:
The biggest personnel notes on defense were with starting defensive tackle
Vince Wilfork
being held out of the game, which gave the coaching staff an extended look at rookie free-agent Joe Vellano. Also, starting linebacker Jerod Mayo only played in the dime package, so rookie Jamie Collins started alongside Brandon Spikes and Dont'a Hightower and Dane Fletcher also came on for two series in the base defense. ... Against a strong vertical passing offense, it's probably not a coincidence that Steve Gregory got the start next to Devin McCourty at safety as they are considered the team's best cover safeties. It will be interesting to see if that changes against teams who aren't as threatening in that area of the game, which could open the door for a bigger safety (e.g. Adrian Wilson) to step in to that role. Wilson played solely in the dime package in the first half, in a linebacker-type role. That bumped
Tavon Wilson
out of that spot. ... Rookie Logan Ryan served as the fifth defensive back in the nickel. ... McCourty's playing time was limited as it was his first action this preseason as he's been managed closely after offseason shoulder surgery. ... Chandler Jones and Rob Ninkovich, as expected, are the top ends and they won't come off the field often. ... Tommy Kelly looks like a difference-maker at defensive tackle and the type of player who would never leave the field, but the Patriots probably want to find some time to give him a breather at times, which is what we saw Thursday night. ... Marcus Benard came on in sub situations as an interior rusher, which was the niche that
Jermaine Cunningham
(currently injured) had carved out for himself early in 2012.
August, 21, 2013
8/21/13
9:30
AM ET
Bill Belichick has often spoken about players making marked improvement from their first to second seasons in the NFL, something
Chandler Jones
has the opportunity to do in 2013.
Jones, the team's top pick in 2012, started his rookie campaign strong, notching six sacks in his first eight games. A pair of ankle injuries limited him down the stretch, and Jones finished with just those six sacks for the season.
But the upside was apparent, and he's among the most pivotal players for his team in 2013, according to former NFL GM Bill Polian, who wrote about Jones in a recent piece for ESPN Insider.
"
Rob Ninkovich
has turned into a very solid pass-rusher. I liked him coming out of Purdue and the Patriots have done a great job with him. That said, they need more from Jones. New England was 22nd in the league on third down last year and had only 21 sacks. Even in an AFC East that should be relatively weak this season, that won't cut it.
"They drafted Jones to be the next
Willie McGinest
. Jones needs to stay on the field and get the job done. If he can measure up to McGinest or
Mike Vrabel
, the Patriots will be a much better defensive team systematically and functionally. If Jones can't, this defense will likely have some of the same holes it had last season."
Jones worked hard this offseason to balance his strength and become more proportional throughout his body (targeting improvement in his upper half), and we've seen positive signs throughout training camp and the preseason. He helped force a fumble in the team's preseason opener and recorded another sack against the Buccaneers.
The key for Jones, in our estimation, is the expansion of his arsenal of pass-rush moves. He has the length and initial quickness to win off the edge, but there will be tough tackles that he is forced to take on and beat with his technique as well. We've seen some development from Jones as a technician, and if he can stay on course, he'll make an even bigger impact as a rusher.
That's something the Patriots need, as it was an area that let them down during the AFC Championship. They were unable to generate a single hit on
Joe Flacco
, putting their secondary is a difficult spot.
Beyond Jones, Ninkovich will be counted on as a complementary rusher, while the team has a rotation of young ends who could provide reserve rush presence too.
Justin Francis
appears to have emerged as the third rusher, with
Marcus Benard
also impressing in his effort to solidify a roster spot.
To read the piece in its entirety (Insider content),
CLICK HERE
.
August, 8, 2013
8/08/13
7:21
PM ET
PHILADELPHIA -- The
New England Patriots
open the preseason against the
Philadelphia Eagles
on Friday night at Lincoln Financial Field (7:30 p.m. ET). Here are some of the main areas of interest:
1. Dobson and young receivers.
Through the early stretch of training camp, the play of rookie receivers
Aaron Dobson
(second round),
Josh Boyce
(fourth round) and
Kenbrell Thompkins
(undrafted free agent) has made onlookers take note. The 6-foot-3, 210-pound Dobson in particular offers something the Patriots haven't had for a few years: size and the athletic ability to go up and get the ball.
"It's like going up for rebounds and you can control your body," Dobson said Thursday after practice. "I guess it's a good skill set for a receiver."


While Dobson brings that size and athleticism on the outside, Boyce (5-foot-11, 205 pounds) can flat out fly. He brings a speed element not seen around these parts in recent seasons.
Thompkins (6-foot-1, 195 pounds) strikes us as more of a tactician. He's shown ability to win at the start of his route with sharp footwork that sets up defensive backs and also some speed to threaten the deep parts of the field.
For the first time in Bill Belichick's coaching tenure, it looks like the Patriots will open the season with three rookie wide receivers.
2. Top draft pick Collins and the defense.
When the Patriots first take the field on defense, it's possible that top draft pick
Jamie Collins
(jersey No. 91) will still be on the sideline. He's been the first linebacker to come on when there is a substitution, and the Patriots are still exploring ways in which his speed and athleticism can best help them.
Watching Collins (6-foot-3, 250 pounds) on the practice field, a few things stand out: He runs well and has shown a knack for ball disruption by forcing fumbles.
One of the trouble areas for the Patriots last season was matching up against athletic tight ends, and that's a position that has traditionally been a big part of Chip Kelly-coached offenses; Kelly announced Thursday that quarterback
Michael Vick
will start this game.
There figure to be times when Collins is matched up against tight ends, and perhaps he shows signs that he can help the Patriots in an area in which they mostly struggled in 2012.

3. Mallett, Tebow and backup quarterbacks.
No. 2 quarterback
Ryan Mallett
has totaled 130 pass attempts over the past two preseasons, which is a team high. Now in his third NFL season, the question remains: Is he a potential No. 1 quarterback for another team who could provide value to the Patriots in a trade?
The preseason opener, when
Tom Brady
usually doesn't play past the first quarter, is the best chance for the Patriots to find out.
If things go according to plan, Mallett won't be called upon during the regular season unless the game is well in hand and the Patriots take Brady off the field to protect him from injury.
"I get a lot of action right now, and it's just going to help me in the long run, so I'm excited to get out there with my teammates and go compete," Mallett said Thursday.
At 6-foot-6, 225 pounds, he looks the part and has a cannon for an arm. Now is his time to show he can put it all together.
As for
Tim Tebow
, he said Thursday that he hadn't been informed of how much, if at all, he will play. But he is encouraged by his progress to this point.
"I feel like I'm getting better every single day," he said. "I'm more comfortable with the offense, better timing with everybody around me, better understanding of what the coaches want me to do, with the offense, with the reads, with the timing. Every day, I'm trying to get a little bit better, and it sounds cliché, but it's true. That's really what I'm focused on, and I know that's something hopefully I've been able to accomplish."
4. Do Jones and the pass-rushers show signs of life?
One of the keys for the Patriots defense is the development of 2012 first-round draft choices
Chandler Jones
and
Dont'a Hightower
. Jones in particular has the tools to develop into a disruptive game-changing pass-rusher.
After a solid six-sack rookie season, he's built more upper-body strength and will be matched up against second-string left tackle
Allen Barbre
, who is expected to fill in for starter
Jason Peters
.
In one-on-one drills against Patriots left tackles, Jones has shown signs of explosiveness, but in the one drill we watched Tuesday, Jones was kept at bay by Barbre.
In addition to Jones and fellow starter
Rob Ninkovich
, there is a developing competition behind them, with second-year man
Justin Francis
and five-year veteran
Marcus Benard
the current top candidates. Others include 2012 third-round pick
Jake Bequette
and 2013 seventh-rounder
Michael Buchanan
.
5. Sudfeld and the tight-end competition.
While the biggest question at tight end is whether
Rob Gronkowski
will open the season on the physically unable to perform list, there is also a good competition unfolding with the remaining players on the depth chart.
Undrafted rookie
Zach Sudfeld
(jersey No. 44) has opened some eyes. He's 6-foot-7 and listed at 260 pounds, although he's probably a bit lighter than that. He runs well and has caught most everything thrown in his direction, with Eagles linebacker
Casey Matthews
calling him more of a receiver than a pure tight end.
Then there are veterans
Jake Ballard
(6-foot-6, 260 pounds),
Daniel Fells
(6-foot-4, 260 pounds) and
Michael Hoomanawanui
(6-foot-4, 260 pounds).
Not everyone can stick, and with Ballard on the books for $630,000 and Fells ($1.25 million) and Hoomanawanui ($1.3 million) in the higher tax bracket, the latter two probably have to prove they are a cut above to land on the roster.
July, 6, 2013
7/06/13
5:00
AM ET
(Continuing a month-long series analyzing players who are on the roster bubble and where they may potentially fit in 2013.)
NAME:
Marcus Benard
[+] Enlarge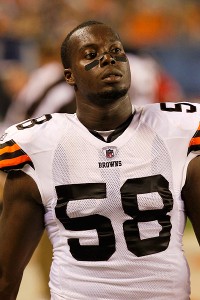 AP Photo/Charles Rex ArbogastMarcus Benard is a dark-horse candidate to crack the D-line rotation.
POSITION:
Defensive end
AGE:
27
2012 STATS:
None; spent first 6 games on Non-Football Injury list for Cleveland before being released.
INJURY STATUS:
No known injuries.
CHANCE OF MAKING 53-MAN ROSTER:
20%
WHY HE SHOULD MAKE IT:
If there's one player who could creep up onto the radar this preseason, it could be Benard. He was productive for Cleveland in 2010 before injuries, including those from a motorcycle accident in October 2011, essentially wiped out his last two seasons. The Patriots are still looking for depth among pass-rushers, and Benard, who had 7.5 sacks in 2010, could fit the bill with a solid training camp.
WHY HE SHOULD NOT MAKE IT:
Benard is part of a crowded picture at defensive end, and will very likely be locked in a battle with
Jermaine Cunningham
to be part of the rotation at the position. With
Justin Francis
and
Jake Bequette
good bets to crack the 53-man roster, and seventh-round pick
Michael Buchanan
factoring into the mix, Benard has an uphill battle at a position where the Patriots have invested heavily in draft picks recently.
CLOSEST COMPETITION:
DE Jermaine Cunningham, DE Michael Buchanan, DE
Jason Vega
January, 4, 2013
1/04/13
6:23
PM ET
The
New England Patriots
on Friday signed two players to "reserve/future" contracts for the 2013 season: quarterback
Mike Kafka
and defensive end
Marcus Benard
.
Kafka, 25, was a fourth-round pick of the
Philadelphia Eagles
in 2010. In 2011, he appeared in four games, completing 11-of-16 passes for 107 yards and two interceptions. Kafka played college football at Northwestern.
The Patriots worked out Kafka in early September after he was waived by the Eagles, but he was out of football in 2012. Once the Patriots' current season ends, Kafka will join the roster for the offseason, and will be in the mix along with backup quarterback
Ryan Mallett
.
Benard, 27, who worked out for the Patriots in December, played parts of three seasons with the
Cleveland Browns
as both a defensive end and outside linebacker, depending on their scheme. At 6-foot-2, 256 pounds, he projects to be among the lighter defensive ends for the Patriots.
His best season in Cleveland came in 2010, when he played in 15 games, making two starts. He finished with 28 tackles and 7.5 sacks.
In October 2011, Benard suffered season-ending injuries in a motorcycle accident after leaving practice.
He pleaded not guilty
to charges of driving under a suspended license and reckless operation of a vehicle.