New England Patriots:

NFL
February, 7, 2013
2/07/13
5:14
PM ET
Earlier this afternoon, we passed along the mock drafts from ESPN's Mel Kiper Jr. and Todd McShay, which presented an interesting debate on drafting for need versus value.
Kiper pegged hard-hitting safety
Matt Elam
out of Florida at pick 29, while McShay slotted
Jonathan Cooper
, a hulking guard from North Carolina.
To oversimplify the picks, it was a case of need (Elam) versus value (Cooper).
Elam is regarded as a potential first-rounder and would beef up a Patriots secondary that could undergo a facelift this offseason. He would serve as a nice complement to
Devin McCourty
, who settled into a free safety role last season. Given those considerations, he's a player that would fill a need.
Cooper, conversely, would have a tough competition to crack the starting lineup as a rookie, as the Patriots have their left guard in place in
Logan Mankins
and a solid starter at right guard in
Dan Connolly
(who was signed to a handsome contract last offseason). But at pick 29 (Kiper had Cooper all the way at number 11), would he be too good to pass up?
Looking back at the first-round picks made by the Patriots under Bill Belichick, history suggests the team has found players who filled needs while also meeting first-round value.
2001: Defensive lineman
Richard Seymour
2002: Tight end
Daniel Graham
2003: Defensive end
Ty Warren
2004: Nose tackle
Vince Wilfork
, tight end Ben Watson
2005: Guard Logan Mankins
2006: Running back
Laurence Maroney
2007: Safety
Brandon Meriweather
2008: Linebacker
Jerod Mayo
2010: Cornerback Devin McCourty
2011: Offensive tackle
Nate Solder
2012: Defensive end
Chandler Jones
, linebacker
Dont'a Hightower
Of those players listed above, many contributed on an immediate basis, while others evolved into starters by their second year (Solder and Wilfork were groomed by
Matt Light
and
Keith Traylor
, respectively).
Using that sample as a baseline, the Patriots have excelled at finding first-round talent that has fit their team needs.
As it relates to Cooper, this isn't to suggest he wouldn't be on the team's radar, as he's a talented player and both Connolly and Mankins are 30 years old, meaning he could develop into a starter down the line. But looking back at the trends of Belichick's draft history, it seems the team has favored finding players that fit needs and offer value, not taking a player only because of the latter.
August, 8, 2012
8/08/12
2:10
PM ET
FOXBOROUGH, Mass. -- What was the biggest lesson
New England Patriots
tailback
Stevan Ridley
learned in his rookie year?
"The ball can't be on the ground," Ridley said bluntly Wednesday. "That's no secret. Fumbles will have you on the bench."
[+] Enlarge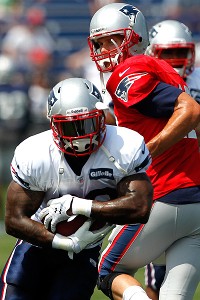 AP Photo/Michael DwyerBall security is something running back Stevan Ridley is working on during training camp.
Ridley admits last season's playoff run still stings. A solid rookie year was otherwise overshadowed by fumbling twice in his last two games, including a fumble in a crucial playoff win against the
Denver Broncos
. That was enough for New England coach Bill Belichick to put Ridley on ice for the remainder of the team's Super Bowl run. Ridley was inactive in both the AFC title game and the Super Bowl.
Ridley is using that cruel ending to his rookie season as motivation to come back a better player in Year 2. As a result, Ridley is running well in training camp and has taken the lead as New England's projected No. 1 tailback. The Patriots have not released a firm depth chart, but Ridley is expected to start in Thursday's preseason opener against the
New Orleans Saints
. It will be Ridley's first game action since his postseason fumble against Denver.
"I'm a little bit more comfortable out there," Ridley said of his second season. "Am I perfect? Not by any means. I still have a lot of work to do. Over time, my carries and my reps on the field have increased, but it's still a long way to go and there's still a lot of work to be done."
Ridley is outshining his training camp roommate,
Shane Vereen
, so far in camp. Both were high draft picks in 2011. Their potential is the reason New England was comfortable not re-signing
BenJarvus Green-Ellis
and cut fellow veteran
Joseph Addai
in the summer.
Ridley's game experience last year is showing through in his running. He's hitting the holes well and showing good vision in New England's pass-first system. Ridley rushed for 441 yards and averaged 5.1 yards per carry last season. That kind of average will make New England's offense extremely dangerous. Ridley just needs to continue to gain the trust of the coaching staff by holding onto the football.
"This year I'm going to go and do the best that I can to keep the ball high and tight," Ridley said. "I know that if I can keep the ball in my hands, I'm going to be on the field. So my work is cut out for me."
Ridley knows he must grow up fast in his second season. The Patriots, favorites in the AFC, will be relying on a young running back this year, whether it's Ridley or Vereen. So far Ridley's performance in camp gives him the inside track.
February, 28, 2010
2/28/10
3:30
PM ET
INDIANPOLIS –- One of the interesting news nuggets to come out of the NFL combine is that the
league is considering a change to overtime rules in the playoffs
. The proposal being considered would give a team that allows a field goal on the opening possession of overtime one chance to score. (Under the proposal, if a team scored a touchdown to start OT, the game would be over.) With this in mind, there were two pieces of information I hoped to dig up:
1) The Patriots' overtime record and how those results were affected by the coin toss (the rules would be changed because of the weight the coin toss has in overtime).
2) The opinion of Bill Belichick or another NFL head coach on the possible change.
In the Belichick era, the Patriots are 7-3 in overtime games in the regular season. They are 3-0 when they win the toss and 4-3 when they lose it.
As for the opinion of Belichick, he did not come to the media center during this year's combine. So Oakland's Tom Cable stepped up to do the honors, and he's in favor of changing the current rules.
"For me, having spent quite a while in college football, I think that's kind of a real dynamic way to play into overtime, with both teams getting a fair shot at it," Cable said of the current college rules, which are different than what the NFL is considering. "You're put in a very stress[ful] environment, in terms of a short field and all those things, and you have to play off each other and answer whatever the other team did.
"I think that brings more strategy into this whole thing. So where they go with [the NFL proposal] and how they get there, it will be talked about and decided. I'm comfortable with it. I think there needs to be something."
For what it's worth, my own feeling is that I don't like the idea of playing under one set of rules in the regular season and then changing them in the playoffs. If the change is made, my feeling is that all-or-nothing is a better approach.
November, 29, 2009
11/29/09
2:51
PM ET
FOXBOROUGH, Mass. -- The seriousness of football players and concussions is a topic that deserves more consistent media attention.
On a day when
Ben Roethlisberger
is expected to be the Steelers' No. 3 quarterback because of post-concussion headaches, and Cardinals quarterback
Kurt Warner
is reportedly set to sit out after suffering a concussion last week, a brighter-than-normal spotlight has been shined on the issue.
Closer to home, Patriots
Sebastian Vollmer
,
Pat Chung
and
Stephen Neal
recently have had head injuries that were presumably concussions. Both Vollmer and Chung returned to action after being diagnosed with their head injuries. Neal did not.
Neal, who was injured against the Colts Nov. 15 and did not play last week, was asked about the issue.
"In all the cases, the similar thing is that you have to trust the training staff," he said. "Whatever they tell you to do, you have to agree with it. If you don't, that's when you have problems. Whatever they say to do, you have to be on board with it because they know best."
Fox Sports reported Sunday that commissioner Roger Goodell will expand restrictions on returning to games for players who sustain head trauma.
ESPN's Chris Mortensen has more on the issue
.