New England Patriots:

Patriots Hall of Fame
July, 28, 2014
7/28/14
3:55
PM ET
By
Lee Schechter
| ESPNBoston.com
FOXBOROUGH Mass. -- Soon-to-be Patriots Hall of Famer Ty Law says the 10-year search for the
New England Patriots'
next star cornerback and missing piece to the championship puzzle is finally over with the arrival of
Darrelle Revis
.
[+] Enlarge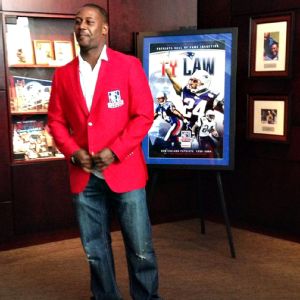 Mike Reiss, ESPNBoston.comTy Law was fitted for his Patriots Hall of Fame jacket on Monday.
"Being an analyst now and looking at the team now, it's like that's what they needed -- a marquee cornerback," Law said to reporters after Monday's jacket fitting for his Patriots Hall of Fame induction on Friday.
"Darrelle is special," Law added. "He is a different level. So when you look at the secondary now, when you look at another 24 out there and that elite of a cornerback and as a football player, you can really see these guys getting over the hump again. And bringing back home the trophy, where I think it belongs because we always strive to be champions."
Here are some other takeaways from Law's analysis of this year's defense:
Best defense in 10 years?
Adding Revis was a major move in Law's eyes, but he is focused on the extra experience and leadership of the rest of the Patriots' defensive personnel in 2014. "I think it is [the team's best defense in 10 years] because you've got to talk about the experience there is -- not only with the secondary because I think that was one of the weaker links in the defense for the last few years -- but you strengthened that five times with Darrelle Revis and you have [Brandon] Browner there," Law said. "[Rob] Ninkovich getting another year of experience, [Vince] Wilfork. There's a different type of leadership.
Chandler Jones
, another year of experience. So it is going to be amazing what these guys can do."
Health is the key to winning a Super Bowl.
Law thinks the Patriots have all of the pieces to win the franchise's fourth Super Bowl, but last year's health issues still raise a red flag. "You can have all the talent in the world but if you can't stay out there on the field, you're going to be hurting your team," Law said. "So if this team can stay healthy and the offense can continue putting up the numbers consistently like they have been doing with
Tom Brady
leading the pack and they can protect him, good things are going to happen."
Law knew all along that Revis was destined for greatness.
Law and Revis both grew up in Aliquippa, Pennsylvania, a small Pittsburgh suburb that produced multiple NFL talents. Despite the age difference, Law saw early on that Revis was a game-changing player. "When you look back and I'm a player in the NFL and this guy [Revis] is still in Pop Warner and I was fortunate to play long enough where he made it to the NFL and we played together on the field as two guys from Aliquippa," Law said. "But seeing it right away -- his agility, his passion, his aggressiveness at such a young age."
Law's Super Bowl pick.
Law may be an analyst these days, but he isn't shy about who he wants and thinks will win it all in 2014. "Hopefully I can still do my job, you know being an analyst, but I'm going for the Patriots every time."
April, 16, 2014
4/16/14
5:00
PM ET
Cornerback
Ty Law
won three Super Bowls with the
New England Patriots
from 1995-2004, and now that he's a finalist for the team's Hall of Fame he has considered what it would mean to be inducted.
"It will put the icing on the cake as far as my playing career with the Patriots, and some validation to me that I was appreciated by the fans and they still care for me," he said Wednesday on a conference call with reporters. "It just puts the stamp of approval for Patriots Nation. I'm really humbled by that."
Law said he was speechless
when he learned that he was a finalist
along with cornerback Raymond Clayborn and Bill Parcells. He was complimentary of both Clayborn and Parcells.
Law was asked if he might do anything differently when looking back on his Patriots career, in which he tied for the all-time franchise record with 36 interceptions.
"I'll be the first one to admit, now that I'm older, wiser and more mature, that if I could have done something all over again, I would have tried my [best] to stay in New England and finish my career [here]. Not that I have any regrets about the teams that took me in, as far as the
New York Jets
,
Denver Broncos
and
Kansas City Chiefs
, I'm thankful for the opportunity.
"But you know, and I think I've said this early in my career, I would have loved to start and finish my career with the Patriots. Unfortunately, that didn't happen. But if I had to do it all over again, I would have made more effort to stay a Patriot."
April, 2, 2014
4/02/14
5:00
AM ET
The Patriots Hall of Fame nomination committee is scheduled to meet Wednesday afternoon (noon-2 p.m. ET), with the mission of narrowing a deserving field of candidates to three.
From that point, a fan vote will take place on the team's official website to determine the 2014 Hall of Fame inductee.
A few notes about the process:
Eligibility guidelines:
Every former Patriots player or head coach who has been retired for at least four years is eligible for consideration.
Who's in the Hall?
John Hannah (1991), Nick Buoniconti (1992), Gino Cappelletti (1992), Bob Dee (1993), Jim Lee Hunt (1993), Steve Nelson (1993), Vito "Babe" Parilli (1993), Mike Haynes (1994), Steve Grogan (1995),
Andre Tippett
(1999),
Bruce Armstrong
(2001), Stanley Morgan (2007),
Ben Coates
(2008), Jim Nance (2009), Billy Sullivan (2009), Sam Cunningham (2010), Jon Morris (2011),
Drew Bledsoe
(2011),
Troy Brown
(2012),
Tedy Bruschi
(2013), Gil Santos (2013).
Past finalists not in the Hall:
Ron Burton (2007), Houston Antwine (2009-11), Bill Parcells (2011-12), Fred Marion (2012), Chuck Fairbanks (2013), Leon Gray (2013).
First-year eligible in 2014:
LB
Larry Izzo
, CB
Ty Law
.
Second-year eligible in 2014:
S
Rodney Harrison
, LB/DE
Willie McGinest
.
Hall committee:
The nomination committee is made up of of 19-20 people who have a long history with the team -- including retired reporters, current reporters, Patriots alumni and others.
September, 17, 2011
9/17/11
7:55
PM ET
FOXBOROUGH, Mass. -- Bridging together what owner Robert Kraft suggested was three generations of New England football, the Patriots inducted center Jon Morris and quarterback
Drew Bledsoe
into the team's Hall of Fame Saturday evening before an overflow crowd at Patriot Place.
Morris, the Patriots' first-ever Pro Bowler, represented an era that laid the foundation for football in the region, while Kraft suggested in his introduction of Bledsoe that the quarterback might have been the key to keeping the team in New England two decades ago. With some of the franchise's most influential players in attendance, the pair entered the pristine Hall at a stadium where the team has raised three championship banners over the last 10 years.
Courtesy of New England PatriotsDrew Bledsoe and Robert Kraft at Saturday's Patriots Hall of Fame induction.
"Thinking back to a dirt parking lot and a racetrack, we feel pretty good about this," Kraft said following the evening ceremony. "This is terrific. To go from Jon to Drew -- see the cross-generation -- and see the fans turn out ... It's really super."
Bledsoe described growing up in New England, arriving as a fresh-faced, single 21-year-old with no idea about the expectations of playing for a Boston sports team, then departing as a married 30-year-old with three kids and a Super Bowl ring. He singled out many of his former teammates -- drawing raucous applause when names like
Troy Brown
and
Tedy Bruschi
, on hand for the ceremony, and brought on stage to discuss Bledsoe's career afterwards -- were mentioned. Bledsoe said that he takes great pride in helping turn the franchise around, but made sure to stress that he was simply a part of that process.
Bledsoe even playfully acknowledged passing the torch to
Tom Brady
during the 2002 Super Bowl season.
"I had a a horrible backup, that No. 12 guy," quipped Bledsoe, talking about Brady after thanking many of his former teammates. "He didn't really understand the backup part."
After the event, Bledsoe noted that, despite the humor, his biggest fear was breaking down emotionally during a speech in which he heaped praise on his family, including his wife, Maura, and their four kids -- Stuart, John, Henry, and Healy. Before he even began his speech, he clipped on a "MHK" pin dedicated to Kraft's wife, Myra, and talked about what she meant to him during his early days in the league.
"It was a little overwhelming how many people showed up, that was really cool," Bledsoe said after the ceremony. "My big concern was whether I could make it through without getting too emotional. I knew if I looked over at my mother, I'd break down, so I didn't look at Mom."
While the crowd was filled with Bledsoe replica jerseys of all colors and in various states of tatter, Morris basked in being the somewhat obscure opening act. Maybe no inductee into the Patriots Hall of Fame has been as genuinely honored to be there as Morris, who was passed over numerous times in the fan's vote, but was selected this year by a senior committee.
Morris mixed plenty of humor into a eloquent speech that culminated with him heaping praise on his wife, Gail. From the opening line, in which he quipped about Kraft's hug with Colts offensive lineman
Jeff Saturday
that has become the iconic image of the end of the lockout, "I never thought I'd see an NFL owner go around hugging centers," to punctuating the speech by noting, "This is the most exciting day of my life," Morris couldn't have been happier to be part of the experience.
After the event he noted, "It's the crowning achievement for me in football."
[Hop
HERE
to read the full story.]
September, 16, 2011
9/16/11
7:05
PM ET
Quarterback Drew Bledsoe and center Jon Morris will be enshrined into the Patriots Hall of Fame Saturday night in Patriot Place Plaza. The event is free and fans are encouraged to attend. ESPN Boston's Scott Barboza's looks back at Bledsoe's legacy in New England...