New England Patriots:

Roger Goodell
May, 30, 2014
May 30
12:00
AM ET
FOXBOROUGH, Mass. -- NFL commissioner Roger Goodell doesn't often have his wife, Jane, by his side on business trips, but Thursday night at the
New England Patriots
' indoor practice facility provided him a unique opportunity to do so.
Welcome to the NFL- and Patriots-sponsored "Moms Football Safety Clinic."
[+] Enlarge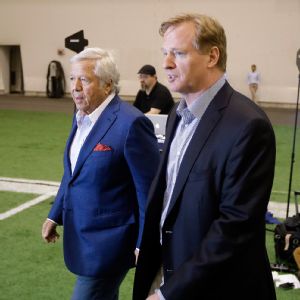 AP Photo/Stephan SavoiaPatriots owner Robert Kraft was joined by NFL commissioner Roger Goodell for a football safety clinic for mothers on Thursday.
"She's a big believer," Goodell said prior to the two-and-a-half hour event which drew about 275 mothers from the region. "We have twin girls who are 12 going on 13, and they love sports. They play soccer and they play lacrosse. They've had teammates that have been injured. They've had concussions. They've had other injuries. They recognize there is a risk when they go out on the field, but they love it.
"And we love the values they learn. They're learning about themselves, they're learning about teamwork, they're learning about hard work, they're learning that when they get knocked down how to get up and go. We all want to prepare our kids for the future and we think sports are a big part of that. We're believers in that."
Goodell is obviously also a believer in football, a sport which has come under scrutiny by some, with President Barack Obama previously saying that if he had a son, he wasn't sure if he would
allow him to play professionally
.
This marked the fifth league-sponsored football clinic targeted to mothers that Goodell has attended. The NFL first started them last October in Chicago, and Thursday's was the 10th of a 25-stop tour through the spring of 2015. The next clinic is scheduled for Sunday in Indianapolis.
"It's talking about the future of our game, and helping moms and parents and families make the important decisions about participating in sports, particularly about football, and giving them the right information to make those decisions," he said.
"There is risk with any sport, but the rewards are overwhelmingly positive. That's why we want our kids playing sports, but playing them safer. We think we have a role in that. We think we have a responsibility to do that."
The clinic included a panel discussion, led by Jane Skinner Goodell, that featured Christine Golic, wife of former NFL player and current ESPN Radio host Mike Golic; Rhoda Tippett, wife of Pro Football Hall of Famer and longtime Patriot Andre Tippett; Bianca Wilfork, wife of current Patriots defensive lineman
Vince Wilfork
; and 42-year Foxborough resident Deb Cunniff.
Andre Tippett, Kraft and Roger Goodell also delivered remarks, before on-field demonstrations were led by Patriots players
Chandler Jones
,
Devin McCourty
,
Dont'a Hightower
,
Matthew Slater
,
Logan Ryan
,
Kanorris Davis
,
Chris White
,
Jake Bequette
,
Chris Jones
and
Marcus Forston
. The Patriots' defensive coaching staff, led by coordinator Matt Patricia, also took part.
A focus on safety, including USA Football's "Heads Up" football program, was a consistent theme.
"The biggest thing is giving people information they can understand. It's overwhelming, the information," Goodell said. "We try to tell them places to go to get that information so they can make the right decision for their family. Also, to make sure they understand the rewards of playing sports.
"They hear from a lot of parents that have been through it -- how to ask questions to the coaches, how to get involved in a positive way, how to make sure, if their kids are participating in football, that they are doing so in 'Heads Up' supported leagues so they know their coaches are being trained and certified."
August, 1, 2013
8/01/13
11:04
AM ET
NFL commissioner Roger Goodell said Thursday morning that the Aaron Hernandez case should prompt all NFL teams to examine how they scrutinize players before signing or drafting them.

"All clubs are going to have to re-evaluate how they evaluate players," Goodell said on ESPN Radio's "Mike & Mike" show. "They have to look at their prior history, their experience, to make sure they are bringing the kind of people in to represent the teams and the NFL in a positive way."

Goodell's sentiment echoes what the New England Patriots have relayed in the past few weeks. Both owner Robert Kraft and coach Bill Belichick have said the team will look at how it vets players before bringing them onto the team in the wake of a murder charge against Hernandez. Belichick explained that process in his first news conference of training camp.

"I can tell you that we look at every player's history from the moment we start discussing it, going back to his family, where he grew up, what his lifestyle was like, high school, college experiences -- we evaluate his performance, his intelligence, his work ethic, his motivation, his maturity, his improvement, and we try to project that into our organization on a going-forward basis," Belichick explained. "It combines a player's personal history, but it also has to project what we think, and how we think, he will be in our environment. Obviously this process is far from perfect, but it's one that we've used from 2000 until today."

Less than two hours after Hernandez was arrested on June 26, the Patriots released the tight end. Shortly thereafter, Hernandez was officially charged in the murder of semi-pro football player Odin Lloyd.

"To think that anyone involved with the National Football League, whether it be a player or anybody else, could be involved in these circumstances is deeply troubling and does have an impact on the shield," Goodell said Thursday. "That's why I am proud the Patriots took decisive action. It is now a matter for the courts for the criminal activity."
February, 1, 2013
2/01/13
5:45
PM ET
Sharing some Patriots and NFL thoughts:
1. Patriots owner
Robert Kraft
held court with reporters Friday at the Super Bowl, as he usually does every year. Among the reports and tweets sparked from that meeting with the press, one thing that stood out to me was Kraft publicly endorsing
Bill Parcells'
candidacy for the Pro Football Hall of Fame. It wasn't always roses between the two. Also,
Wes Welker
's agents
probably won't appreciate this
from Kraft.
"I'd love him to be around," Kraft told reporters in New Orleans. "He's a great guy. Like I've said all along, it takes two sides to make a transaction. We have to manage the lawyers and the agents that they don't mess it up. I think Wes wants to be with us, and we want him here. It's just a matter of whether both sides can be intelligent."
I also took note of
this Bloomberg story
, and whom Kraft dined with on Thursday night, and it sparked the thought that Kraft does a nice job building allies among his peers, especially those new to the ownership fraternity.
2. Listening to commissioner
Roger Goodell's
"state of the NFL" news conference on Friday and the biggest takeaways were: his belief that HGH testing will be implemented before the 2013 season (a belief and reality are two different things); a heavy focus on health and safety (e.g., ideas to further take the head out of the game); his feeling that the results of minority hiring this offseason were "not acceptable" and new ways to promote that must be explored; some of the main things he felt made 2013 a success -– "inspiring comebacks" by
Peyton Manning
and
Adrian Peterson
, "extraordinary rookie quarterbacks,"
Calvin Johnson
and
Tony Gonzalez
catching,
Aldon Smith, Von Miller
and
J.J. Watt
sacking and the fantastic final Sunday of the regular season.
3. Falcons general manager
Thomas Dimitroff
, the former Patriots director of college scouting, was a guest on the "Felger and Mazz" program on 98.5 The Sports Hub and shared some insight on coming out of the
Bill Belichick
program and attempting to build your own team. There was also talk on draft philosophy and more. I enjoyed the interview. For those interested,
you can listen here
.
September, 27, 2012
9/27/12
8:03
PM ET
New England Patriots
owner Robert Kraft was in the middle of sharing details on the NFL's eight-year agreement with regular officials when he shifted course to address the team's fans (
link here
).
"I want to speak to the fans who are frustrated, as I personally was, and I know a number of the owners were," Kraft said Thursday of the standoff that resulted in replacement officials working the first three weeks of the regular season and ignited into a full-blown firestorm after the
Seattle Seahawks
' controversial victory over the
Green Bay Packers
on Monday night.
"We really did think we had this deal done, and it's unfortunate we didn't. In the end, when you want to do something right in the long term, you have to face these hard issues, which we did. I think this is a minor blip and now we move on and we have a great long-term setup here."
To read the full news story on ESPNBoston.com,
CLICK HERE
.