New England Patriots:

Ryan Tannehill
December, 12, 2013
12/12/13
10:30
AM ET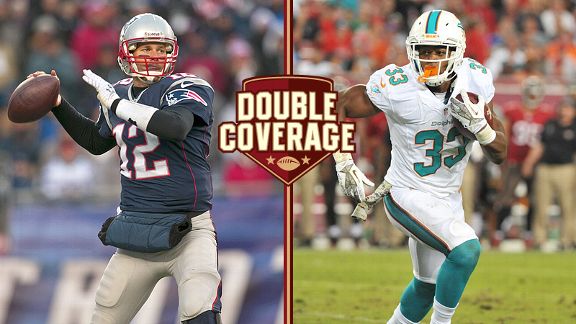 Getty ImagesWill Tom Brady lead another comeback or will Daniel Thomas' Dolphins defend their home field?
The biggest game in the AFC East this season takes place Sunday in Miami, where the
New England Patriots
(10-3) will travel to face the Dolphins (7-6).
The Patriots are trying to secure one of the top two seeds in the conference and a first-round bye. New England also can clinch its fifth consecutive division title.
Miami, on the other hand, is one of four teams fighting for the
AFC's final wild-card spot
. The Dolphins have little margin for error and need another victory.
Who will prevail in this AFC East showdown? ESPN.com Patriots reporter Mike Reiss and Dolphins reporter James Walker weigh in.
James Walker:
Mike, this is our second go-around this year. But a lot has changed since New England's 27-17 victory in Week 8. The Dolphins have gone through an immense bullying and harassment controversy involving
Richie Incognito
and
Jonathan Martin
, and the Patriots lost Pro Bowl tight end
Rob Gronkowski
for the year with a knee injury.
Still, both teams have positioned themselves well down the stretch. The Dolphins are looking at this game to make a potential statement. They know a lot of outsiders nationally will see them as a serious playoff contender with a win over the Patriots. Miami spent the entire offseason trying to close the gap, and this is a good time for the Dolphins to prove they made progress.
Mike, the Patriots played without Gronkowski before. But New England doesn't have the proven weapons of previous years. How will the Patriots adjust?
Mike Reiss:
Coaches and players have said the same thing -- there is no one player who can replace Gronkowski. He is too special and too unique of a talent. One thing that stood out since Gronkowski's return Oct. 20 was the diversity of personnel groupings the Patriots were calling on with success. Against the Steelers on Nov. 3, they scored six of their seven touchdowns out of different groupings. That is unlikely to be the case going forward, as they'll have to rely more on their receivers and running backs, while asking backup tight ends
Matthew Mulligan
,
Michael Hoomanawanui
and
D.J. Williams
to do their part.
I'm thinking big-picture here, James. From afar, it seemed like the Incognito-Martin incident could have brought the Dolphins down. So how have they been able to overcome it?
Walker:
The Dolphins showed two key characteristics: character and resilience. Miami could have packed it in, especially after losing to the then-winless
Tampa Bay Buccaneers
on "Monday Night Football." But since then, Miami has won three of four, and I think a lot of credit goes to Joe Philbin. The second-year head coach has never wavered through tough times. He remained the same person to his players and never pushed the panic button. That even-keeled mindset permeated the Dolphins' locker room and kept them focused.
Mike, how do you explain New England's penchant for second-half comebacks? Miami got a taste of that in October and is trying to avoid the same result this week.
Reiss:
Much like Philbin, whose personal resilience was evident to those who followed his coaching career as he made his way up the ranks in the New England region, this Patriots team has something special about it. It is probably their most admirable quality -- if you're going to beat them, it is going to have to be a knockout. They fight you and keep scrapping for the full 60 minutes. What we saw last Sunday against the Browns was the equivalent of the boxing referee standing over them and giving them a 10 count as they were down on the mat:
5 ... 6 ... 7 ... 8 ... 9 ... 9.5 ...
and at the last moment they spring back up and record the improbable victory. It's a dangerous way to live. It's also maddening at times for the team's fans to watch them play so poorly early in games. But they have good leadership, good depth and, as usual, they're in the playoff hunt.
The Patriots' defense has been vulnerable in recent weeks. What do you see from the Dolphins' offense that might allow them to exploit that defense and record the win?
Walker:
Well, the Dolphins are running as well as they have all season. Miami gained a season-high 181 rushing yards in last week's win over the Steelers. The ground game hasn't become an area of strength until recently. Miami should have some success running against New England's 31st-ranked run defense. The Dolphins' passing game also is more efficient. Quarterback
Ryan Tannehill
is playing solid down the stretch and spreading the ball around. Miami is on pace to have three players -- tight end
Charles Clay
and receivers
Mike Wallace
and
Brian Hartline
-- get 70 or more catches this year. That has made it hard on opponents to key on one player. Clay, in particular, has come on strong as of late. He has developed into not only a good threat in the middle of the field, but also in the red zone. Clay leads Miami with seven total touchdowns (six receiving, one rushing).
Finally, Mike, the Patriots have had their struggles on the road this year. All three losses, to the
Cincinnati Bengals
,
New York Jets
and
Carolina Panthers
, have been away from Gillette Stadium. Which Patriots team do you expect to show up in Miami on Sunday?
Reiss:
The Patriots were still in all three of those games, with a chance to win each right up until the end, so that's where I would start. We should probably expect a close game. Slow starts have been an issue for the Patriots and many wonder when that will finally catch up to them, and I could see Miami being a team that capitalizes on that. These are two of the NFL's least-penalized teams, Miami is fighting to keep its playoff hopes alive, and the Patriots are depleted and recalibrating after the loss of Gronkowski. Turnovers will be the difference-maker if the Patriots are to win it.
October, 24, 2013
10/24/13
12:00
PM ET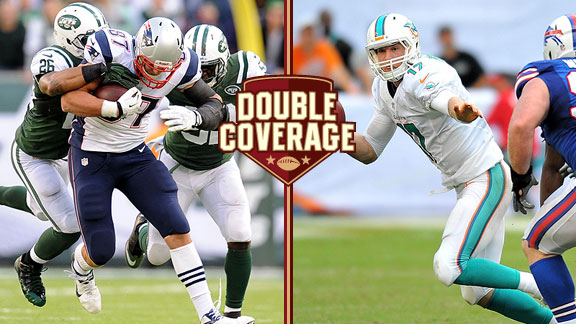 USA TODAY SportsRob Gronkowski's second game this season will be against Ryan Tannehill and the sliding Dolphins.
.
At the start of the 2013 season, a hot-button question was which AFC East team was closest to contending with the
New England Patriots
for the division championship. Most seemed to agree it was the
Miami Dolphins
, who were as aggressive as any NFL team in reshaping their roster in the offseason.
But through seven weeks of the regular season, the picture looks a bit different than many projected.
First, the Patriots' stranglehold on the AFC East doesn't seem as strong as it has been for long stretches since 2001, a span in which they have posted a 61-16 record against division foes. They are coming off a surprising 30-27 overtime road loss to the
New York Jets
to drop to 5-2.
Meanwhile, the Dolphins opened the year with three straight wins, but have slid back to the pack with three straight losses, the latest a surprising setback to the visiting
Buffalo Bills
this past Sunday 23-21.
Could the Bills and Jets be further along than the Dolphins? And are the Patriots suddenly vulnerable?
Those are topical questions to ask as the Dolphins prepare to visit the Patriots on Sunday (1 p.m. ET), and NFL Nation Dolphins reporter James Walker and NFL Nation Patriots reporter Mike Reiss help us break it down:
Reiss:
James, let's start by giving Patriots followers a feel for where things have broken down for the Dolphins.
Walker:
Where do I start, Mike? Not much has gone right for the Dolphins since their 3-0 start. The biggest problems have been on offense. With the exception of last week against Buffalo, the running game was non-existent. That made the Dolphins one-dimensional and very pass-heavy. That also let opponents know they can pin their ears back and get after the quarterback. Miami has allowed 26 quarterback sacks in six games, and a majority occurred in the second halves and fourth quarters when the Dolphins quit early on the running game. The lack of pass protection and an inconsistent running game put a lot of pressure on second-year quarterback
Ryan Tannehill
, who is trying too hard. He has seven turnovers -- five interceptions, two lost fumbles -- in the past three games. Tannehill has a lot of potential, but he's not ready to carry the Dolphins' offense by himself. The issues around him must improve, which is why the Dolphins traded this week for veteran offensive tackle
Bryant McKinnie
.
Mike, one of the biggest concerns for Miami this week is stopping Pro Bowl tight end
Rob Gronkowski
. How did Gronkowski look in his first game back and what do you expect in his second game?
Reiss:
Gronkowski was an immediate difference-maker, playing 51 of 79 offensive snaps (including penalties). So the first thing to look at this week is just his workload, which should gradually increase. When healthy, Gronkowski seldom comes off the field. As for his production, all we have to do is look at how many times he was targeted by
Tom Brady
against the Jets -- 17 times. And, of course, he finished with the eight catches for 114 yards. The Patriots are obviously a better team with Gronkowski, and it showed up Sunday, specifically in the red zone where the space gets tight. Tell us more about the Dolphins' defense and how they might defend him.
Walker:
My feeling is Miami will try to go conventional and let the linebackers and occasionally the safety cover Gronkowski. Dolphins safety
Reshad Jones
hasn't been great in coverage this season, but he's playing much better the past two weeks. I think the Dolphins should get creative with Gronkowski. One option is to have rookie defensive end and athletic No. 3 overall pick
Dion Jordan
line up on Gronkowski at times. Jordan is long, athletic and can be physical with Gronkowski at the line of scrimmage. That would be a good curveball. According to defensive coordinator Kevin Coyle, Miami's primary focus is not to worry about the receptions but to prevent the vertical plays. The Dolphins want to keep Gronkowski in front of them.
Mike, New England's defense started fast but has allowed 57 points in the past two games. Have injuries caught up with this group?
Reiss:
In a word, yes. It is still a good unit but naturally not the same without players like defensive tackle
Vince Wilfork
and linebacker
Jerod Mayo
, which has forced the coaching staff to shuffle things around. The Patriots were also without cornerback
Aqib Talib
on Sunday, and I think he's been their best defender this season. We'll see if he's back this week from a hip injury. Overall, it's still a well-coached unit and they create turnovers, as evidenced by their streak of 34 straight games with at least one. I'm sure one of the things that will be watched closely here in New England is what type of impact receiver
Mike Wallace
has on the game. Some followers of the team would have loved to see the Patriots sign him as a free agent, especially in light of the struggles the offense is having this season. How would you assess Wallace's impact in Miami? Are they happy with the signing?
Walker:
It's been a work in progress, Mike. The sense I get is it's still a feeling out process with the coaches in terms of how to use Wallace to the best of his abilities. He's a unique receiver with speed. Yet, the Dolphins don't have enough pass protection to allow Wallace to run enough "nine routes" down the field. It hasn't always been a match. But Miami is starting to do a better job of getting Wallace the football in other ways. The Dolphins have run more screens, slants and reverses to keep him involved. Wallace has had his best games this year when he gets a couple of receptions early. That's happened against Indianapolis and Baltimore, which were Wallace's two 100-yard games. If the Dolphins want to have a chance of pulling off the upset, they need at least one or two big plays from Wallace in game.
Finally, Mike, the Patriots are 5-2 but don't look as dominant as previous years. The Dolphins are struggling. But is the AFC East as a whole closing the gap on New England this year?
Reiss:
That's a good question, James, and I think this game Sunday will help us better answer it. The Patriots went down to the wire with the Bills in the season-opener and had two down-to-the-wire games with the Jets. If the same thing happens with the Dolphins, that would be some pretty good evidence to suggest that the gap in the division is indeed closing. And yet then, we are reminded of this time last year
when every team in the division was 3-3
and we thought the gap had closed. Turns out that wasn't the case. That's why I view things more through a short-term lens and spotlight this as an important game for the Patriots from an AFC East perspective as they could improve to 3-1 in the division, with division games remaining at the Dolphins (Dec. 15) and home against the Bills (Dec. 29).
.