New England Patriots:

Steve Beauharnais
May, 31, 2014
May 31
5:00
AM ET
FOXBOROUGH, Mass. -- Emptying out the notebook from the Patriots' organized team activities Friday:
Something that stood out to me late in practice was second-year linebacker Steve Beauharnais leading the defensive huddle with authority in 11-on-11 drills. I watched him put his hands on a teammate after barking out the play-call in a take-charge type of manner. Beaurharnais, the seventh-round pick from Rutgers, is a candidate to elevate into a Dane Fletcher-type reserve role in 2014.


The Patriots were light at tight end, with only Michael Hoomanawanui and undrafted rookie Justin Jones on the field. Rob Gronkowski and D.J. Williams were present but not taking part in practice, while undrafted rookie Asa Watson was at the required Rookie Premeire event. Energetic assistant coach Brian Daboll was working the tight ends hard. Jones stands out with his height (6-8, 277) and he seems to have reliable hands. Because he's so big, fluidity with footwork in tight spaces (e.g. sharp cuts in cone drills) looks like it can be a challenge for him.


With the light tight end crew, fullback James Develin broke down with the group and went through pass-catching and blocking drills with them.


There was a quick tempo to the early part of practice, with coaches urging players to get lined up quickly as the offense went through some of its plays. Things eventually slowed down, but it was a good example of how the Patriots want to have the ability to play fast and the coaches created mental stress for the players. Along those lines, there was also plenty of signaling by defensive players, and the use of headsets by the coaching staff.


Linebacker Jerod Mayo (torn pectoral muscle, Oct. 13) was on the field for most of the practice, a sign that his recovery has progressed well, as was expected after he met with reporters earlier this month.


Just as we saw in the AFC-East clinching victory in Baltimore in December, second-year player Josh Kline lined up at left guard. In this case, it was because Logan Mankins wasn't present.


Receivers Danny Amendola, Reggie Dunn and Kenbrell Thompkins, and running back Roy Finch, were a few players taking reps as punt returners. There were several parts of practice devoted to special teams, as is often the case.


While more of the practice was about teaching, receiver Julian Edelman seemed to have a productive session with several catches. At one point, after a missed connection with Tom Brady along the right sideline, he was upset with himself and showed his frustration outwardly. With Edelman and Amendola paired together at times, the Patriots still seemed to be lacking that taller outside presence on sideline and downfield throws.


Practice finished with players called over to a hill behind the second practice field, which they had to run multiple times. As Tom Brady noted later Friday night, it's an uphill climb for the team to get where it wants to go.


The next organized team activity open to reporters is Thursday.
January, 17, 2014
Jan 17
11:20
AM ET
FOXBOROUGH, Mass. -- Rookie linebacker
Steve Beauharnais
was the only player missing from
New England Patriots
practice on Friday morning, though the reason behind his absence was unclear.
Beauharnais
He was not listed on the team's injury report Thursday and has not dealt with an injury issue this season. The absence could hint at a potential roster move coming for the Patriots, as this has mostly been a red-shirt season for Beauharnais.
Aside from Beauharnais, there was full attendance at practice, including the third straight day of work for both wide receiver
Aaron Dobson
and punter
Ryan Allen
.
Dobson, who had not practiced following a Week 17 injury until this past Wednesday, said earlier Friday in the locker room, "Right now, I feel like it's OK. I have to do what I have to do. I'm trying not to think about it, go out there and do what I can do, and do it the best I can."
Allen, meanwhile, has toughed through a sprained AC joint this week, which was suffered in a divisional round win against the Colts.
Head coach Bill Belichick spoke to Allen's mental toughness on Friday morning in handling adverse circumstances during his rookie season.
"Mentally, he's shown a lot of toughness and competitiveness to do what he needs to do, whether it be wind, rain, snow, cold, what have you," he said.
The Patriots practiced in helmets and shells for their final on-field tuneup before traveling to Denver later today.
November, 7, 2013
11/07/13
12:00
PM ET
The
New England Patriots
have received significant contributions from their rookie class this season. In Bill Belichick's 14 years as head coach, this season ranks near the top of the list, if not at the top, in this area.
Following up Field Yates'
progress report
on second-year players from this morning, here is a rookie breakdown (alphabetical order):
Allen
Punter Ryan Allen:
The undrafted free agent ranks 10th in the NFL with a 46.4 average and 16th in net punting (39.9) as he's proven to be up to the task of replacing veteran
Zoltan Mesko
. He's also the holder on field goals, and
Stephen Gostkowski
is 22 of 23 this season. Allen's eight touchbacks are tied for the NFL high, which is an area for improvement.
Guard Chris Barker:
Claimed on waivers from the Dolphins at the final roster cutdown, the undrafted free agent from Nevada dressed for the first three games of the season as veteran backup
Will Svitek
was working his way back from a knee injury, but hasn't played on offense. This looks like a red-shirt year for him as the Patriots have avoided the risk of another team claiming him on waivers (Dolphins?) should they try to move him to the practice squad.
Linebacker Steve Beauharnais:
The seventh-round draft choice from Rutgers has dressed for three games, but hasn't played on defense. This appears to be more of a red-shirt year for him.
Receiver Josh Boyce:
The fourth-round draft choice from Texas Christian played in the first five games (1 catch, 24 yards) but has been inactive for the past four as veteran
Austin Collie
was viewed as a more consistent option. Boyce is one of the fastest receivers on the team, but appears to need a little more time to put it all together.
Defensive end Michael Buchanan:
The seventh-round pick from Illinois opened the season as the primary right defensive end in sub packages, but a few struggles with rush-lane integrity (Oct. 6 vs. Bengals and Oct. 20 vs. Jets) led to the signing of veteran
Andre Carter
, who has since taken over that role. Buchanan contributes on special teams and is now No. 4 on the overall defensive end depth chart, with obvious upside.
Linebacker Jamie Collins:
The second-round pick from Southern Mississippi has been a core special teams player and was integrated a bit more defensively after linebacker
Jerod Mayo
was lost to a season-ending injury Oct. 13. But after flashing a bit Oct. 20 vs. the Jets, he was pushed around in the first half against the Dolphins on Oct. 27 and has played sparingly on defense since. He has all the tools, but appears to need a bit more time.
Dobson
Receiver Aaron Dobson:
The second-round pick from Marshall has come on strong in recent weeks, elevating to the top spot on the depth chart as the X outside target. He has 31 receptions for 454 yards with four touchdowns, and at 6-foot-3 and 200 pounds gives the Patriots a combination of size and speed that they haven't had at the position since Randy Moss.
Safety Duron Harmon:
Considered a reach as a third-round pick, the Rutgers product has been a top backup behind starters
Devin McCourty
and
Steve Gregory
, playing in some sub packages. He also filled in on special teams when core player
Tavon Wilson
was out with a hamstring injury. Teammates have talked about his smarts and his professional approach.
Defensive tackle Chris Jones:
Claimed on waivers from the Buccaneers on Sept. 11, he earns our vote for Patriots "rookie of the first half" with five sacks in six games played. At 6-foot-1 and 309 pounds, his quickness has been an asset as an interior rusher, and he's been competitive from a strength/physical standpoint on run plays. Waived by the Texans, who drafted him in the sixth round, he briefly landed in Tampa before the Buccaneers let him go and the Patriots pounced. He has proven to be a steal.
Ryan
Cornerback Logan Ryan:
The third-round pick from Rutgers has made some big plays, such as an interception return for a touchdown against the Jets on Oct. 20, as he's been thrust into a top reserve role in recent weeks with
Aqib Talib
out. At 5-foot-11 and 195 pounds, he has mostly been competitive in coverage and shown a willingness to play the run.
Receiver Kenbrell Thompkins:
The undrafted free agent from Cincinnati has slid down the depth chart the past two weeks after serving mostly as the primary X option on the outside (23 catches, 334 yards, 4 TDs) through the first seven games. He made the big game-winning catch against the Saints on Oct. 13, but has since been passed on the depth chart by Dobson.
Defensive tackle Joe Vellano:
The undrafted free agent from Maryland is one of the surprises of the season. After opening the season as the No. 3 option behind
Vince Wilfork
and
Tommy Kelly
, he has been thrust into a starting role as both veterans have been lost to season-ending injuries. At 6-foot-2 and 300 pounds, he might be viewed as undersized by some, but he wins with technique and scrappiness.
September, 21, 2013
9/21/13
11:00
AM ET
Before the New England Patriots play a game, we'll attempt to predict the team's inactive players.

Our best guess on the list for Sunday's home game against the
Tampa Bay Buccaneers
:
Danny Amendola
-- Receiver was listed as doubtful on the injury report (groin) and doesn't look like he's ready to play at this point.
Steve Beauharnais
-- Linebacker was a healthy scratch last week, as his primary contributions would come on special teams at this point.
Brandon Bolden
-- Running back has missed the first two games and is questionable with a knee injury. The Patriots could use his special-teams presence with
Matthew Slater
out, but he might need a little more time. He said Friday that he was unsure of his status.
Dan Connolly
-- Starting right guard has been limited all week with a finger injury, which raises questions about his availability. Could mean
Marcus Cannon
steps in.
Rob Gronkowski
-- If this was a playoff game, or even the Super Bowl, the feeling is that the tight end would be ready to play. But no need to rush things in Week 3 of the regular season.
Chris Jones
-- Defensive tackle was claimed on waivers last week from the Buccaneers and is still being integrated into the system.
Matthew Slater -- Special-teams captain has already been declared out with a wrist injury.
Extra point:
With Slater out, safety Kanorris Davis could be in line for a promotion from the practice squad. If that happens, tight end
Matthew Mulligan
and defensive tackle Chris Jones would be candidates to potentially create a spot for Davis.
August, 31, 2013
8/31/13
3:00
PM ET
Sharing non-
Tim Tebow
-based thoughts on some of the Patriots' roster moves today:
1a. The change at punter, with
Zoltan Mesko
out and rookie
Ryan Allen
in, has many layers. Both showed this preseason that they are deserving of punting in the NFL this season and that's why I took the unconventional approach of keeping both on a
final 53-man roster projection
(the idea being that maybe it would have been easier to slide Allen to the practice squad after a few weeks). Allen's upside is obvious; his leg is a bit stronger than Mesko's. But Mesko's control and directional punting seemed a notch above over the course of training camp and the preseason. However, Allen's three second-half punts on Thursday might have been the clincher, which showed his potential when it comes to control and directional punting.
Mesko
Allen
1b. Economics shouldn't have been the primary reason for the decision to go with Allen over Mesko, but it has to be a consideration. Mesko was due to earn $1.3 million in the final year of his contract. Allen has a three-year contract and is due to earn $405,000 this season.
1c. There is a trickle-down effect when it comes to the field-goal operation, as Mesko has served as the primary holder for kicker
Stephen Gostkowski
. Allen didn't hold at Louisiana Tech, but he's worked on the skill since joining the Patriots. Allen will likely become the primary holder, although backup quarterback
Ryan Mallett
could also be a consideration for the role.
1d. In 2005, the Patriots released rookie kicker
Robbie Gould
after an impressive camp and later regretted it when
Adam Vinatieri
departed in free agency the following year. I wondered how much that experience might have played a factor in this decision.
1e. Mesko goes down as one of the players who was most fun to cover. He also seemed most genuine and his farewell message to fans was most classy. One of my favorite personal memories of Mesko was how he was brought to tears after receiving the team's community service award in 2012. It meant so much to him and the emotions took over.
2. The biggest surprise has come among the reserves at defensive end, with
Justin Francis
,
Marcus Benard
and
Jermaine Cunningham
all being cut. They projected to the 3-4-5 spots on the depth chart. Health was likely a factor with Francis and Cunningham, as they have been sidelined. There is always the possibility for them to return if not picked up elsewhere, but an initial thought is that 2013 seventh-round pick
Michael Buchanan
(
previous film breakdown
) has impressed to the point that the coaching staff felt comfortable letting go of more experienced depth at the position.
Buchanan was impressive on Thursday
.
3. Tight end
Michael Hoomanawanui
was scheduled to earn $1.3 million, but he's agreed to reduce the salary this year with the chance to recoup some of the earnings in incentives, which helped him stick on the roster. Hoomanawanui's smarts, professionalism and dependability made an impression on the coaching staff last season. That he was the last tight end standing among the group of himself,
Jake Ballard
and
Daniel Fells
is a minor surprise.
4. The release of defensive tackle
Marcus Forston
was a mild surprise from this viewpoint. This could mean that rookie defensive tackle
Joe Vellano
is the top backup behind
Vince Wilfork
and
Tommy Kelly
.
Vellano caught the eye early in training camp
, but still didn't think he'd top Forston at this point.
5. Still waiting to hear the fate of presumed bubble players like Vellano, safety
Adrian Wilson
, running back
Leon Washington
, linebacker
Jeff Tarpinian
, fullback
James Develin
and linebacker
Steve Beauharnais
.
August, 31, 2013
8/31/13
5:00
AM ET
August, 29, 2013
8/29/13
7:43
PM ET
August, 17, 2013
8/17/13
5:15
PM ET
After rewatching the second half of the Patriots' preseason win over the
Tampa Bay Buccaneers
on Friday night, here are some picked-up notes and observations:
1. On just the second play of the second half, the Bucs tested the Patriots' secondary deep with a throw down the field from strong-armed quarterback
Mike Glennon
. Rookie cornerback
Justin Green
had the coverage of
David Douglas
, with safety
Tavon Wilson
over the top in deep coverage. The throw was put in a decent spot, and the coverage was fine, too. What the most important aspect from this view was that Wilson was in the vicinity of the play, tracking the throw and getting to his spot. That's an area he struggled in last season. If he wants to contribute defensively with the Patriots, he'll need to be accountable to patrol the deep part of the field.
2. Facing a second-and-6 on their opening drive, the Bucs handed the ball off to
Peyton Hillis
for an off-tackle run to the left side of his line. The Patriots were in a 3-4 alignment with
Marcus Forston
at the nose tackle spot, head-up on the center. At the snap, Forston was jarred back and failed to anchor in his base, got washed back and then laterally down the line. Forston has showed up as an interior rusher during one-on-one drills (and he had a nice tackle for loss last night, too), but in order to cement his status as the third defensive tackle, he needs to consistently hold up in the running game. That means being able to anchor at the line of scrimmage and give his linebackers room to run and hit behind him.

3. The defensive play of the evening went to rookie cornerback
Logan Ryan
, who undercut a quick out, intercepted Glennon and took it back for a score. The defensive play call appeared to be Cover 5 (man coverage with two deep safeties), and Ryan had head-up leverage on his receiver. He worked to jam his receiver at the top of his route, rotating his eyes back to the quarterback to read his progression. Ryan quickly diagnosed the underneath route and throw, picking the ball off and sprinting down the sideline 53 yards. This came just a week after he dropped an easy interception against the Eagles. He led all defensive players with 66 snaps.
4.
Tim Tebow
had just one completion on Friday night in a performance that he'll look to improve upon in future preseason action. He tried to hook up with
Zach Sudfeld
on a seam-stretching throw with 6:14 left in the third quarter, a common theme from the Patriots offense thus far in camp. One aspect to this play is that the quarterbacks have been able to throw to an area as much as they throw to a specific target because Sudfeld has a big catch radius and good length to reach above or around defenders (as he did on his second-quarter score). Tebow put the ball in the vicinity of Sudfeld, but the linebacker chasing him in coverage got his hands up on the throw, which was too short. He needs to put it in a spot where Sudfeld can use his frame to make a play on the ball.
5. Seventh-round linebacker
Steve Beauharnais
hasn't necessarily flashed in an overly positive or negative way during camp, but he showed some glass-eating toughness as a run-stuffer on Friday night. For example, with 5:00 to go in the third corner, the Bucs looked to run a lead isolation play with a tight end serving as a blocker from the backfield. Beauharnais ran downhill to meet contact with contact, squaring up the tight end and jarring him backward. That's the kind of stacking the Patriots want from their 'backers in the running game, as it frees up fellow defenders to seek the ball and make tackles.
6. There's been a lot of talk about whether the Patriots will be a 3-4- or 4-3-based team this season, but the truth probably lies somewhere in between. Starter
Rob Ninkovich
is the pivot player, as he will be used from either a stand-up or hand-in-the-dirt alignment (Belichick has previously called Ninkovich an end-of-the-line player). What the variety of fronts means is that players who are used to working as edge rushers, such as
Chandler Jones
and
Jake Bequette
, are going to have to play in a reduced front on certain calls (a 5-technique on the tackle's outside shoulder). Bequette took a few snaps in reduced fronts on Friday night, and he'll have to prove he has the strength and base to hold up at the point of attack. He was mostly an edge rusher in college at Arkansas.
7. During his Saturday conference call with reporters, head coach Bill Belichick backed kicker
Stephen Gostkowski
, who has missed three kicks already this preseason. Part of his answer included an allusion to the fact that field goal makes or misses are a team operation (including the snapper, holder and protection). Not to absolve Tebow of his fourth-quarter interception, but, in a way, the play relates to a missed field goal. A shotgun snap from
Matt Stankiewitch
nearly sailed over Tebow's head, disrupting the rhythm of the play. Again, Tebow's throw was not nearly good enough, but Stankiewitch did his quarterback no favor, either.
8. We touched on this during our postgame takeaways, but it became even clearer after a second viewing:
Zoltan Mesko
was substantially better in the punting competition last night, landing one punt on the Bucs' 9-yard line late in the fourth quarter.
Ryan Allen
has been good -- at times very good -- in practice, but he's had two pedestrian game showings. Though Mesko carries a big salary for this season ($1.323 million), he's giving the Patriots no reason to think he isn't worth it.
9. A general thought that applies to both sides of the ball: The Patriots have solid starters in place, but the depth is an area that might need to be addressed. On the offensive line, it appears that the team feels good about seven players (the starters, plus
Marcus Cannon
and
Will Svitek
), but we feel like there's a drop-off after that point. Defensively, the third tackle spot appears to be wide open.
10. We said this last week, and we'll reiterate it today: would love to see more of running back
Brandon Bolden
. He was on the field during the opening drive of Friday's game and got some carries later in the game as well. He's typically productive with each touch he receives, showing good bounce to get to the edge, speed and vision. In our estimation, he's just behind
Stevan Ridley
as the team's most natural runner. Perhaps we'll see more of Bolden as the preseason continues.
July, 19, 2013
7/19/13
5:00
AM ET
(Continuing a month-long series analyzing players who are on the roster bubble and where they may potentially fit in 2013.)
NAME:
Steve Beauharnais
[+] Enlarge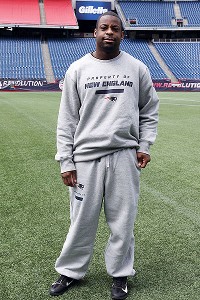 AP Photo/Michael DwyerSteve Beauharnais could face an uphill battle to secure a roster spot.
POSITION:
Linebacker
AGE:
23
2012 STATS:
13 games (13 starts), 83 tackles (6.0 for loss), 1 sack, 1 interception, 1 pass defensed -- at Rutgers
INJURY STATUS:
No known injuries.
CHANCE OF MAKING 53-MAN ROSTER:
60%
WHY HE SHOULD MAKE IT:
Known as a hard-working, fundamentally sound player, Beauharnais could fit the Patriots mold early on. It's unlikely that he will have any significant contributions on defense, at least initially, but he could bring value down the road, especially if
Brandon Spikes
departs through free agency next spring. If Beauharnais shows promise this preseason -- it wouldn't be shocking if he led the defensive huddle in the second halves of those games -- then he could be a developmental piece worthy of a spot.
WHY HE SHOULD NOT MAKE IT:
The Patriots have been deep at most positions in most years, so it's far from a given that any seventh-round pick will stick on the 53-man roster in New England. While he was a solid defensive player at Rutgers, Beauharnais will need to make his mark on special teams with the Patriots. In doing so, he'll be going up against several players adept in that phase of the game. Linebacker is one of the most well-stocked groups on the roster, which could make the practice squad a more likely option for the team's final draft choice this April.
CLOSEST COMPETITION:
LB
Jeff Tarpinian
, LB
Mike Rivera
, LB
Niko Koutouvides
May, 12, 2013
5/12/13
2:00
PM ET
We conclude our scouting report series with a look at Patriots seventh-round draft choice
Steve Beauharnais
, the team's final selection in 2013.
[+] Enlarge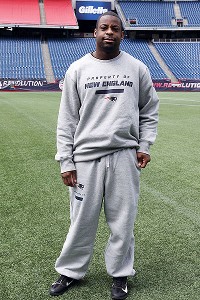 AP Photo/Michael DwyerSteve Beauharnais could face an uphill battle to secure a roster spot.
Alignment:
Beauharnais played as a stand-up linebacker for Rutgers, both in the middle of the defense and as a (mostly) strongside player. He was also used on occasion as an edge rusher for the defense.
Build/athleticism:
Beauharnais has the size and frame of a weakside NFL linebacker, as he checks in at 6-feet and roughly 240 pounds. He has a thick upper half and broad shoulders. He's a good overall athlete who flashes reliable movement skills, speed and quickness. He has sufficient agility and lateral quickness to move from sideline to sideline.
Skills/traits:
Beauharnais shows solid instincts as a run defender and is a technician in taking on blocks. He squares his shoulders up and is unafraid of contact. He shows good ability to "sort through trash" in the middle of a running play and is a reliable tackler. He has sufficient quickness off the edge as a rusher but did not show an extensive arsenal of rush moves. As a coverage player Beauharnais is also sufficient, showing enough speed to carry tight ends up the field, but quicker targets will beat him laterally at the top of routes. He's a tough and physical player, much like his Rutgers teammates drafted ahead of him.
Projection:
The avenue Beauharnais probably needs to take toward securing a roster spot is on special teams. The Patriots have a trio of penciled-in starters at linebacker with
Jerod Mayo
,
Dont'a Hightower
and
Brandon Spikes
, as well as
Jamie Collins
and
Dane Fletcher
among the backups behind them. Beauharnais projects to be a capable special-teams player at the NFL level with good toughness and enough speed to serve as a coverage player. He has backup linebacker potential, and will have to play bigger than his 6-foot frame. A reliable draft choice who was considered a high-quality teammate coming out of Rutgers, he could develop into an end-of-the-roster player as a rookie or perhaps a practice squadder.
April, 27, 2013
4/27/13
7:14
PM ET
FOXBOROUGH, Mass. -- The Patriots have had some solid success in the seventh round in Bill Belichick's tenure, using the draft's final round to take some risks and think a little bit outside the box.
Examples of seventh-round "hits" by the Patriots include running back
Patrick Pass
, receiver
David Givens
, outside linebacker
Tully Banta-Cain
, quarterback
Matt Cassel
, receiver
Julian Edelman
, defensive lineman
Brandon Deaderick
and cornerback
Alfonzo Dennard
.
Given that track record, the team's two seventh-round picks this year -- Illinois defensive end/outside linebacker
Michael Buchanan
and Rutgers linebacker
Steve Beauharnais
-- shouldn't be overlooked.
Buchanan is an edge player who projects to join the group including
Chandler Jones
,
Rob Ninkovich
,
Justin Francis
,
Jermaine Cunningham
,
Jake Bequette
,
Marcus Benard
,
Jason Vega
and possibly top 2013 Patriots draft pick
Jamie Collins
.
Buchanan seems like a worthy investment at this point in the draft, an example of a player whose stock was hurt by the timing in which he entered the draft. Because Buchanan had what some considered a disappointing senior season at Illinois, his stock slipped.
From this perspective, any pass-rusher with some unique traits is worth a look. A team can never put enough pressure on opposing quarterbacks.
As for Beauharnais, some might joke that Bill Belichick had adopted the "best Rutgers player available" philosophy as Beauharnais is the third Scarlet Knight picked by the team this year.
But in truth, Beauharnais was expected to be picked in the middle rounds and thus, in the eyes of some, represents a solid value in the seventh. He's considered smart, physical and versatile.
The Patriots were thin at linebacker last season, which forced them to move Rob Ninkovich from end to strongside linebacker at times, but they've built some better depth in the draft and Beauharnais could be part of the mix if he emerges on special teams.
Looking ahead, with the Patriots not selecting an offensive lineman, that figures to be one of the top areas they pursue in rookie free agency.
April, 27, 2013
4/27/13
6:53
PM ET
FOXBOROUGH, Mass. -- The Patriots selected Rutgers linebacker
Steve Beauharnais
with their final draft pick, a seventh-round selection (235th overall).
Beauharnais is the third player from Rutgers picked by the Patriots. Belichick's connection to Rutgers is well-documented; his son Steve played football there, and Belichick has a close friendship with former Scarlet Knights coach Greg Schiano.
Beauharnais (6-0 7/8, 240) ran 4.84 in the 40-yard dash and was projected as a fourth- to fifth-round selection by the Pro Football Weekly draft preview, which noted that he recorded the best 20-yard short shuttle (4.20 seconds) and best 3-cone drill time (6.99) of any inside linebacker at the combine.
Beauharnais, who appears to have some positional flexibility, is considered a physical player with the smarts to line up a defense. To earn a spot on the roster, he'll also likely have to factor into the special-teams mix.
Beauharnais had 83 tackles and one interception last season.