New England Patriots:

Tampa Bay Buccaneers
September, 22, 2013
9/22/13
12:40
PM ET
Join our ESPN.com NFL experts as they break down the Tampa Bay Buccaneers' visit to the New England Patriots. Contribute your thoughts and questions beginning at 1 p.m. ET. And, be sure to visit our
NFL Nation Blitz page
for commentary from every game, as well as fan photos and the latest buzz from Twitter. See you there.
September, 19, 2013
9/19/13
12:00
PM ET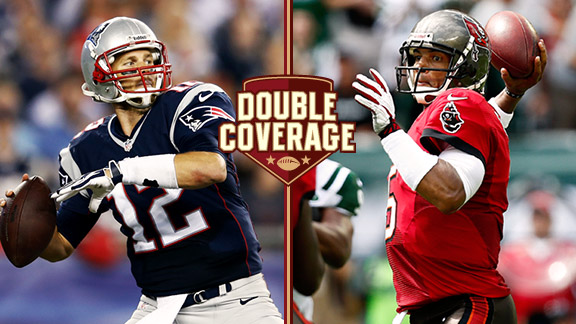 Jim Rogash/Getty ImagesTom Brady, left, and Josh Freeman both hope their respective offenses can get on track on Sunday.
In mid-August, the
New England Patriots
welcomed the
Tampa Bay Buccaneers
for three days of joint practices before the teams played each other in a preseason game. Now they meet again.
"I think the work we did against them in training camp was good for our development as a team, but I'm not really sure how much carryover that will have into the game other than just the familiarity with some of the players we went up against," Patriots coach Bill Belichick said this week. "Scheme-wise, it's all game planning now. It's not just going out there and working on the things that both teams are working on. I'm sure it will be geared very specifically, both ways, toward the opponent."
Here's a breakdown of the matchup from both sides:
Reiss
: When discussing Sunday's matchup between the 2-0 Patriots and 0-2 Buccaneers, Belichick said he views the Buccaneers more as a 2-0 team than an 0-2 team. That might not go over well with Hall of Fame coach Bill Parcells, who once said, "You are what your record says you are." Pat, you've seen the Buccaneers up close in their last-second losses to the Jets and Saints, so we'll ask you the question: What are the Buccaneers?
Yasinskas
: Mike, quite simply, the Bucs are a team in disarray. Coach Greg Schiano and quarterback
Josh Freeman
aren't on the same page, and that situation seems to grow more combustible each week. If the Bucs start off 0-4, I anticipate that they'll turn things over to rookie quarterback
Mike Glennon
after the bye. But the problems aren't just the quarterback play. The whole team is dysfunctional and the Bucs aren't playing smart football. Schiano prides himself on having a disciplined team, but that's not what the Bucs are right now. They've had more than 100 yards in penalties in each of their first two games, and you're not going to win many games that way. Speaking of a team being what its record says it is, the Patriots haven't been dominant, but they are 2-0. How good are they?
Reiss
: The story of the first two games of the season has been the struggles of the once-lethal passing game.
Tom Brady
's frustrations boiled over at times in last Thursday's 13-10 victory over the Jets. He had developed an early chemistry with
Danny Amendola
, but Amendola is sidelined with a groin injury. Since tight end
Rob Gronkowski
has also been hurt and missed the first two games, the Patriots were without two top weapons in Week 2, so Brady was throwing mostly to five-year veteran
Julian Edelman
and rookies
Kenbrell Thompkins
(undrafted),
Aaron Dobson
(second round) and
Josh Boyce
(fourth round). The defense has kept them in games, but it also seems fair to ask the question: Would the results would have been different if the opponents had been stronger than the Bills and Jets? From afar, it seems that the Buccaneers' defense has some good things going. Is perception the reality on that side of the ball?
Yasinskas
: Tampa Bay's defense has been a bright spot. The revamped secondary is holding up well and the Bucs are generating a pass rush. Defensive end
Adrian Clayborn
, defensive tackle
Gerald McCoy
and linebackers
Mason Foster
,
Lavonte David
and
Dekoda Watson
are playing very well. This defense is good enough to keep the Bucs in any game. But the problem has been the offense. There's been no rhythm to the passing game, and I suspect the Bucs may rely even more on
Doug Martin
and the running game. How is New England's run defense?
Reiss
: In the season opener, New England was in its sub-defense for all but two snaps and did an excellent job on dangerous Bills running back
C.J. Spiller
(2.4-yard average). Last Thursday against the Jets, there was some more base defense, and I thought it was an off day for Pro Bowl defensive tackle
Vince Wilfork
, who is the anchor of the run defense. The Jets had success. Similar to the plan against the Bills, I'd imagine the Patriots will make limiting Martin priority No. 1, and then they figure to pay extra attention to receiver
Vincent Jackson
. With two top-of-the-line skill-position players in Martin and Jackson, why have the Buccaneers struggled so much on offense through two games?
Yasinskas
: They really miss left guard
Carl Nicks
, who has been out with an MRSA staph infection. But there seems to be some optimism that Nicks might be able to play this week. If he does, it will mark the first time the Bucs have had Nicks and
Davin Joseph
together as their starting guards. That's a scenario the Bucs dreamed of when they signed Nicks as a free agent last year. But Joseph went down with a knee injury last preseason and missed the season, and Nicks missed half of the season with a foot injury. If Nicks and Joseph are healthy and on the field together, they could be the league's best guard tandem, and that's going to help Tampa Bay's run and pass blocking.
August, 15, 2013
8/15/13
9:29
PM ET
FOXBOROUGH, Mass. -- The Patriots host the
Tampa Bay Buccaneers
on Friday in the second preseason game for both teams (Fox, 8 p.m. ET), and here are a few things we'll be keeping a close eye on:

1. Brady and the quarterback reps.
After Wednesday's scare, in which he suffered a bruised left knee, quarterback
Tom Brady
returned to practice Thursday and wore a knee brace while going through the entire practice without limitation. Brady played 16 snaps in the preseason opener, and perhaps the coaching staff alters its plans against the Buccaneers based on the injury. Top backup
Ryan Mallett
played 25 snaps in the opener and could be line for more work.
Tim Tebow
was on for 31 snaps in the opener. One more thought on this: Let's also watch the matchup of Patriots left tackle
Nate Solder
versus Buccaneers defensive end
Adrian Clayborn
, since it was Clayborn's bull-rush -- during which he pushed Solder back -- that led to Brady's injury.
2. Sturdy run defense with the front seven.
Buccaneers running back
Doug Martin
can be a handful and represents a good test for a Patriots front seven that should have
Rob Ninkovich
and
Chandler Jones
at end,
Vince Wilfork
and
Tommy Kelly
at tackle and a linebacker trio of
Brandon Spikes
(middle),
Dont'a Hightower
(strongside) and
Jerod Mayo
(weakside). Not that there figures to be any big game planning for a preseason game, but the Patriots talk often about making the opposition one-dimensional by taking away the run. With limited opportunities in preseason to work on run fits with live tackling, this will be one of their best chances to do so.


3. Ballard ready for increased workload?
Tight end
Jake Ballard
remains a player of interest from this perspective. Returning from serious knee surgery in 2012, he has been managed carefully in practice and played 12 snaps in the preseason opener, all with the first-unit offense. The top tight-end pairing of late has been Ballard and rookie free agent
Zach Sudfeld
. With veteran
Daniel Fells
unlikely to suit up -- he's been out of practice the past few days due to an undisclosed injury -- is Ballard ready for some more work? If so, the areas we'll be watching closest are his inline blocking and how more snaps might affect his knee.
4. Bounce-back for Gostkowski and field goal operation.
Kicker
Stephen Gostkowski
missed field goals from 44 and 53 yards in the preseason opener -- not exactly chip shots -- and, as Bill Belichick sometimes points out, it isn't always on the kicker. It's the entire operation -- snap, hold, kick. Gostkowski, who hit from 34 yards in the game, looks like he's had a strong week of practice. Also on special teams, the ongoing competition between incumbent punter
Zoltan Mesko
and rookie
Ryan Allen
is a good one. Allen has a strong leg but the key for both is going to be consistency.
5. Can the rookie receivers do it again?
We've spent a lot of time focusing on the rookie trio of
Aaron Dobson
(second round),
Josh Boyce
(fourth round) and
Kenbrell Thompkins
(undrafted) and their assimilation into the offense. So far, so good. Brady had made the point that by the middle of training camp the team would have a better feel on its receiving corps, and one thing is clear: The rookies are a big part of it. Of the group, Thompkins might be the most impressive to this point. He had four catches in the preseason opener and was on the same page with Brady early.
November, 2, 2012
11/02/12
4:00
PM ET
Tampa Bay Buccaneers
head coach Greg Schiano met with the local media in Tampa on Friday and offered his first remarks on the trade of cornerback
Aqib Talib
to the Patriots.
He said the deal, which landed his team a fourth-round pick in 2013 in exchange for Talib and a 2013 seventh-round pick, was motivated by what is best for the organization.
"Just like any move we make, we put a lot of thought into everything we do, and at the end of the day, our main motivation, our sole motivation is what's best for the organization," Schiano said. "With all factors considered, we had an opportunity to make a trade and be compensated in some way, a fourth-round pick. At the end of the day, when we did all of the comparisons and different things, we think this is what's best for the Tampa Bay Bucs moving forward. That's really, like I've told you guys, every decision is made with the same criteria."
Schiano added that this was a move that is best for the organization not just in the future, but the present as well. He noted that he was appreciative of Talib's time in Tampa during his tenure as the head coach.
"I appreciate, the time that I was here, other than this incident that happened when he was suspended, I enjoyed really coaching Aqib," Schiano said. "And for me, he's done a -- he worked his tail off. Everybody didn't play great at times. I didn't coach great at times. But as far as what he did for us while I was here, and I've said it many times, I'm not naive to what happened before, I do appreciate it and I wish him well going forward."
The first-year head coach said Talib's recent four-game suspension (which has one game remaining) was not the only factor leading into the trade.
"I think there's never any decision that is this or that, everything is coupled together," Schiano continued. "Plus the opportunity that presented itself, so it all factored in. I wouldn't say there's any one thing that made or didn't make the decision."
October, 24, 2009
10/24/09
5:17
AM ET
Both the Patriots and Buccaneers have canceled Saturday's planned walk-throughs at Wembley Stadium. The Patriots will instead "practice" at the team hotel, according to the team's Twitter feed.
The cancelations are due to rain. The weather will be something to keep an eye on. Poor field conditions were a factor for the Dolphins and Giants when they played at Wembley in 2007.
October, 23, 2009
10/23/09
12:47
PM ET
A roundup of how folks at ESPN are picking Sunday's game between the Patriots and Bucs in London. Not a single expert picked the Bucs, who are more than two-touchdown underdogs.
ESPNBoston.com's Mike Reiss: Patriots 31, Bucs 13. If not for the long trip, the gap would be even wider.
ESPNBoston.com's Chris Forsberg: Patriots 31, Bucs 3. The most underwhelming event at Wembley Stadium since the Ultimate Warrior defeated "Macho Man" Randy Savage by countout at WWF's SummerSlam 1992.
Hank Goldberg: Patriots in a rout.
NFL Live: Tedy Bruschi, Mark Schlereth and Trey Wingo all pick the Patriots.
Sunday Countdown: Mike Ditka, Keyshawn Johnson, Cris Carter and Tom Jackson all pick the Patriots.
Patriots-Bucs Madden simulation: Patriots 30, Bucs 13.

Bill Simmons: "TB/TEN secondaries back-to-back turn Brady into a fantasy stud again. Wouldn't it be fun if London's fans booed the 'Patriots' like crazy?"
ESPN experts: All 10 of those polled picked the Patriots.
Make your picks for all of Sunday's games in this SportsNation feature or in our Pigskin Pick 'Em contest.
October, 23, 2009
10/23/09
12:07
PM ET
CBS analyst Phil Simms, who will work his fourth straight Patriots game this Sunday, shares his thoughts on different aspects of this week's matchup between the Patriots and Bucs.
On Tom Brady's six-touchdown performance last week: "The evaluation of him every week is going overboard. Everybody's trying to evaluate every single one of his throws, the status of his knee -- it's endless. It's ridiculous, but that's what we all do. And, last week in those conditions, it's not the six touchdown throws. It's not the numbers. It's the physical performance that was impressive. The fact that he controlled the football, throwing it with touch, power, accuracy, and everything you want in a perfect day against a bad defense. But he also did it on one of the worst days he's probably played in, and on one of the worst fields he's ever played on. And, he still did all those things. So that's what's impressive, no matter if you're Peyton Manning, Tom Brady, Dan Marino or anyone else. Confidence can never hurt an athlete's performance. So to have such an outstanding statistical game has to build his confidence."
On the winless Buccaneers: "The big thing this weekend is that it's an extremely tough matchup for the Tampa Bay Buccaneers. I don't just mean that because they're 0-6. I mean that just from the scheme and skill of their players. It's not a great match for them against the New England Patriots. The style that each team plays doesn't serve Tampa well. In games like this, if you're undermanned you have to find ways to make it even. I'm not saying trick plays, but changing things a little bit to hopefully catch the Patriots by surprise. Then you hope to make plays. When you're a team like Tampa, you're 0-6, you're just trying to get into the fourth quarter with the game still in doubt, and then you try to win it, or steal it or whatever phrase you want to use. To me that's going to be Tampa's game plan for this weekend."
On the NFL playing a game in London: "It is good for the game. I was there last year for CBS' game in London. The excitement is real, not only with the Americans that live over there but also all the British people that I met. Most of them were very excited and, by and large, the number one comment I got from them was 'How come there's not more.' When the game was over, we went out to eat and almost every single person in the place was coming up to us and asking questions. They wish there were more games, and one of the guys asked us, 'Why can't they just send one game over here a week?' It shows you a lot about American football. You don't have to know all the rules. No matter who you are, as you watch it, it's easy to see and sense the excitement. It's easy to understand the skill of the players and what's happening. That is why it has such a tremendous attraction."
October, 21, 2009
10/21/09
5:39
AM ET
Getting to know the Tampa Bay Buccaneers, the Patriots' next opponent, with 10 quick-hit thoughts:
1. They are 0-6, with home losses to the Cowboys, Giants and Panthers, and road defeats to the Bills, Redskins and Eagles.
2. Raheem Morris, 33, is in his first season as head coach. He played collegiately at Hofstra from 1994-97 and has risen quickly up the coaching ranks, promoted to the top job after most recently serving as Tampa Bay's defensive backs coach.
3. Veteran assistant Jim Bates, who worked under Bill Belichick in Cleveland, is the defensive coordinator. Former Boston College coach Jeff Jagodzinski was initially hired to be offensive coordinator, but he was relieved of his duties before the season and replaced by Greg Olson.
4. Josh Johnson, a 2008 fifth-round draft choice out of University of San Diego, has replaced Byron Leftwich as the starting quarterback. He's athletic, as evidenced by his 141 rushing yards ranking second on the team.
5. Opponents are averaging 8.47 yards per pass attempt, which ranks the Buccaneers' pass defense 32nd in the NFL. Opponents are averaging 6.78 yards per first-down play, which also ranks the Buccaneers' defense 32nd.
6. Cornerback Aqib Talib, a first-round draft choice out of Kansas in 2008, leads the team with three interceptions.
7. They've struggled with field goals with Mike Nugent (2 for 6) and Shane Andrus (0 for 1) accounting for the worst field goal percentage in the NFL. Andrus is now the primary kicker.
8. Tight end Kellen Winslow is the leading receiver, with 29 receptions for a team-high 286 yards and four touchdowns.
9. One bright spot has been on kickoff returns, where they rank first in the NFL with a 29.5 average. Rookie Sammie Stroughter has a 97-yard kickoff return for a touchdown. Their kickoff return coverage ranks second in the NFL, holding opponents to a 19.3 average.
10. Former Boston College players Chris Hovan (defensive line) and Jeremy Trueblood (right tackle) are on the roster.